Got a cold or flu coming on? Suffering from a sore throat? These honey, ginger and elderberry lozenges will help to clear up the head, soothe the throat and give your body immune-boosting benefits. The best part? You make these lozenges in your own kitchen.
---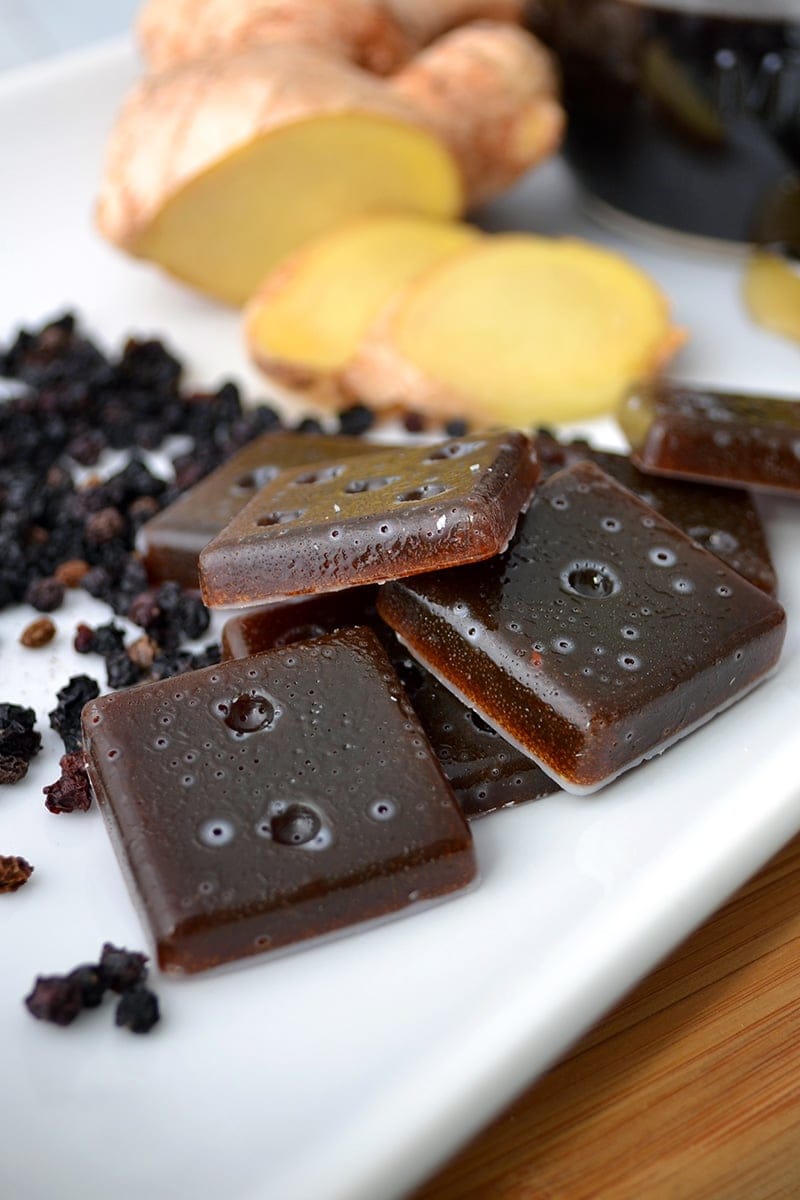 In Winter or summer, it is easy to catch a common cold or nasty flu. There are many natural home remedies for boosting our immune system and calming the sore throat but today I want to share a recipe from my friend Claire Yates, who makes her own, homemade throat lozenges with honey, ginger and elderberry.
Benefits Of Lozenges
Lozenges have been traditionally used in herbal medicine to soothe the throat and mouth when you have a cold/flu. They have a local effect, allowing the medicinal properties of the lozenge to be held in contact with the inflamed area. Because it is allowed to slowly dissolve in the mouth, it helps to soothe and calm the throat.
All of the ingredients used in the lozenge such as the ginger, elderberry and honey have been used for their antibacterial, antimicrobial and inflammatory properties.
Elderberries
Elderberries are used to boost the immune system and provide antioxidant support. They are packed with vitamin C, vitamin A and quercetin. They have been used traditionally throughout Europe and North America as a treatment for colds and flu because of their antiviral activity and to help shorten the duration of a cold.
Honey
Honey is traditionally used for treating colds and sore throats. The antibacterial, antimicrobial properties of honey make it well suited for this purpose. It is soothing and calming on the throat and oesophagus. The prebiotics and oligosaccharides in honey can enhance the immune system.
Ginger
Ginger is great for boosting the immune system and contains zinc, which is essential for immune system functioning.
Print
Honey, Elderberry & Ginger Throat Lozenges
Author:

Prep Time:

10 minutes

Cook Time:

40 minutes

Total Time:

50 minutes

Yield:

Makes

1

2

1

x

Category:

Candy

Method:

Boiling

Cuisine:

Healthy

Diet:

Gluten Free
---
Description
These homemade lozenges with honey, elderberry and ginger will help to soothe the throat and will boost your immune system. Use as needed when you have a cold or flu.
---
Ginger and elderberry decoction
2 cups of water
60 g / 2 oz fresh ginger, grated
2 tablespoons elderberries (dried)
For the lozenges
¼ cup of ginger and elderberry decoction (see above)
¼ cup coconut sugar

¼ cup honey

¼ teaspoon cream of tartar
1 cup iced water
---
Instructions
First, you have to make a ginger and elderberry decoction. Place all ingredients in a saucepan and bring to a boil. Simmer for about 8-10 minutes and then strain and reserve the liquid. Store the liquid in a clean, sealed jar. Use the liquid to make tea, lozenges or to add to a cold drink such as soda water.
Making the actual lozenges. Lightly coat a 12-piece silicone mold (I used a silicon ice tray) with some coconut oil.

Place the decoction liquid, coconut sugar, honey and cream of tartar in a saucepan over medium heat and stir until it comes to a gentle boil. Once boiling, do not stir. Leave to gently boil for about 20-30minutes.
At about the 25-minute mark, begin to test the mixture to see if it's ready. You do this by dripping a small amount with a teaspoon into some iced water to see if it immediately hardens to toffee.
Continue to gently boil and test until the mixture comes to the 'hardened cracking' stage when dripped into iced water. When this stage has been reached, take off the boil and evenly pour the mixture into the silicone mold.
Place the mold in the fridge or freezer and allow to chill. Turn out the mold and store the lozenges in a glass container in the fridge. Separate the layers with some baking or parchment paper to prevent from sticking.
---
What's your go-to natural remedy for colds and sore throat? Let me know in the comments below.