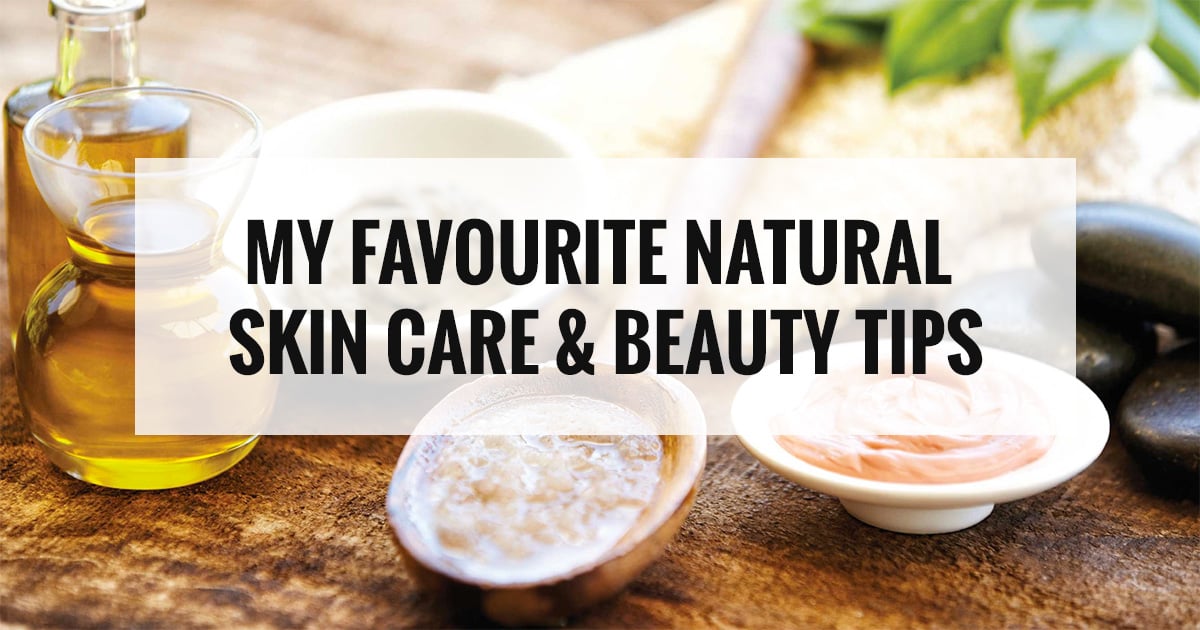 While most of you visit my blog for delicious food and recipes, you have to agree that when it comes to health and wellbeing there are many other factors at play. From fitness to sleep and what we put on our skin, our daily habits have a huge impact on how we look on the outside and feel on the inside.
That's why this week, I am publishing a series of posts about my healthy living habits. These are things that my readers often ask me about: how I stay fit, what supplements I take and why, my uses of essential oils, and so on. In this post I am sharing my natural skin care routine and beauty tips and tricks. Guys, all of the below mentioned potions and creams CAN be used on men too.
I'd love to know what your own healthy habits are, so make sure to share with me in the comments or feel free to shoot me an email, especially if you have any follow up questions.
---
MY DAILY SKIN CARE ROUTINE
In the mornings, I simply wash my face with hot water (in the shower, usually). Afterwards, I wipe my face with a DIY natural toner (see below), and then once it dries up, I apply my homemade facial oil serum. If I go out in the sun, I'll apply some SPF (I use Korres yoghurt sunscreen). When I'm not lazy, I will do coconut oil pulling before I brush my teeth. You can read more about coconut oil pulling here, it has helped to keep my teeth white and reduce build up.
I don't wear much make up, so it's usually Lavera BB cream (kind of like a thicker version of a tinted moisturiser), some powder, a little mascara and lip balm (usually paw paw ointment or some coconut oil).
In the evenings, I use a Sukin Sensitive Skin Cleansing Gel , followed by my DIY toner, DIY facial oil serum and eye cream (see below).
We use Welleda shower gel. I cycle through different shampoos and conditioners, so I am not loyal to one specific brand, but I do try to stick to natural brands.
My DIY toner
I make a toner with half distilled witch hazel and half rose water. Thanks to its astringent properties, witch hazel is one of the most effective natural acne treatments known to man. I don't have acne but I do have oily skin and it's prone to breaking out during *that* time of the month, so the toner helps to keep those spots in check. Witch hazel also has healing active ingredients that reduce inflammation, cellular damage and swelling, while also soothing wounds. Rose water softens and balances the PH level of your skin, which reduces oil production. This toner is great for both oily and dry skin, women and men!
Homemade anti-ageing facial oil serum (also good for beards!)
I've switched to using oils as my moisturiser almost a year ago. I know we're often told that if you have oily skin, you shouldn't use oil-based moisturisers, but it's actually not true. Oils really nourish the skin and keep it moisturised throughout the day, so it produces less of its own oils. Plus, you get the benefits of the oils themselves.
You don't need to spend hundreds of dollars on miracle serums. With a little investment in a few oils, you can make your own. I used a base recipe from Herbal Skincare 101 eBook by Kristyn Bango, but I adapted it with a few different essential oils.
Here is how I make mine:
Mix and store in a glass bottle. I rub about 5 drops of the serum in my palms and gently rub on my face. Easy!
My natural body moisturises
I have two go-to options. Quick and easy: rub the skin with coconut oil. Done! More luxurious option: citrus whipped body butter. I use the recipe from the Wellness Mama's ebook Natural Beauty Guide (it's awesome!), and modify it slightly with my preferred essential oils and argan oil.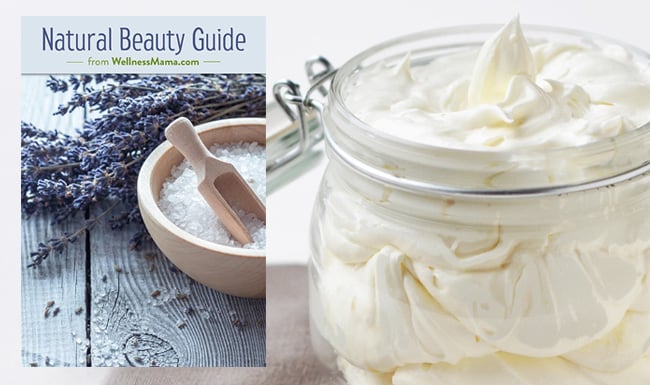 Citrus whipped body butter
In a double boiler or glass bowl, combine all ingredients except essential oils. Bring to medium heat and stir constantly until everything is melted. Remove from heat and let cool slightly. Move to fridge and let cool another 1 hour or until starting to harden but still somewhat soft. Use a hand mixer to whip for 5-10 minutes until fluffy. Return to fridge for 10-15 minutes to set. Store in a glass jar with a lid and use as you would regular lotion or body butter. If your home stays above 75 degrees, it may soften and need to be kept at the fridge, but it will stay whipped at a temperature lower than that. I use this almost daily.
My conditioning hair treatment
Once a fortnight, or whenever I remember, I like to apply a deep-conditioning hair treatment. It's a wonderful way to restore shine and health to your hair, especially if it's chemically treated or exposed to sun and salt water. I used the recipe from Hair Rescue: Grow Thicker, Healthier Hair Naturally by Genevive Halland. I add argan oil instead of jojoba listed in the original recipe.
Heat oil so that it's slightly warm to the touch. Put a damp towel in microwave or oven for a minute or so or until hot. Coat scalp and hair with the oil mixture. Once hair is fully saturated, wrap in a hot towel. Wait until towel returns to room temperature (about 20 minutes). Shower and shampoo/condition as usual.
More natural skin care and beauty things I use all the time
For tired and puffy eyes: cover your eyes (you'll have to be laying down for this) with slices of cold cucumber for 5 minutes and/or rube the skin under your eyes with ice cubes for 10-15 seconds for an instant pick me up.
Eye cream: I dub some vitamin E or rose hip oil around the eye area.
Bath time: I love adding Epsom/magnesium salts and a few drops of lavender essential oil to my baths. Great for sore muscles, relaxation and a little mineral supplementation.
Cold sores: I am one of those unfortunate ones who get a cold sore when run down. I dub the cold sore are with a mix of lemon and peppermint oil. Reduces the inflammation and discomfort, and promotes healing.
Need a quick pick me up: dub a little peppermint essential oil on your temples and under your nose. Seriously, this works!
Break outs and spots: dub tea tree oil before bed.
My go-to face masks: bentonite clay mixed with charcoal powder for deep cleanse, and mashed avocado with a few drops of essential oils for a nourishing moisture boost. Charcoal powder is also great for whitening teeth!
So there you go, my simple natural skin care routine and tips for you. What are your go-to natural products and DIY recipes? Share with me in the comments.
---
Disclosure: This post includes some links that are affiliate links pointing to Amazon.com to find the products I mention. You can look for these products in your local health food stores and other online stores as well.