Plantains are a staple in a paleo eater's diet. Once you get far enough into eating real food, plantains are a great way to add variety. They're a starchy fruit that looks a lot like a banana, and you can use them in a really wide range of recipes from breakfast hash to decadent desserts. Oh, and plantain chips – the ultimate snack! If you're bored with spuds and sweet potatoes, plantains are a good food to add to your paleo repertoire.

What are plantains?
A plantain or "cooking banana" is a starchy fruit that is starchier and lower in sugar than a banana. It's also not suitable for raw consumption (don't try it!) unlike a banana, and is meant to be cooked or processed somehow prior to eating. Plantains grow in tropical climates like bananas, and are often referred to as the pasta and potatoes of the Caribbean.
While bananas contain around 85% moisture, plantains contain just around 65% moisture. They also have a much thicker skin which can be a bit tough to cut through. You can't simply peel it like a banana.
Green plantain vs. ripe plantain
You'll likely see two different types of plantains, much like bananas. You can tell its ripeness by the same general guidelines. A non-ripe plantain will have a green hue while a ripe plantain will be visibly browning on the outside.
Like bananas, this determines both the flavour, starch content versus sugar content, and texture of the plantain. A green plantain will be starchier, less sweet, and more firm. A ripe plantain will contain more fructose, taste less starchy, and have a more mushy texture. You can also find a yellow plantain right in the middle which should suit most recipes.
Ripe plantain is generally easier and tastier to cook with, though some recipes will call for green plantain. You can cook plantains in a few different ways: pan-frying (they like a lot of cooking oil/fat), oven baking (you can even do this with the skin on) and grilling. You can also add diced raw plantains to curries and stews, like you would with any starchy vegetable.
Plantain nutrition
Considering plantains are a starch, they are relatively high in carbohydrates. They also contain fibre which helps to slow down the absorption of glucose minimising spikes in blood sugar, though, much like any starchy veggie. One notable quality is the type of the fibre, known as resistance starch, which has beneficial effects on our gut flora and microbiome health.
They're a good source of vitamin A: one medium banana contains 40% of the RDA. They're even higher in vitamin C, containing around 57% of the RDA. Other healthful properties include a good dose of magnesium, vitamin B6, and a smidge of iron.
Where to find plantains
Plantains are more and more commonplace at the average grocery store than ever. Look near the bananas or in the section that features more obscure fruits. Make sure that you look for plantains and not bananas. Usually, you can buy them individually, and you won't often see them in a bunch at the store. If you can't locate them at your big box grocer, you can often source them at Asian, African and Caribbean food markets. Buy organic plantains when possible.
You can also find plantain flour. This makes paleo baking a breeze as it lends its starchy goodness to cookies, cakes, and brownies quite well. You still get all the benefits in this fruit's concentrated and dried form.
Here are 15 paleo plantain recipes that you might like to try with this versatile ingredient.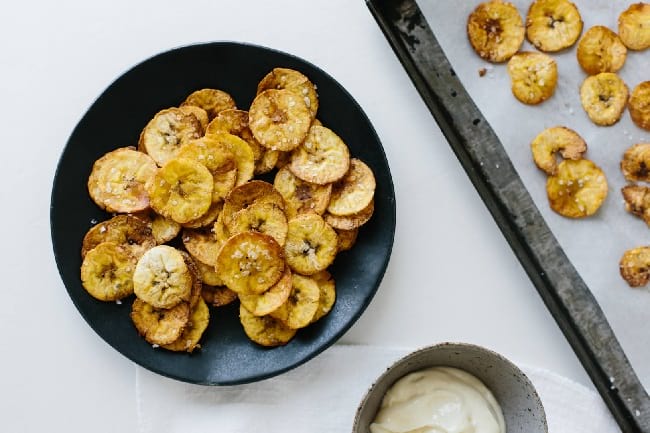 Plantain chips are probably the most mainstream recipe for the fruit. They're showing up in packages more and more in stores as a healthy treat, and they certainly can be. This recipe can be made in so many ways to satisfy your crunchy snack craving. Sweet or savoury, plain or dipped, there's a chip for you! Plus, these are baked so it's a healthier option than fried.
When it comes to paleo quiche or casserole for breakfast, it's easier to forgo grains when making a crust. You could skip it entirely, or you could sub in plantains to hold in all of that egg-y goodness. This casserole is a great way to wake up, packed with sausage, bacon, and maple syrup for a smoky-sweet blend.
Rethink the way you do breakfast with this nutritious and delicious bowl. Buddha bowls follow a certain format of veggies, healthy grains, and protein. This bowl skips the grains in favour of lightly fried plantains – crispy on the outside and soft on the inside. The perfect pairing for bacon, eggs, and greens.
Plantain makes an incredible base for fluffy flapjacks in the morning. These grain-free pancakes are made with ripe plantain, coconut flour, and a pinch of cinnamon. Top it off with coconut cream, maple syrup, fresh berries, or whatever your heart desires.
If you're looking for a sweet treat for breakfast, here's an egg-free, autoimmune paleo recipe for you to try. Break out the waffle iron and the maple syrup. You could also use this recipe and eliminate the sweetener for a savoury waffle fix with bacon and eggs, or use the waffles as bread for sandwiches.
These fritters are great with poached eggs for breakfast, or they're a nice addition to lunch with some veggies or salad on the side. This versatile recipe can be eaten at any meal, really. One thing stays the same: these fritters are good.
In the case of waffles and pancakes, we can see that plantain makes a really nice grain-free dough. If pizza is more of your 'junk food' guilty pleasure, this dough is a good canvas to load up with your favourite toppings, sauces, and cheeses (or cheese substitutes).
Nothing makes my mouth water like a good pulled pork recipe. Pork pairs exceptionally well with a little sweetness, so adding these smashed plantains as "buns" makes for a real treat. Basically, the plantains are twice-fried for optimal flavour and caramelisation.
In yet another brilliant use of plantains, we have a great dough-based recipe for empanadas minus the grains. Plus, it's egg-free, so this recipe is AIP-friendly. This one is worth the effort for a delicious way to shuttle in the classic mixture of ground beef, olives, tomato paste, cumin, and chili with every bite.
We've had waffles, pancakes, pizza, and empanadas. Now, it's time for tacos. Well, it's always time for tacos. You can make a big batch of plantain tortillas for all your filling needs. These are great for taco meat, shredded salsa chicken, or whatever else your heart desires. Plus, they freeze well.
What's chili without the beans? Perfectly good, actually. Keeping it paleo simply means there's more room for meat, and more room for veggies. Both sweet potato and plantain add the heartiness to this meal that keeps the comfort food in chili.
Say what? You could make regular fries from plantains whether you choose to bake 'em or fry 'em – sure. But you could do it up with these crispy curly fries. Crispy, crunchy, and super satisfying, these are a great side for a simple burger lunch. Who doesn't love fries? I'll have a double order of these.
Naturally, banana's cousin is willing to step up to the plate to make a fluffy, moist, and sweet banana bread loaf happen. Spread some ghee on this slice – it's good warm out of the oven or cold the next day.
This cake is flourless, fluffy, and full of fun ingredients including plantain. You can top off this cake with any of your favourite toppings, add some coconut cream, or blend some chocolate into the mix.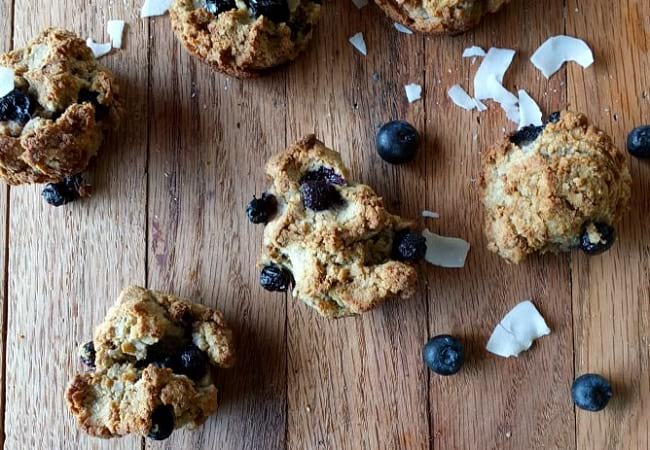 Keeping with the sweet theme, we have some blueberry muffins. Often enough, the key to baking with plantains is using half plantain and half banana, adding both starch and sweetness to the mix. These are nourishing enough for breakfast, great for the kids, egg-free, and nut-free.
Plantains are SO versatile. It was tough to choose and narrow this roundup down to just 15 recipes when there are so many ideas out there. Plantain fries, endless baked goodies, tortillas and bread replacements… the list goes on! Make sure to share this roundup if you're as excited about the possibilities as I am.
---