From aromatic white chicken to hearty beef and tomato, these healthy and delicious paleo stew recipes are perfect for cool weather, comfort food, batch-cooking and freezer meals. Treat family and friends to a one-pot wonder and choose between meat, poultry and veggie options.
---
When it comes to comfort food, a good stew must be on the top of the list. Think back to your childhood and remember the days when a nice, hearty stew would simmer all day before you finally got to tuck in at dinnertime. Chances are, you will recall the richness of the flavour, the tenderness of the meat and that warm, fuzzy feeling it invokes.
What I love about stews is they are low-maintenance AND budget-friendly. Now that we have the option to use our stoves, ovens, slow cookers and pressure cookers, whipping up a big batch of healthy stew couldn't be easier. Yes, they can still take some time but a minimum effort on your part. Plus, you can use up cheap cuts of meat or poultry and eat more nose-to-tail.
So, WHAT IS A STEW?
According to Wikipedia, a stew is a combination of solid food ingredients that have been cooked in liquid and served in the resultant gravy. This is a pretty broad umbrella and can cover everything from chicken curries to thick soups.
HOW TO MAKE A PALEO STEW?
As this post covers stews that are specifically paleo-friendly, that means that the ingredients must fall within the paleo diet guidelines. That means no grains, legumes, soy, added sugar, dairy (for the most part) or processed hydrogenated oils. Lots of good-quality meats or poultry, vegetables of all sorts, spices, herbs, broths and a few sneaky, clever ingredients to thicken or make the stews creamy.
Things like tapioca flour or arrowroot flour and coconut cream/milk are great things to have on hand. If you're paleo but with some added dairy then heavy cream is also great to use. This is especially so when you're making keto-friendly stews.
By default, paleo stews are gluten-free and most are Whole30 friendly.
20 Delicious Paleo Stew Recipes
I have selected some of my own paleo stews and those from my fellow bloggers and authors. These are loaded with veggies and perfect for batch-cooking and freezing. Remember, stews are also great for leftovers. As flavours develop longer, the stew itself only gets better. Bookmark these for your next cooking session.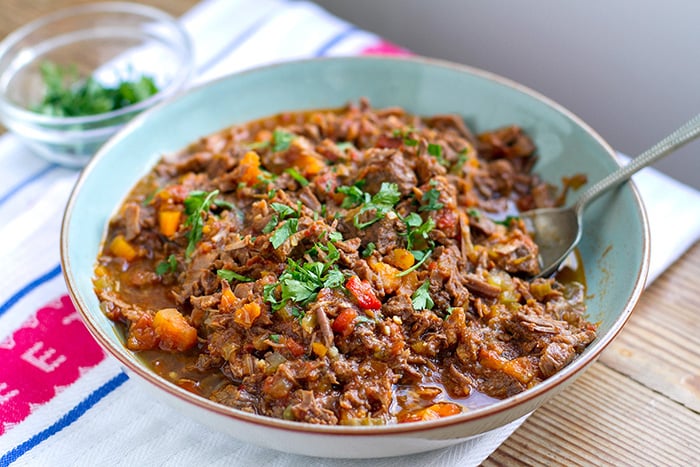 This Italian inspired beef ragu is hearty and nourishing. It's a must-have for any season but is especially good on a cold night. Sweet potato noodles are great as an alternative to pasta and serve as a perfect vehicle for this stew.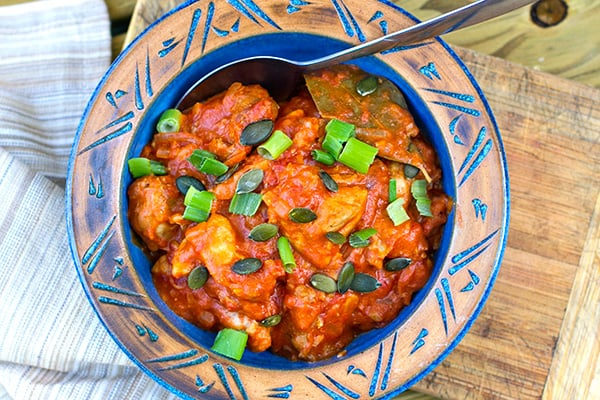 This paleo and Whole30 friendly West African chicken stew recipe is from Well Fed 2 cookbook by Melissa Joulwan. It's creamy, hearty and very satiating.
Having enjoyed traditional Spanish pisto on many occasions during my travels, I've always wanted to make it at home and share a recipe with you on the blog. It's a dish that brings a lot of warm memories and you should definitely try it.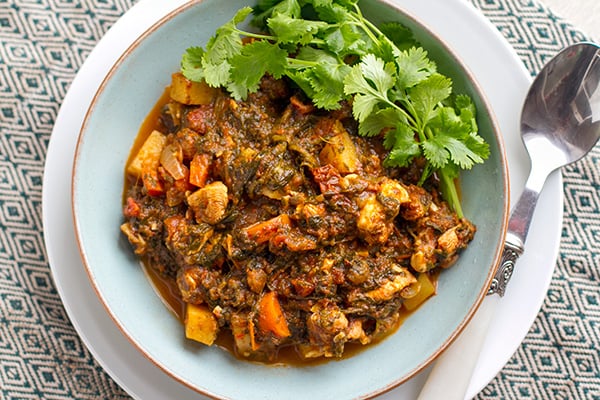 This delicious paleo-friendly Moroccan chicken stew is made with lots of nutrient-dense spinach, warm spices, raisins, and sun-dried tomatoes, bringing together bold flavours and heartiness in one dish.
This rustic beef stew keeps it super simple yet very tasty. With loads of fresh herbs, warming spices and soft sweet potatoes, this is the ultimate bowl of comfort food to cosy up with.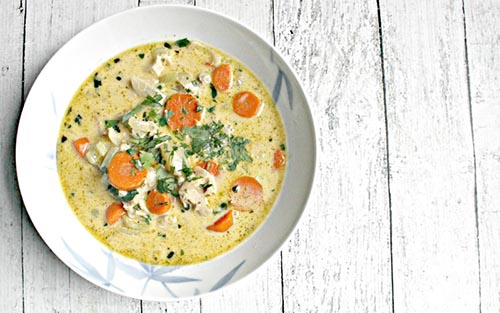 Nothing screams comfort food as a pot pie does. Unfortunately, that requires a little effort with whipping up a crust, but this recipe is keeping it simple with a thick, stewy soup instead. It certainly does the job with a creamy, cosy texture that can't be beaten. Recipe from Ancestral Nutrition.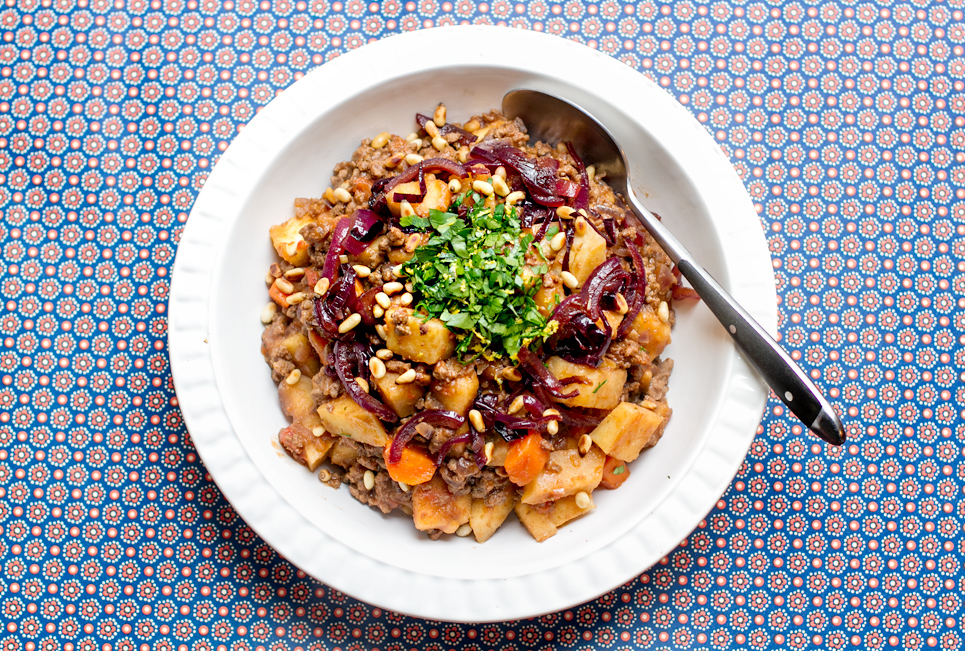 This rich and hearty stew is a one-pot meal full of delicious, spiced beef and starchy, filling yams (the real yam) and carrots, and a touch of delicate forest flavour of pine nuts and sweet, balsamic onions. It's rustic and sophisticated at the same time, and most importantly it's easy to make.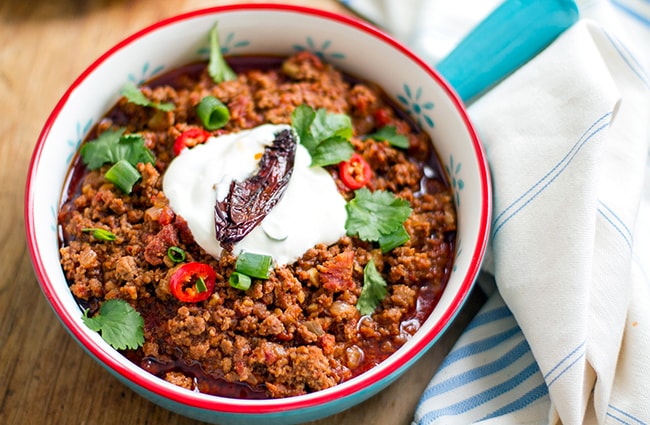 Learn how to make a hearty paleo beef chilli flavoured with chorizo and chipotle peppers. Slow cooker and stovetop methods and step-by-step photos included. Serve over cauliflower rice, zoodles or sweet potato noodles.
A paleo-friendly one-pot lamb stew full of wholesome vegetables and hearty flavor! Minimal ingredients and easy to make. Let's just say the bacon and lamb combo together do wonders. Great for family dinners, freezer-friendly, and Whole30 option. Recipe from Cotter Crunch.
This is for you, soup and stew lovers out there. And bacon lovers too. Meet this delicious and cosy sweet potato bacon chowder that is as nutritious as it is flavoursome. Recipe from Savory Lotus
This is actually one of my recipes that I contributed to the Happy Body Formula blog. Seasonal veggies are simmered in tomato sauce together with chorizo, which flavours this stew with beautifully. You can make it with white or sweet potatoes, both work well.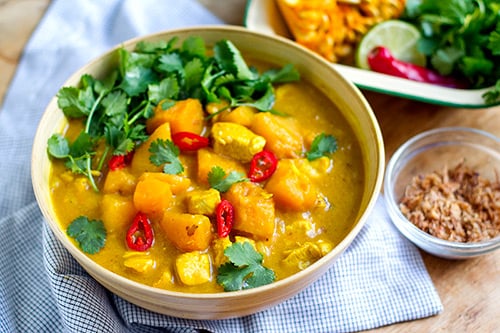 This is the easiest chicken pumpkin curry you will ever make. With just a handful of ingredients, this healthy curry packs a lot of flavours that you and your family will enjoy. This recipe is great with kabocha squash or other sweet types of pumpkin. It's paleo, gluten-free, dairy-free and Whole30 friendly.
Looking for a little less meat and a lot more veg? Here's a vegetarian dish that will feel hearty enough without any protein. It's packed with potatoes, carrots, greens and a tomato sauce you'll want to tuck into over and over. 13. ROASTED ROOT VEGETABLES WITH TOMATOES AND KALE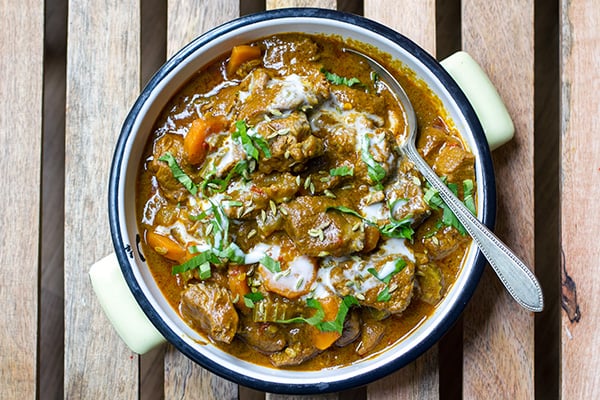 Craving curry? This stew has you covered. With hearty lamb, fresh lemon, garam masala and a creamy swirl of coconut milk, you're not missing a beat. Garnish with fresh cilantro and parsley to finish.
This creamy, coconut milk-based cod and plantain stew is paleo, dairy-free, keto, and Whole30. But my favourite part is the full spectrum of flavours and colourful veggies! Recipe from Do You Even Paleo?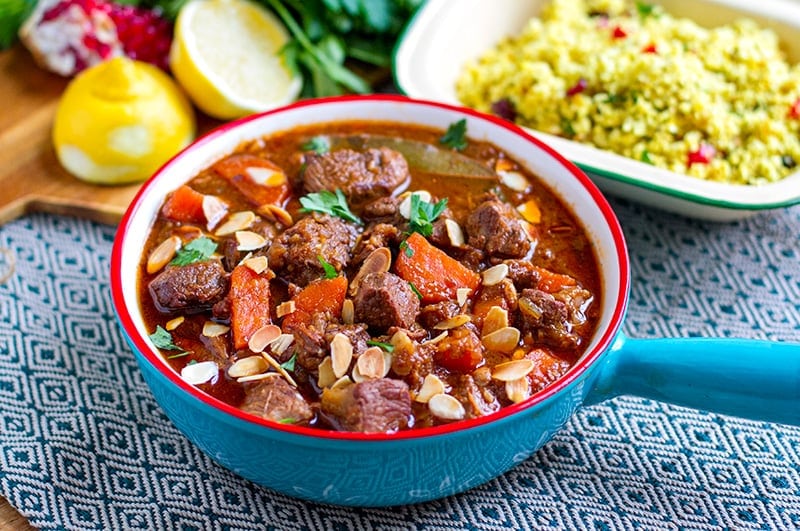 Loaded with vegetables and made with grass-fed beef, these Instant Pot sloppy joes are a healthier, more nutrient-dense version of your favourite comfort food. Serve over sweet potatoes or with zucchini noodles. Recipe from Instant Pot Eats.
This is a decadent and delicious winter chowder that is perfect for a special occasion or a cosy weekend night! It's a dairy-free version of a popular classic dish thickened with arrowroot powder. Recipe from The Wooden Skillet.
This incredibly simple one-pot vegan mushroom stroganoff is the perfect dinner to warm you up on the cold evenings in the autumn and winter. Vegan and paleo veggie recipes are often interchangeable, including this one. The best part is it only uses these 8 ingredients that you can easily source from any supermarket. Recipe from Healthy Living James.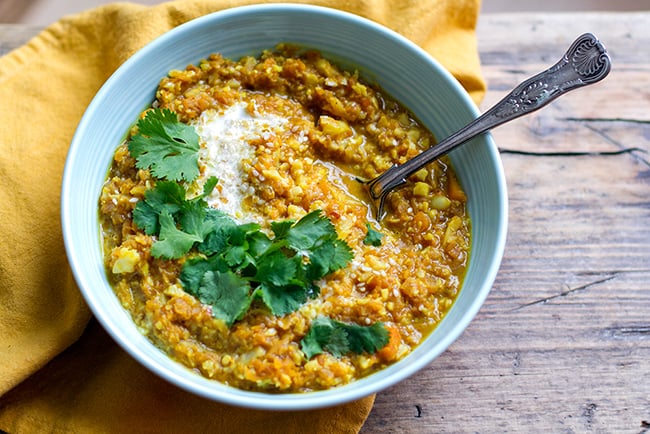 To finish off this roundup of paleo-friendly stew recipes, I give you my popular cauliflower and pumpkin dal (or dahl). It's the perfect plant-based stew that is still grain-free and gluten-free. You will love it!
That's it, my friends. There are many, many more stews I would have liked to include but I am just giving you a little variety to choose from if you're lacking inspiration or can't be bothered trolling through Pinterest and Google search.