Gorgeous and nutritious, this Beetroot, Avocado and Edamame Salad is a must-have recipe for lighter dinners or a delicious lunch. It's vegetarian-friendly and gluten-free but don't let those leafy greens fool you – it's actually quite satiating. I hope you enjoy it as much as I did.
---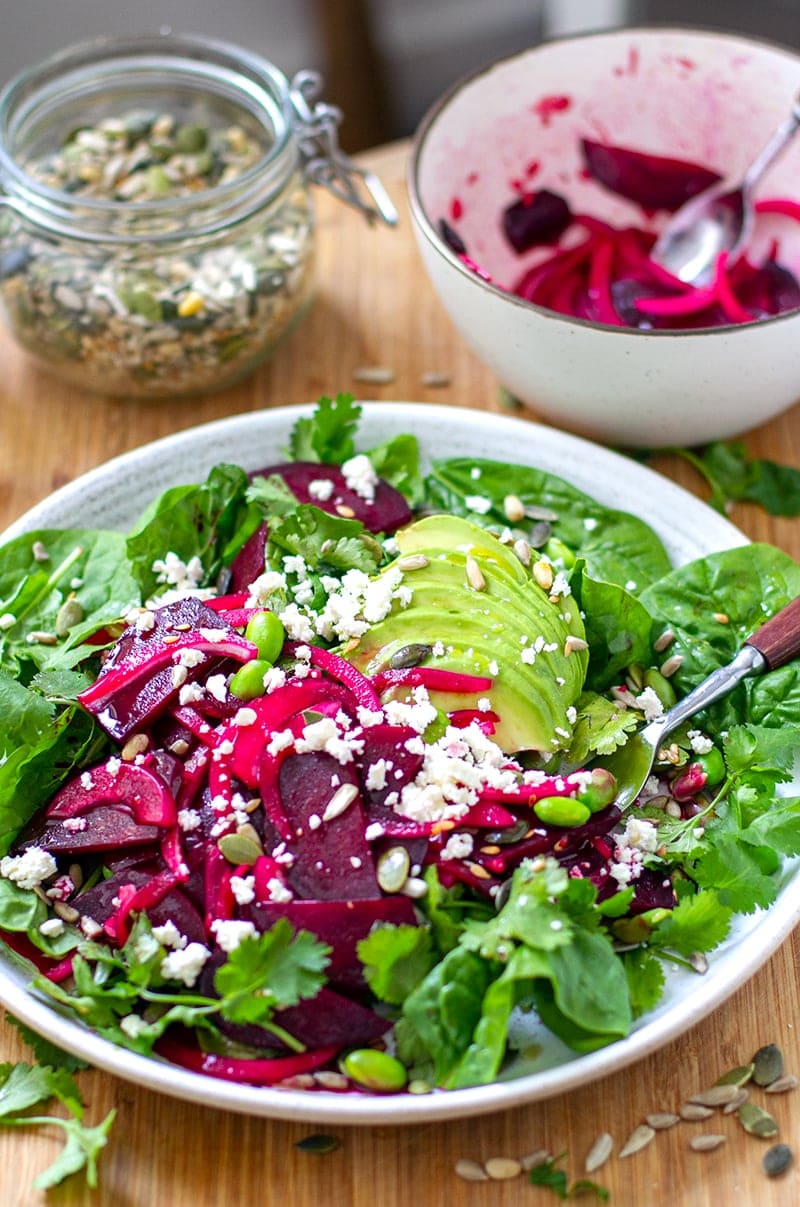 Beetroot, Avocado & Edamame Salad
This is a Yotam Ottolenghi-inspired recipe for beetroot, avocado and edamame salad and has become one of my favourite dishes lately.
I remember seeing a beet and avocado salad in one of his cookbooks and it stuck in my memory. One day, I decided to make something similar to what I remembered but I wanted to make it a little more satiating by adding a few extra ingredients such as edamame beans, seeds and goat's cheese feta.
This beet salad is quite satiating and the recipe below is for two people. You could also serve it as one big side salad for the whole family or as four smaller appetizer salads.
Salad Variations
The key to this salad is the marinated onions and beets in a red wine vinegar dressing. They kind of dress and flavour the whole salad. The rest of it is really a template that you can tailor to your own needs.
Don't have edamame or don't eat it? Use cooked quinoa or green peas for extra protein. You can also add chicken or prawns.
Seeds could be replaced with nuts.
Sub coriander with basil or parsley.
Spinach with any leafy greens you have on hand.
If you can't tolerate dairy, omit the feta cheese or add a dairy-free alternative.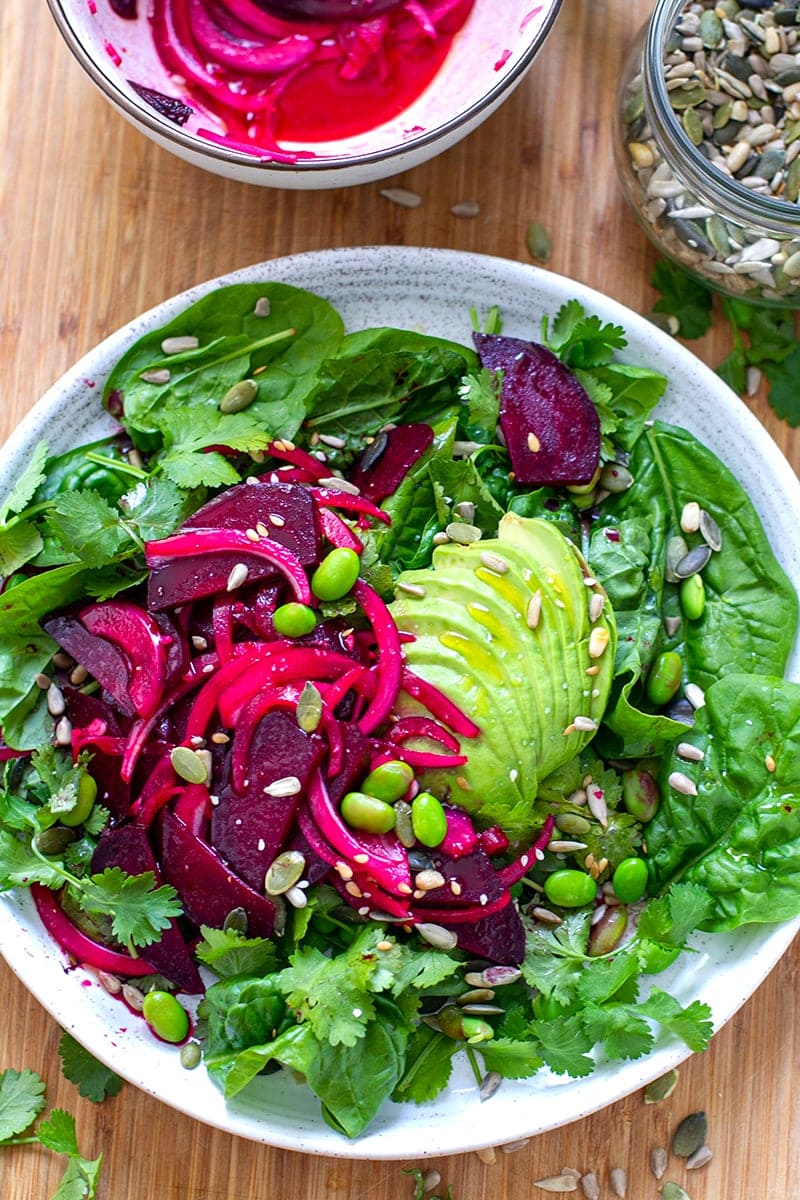 What Is Edamame?
Wondering about edamame? Edamame beans are immature soybeans in the pod, kind of like fresh green peas. They are actually quite different to mature soybeans and look more like broad green beans. In fact, because edamame soybeans are contained in green pods, and are usually classified as vegetables.
I know soy foods are pretty controversial and I try to avoid mature, unfermented soy products but the green edamame deserves a little attention.
Edamame beans are high in protein (complete amino acids profile), fibre and vitamins. If you're reducing meat or going plant-based, they are fantastic to have in the freezer. Yes, most edamame beans come frozen. In comparison to mature soybeans, edamame beans are young and contain fewer antinutrients (lectins) and phytoestrogens (three times less than in mature beans) and are much easier to digest. If in doubt, you can always go without.
How to cook edamame: Simply boil frozen edamame beans for 3-5 minutes in slightly salted water. Strain and use in salads, dips, add to soups, stews and so on.
How To Make Beet Avocado Edamame Salad
Step 1. The star of this dish is undoubtedly the red wine vinegar marinated onions and beets. The first step is to whisk the dressing and mix it with the onions and beets so they can infuse with the flavours for 5-10 minutes. This can also be done ahead of time.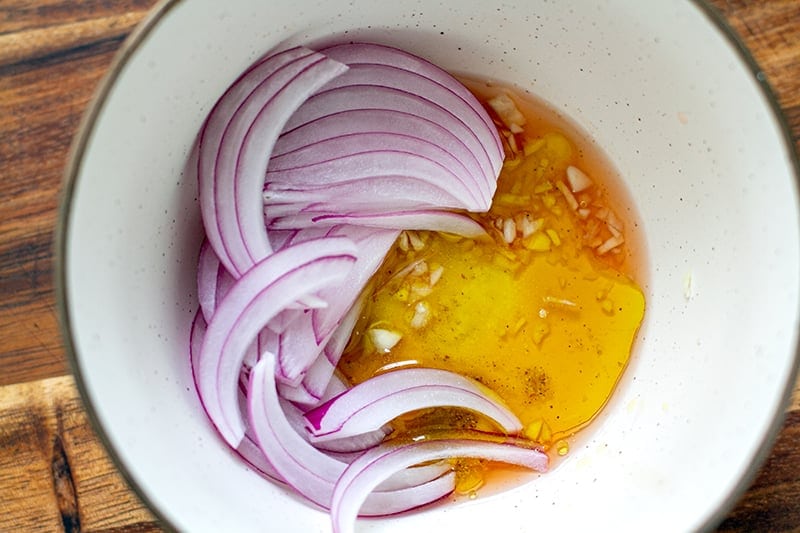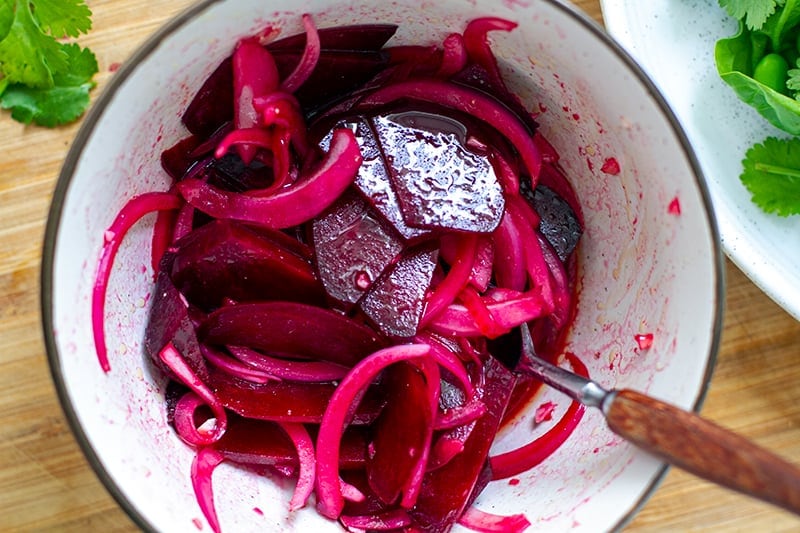 Step 2. While our beets and onions are infusing, prepare the other salad ingredients. Cook the edamame beans in boiling water, wash the leafy greens and herbs and slice the avocado.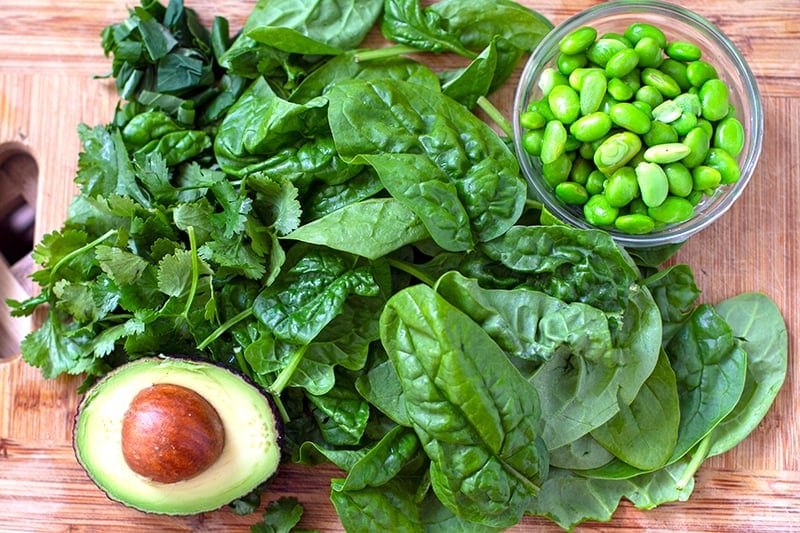 Step 3. Assemble the greens on two plates, bowls or on one larger platter. Scatter the edamame beans. I used larger slices of avocado but you could also dice it into cubes.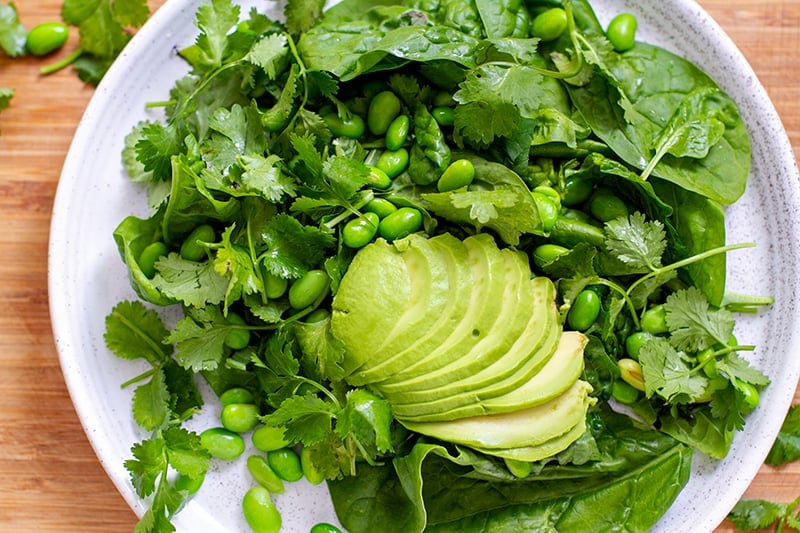 Step 4. Finish the salad with marinated onions and beets and top it with mixed seeds or nuts and some goat's feta cheese (or any other cheese you like, shaved Parmesan would also work here). As I mentioned above, cheese can be omitted.
More Nutritious Salad Recipes
Print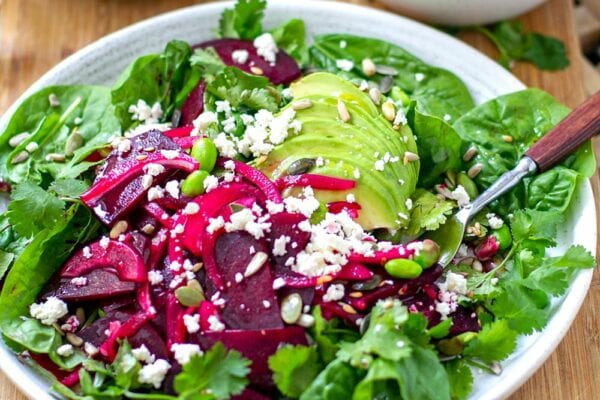 Beetroot, Avocado & Edamame Salad
Author:

Prep Time:

25 minutes

Cook Time:

5 minutes

Total Time:

30 minutes

Yield:

2

1

x

Category:

Salad

Method:

Tossed

Cuisine:

European

Diet:

Vegetarian
---
Description
This beet, avocado and edamame salad is a great plant-based weeknight meal that is rich in protein, fibre and vitamins. It's satiating and filling for a salad and the recipe below is for two people. You could also serve it as one big side salad for the whole family.
---
2 medium beets, cooked or canned and sliced into thin wedges

1/2 cup frozen edamame beans

1 small red onion, cut in half and sliced very thinly

3 tablespoons red wine vinegar (apple cider or white wine vinegar could be used)

4 tablespoons olive oil

1/2 teaspoon salt

1/4 teaspoon pepper

1 small clove of garlic, minced or diced (can be left out)

1 teaspoon honey or maple syrup

3 cups packed with baby spinach leaves or other greens

1/2 cup coriander/cilantro leaves

1/2 cup mint or basil leaves (optional)

1 avocado, sliced

1/2 lemon

Toppings:
Mixed seeds (sunflower, pumpkin seeds)


Crumbed goat's feta cheese or plant-based alternative
---
Instructions
Cook the beets (if needed) or slice canned beets.
Cook edamame beans in slightly salted boiling water for 3-5 minutes, strain and rinse under cold water.
Combine sliced onions with vinegar, oil, salt, pepper, garlic and honey in a bowl. Add the sliced beets and mix together Set aside for 5-10 minutes.
Prepare other ingredients and assemble the salad. Add the leafy greens such as spinach to a large bowl or a plate and top with herbs and cooked edamame beans. Divide sliced avocado between bowls and drizzle with lemon juice and a little sea salt.
Top the salad bowls with marinated onions and beets and drizzle the remaining dressing.
Finish the salad with a tablespoon or two of seeds and some goat's cheese or feta if using.
---
Notes
Using beets: you can use canned beets or cook your own. Add whole beets to a pot of boiling water and cook for 20-25 minutes. I like to undercook them slightly so they have a little crunch in the middle. You can also cook beets in Instant Pot.
Make-ahead: Marinated onions and beets can be kept in the fridge for 3-4 days, they will develop a stronger flavour over time. Cooked edamame beans will also keep for the same time. You can prepare these elements ahead of time, so all you have to do is wash the greens and assemble the salad.
Nutrition
Serving Size:

1 bowl (1/2 avocado, 1 tbsp pumpkin seeds, 2 tbsp goat's cheese)

Calories:

594

Sugar:

14.5 g

Sodium:

868 mg

Fat:

49 g

Saturated Fat:

9.3 g

Carbohydrates:

33.3 g

Fiber:

11.8 g

Protein:

14.8 g

Cholesterol:

16.7 mg
Keywords: Beets, Beetroot, Beet Salad, Beetroot Recipes, Vegan Friendly, Vegetarian Salad, Salad Recipes
Save Beet Avocado Salad To Pinterest