Feta, a tangy, salty and crumbly cheesy delight, takes centre stage in a variety of delicious dishes. In this post, I not only showcase some of the best feta cheese recipes but also delve into what makes feta cheese so special. Learn about the different types of feta cheese, from creamy Bulgarian to briny Greek, and get ready to try some delicious recipes.
In This Post:
What Is Feta Cheese?
Feta is a tangy, crumbly cheese known for its unique flavour and texture. It's usually made from sheep's milk, goat's milk, or a combination of both.
Flavour: Feta cheese has a distinct tangy and slightly salty flavour that sets it apart from other cheeses. This unique taste comes from the lactic acid produced during the fermentation process. It's this tang that makes it a favourite in salads and Mediterranean dishes.
Texture: Feta's texture is another star feature. It's crumbly, yet creamy when you take a bite. This delightful texture makes it a versatile ingredient in both cooking and garnishing.
Milk Mix: Traditionally, feta is made with sheep's milk or a blend of sheep's and goat's milk. However, you'll also find variations made with cow's milk. The type of milk used can influence the cheese's flavor and texture. Sheep's milk feta tends to be creamier, while goat's milk feta can be a bit tangier.
Brine or Not: Feta can be stored in brine, which is a solution of salt and water. This helps preserve its freshness and flavor. When you buy feta in brine, it has that characteristic salty kick.
Versatile Uses: Feta's unique taste and texture make it incredibly versatile in the kitchen. It's equally at home crumbled over salads, baked into pastries, or used to stuff vegetables. You can even grill it for a warm, melty treat. Plus, it pairs beautifully with flavours like olives, tomatoes, and fresh herbs.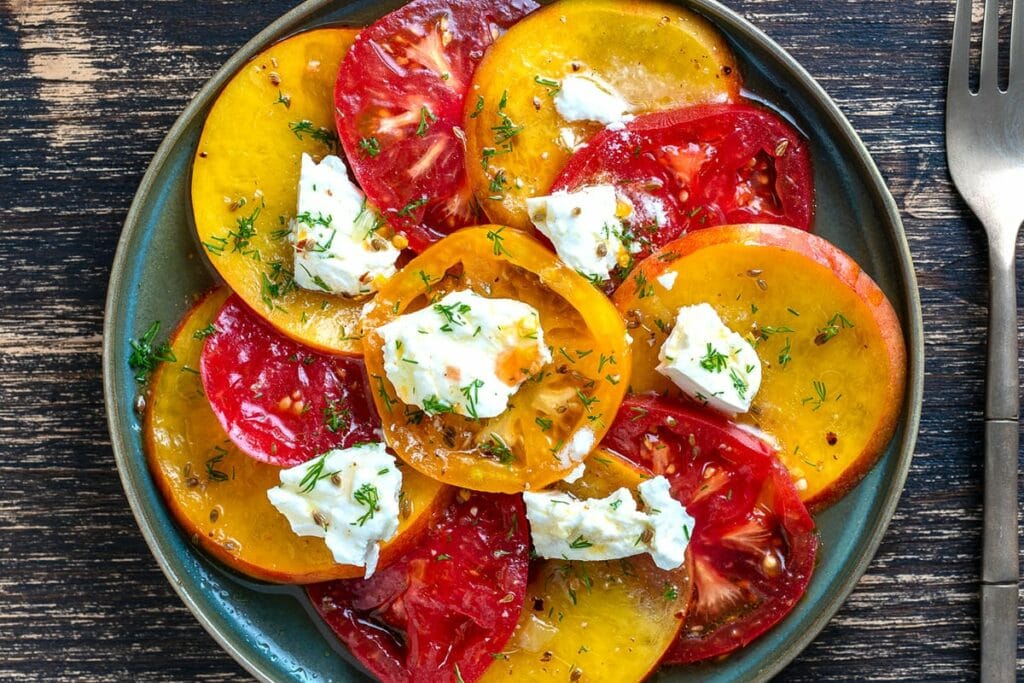 Types Of Feta Cheese
Let's explore some of the common types of feta cheese, each with its unique characteristics:
Greek Feta:
Milk: Traditionally made from sheep's milk or a blend of sheep's and goat's milk.
Texture: Creamy and crumbly.
Flavour: Tangy, quite salty, and slightly briny.
Uses: Popular in Greek salads, pastries like spanakopita, and as a table cheese.
Bulgarian Feta:
Milk: Primarily made from sheep's milk.
Texture: Creamy and crumbly, similar to Greek feta.
Flavor: Mild and slightly tangy.
Uses: A staple in Bulgarian cuisine, used in salads, pastries, and as a breakfast cheese.
French Feta:
Milk: Often made from cow's milk.
Texture: Creamier and less crumbly compared to Greek feta.
Flavor: Milder and less tangy.
Uses: Used in French salads and dishes where a milder cheese flavor is desired.
Danish Feta:
Milk: Usually made from cow's milk.
Texture: Creamy and slightly crumbly, smoother than Greek feta.
Flavour: Mild with a hint of tanginess.
Uses: Commonly used in sandwiches, wraps, and as a topping for baked dishes.
Israeli Feta:
Milk: Often made from a combination of cow's and goat's milk.
Texture: Creamy and slightly crumbly.
Flavor: Mildly tangy with a subtle saltiness.
Use: Featured in Israeli and Middle Eastern cuisine, including salads, pastries, and mezze platters.
American Feta
Milk: Typically made from cow's milk.
Texture: Creamy and crumbly, similar to Greek feta.
Flavor: Varies but often mild and slightly tangy.
Use: Used in a wide range of dishes, including salads, sandwiches, and omelets.
Persian Feta
Milk: Typically made from sheep's milk or a blend of sheep's and goat's milk.
Texture: Creamy and spreadable.
Flavor: Mild and less tangy compared to traditional feta.
Preparation: It's often marinated in olive oil and herbs, which gives it a unique taste and a softer texture.
Use: Persian Feta is wonderful as a spread or dip. It's commonly served with bread, crackers, or as part of a mezze platter. The marinating oil often adds additional flavors like garlic, herbs, and sometimes spices.
Marinated Feta
Marinated Feta can be found in various regions around the world, and its preparation can vary.
Milk: The base cheese can vary, but it's often cow's milk feta.
Texture: Creamy and may retain some of the original feta's crumbliness.
Flavour: The marinating process infuses the cheese with flavors from the marinade, which can range from herbs and spices to garlic and chili flakes.
Preparation: Feta is cubed or left in larger chunks and then immersed in a mixture of olive oil, herbs, spices, and sometimes citrus zest or juice. The marinating process can take several days, allowing the cheese to absorb the flavours.
Uses: Marinated Feta is a versatile ingredient and a flavourful addition to salads, pasta dishes, sandwiches, and antipasto platters. The marinating oil can also be used as a dressing or dip.
Mexican Feta Cheese
A Mexican version of feta cheese is less common, as traditional feta is not a traditional cheese in Mexican cuisine. However, there are Mexican cheeses with flavours and textures somewhat reminiscent of feta that you might find interesting: queso fresco and queso cotija.
Queso fresco is typically made from cow's milk and has a soft, crumbly, feta-like texture. It's mild, slightly tangy, slightlyb salty. It's often sprinkled over dishes like tacos, enchiladas, and salads.
Queso Cotija is also a cow's milk cheese but is more dry and crumbly, similar to grated Parmesan. It's salty and tangy, with a more intense flavour than feta. This cheese is commonly grated and sprinkled on Mexican street corn, beans, and other dishes. It's known for its bold, savoury kick.
Does Feta Cheese Go Bad? How To Best Store It?
Yes, feta cheese can spoil if it's not stored correctly or if it's kept for too long. Signs that feta cheese may have gone bad include an off smell, changes in colour (such as yellowing or browning), or an unusual texture (such as excessive dryness or stickiness).
Feta cheese should be stored in the refrigerator, either in its original packaging or an airtight container, with some brine covering it if it came in brine. Maintain a fridge temperature between 35-40°F (1-4°C), avoid odorous foods, and pay attention to the "use-by" date on the packaging.
If storing crumbled feta, wrap it in cheese paper or wax paper and seal it in an airtight container.
While feta can be frozen, it may change in texture upon thawing, so it's best used within three months if frozen. If you notice an off smell, unusual colour changes, or a different texture, it's a sign that the feta cheese has gone bad, and it's best to discard it.
---
Feta Cheese Recipes You Will Love
Wander what to do with feta cheese? So many delicious things! You can use it in dips, add to salads, crumbled over avocado toast, add to bakes and pasta dishes, and so much more. I've picked some of my favourite recipes with feta cheese including my own below. These are mostly healthy options with a few baked goodies thrown in the mix. Enjoy!
I Also Like These: