Learn how to make a Peach Bellini Cocktail using the traditional recipe of peach puree and dry Prosecco sparkling wine. It's a simple summer drink that can be served for a boozy brunch with friends, a Mother's Day lunch or as an aperitif on a warm afternoon. I also share a few variations such as raspberry bellini, guava and frozen option.
---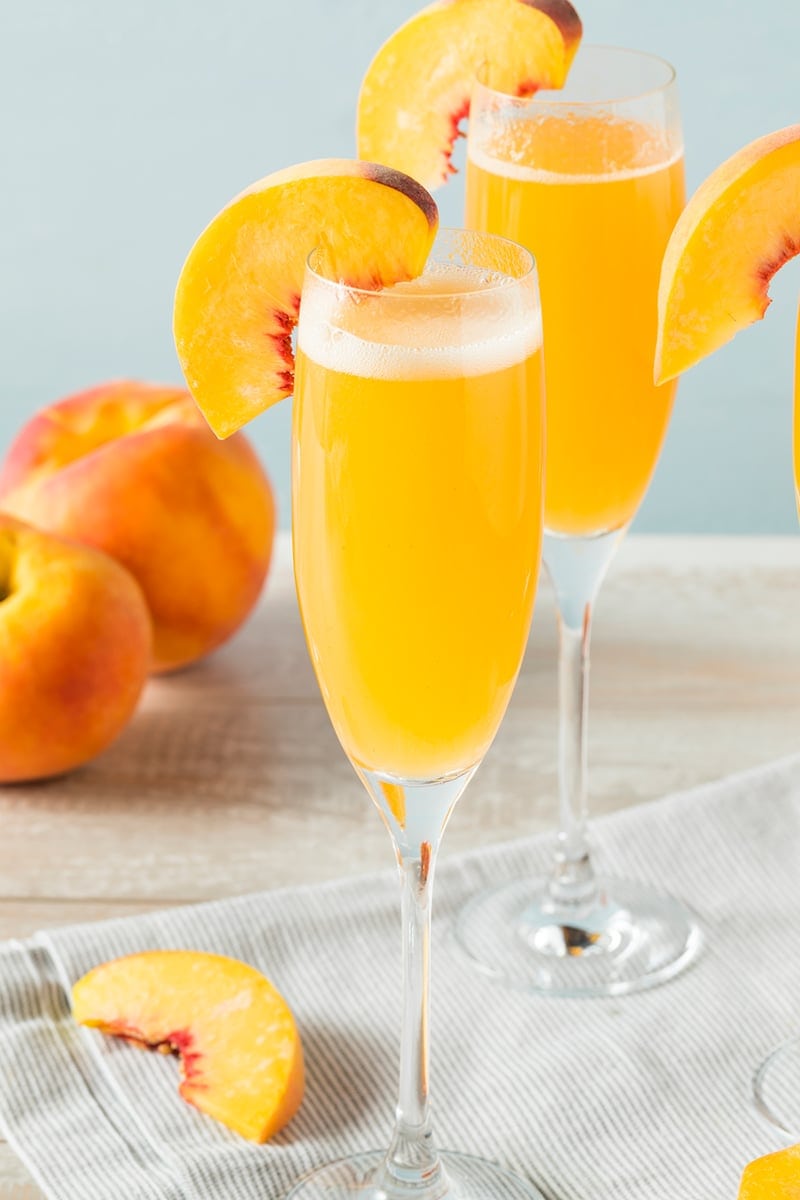 Photo from Depositphotos ©bhofack2
The photo below was taken in Tuscany by my good friend Tim Lucas. A bunch of us spent a week in the most gorgeous Italian villa surrounded by olive groves, grapevines and cherry trees. We had a peach bellini cocktail with our breakfast in the sunny garden and what a better way to celebrate our first morning in the house than with sunshine and summer in a glass.
Ever since then, I love a little peach bellini on a summer afternoon. It's a healthy, light drink that is low in sugar and has a few vitamins and antioxidants from the fruit.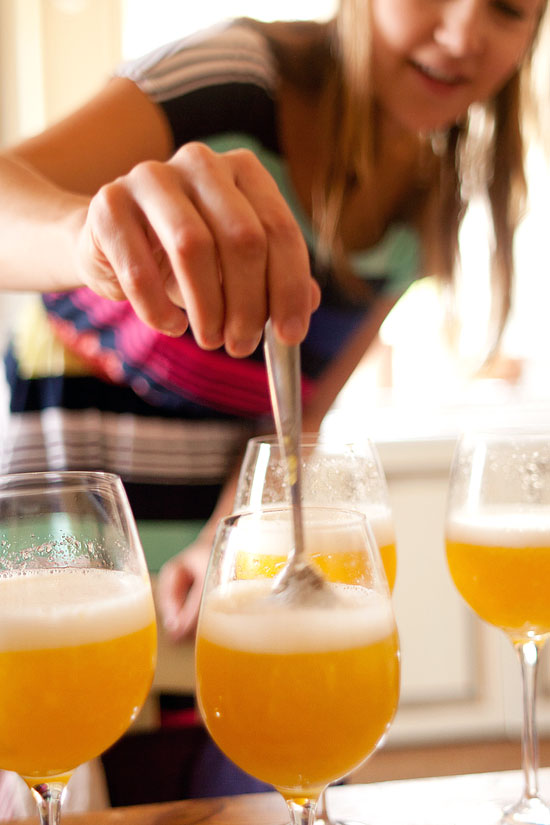 What Is Bellini?
Bellini is a long cocktail made with white peach puree and Prosecco, Italian sparkling wine. Its origins take us back to Venice, the 1930s-40s, where it was invented by Giuseppe Cipriani (who sounds like Pinocchio's dad), the founder of the famous Harry's Bar in Venice, a popular hangout of Ernst Hemmingway and Orson Welles. It later expanded to open a Harry's Bar sibling bar in New York…thanks Wikipedia.
The drink is named after 15th-century Italian artist Giovanni Bellini because its colour resembled that of a saint's cape in one of his paintings. It's still one of Italy's and the world's most popular cocktails and is usually served as a celebratory drink on arrival. I must say it tastes just as good as your final departure drink of the night ;).
How To Make A Bellini?
It's dead simple. Essentially you combine 2 parts Prosecco with 1 part peach puree (more or less).
Add the puree to the bottom of the glass and gently pour wine over it. It will fizzle like mad so give it some time to settle down before stirring. Garnish with a berry or fresh mint if you like. See the full recipe and nutritional breakdown below.
Peach Puree For Bellini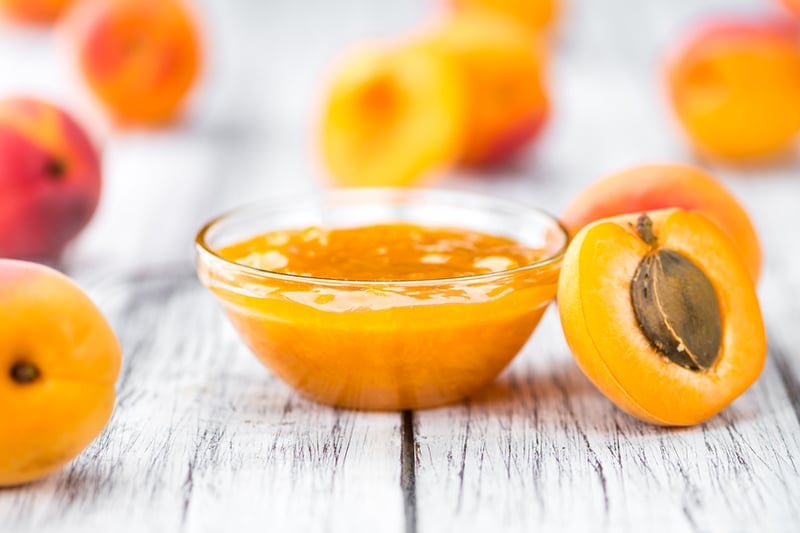 Photo by Depositphotos ©HandmadePicture
The white peach puree is the traditional ingredient but we made it with local canned yellow peaches and the colour was fantastic. Add peaches and some of the juice to a blender and whiz until smooth. You can store it in the refrigerator for 3-4 days and freeze it for 3-4 months.
For a little quick and easy cheat, you can also buy peach juice, which is often thick nectar-like and works equally well with sparkling wine.
A Little Note On Prosecco
Try to go for the bottles labelled spumante rather than frizzante. Frizzante is a semi-sparkling, lower quality version because it undergoes only a partial second fermentation…wine geek…going to stop right there.
Another thing to look out for is the sugar content. By its nature, Prosecco is quite dry and low in sugar but even then there are three levels of sweetness you need to understand. Dry prosecco contains the about 20-25 grams per litre, Extra dry add up to 12-20 grams of sugar and Brut is the driest, at 6-12 grams. Ideally, you want to go for the Brut 🙂
And that's it! Now you know how to make a peach Prosecco Bellini. It's simple yet so special.
Bellini Variations
Okay, I don't know if I can technically call some of these bellini cocktails if they don't have peach, but I think they are really nice and you should try them.
Frozen Bellini
Hot summer days call for extra icy drinks and you can certainly entertain your guests with a few glasses of frozen bellinis.
Strain the juice from the can of peaches and set it aside. Add the peaches to a Ziploc bag and place in the freezer for at least 1 hour. Once frozen, remove and add to a blender. Add the saved juice and 2 cups of Prosecco. Close the lid and puree by using the pulse function to avoid over-fizzing. Divide the frozen puree between glasses and top with the remaining Prosecco. Stir gently.
Raspberry Bellini
For this variation, you can use fresh or frozen raspberries. Add fresh or thawed-out raspberries to a blender and a little water. Puree until smooth and strain through a sieve to catch the seeds.
Use the same amount of puree as the peach bellini. If using frozen raspberries, you could make frozen raspberry bellini as above.
Guava Bellini
We're moving into more exotic territory now. If you can find some guava juice, which is often a thick nectar-like drink, it's absolutely fabulous mixed in with sparkling wine. I can't remember who introduced me to this combination but I highly recommend it. Alternatively, mango puree or nectar are also really nice.
For The kids
Super simple, mix the peach puree with sparkling water, half and half.
Print
Prosecco Peach Bellini Cocktail
Author:

Prep Time:

10 minutes

Cook Time:

0 minutes

Total Time:

10 minutes

Yield:

6

-8

1

x

Category:

Drinks

Method:

Cocktail

Cuisine:

Italian
---
Description
While this is not exactly my recipe, I wanted to share this traditional peach bellini made with Prosecco and yummy peach puree as it's one of my favourite summer cocktails. This is a light drink, low-sugar drink.
---
1 can peaches in juice (no added sugar)

1 bottle of dry Prosecco (other sparkling wine can be used)

Mint and sliced peaches for garnish

Ice (optional)
---
Instructions
Add soft peahes and some of the juice to a blender and puree until smooth. Refrigerate until using.
Make sure Prosecco is nice and cold or add a few ice cubes to the glasses. To make bellini cocktail,  you have two options.
Option 1: add 1/4 cup or 4 tablespoons of peach puree to the bottom of a glass and fill up quarter of the glass with sparkling wine. Stir and once the bubbles fizzle out, fill up the rest of the glass and stir gently. If you like it sweeter, you can add more puree.
Option 2: make a bellini pitcher by combining 2 cups of peach puree with all of the prosecco in a glass jug. Make sure to add prosecco in batches to avoid too much fizzing. You can add a few ice cubes to keep it nice and cold.
---
Notes
Make it a little stronger: If you want to turn it up a notch, you could add half a shot of peach liquier or Cointreauto (for a hint of citrus) to the glass.
Nutrition
Serving Size:

1 glass

Calories:

104

Sugar:

3.2 g

Sodium:

0 mg

Fat:

0.1 g

Carbohydrates:

5.9 g

Fiber:

0.6 g

Protein:

0.4 g

Cholesterol:

0 mg
Save This Prosecco Peach Bellini Recipe