I love sharing all the delicious root vegetables with you and today I am going to give you a quick rundown on how to cook yam, including baking, boiling, braising and more ways to enjoy it. Being naturally gluten-free, yam is perfect for those following a paleo, grain-free, and Whole30 diets and they are a great source of real food carbohydrates. You can also read this post about Yuca root vegetable. 
---
What Is A Yam?
Many people confuse yams with sweet potatoes, and I have to admit that I did once think they were the same thing going under different names in different countries or perhaps varying slightly in colour.
However, they are not the same thing, so let's learn about the difference between yams and sweet potatoes, and how you could incorporate them into your healthy kitchen.
Just like sweet potatoes, yam is a tuberous root vegetable that comes from a flowering plant that is part of the family Dioscoreaceae (sweet potato is part of Convolvulaceae family, they are not even cousins).
Yams are grown and commonly used in African, Asia, Latin America and Oceania but you can now also find them in many greengrocers around the world.
While sweet potatoes are medium in size with smooth skin, sweet flavour and moist mouse feel, yams are much larger and longer in size (sometimes they are huge!), with rough, scaly greyish skin, much drier and starchier white flesh that is not very sweet. You can also find purple yams, called ube, which are used in desserts and ice-cream.
In a nutshell, the real yams are more African but in the Americas, sweet potato is often referred to as yams.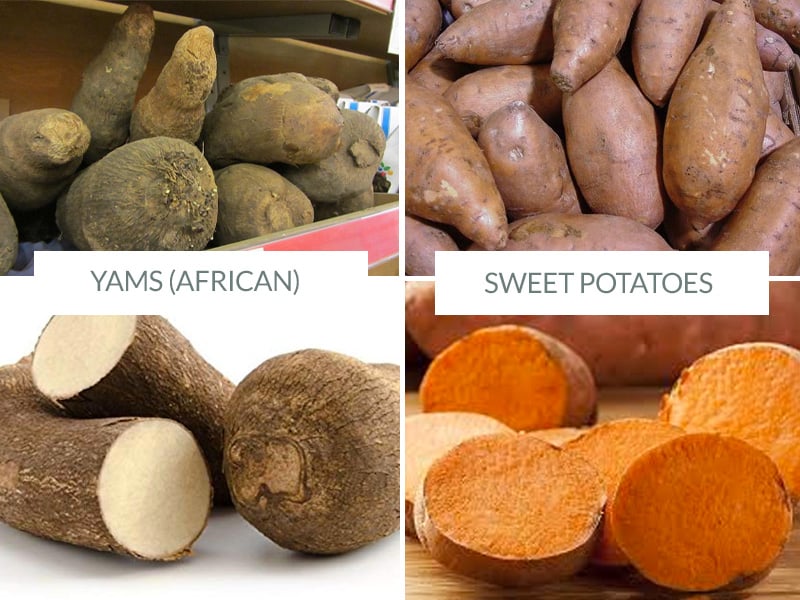 Yam Nutrition
From a nutritional point of view, yams are a good source of safe starch and carbohydrates. This tuber is high in potassium, vitamins B6, C and K, and fibre. There are 28 grams of carbohydrates and 0.5 grams of sugar per 100 grams of yams, and the glycemic index is lower than a regular white potato.
How To Cook Yam
Yams have to be cooked to be eaten and the most common ways are boiling, frying and baking or roasting. The yam's skin has to be peeled and discarded and the flesh can be used similarly to a regular white potato or sweet potato. Make sure to rinse peeled and diced yam well!
Because yams are quite dry and starchy, they work best with a moist sauce on the side or cooked in a stew or a soup.
Fried Yam
Peel and slice yam into 1-cm circles. Heat a thin layer of coconut oil or avocado oil in a frying pan until medium-hot. Shallow fry the yam slices for 5 minutes each side or until soft and golden brown. Serve with a salsa sauce, aioli, chimichurri or any other zesty sauce. In Nigeria, shallow-fried yams dish is known as Dun Dun.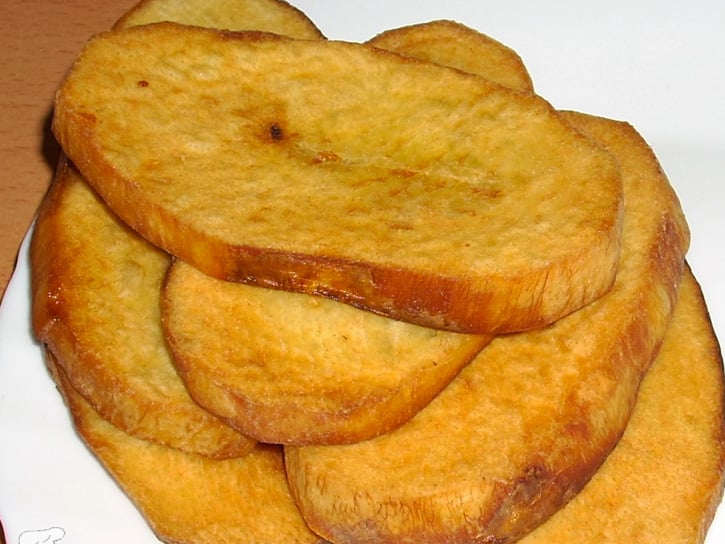 Roasted Or Baked Yam
Preheat the oven to 200 C / 400 F. Peel the yam and dice it into cubes, slice it into circles or chip-like stirps. Lay them out on a flat baking sheet covered with some parchment paper and season with salt and pepper and any other spices. Cooking time will depend on the size of the cubes and slices but anywhere between 20-30 minutes.
Boiled Yam
Boil yams for about 15 minutes if diced unto cubes or sliced. You can season the water with salt or add vegetable stock cube for extra flavour.
Cooked boiled yams can be served as they are or drizzled with oil. They are often served as a side dish with meat or vegetable stew or curry (or anything saucy). Or you can mash them into a coarse puree with olive oil or butter, garlic and fresh herbs or spices.
Check out the above recipe in the pic for boiled yams with Ghanaian Kontomire stew.
Pounded Yam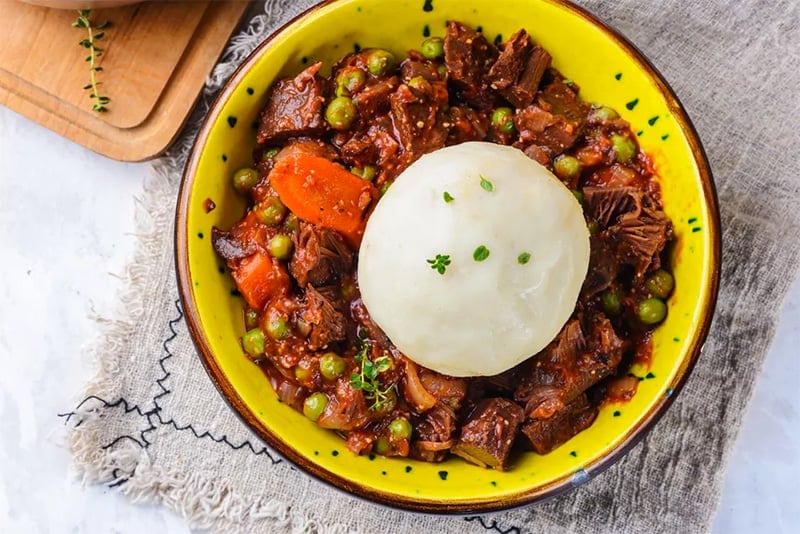 Boiled yam can be pounded into a stodgy mash that is often served as a dumpling with stews. In Africa, it is known as fufu. Check out this recipe from Spruce Eats.
In South-East Asia, you make pounded yam (yan) by cooking yam flour in hot water into a dumpling-like cake that can be used to mop up yummy curries and sauce. Check out the recipe iyan here.
Braised Or Stewed Yam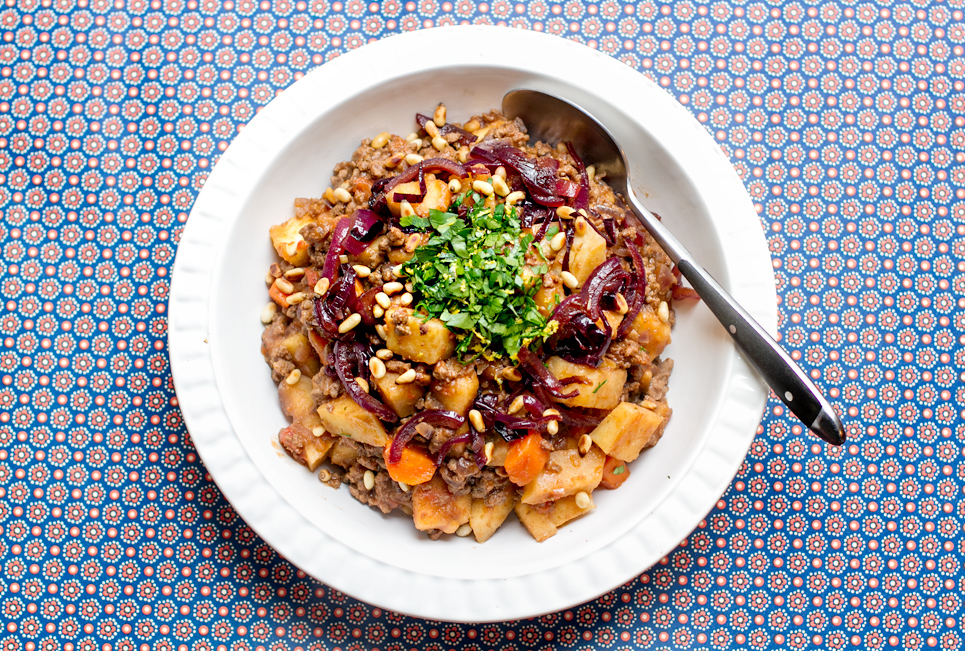 Use yams instead of white potatoes in soups, stews and casseroles. For example, you can use it in a leek and potato soup or add it as extra starch in a broccoli or asparagus soup.
It works fabulously in meaty stews and casseroles such as in my Yam & Beef Stew with Caramelised Onions & Pine Nuts (pic above).
A simple vegetarian dish would be yams braised with onions, garlic and tomato passata.
Using Yam In Fritters & Baking
Grate some yam root and combine with egg and spices to make fritters. Pan-fry in lots of oil for crispy finish and soft, hash-like centre.
Cooked yam flesh can be used in waffle and pancakes batter, muffin and biscuit dough.
Buying & Storing Yam
Yam tubers can be bought at greengrocers and speciality ethnic stores. Choose yams that are blemish-free, tight and firm and store them in a cool, dark and dry place with some ventilation for up to 2-3 weeks but do not refrigerate.
Once cooked, yams should be kept in the fridge for 2-3 days and frozen in an airtight container for up to 10-12 months.
---
There you guys, a little info sheet on how to cook yams, what they are and how they are different to sweet potatoes. I'd love to know if you've ever cooked with yams or even tried them. Do you have a go-to recipe? Let me know in the comments below.