This roundup of 20+ paleo spinach recipes will inspire you to use this nutritious leafy green vegetable in ways you haven't thought before. I included a few classics too, like my dairy-free creamed spinach.
---
Whether or not you're eating paleo, we can agree on one thing: leafy greens are really, really good for you. Especially spinach, which has been common knowledge since Popeye's hey-day. Remember how his muscles grew as he gulped down copious amounts of spinach, straight from the can? While I can't claim muscle growth and I recommend choosing fresh or frozen versus canned spinach, there's some truth to this green power.
The benefits of spinach
This superfood is one of the most nutrient-dense plants that you can grow. Gram for gram, its nutrient profile shines bright, even amongst the other greens. It's important to include spinach and/or other dark, leafy greens a few times per week. It's also ideal to buy greens organic and while they are in season.
Vitamin A. 100 grams of spinach boasts 188% of the DV. Vitamin A is a fat-soluble vitamin, so it's great to sauté spinach in some coconut oil or olive oil first or pair it with eggs for a nutritious breakfast. You'll find plenty of ideas ahead! Vitamin A is really good for the skin.
Vitamin C. 100 grams of spinach contains 47% of the DV. Two servings of greens will have you covered for the day. Vitamin C is a known natural immune-booster. It helps us produce collagen to keep our tissues strong (hair, skin, nails, muscles, etc.), it aids in iron absorption, and it speeds up the wound-healing process.
Low in carbs. 100 grams of spinach comes in at just 2 grams of net carbs. If you're watching your blood sugar, following a keto diet, or need a low-carb way to bulk up a dish, adding a little spinach never hurt anyone.
High in antioxidants. Flavonoids found in spinach act as antioxidants which helps to protect the body from free radicals and prevents cholesterol from oxidizing.
High in iron. 100 grams of spinach offers up 15% of the DV which makes it a great choice for those who are looking to boost iron – especially with a plant source. Adding some acid to the mix (vinegar, lemon juice) will help the leaves retain its iron content.
Here are some great ideas for incorporating more spinach in your paleo meals.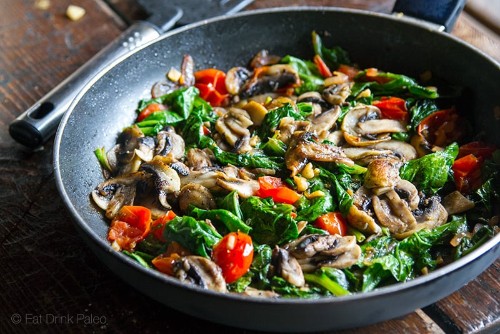 My favourite time to power up with a dose of greens is first thing in the morning. This fry-up is fantastic on its own, but I like to crack a few eggs on top or serve it with some sausage. Either way, this comes together super quickly for brekky (or any other meal, really).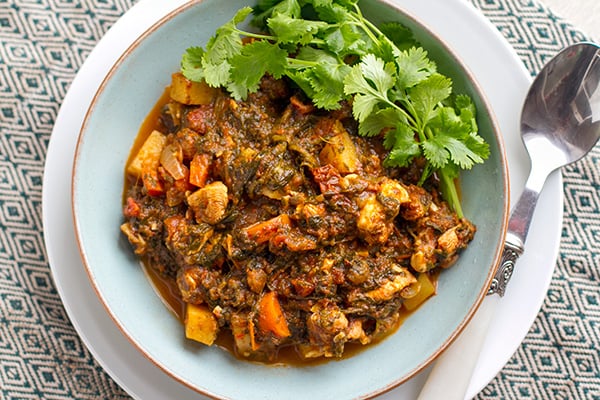 This delicious paleo-friendly Moroccan chicken stew is made with lots of nutrient dense spinach, warm spices, raisins, and sun-dried tomatoes, bringing together bold flavours and heartiness in one dish.
Spinach and artichoke dip is always a good idea. Unfortunately – especially when served with bread or crisps – it can get a little heavy… especially for an appetiser. This is a great crowd-pleaser and this version is dairy-free. Serve it with sweet potato toast for a tapas-style dinner.
This quiche swaps out the grains for a fluffy crust made of coconut flour, almond flour, tapioca, and arrowroot instead. It's loaded with mayo, crab, greens, cashews, and creamy coconut milk for a hearty and filling egg-free filling.
This one isn't for the faint of heart. If you already love offal or you consider yourself an adventurous eater, though, the heart is one of the most nutritious parts of the animal you could eat. Plus, how GOOD does this look? It's packed with fabulously healthy ingredients, and it's got a great texture.

Add some extra greenery to one of my favourite green recipes! This flavourful pesto is a great way to absorb all those vitamins and minerals as healthy oil helps absorption. This is great over zoodles, grilled meats, or basically anything. Lick-the-spoon goodness.
Not all green smoothies are created equal. Some are hiding out amongst dessert-worthy chocolate-y, peanut butter awesomeness. This is bursting with green spinach and avocado for a healthy dose of fats.
These are great for the kiddos and the adults alike. I love working veggies into new and creative dishes, and I based these off of knödel, which is essentially rounded potato or flour dough balls poached in water or stock, and sometimes pan-fried. These are grain-free and full of good greens instead of flour!

Load up the spaghetti squash with a blend of tender chicken, sun-dried tomatoes, wilted spinach, and a dairy-free Tuscan sauce. This is better than spaghetti – promise.
Spinach tortillas are often an option when you're ordering a wrap at a sandwich joint, but the name is deceiving; how much spinach really goes into making that? These wraps are grain-free using cassava flour instead. They're fabulous for rolling up deli meats or taco fillings.
This Indian dish doesn't usually have any spinach, but like I said before, what can't you add spinach to? It's a versatile veggie, and I like to pack in the benefits. I also added dried cranberries to the mix for a unique spin on this classic.
All the good things about spinach and artichoke dip, packed into a meatball. What's not to love? These bite-sized munchies are great to add to meals, snack on, batch cook and freeze, or entertain with.

Blueberries and mango are a brilliant fruit combination, tossed with a basil and lime vinaigrette plus some crunch from raw onion sliced thin and pecans. Yum!

These baked egg dishes are packed with greens, protein, and healthy fats for a complete meal. The salsa macha is the key – a blend of dried chiles, almonds, pepitas, garlic, Mexican oregano, and a few other goodies, but any salsa will do.
Because of spinach's high antioxidant compounds, it's a great natural detoxifier. Skip the smoothies and juices in favour of this green-infused soup for a quick 'cleanse.'

There's nothing quite like a skillet meal, especially when it includes a base of spinach and artichoke and crispy chicken thighs on top.

This spinach salad has the WORKS. Apple gives it some sweetness and a lovely crunch in addition to the walnuts. Top it off with some dried fruit of your choice and pomegranate arils. This salad would also pair up well with some leftover chicken.
Skip the milk, butter, and cheese with my super creamy and rich adaptation of creamed spinach. It's perfectly paleo and vegan-friendly. It's a fabulous side for a juicy steak!
This gorgeous salad is a blend of the seasons with roasted butternut squash, fresh and tart pomegranate arils, fresh figs roasted 'til perfectly caramelised, and a drizzle of pecan-dijon vinaigrette. You could easily toss in some shredded chicken for a full meal or tote this to a potluck.
Sometimes, a recipe just blows you away. The combination of spinach and matcha in these doughnuts isn't something you're going to find at your local bakery. Get your boost of greens. This is totally breakfast-worthy and actually packs in some good protein and fibre.
You don't need a celebration to make this cake. Let's end things on a sweet note with this veggie-infused cake. Creating natural colour in dessert is easy with vibrant plant foods like spinach, and this ice cream cake is hiding out loads of nutrients you can feel good about indulging in!
I hope you found some inspiration here to add some greens into your diet, whether you opt for soup, salad, or straight-up dessert. Enjoy!