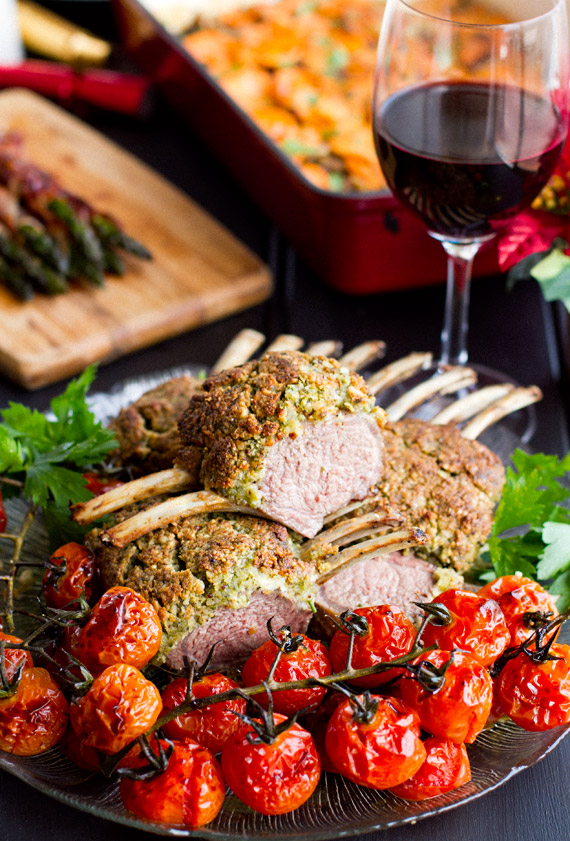 With Thanksgiving and Christmas approaching, most of us are starting to feel jittery thinking about how we're going to tackle all the festive lunches, dinners, drinks and relatives. While I sometimes escape to the beach in Thailand or a ski resort, this time of year is a family affair with lots of fabulous food. We usually do a family dinner and it's always something comforting, hearty and relatively easy.
The recipes and ingredients in this paleo Christmas or Thanksgiving menu are for six people but you can prepare less or more food depending, as needed. You can also choose to make just one or two dishes from this menu, but if you want to go all the way, I'm including a handy document with all preparation notes and a shopping list for your convenience. You can down it here.
---
What's on the menu:
Antipasti – liver pate, salami, carrot sticks, sliced radishes, olives, sun-dried tomatoes – you can choose what you like here
Prosciutto Wrapped Asparagus
Macadamia & Parsley Crumbed Rack of Lamb
Balsamic Roasted Cherry Tomatoes
Sweet Potato & Mushroom Gratin
Avocado & Banana Chilli Chocolate Mousse
Drinks: Sparkling Shiraz or Champagne to start with followed by a nice Shiraz, Sangiovese or Tempranillo red wine.
---
Ingredients you will need for each dish
For prosciutto wrapped asparagus

18 asparagus spears
9-10 slices of prosciutto
Some ghee or coconut oil for frying
For macadamia & parsley crusted lamb rack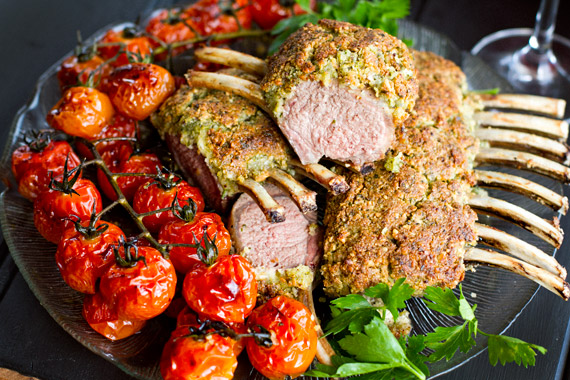 3 racks of lamb (French-trimmed, 4 lamb cutlets per person)
1 + a bit cup of macadamia nuts (other nuts could be used as well)
1 large garlic clove, peeled
1/2 cup chopped parsley
4 tablespoons olive oil
2/3 teaspoon sea salt
A little extra salt and black pepper
Some ghee or coconut oil for cooking
Large roasting tray
For balsamic cherry tomatoes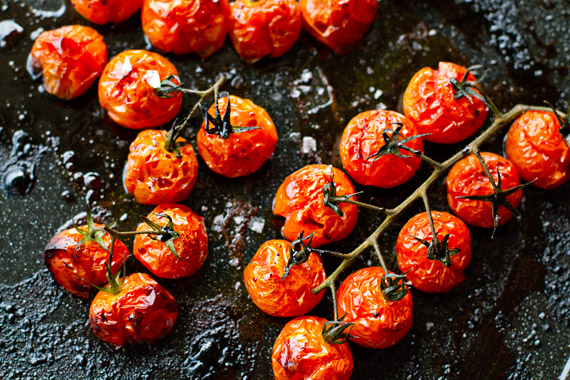 3 branches of cherry tomatoes on the vine
3 tablespoons Balsamic vinegar
1/2 teaspoon of sea salt
A little drizzle of olive oil
For sweet potato & mushroom gratin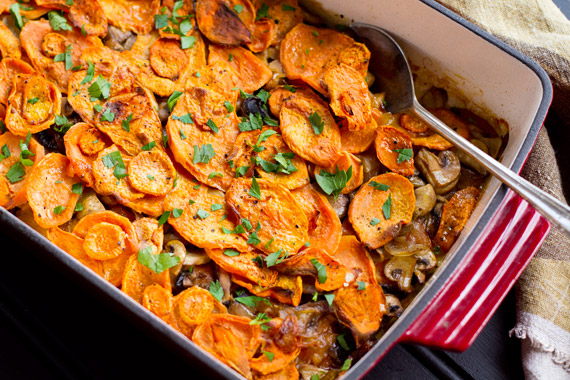 4 medium sweet potatoes
3 cups sliced button mushrooms
1 + 1/2 brown onion, sliced
2 tablespoons olive oil
2 tablespoons of butter or ghee
1 garlic clove, finely diced
Pinch of salt
200 ml of vegetable stock (about 1 cup)
Pinch of nutmeg
A couple of bay leaves
For the red wine sauce
½ cup red wine
1 cup beef stock
1 tablespoon butter or ghee
1 garlic clove, finely diced
Pinch of black pepper
For chilli chocolate mousse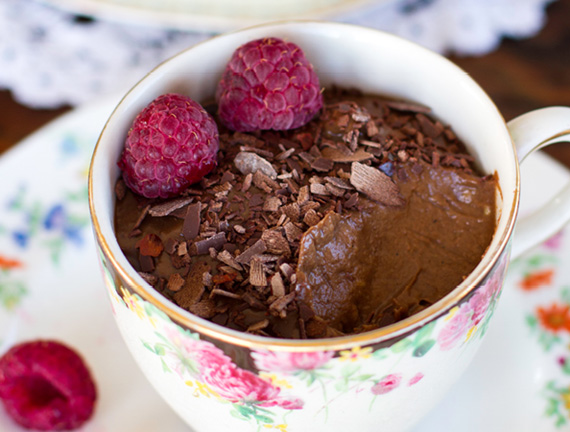 1 large, ripe avocado, such as Hass avocado
2 bananas
6 tablespoons raw cacao powder
5 tablespoons coconut cream (thickened part from the top of the can)
1/2 vanilla pod, seeds scraped out (or 1 tablespoon vanilla extract)
2 + 1/2 tablespoons coconut sugar, honey or maple syrup
Pinch of sea salt
3/4 teaspoons red chilli flakes
Optional: dark chocolate flakes, raspberries and chilli flakes for garnish
6 ramekins or smal cups
---
Cooking instructions and timings
One day before
Place a can of coconut milk or cream in the fridge.
4-6 hours before guests arrive
1. Prepare the mousse. Cut the avocado in half and remove the seed. Scoop out the flesh and add to a food processor/blender together with chopped banana and cacao powder. Whiz up until smooth. Remove contents to a large bowl, add coconut cream, vanilla, your choice of sweetener. Whisk using an electric blender until well combined, fluffy and smooth. Fold in the salt and chilli flakes. Set the mousse in the fridge for 2-3 hours before serving. You can divide it between ramekins or small serving glasses before setting, or do it just before service. Keep in the fridge until guests arrive. Prepare some garnishes: dark chocolate flakes, raspberries and a little extra sprinkle of chilli flakes and set aside.
2. Wrap asparagus in prosciutto slices. Cut about 2 cm off the ends of the washed asparagus spears. This step can also be done the day before.
Cut the prosciutto strips into two halves, going lengthways, so you end up with 18 strips.
Place one prosciutto strip on a chopping board at a 45-degree angle. Place one of the asparagus spears on top of the meat, perpendicular to it. The tip of the asparagus should be lined up with the bottom of the prosciutto strip. Wrap the bottom end of prosciutto over the asparagus, and holding the meat tight, start rolling the asparagus up. The prosciutto strip will wrap around the whole length of the spear because it's on an angle. You can try a different wrapping method but I find this is a very quick way to do it. Don't worry if parts of the asparagus spears are not covered completely. Place in the fridge until cooking time.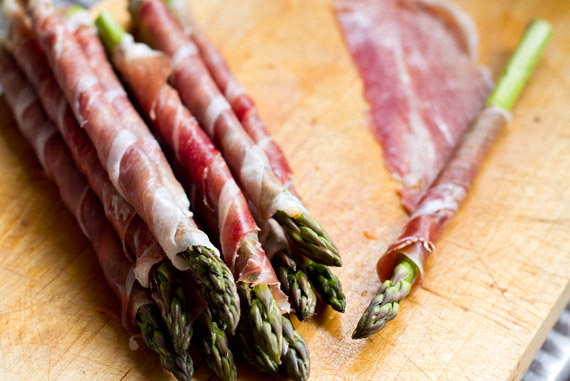 2. Roast the cherry tomatoes. Preheat the oven to 170 C/335 F. Place cherry tomatoes on a roasting tray and drizzle with some olive oil or macadamia oil. Roast in the oven, on the middle shelf, for 30 minutes. Take out of the oven, drizzle with Balsamic vinegar and place back in the oven for a further 15 minutes. Remove the tray and sprinkle tomatoes with sea salt. Set aside.
3. Prepare sweet potato gratin. Slice the onions and mushrooms. Heat 2 tablespoons of olive oil in a large frying pan over medium heat. Add the onions and sauté with a generous pinch of salt until soft and golden. Add sliced mushrooms, one tablespoon of butter or ghee, chopped garlic and a pinch of black pepper. Cook for a further 5-7 minutes, stirring a few times. In the meantime, peel and slice the sweet potatoes into thin circles.
Preheat the oven to 180 C/355 F. Place a double layer of overlapping potato slices on the bottom of a baking tray. Sprinkle with some seal salt and black pepper. Spread the cooked mushroom and onions evenly over the top and cover with another layer of sweet potatoes; sprinkle a little more salt and pepper.
Add another tablespoon of ghee or butter to the frying pan and heat over high heat. Add the vegetable stock, bay leaves and a pinch of nutmeg. Bring to a simmer and cook for 2-3 minutes until thickened slightly. Pour over the potatoes and place the tray in the oven at 180 C for 45 minutes. Set aside until guests arrive, you can reheat it in the oven just before serving.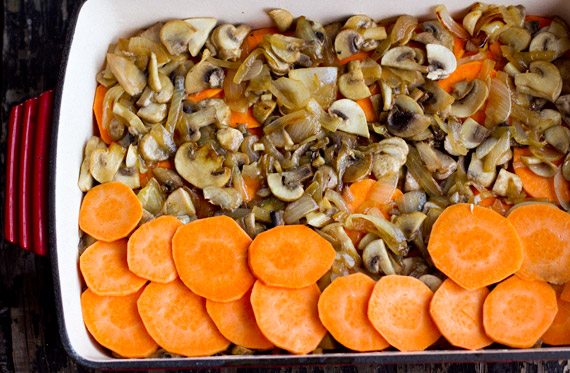 2 hours before guests arrive
1. Prepare the lamb racks. Wash and pat dry the racks of lamb, sprinkle with sea salt and pepper and set aside to bring to room temperature.
Place macadamia nuts, chopped parsley and garlic in a food processor. Add 4 tablespoons of olive oil and a generous pinch of salt. Process into thick, sticky paste.

Heat a teaspoon of ghee or coconut oil in a frying pan until hot. Place the lamb racks, standing up, and fry for one minute. Turn the racks flat and pan-fry for additional minute on each side so all three parts are sealed. Remove to a plate and once cooled down, cover the meatier sides with 0.5-cm thick layer of macadamia paste, pressing down with your fingers. Place in the fridge to set. Leave the frying pan to prepare the red wine sauce.
2. Red wine sauce. Add half a cup of red wine to a heated frying pan. Cook over high for 1 minute, letting it bubble away. Add one cup of beef stock, one garlic clove and a pinch of black pepper. Cook over high heat for 2-3 minutes, letting the liquid reduce. Add a tablespoon of butter or ghee, and cook for a further 3-4 minutes until the liquid is reduced even further. Pour into a bowl or a small saucepan and set aside until ready to reheat just before serving.
3. Arrange antipasti on a platter and set the table.
On arrival
1. Serve antipasti with sparkling Shiraz or Champagne. Half an hour after mingling, perform a ninja exit to finish off the cooking process.
2. Finish asparagus. Heat a little olive oil or coconut oil over medium-high heat in a flat frying pan or a skillet. Fry the asparagus spears in two batches, for 2-3 minutes on each side, or until the prosciutto is browned and crispy.
3. Finish the lamb. At the same time, preheat the oven to 200 C/390 F. Place the lamb racks in a lightly greased tray, facing the crust side up, and roast for 15 minutes at 200 C/390 F, Then, turn the oven down to 170 C/335 F and roast for a further 7 minutes. Rest out of the oven for 5 minutes before serving. The crust is quite crumbly so be careful when transferring the lamb to a serving platter.
4. Potatoes and tomatoes. Half way through the cooking of the lamb, place the sweet potato gratin back in the oven on the bottom shelf to warm up. Add the tomatoes, if you have space, otherwise warm them up after you take the lamb out. While the lamb is resting, reheat the red wine sauce and serve in a little jug.
Serve the lamb racks with cherry tomatoes and a handful of fresh parsley around them, plus sweet potato gratin and asparagus on the side. You can also make a simple green salad or a side of steamed broccoli with olive oil and lemon. Wash it all down with a nice bottle or two of Shiraz.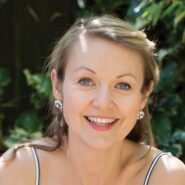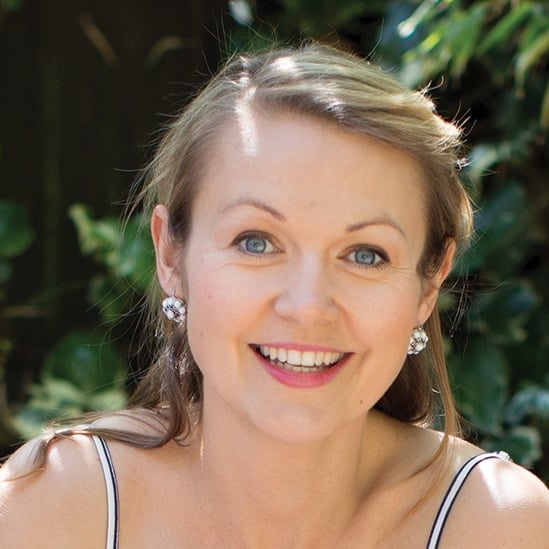 By Irena Macri
About the author:Hi, I'm Irena Macri. I share delicious recipes that I have cooked and loved. I am a published cookbook author, have been food blogging for over 10 years and have a Diploma in Nutrition. You will find many healthy recipes as well as my favourite comfort food.More about me here. Sign-up for my newsletter and subscriber freebies.