When it comes to smoothies, I like to pack mine with as many nutrients as possible. This is my anti-ageing smoothie, which is full of vitamins and antioxidants to rejuvenate both the inside and the outside. It's paleo, Whole30, dairy-free.
---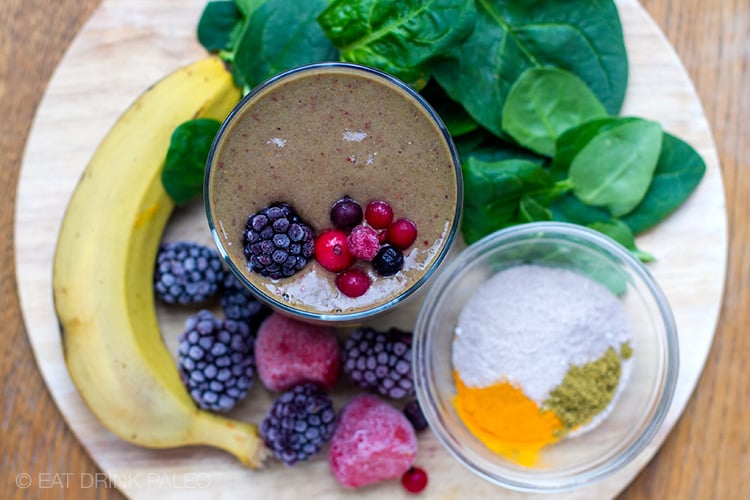 When it comes to colours, this is not the prettiest looking smoothie to look at but it's tasty and full of nutritious ingredients with anti-ageing, healing, and vitality-boosting properties.
I like to make a smoothie that packs in a bit of protein and that is quite satiating, which I enjoy as a quick breakfast or as pre or post-workout drink. I've been researching different ingredients, powders and supplements and have settled on the following go-to ingredients for this smoothie.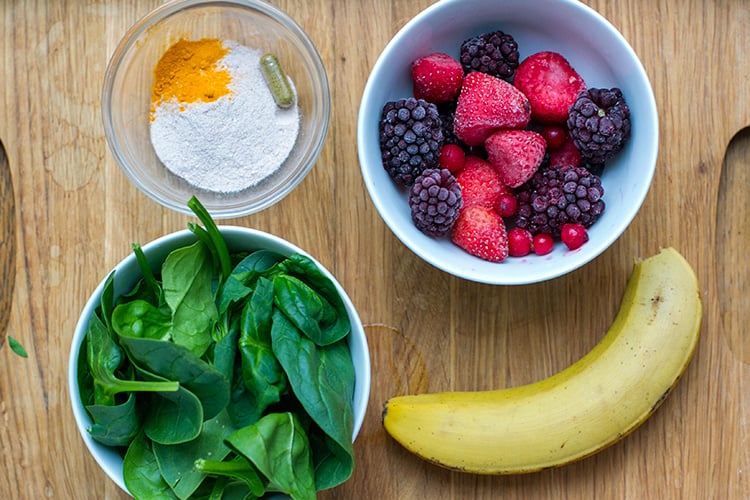 Collagen
Collagen is the ultimate anti-ageing supplement, and it's one I swear by.
It's so easy to add to your diet too, as it comes in the form of a tasteless powder that easily blends into smoothies, coffee, and even water.
Collagen is the major building block of our skin, and it keeps our connective tissues strong. It's a complete protein, so it contains all 9 amino acids that our bodies don't produce on their own. Glycine and proline, in particular, help to protect collagen.
As we age, we produce less collagen, so keeping that production line strong is necessary for youthful-looking skin.
I've been using the Planet Paleo Primal Goddess collagen powder, which comes in berry flavour and I also like Vital Proteins brand or Great Lakes collagen powder. In Australia, check out iHerb for collagen powder.
Frozen berries
Frozen berries are something you'll always find in my freezer.
See, I just don't like to skimp on these everyday super foods even when the season isn't right. You'll only find fresh berries with good flavour and a good price in the summer, but fortunately, frozen fruit is just as nutritious, if not more!
Berries are one of the most antioxidant-rich foods you can consume. Plus, they are low-calorie and low in sugar, making the perfect addition to smoothies. The antioxidant content is important because those compounds fight off free radical damage to our cells making them prominent and effective disease fighters.
Banana
Bananas are cheap, delicious, and portable in their natural protective layer. Thanks, nature!
Beyond that, they are also an awesome source of quick energy for long days or tough workouts. Like berries, bananas are an antioxidant-rich food which feeds our cells and mitochondria to keep us vibrant and young on a cellular level.
Moreover, green bananas contain resistant starch which provides our guts with a tasty source of prebiotics and manages gut flora for ultimate vitality.
Spinach
Popeye always knew the secret to super-human strength, and that secret is spinach.
Leafy greens are a crucial part of any diet because they are one of the most nutrient-dense foods you can eat. A single serving provides you with more than half the daily recommendation for vitamin A and a healthy dose of vitamin C.
You also squeeze in some vitamin E, vitamin K, some B vitamins, and a few important minerals. Gram for gram, you get a huge bang for your buck here. These vitamins and minerals work together to keep your cells happy, your digestion smooth, your immune system on the defence and your skin glowing.
Q10 supplement
CoQ10 or coenzyme Q10 is another supplement I continue to stand by, as it can really make a big difference for people.
Basically, our mitochondria need CoQ10 to convert fat and nutrients to energy. It's also crucial for antioxidant activity (e.g. free radical fighting to take place).
Finally, it helps to make other vitamins and minerals more bioavailable to the body, so you can absorb more nutrients from the other healthy foods you eat.
Overall, we produce less CoQ10 as we age, so taking in more of it as we grow older helps our bodies keep up with the natural decline, and prevents signs of ageing while improving nutrition and fighting disease at a cellular level.
I often take this as a supplement but also like adding the contents of the capsule to the smoothie. I generally like Thorne Research brand for supplements but you can buy other preferred brands of Q10 capsules, like this one. You can also find these on iHerb in Australia.
Turmeric Powder
Turmeric is my favourite anti-inflammatory food, partially because its yellow colour always brightens my mood and partially because it's incredibly easy to add to the diet.
Turmeric's main constituent – curcumin – is responsible for its magical anti-inflammation powers. This means that it slows down the ageing that accompanies inflammation-related disease and processes. It can also increase the body's antioxidant capacity.
Finally, curcumin is an anti-cancer agent. Overall, it's a great way to keep vitality up. It's best to pair turmeric with black pepper, as curcumin is more bioavailable to the body alongside it. Get turmeric powder online here.
Almond Milk
Almond milk is a popular dairy milk replacement, but it's actually quite healthy – especially from scratch. Unfortunately, many commercial brands don't contain very many almonds!
However, almonds contain tons of vitamin E which is something I try to emphasise in terms of keeping the body young. Vitamin E is a powerful antioxidant, coming in the clutch to keep cells protected and healthy.
Print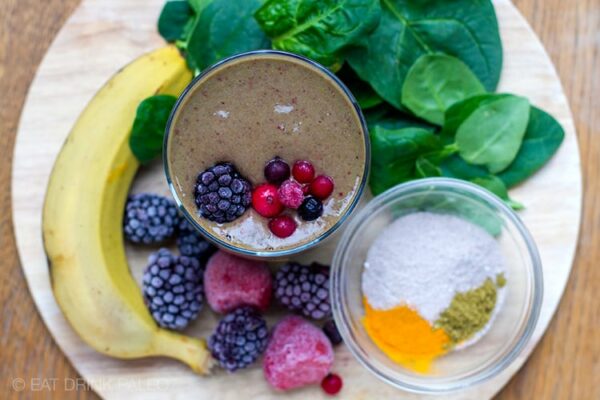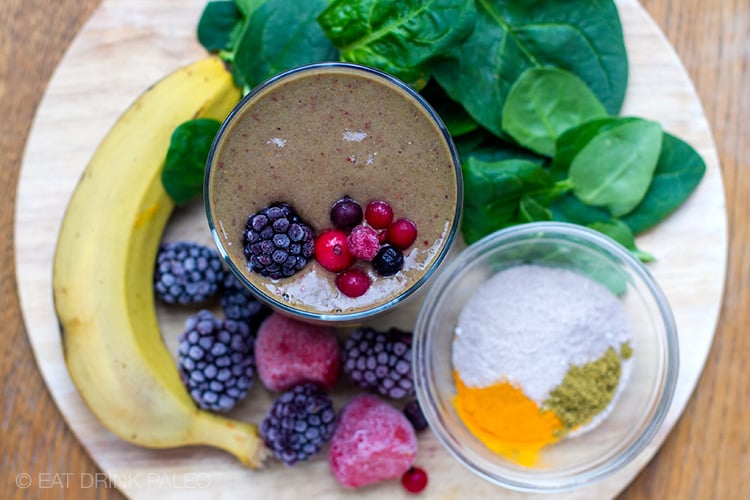 My Anti-Ageing Smoothie Recipe
Author:

Prep Time:

5 mins

Total Time:

5 mins

Yield:

1

1

x
---
2 tablespoons

collagen powder

1 teaspoon

turmeric powder

1

x Q10 supplement capsule (powder)

1/2 cup

mixed frozen berries

1/2 cup

baby spinach leaves

1

small banana

1

–

2

to 2/3 cup almond milk (plus a little water, coconut milk could also be used)
---
Instructions
Add all ingredients to a high-speed blender (I use a Magic Bullet). Process until smooth, and add a little more water or almond milk depending on how thick you like it. Top with a few extra berries and enjoy!
---
---
Share This Smoothie Recipe To Pinterest