Let's talk about celeriac. Not the prettiest thing to look at, right? Especially in comparison with its handsome offshoot celery with pretty green leaves, crispy stems and heady aroma. Yet, this seemingly inedible looking root vegetable is actually very delicious and versatile. It comes as a fairly firm, bulbous looking root resembling the same flavour and aroma characteristics as celery. Unlike other root vegetables, celeriac is very low in starch with only about 5-6% of body weight so it's totes Paleo. It can be roasted, stewed, blanched, mashed or eaten raw.
In case you don't know what celeriac looks like, here it is (yeah, looks like an alien mutation):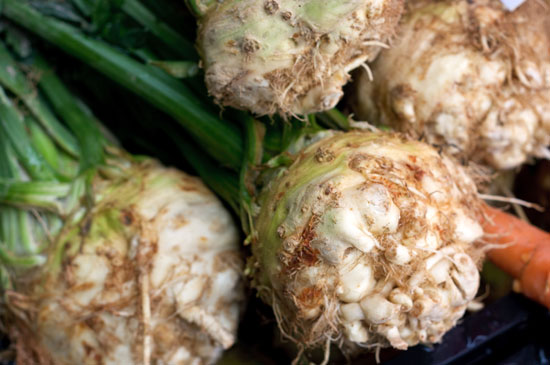 In this recipe, I made a remoulade-like salad which works really well with celeriac. Remoulade is a French style condiment that has an aioli or mayonnaise base with a few tasty additions like pickles, horseradish, capers and paprika. Think of it as a dressing for our salad. Smoked trout goes well with the remoulade and onion so it was a natural addition. I love using smoked ocean trout because it's cheaper than buying a fresh whole trout and it lasts longer in the fridge, so I can use it in a few different dishes. Trout is an amazing source of Omega-3 fatty acids as well as B vitamins and protein. You can get a whole smoked trout from most fishmongers and good quality grocers and delis. I got a whole smoked trout for $11 from one of Sydney's Harris Farm shops and ended up using it for two different meals. Bargain!
How to make a paleo-friendly mayonnaise
Cooking notes: you can also dress this salad with lemon juice and olive oil if making your own mayonnaise sounds like a chore. If you're lucky, you can find olive oil or macadamia oil-based mayo in health food stores and good quality grocers.
Ingredients
1/2 medium whole smoked ocean trout
1 celeriac bulb
1/2 Spanish onion, thinly sliced
2 tbsp small capers
1 1/2 tbsp olive oil or macadamia oil-based mayonnaise
1 tbsp lemon juice
pinch of sea salt
pinch of black pepper
Instructions
Discard celeriac leaves, peel the skin and remove the root end. Slice into thin disks and then slice those into thin strips, julienne style.
Remove the fish skin and pull the flesh apart into small flakes, pull any visible bones out.
Mix celeriac with mayonnaise, lemon juice, capers and a little pinch of sea salt. Toss fish flakes through the salad.
Preparation time: 15 minutes
Number of servings: 2