If you're a fan of salads or trying to eat more of them, these ideas are for you! I share five tasty mason jar salad recipes that you can make ahead for lunch or quick dinner. From spicy chicken and Mexican shrimp to roasted vegetables and canned salmon, these salads in a jar are healthy, delicious, gluten-free, paleo, low-carb and Whole30-friendly. A nutritional breakdown for each salad is provided.
---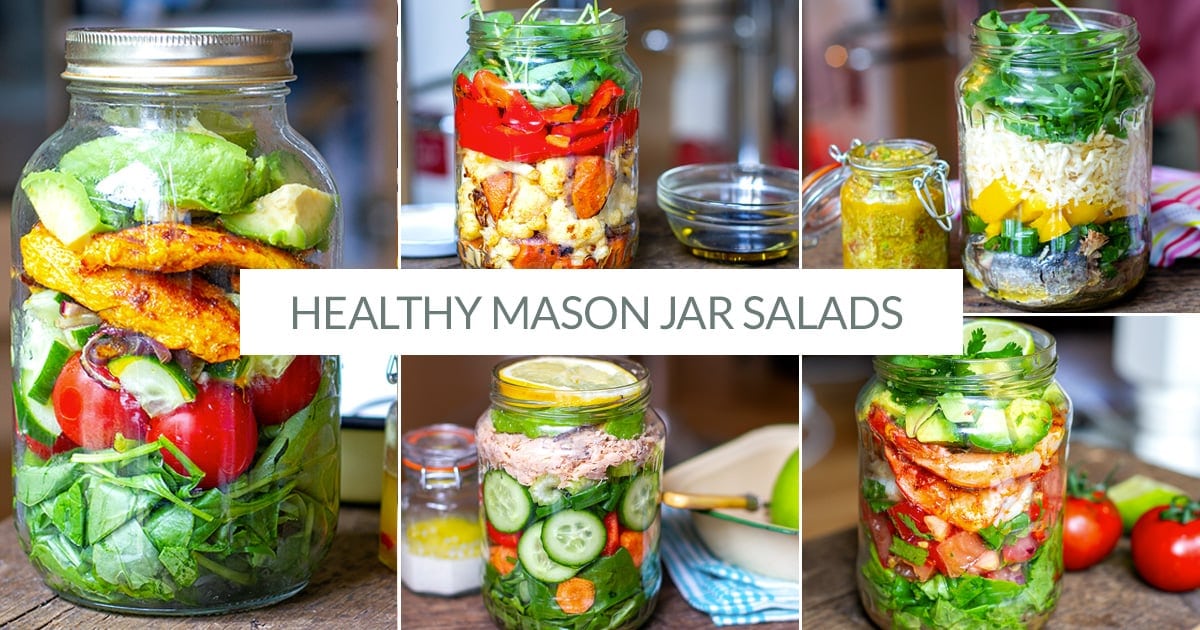 I love salads and unless I am having leftovers for lunch, a good bowl of leafy greens, crunchy vegetables, tasty protein and yummy salad dressing is my usual go-to option. For a portable lunch, I like mason jar salads perfectly layered to keep all ingredients fresh and ready to be transferred to a bowl; or, you can eat straight out of a jar.
Plus, packing salads in a jar is a great way to avoid using plastic and to recycle all those leftover glass jars you have lying around the kitchen. I soak my jars in really hot water and peel off the labels before storing them in the cupboard. I then use them to store leftovers, sauces, extra coconut milk, salad dressings and packed lunches.
How To Make Salads In A Jar
When it comes to salad combinations, the sky is the limit. My preferred ratio is one-third protein and two-thirds vegetables with a small side jar or a container of zesty salad dressing. You can also add the dressing to the bottom of the jar before you start layering the ingredients.
Some days I might only use vegetables with some nuts and a fatty, satiating salad dressing. I often make a big batch of the dressing so I can keep it in the fridge at work for lunches or at home for quick dinners.
Layering Mason Jar Salads
I've experimented with salad leaves on top and bottom of the jar and I find that they are freshest and crispest when kept on top. The same goes for any other ingredients you don't want to squash or get soggy (cucumbers, tomatoes, avocado). However, if your dressing is in another container, then it doesn't matter if your leaves are on the bottom.
If packing the dressing directly in the jar, add that in first. Follow by firmer ingredients or the protein and then finish with vegetables and more fragile ingredients.
The size of the jar is up to you but I find that a 500-gram jar can hold enough salad to make a satiating meal. A smaller jar might suit better to more energy-dense salads like my tuna and sweet potato salad, for example. Mason jars are readily available in stores or online or you can recycle jars from sauces and condiments.
I hope you like these mason jar salad recipes. Share your favourite combinations in the comments. All recipes are for 1 serving with some dressing leftovers.
How Long To Store Mason Jar Salads In The Fridge?
I find that this depends on what is in the salad. If you don't add any juicy sauces or dressings to the jar, the ingredients should stay fresh for up to 2 days in the fridge. If you have something like diced tomatoes or avocados, I'd say overnight to 1 day will keep those fresh, after which they might get soggy or discoloured.
---
Spiced Chicken Avocado Salad With Lime Chilli Dressing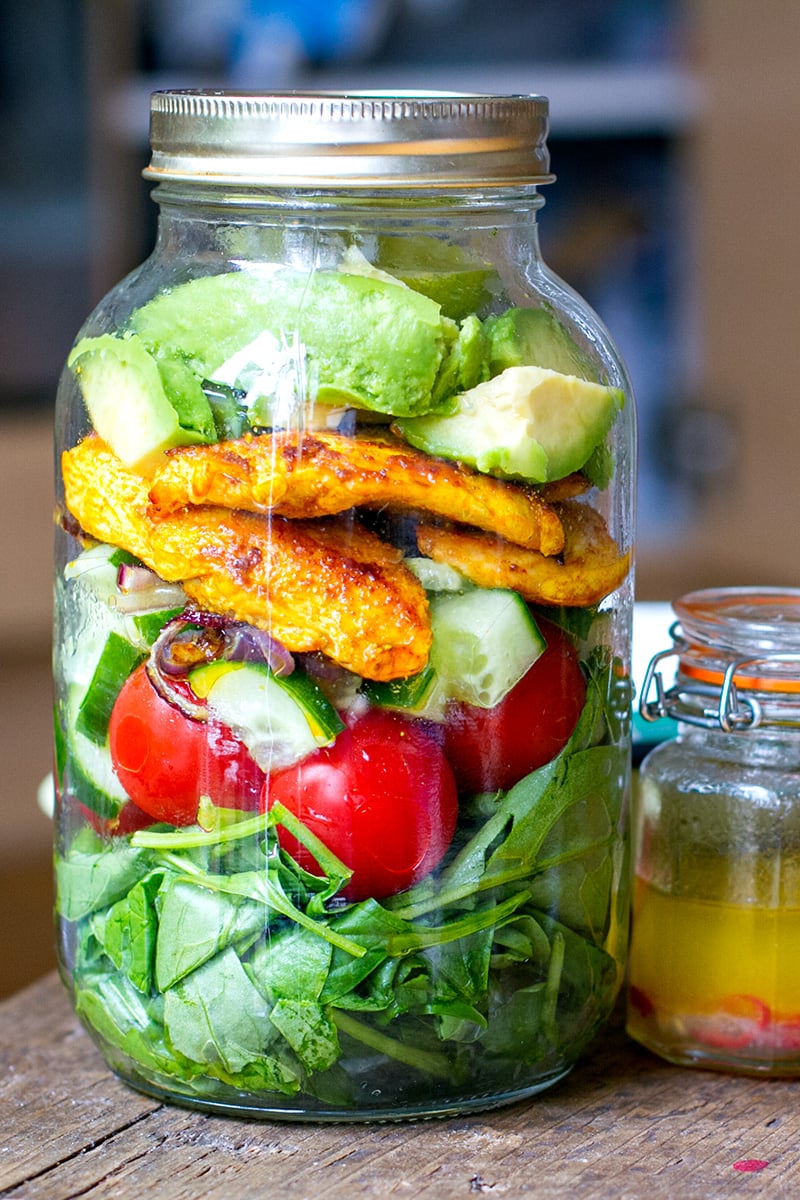 Ingredients
1/2 small red onion, sliced
1 tablespoon olive oil
A pinch of sea salt
1 chicken breast, sliced into 4-5 strips
1/2 teaspoon paprika powder
1/4 teaspoon turmeric powder
1/2 teaspoon cumin powder
1/2 teaspoon garlic powder
1/2 teaspoon sea salt + black pepper
1/2 tablespoon olive oil
1.5 cups baby spinach or other leafy greens
5 cherry tomatoes, sliced or whole
1/2 cup diced cucumber
1/2 avocado, diced
A drizzle of lime juice
For the dressing
Juice of 1/2 medium lime
1 tablespoon olive oil
4-5 slices of long red chilli (jalapeno)
A pinch of sea salt
1/2 teaspoon honey or maple syrup (omit for Whole30)
Instructions
Heat a tablespoon oil over medium-high heat and pan-fry the onions with a pinch of salt for 5-6 minutes, until soft and golden. Remove and set aside to cool. Rub the chicken strips with spices, salt and pepper and pan-fry in a little extra oil over medium-high heat for 4 minutes on each side. Rest to cool before packing with the other salad ingredients in a mason jar. Premix the dressing and store in a separate container.
Nutrition per serving: 579 kcals, 23.5 g carbs, 8.5 g fibre, 32 g protein, 42 g fat.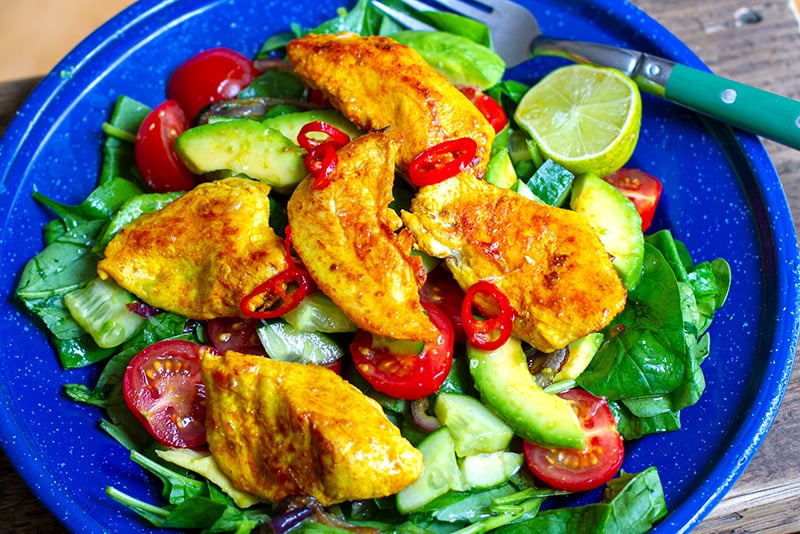 ---
Mexican Prawns, Avocado & Tomato Salsa Salad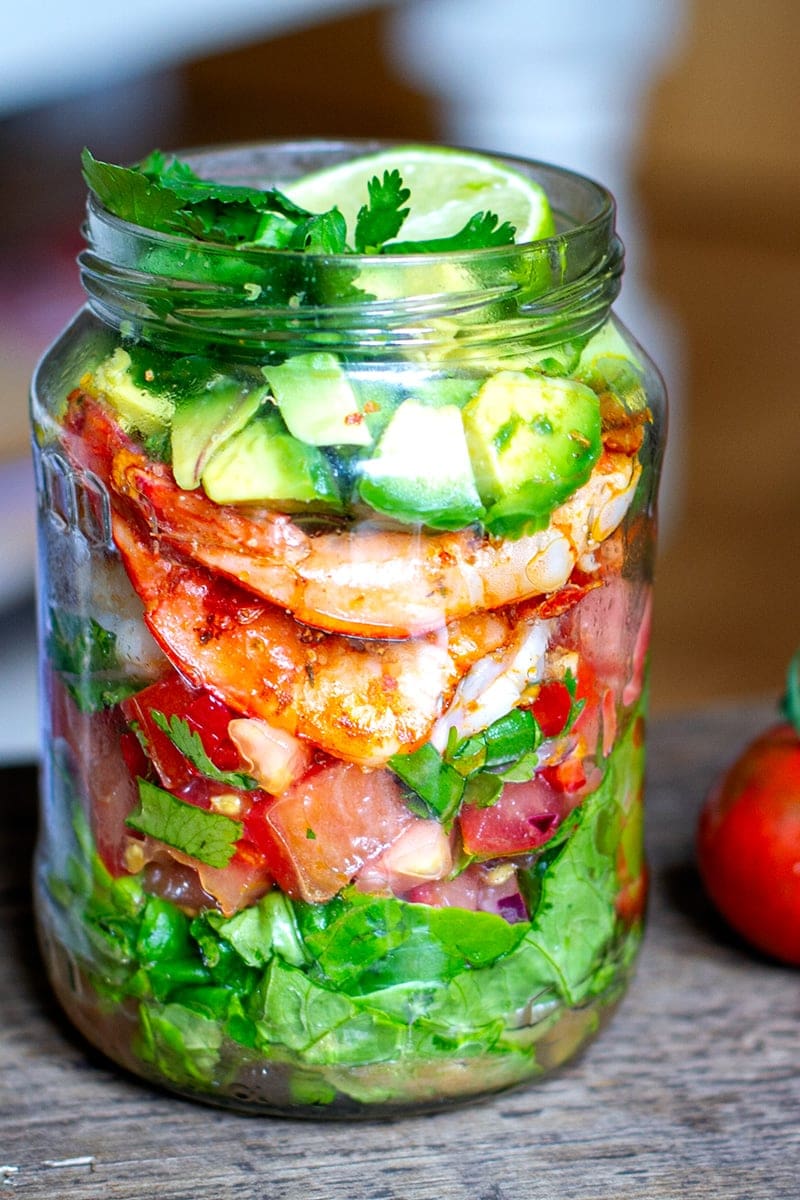 Ingredients
1 tablespoon olive oil
5 raw king prawns or shrimp (peeled and deveined)
2 garlic cloves, finely diced
1/2 teaspoon red chilli flakes or powder
1/2 teaspoon paprika powder
1/2 teaspoon cumin powder
1/2 teaspoon sea salt
For the tomato salsa
1/2 cup diced tomatoes (1 medium tomato)
2 tablespoons chopped fresh coriander (cilantro)
1/4 red onion, finely diced
Juice of 1/2 lime juice
1 tablespoon olive oil
1/4 teaspoon sea salt
1 tightly packed cup of chopped lettuce
1/2 avocado, diced
1/4 lime + extra coriander to garnish
Instructions
Heat the oil in a large frying pan. Toss the prawns with garlic, spices and sea salt. Pan-fry for 2-3 minutes, stirring a couple of times. Set aside to cool before packing the salad. If using pre-cooked prawns, simply warm them up with garlic and spices in a hot pan.
Combine the salsa salad ingredients and place on the bottom of the jar, followed by prawns, lettuce and avocado (the order in my pic is different but I found it would have been better to keep the juicy salsa on the bottom). Place the extra lime and coriander on top.
Notes: Instead of using raw prawns or shrimp, frozen stuff can be defrosted in slightly warm water or in the fridge. Pre-cooked, store-bought shrimp is also fine, you can simply reheat it with the spices.
Optional additions: jalapeños, extra coriander or other herbs, crispy bacon, grilled chorizo, grated cheese.
Nutrition per serving: 518 kcals, 19 g carbs, 8 g fibre, 28 g protein, 40 g fat.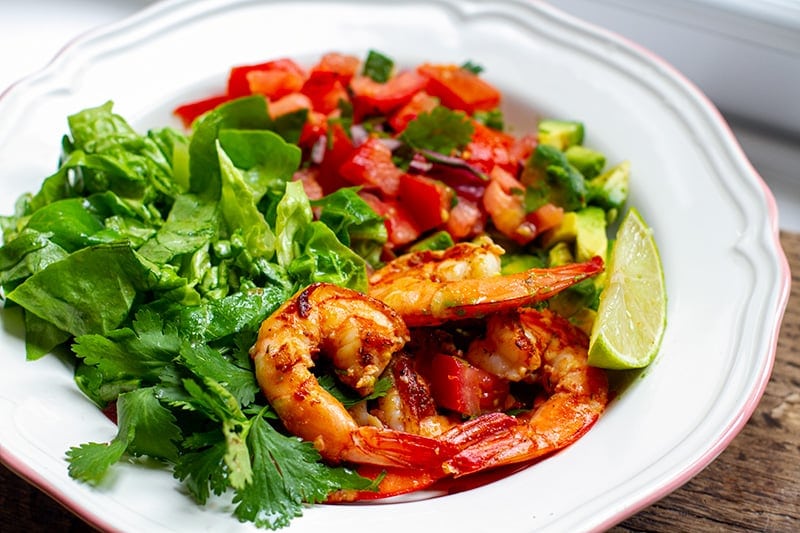 ---
Grilled Vegetables With Toasted Almonds & Balsamic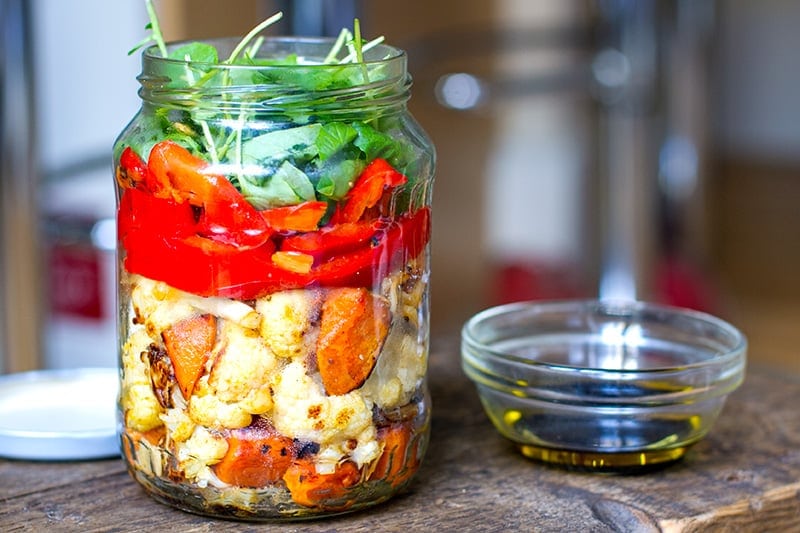 Ingredients
1.5 tablespoons olive oil
1 onion, sliced thick
1/4 cauliflower head, broken into florets
1 cup diced sweet potato or pumpkin
2 garlic cloves, diced
2/3 teaspoon sea salt
2/3 teaspoon dried herbs of choice (see notes)
1 cup baby spinach or other green leafy salad
1 roasted red pepper, sliced (like these)
2 tablespoons almond flakes or slivers
1 tablespoon balsamic vinegar
1 tablespoon olive oil
Instructions
You can either roast or grill the vegetables for this salad. To roast, place the cauliflower, sweet potato (or pumpkin) and onions with whole garlic cloves in a roasting tray and drizzle with olive oil. Sprinkle with sea salt and dried herbs, and roast for 20-25 minutes at 200 °C/ 400 °F.
To grill (which is what I did), heat the oil in a large frying pan over medium-high heat. Add the onions, cauliflower and sweet potato and pan-fry for about 10 minutes, stirring a few times. I cover the pan with a lid for half of the time to speed up the cooking process. Towards the end, add the diced garlic, herbs and sea salt and cook for 2 more minutes.
In a separate pan or a saucepan, cook the almond flakes over medium heat until golden brown. Make sure to stir very frequently to prevent burning. Add the almonds to the grilled vegetables. Slice the roasted red pepper and pack in a jar together with some leafy salad. Pack the balsamic and olive oil in a separate container.
Notes:
You can grill or roast a larger batch of the listed vegetables to use up in more salads or as a side with another meal.
Herbs such as thyme, rosemary, oregano or sage are nice for this recipe.
For roasted red peppers, I used pre-bought semi-pickled stuff that comes in a glass jar, like these.
Nutrition per serving: 545 kcals, 56 g carbs, 13.2 g fibre, 11 g protein, 33.5 g fat.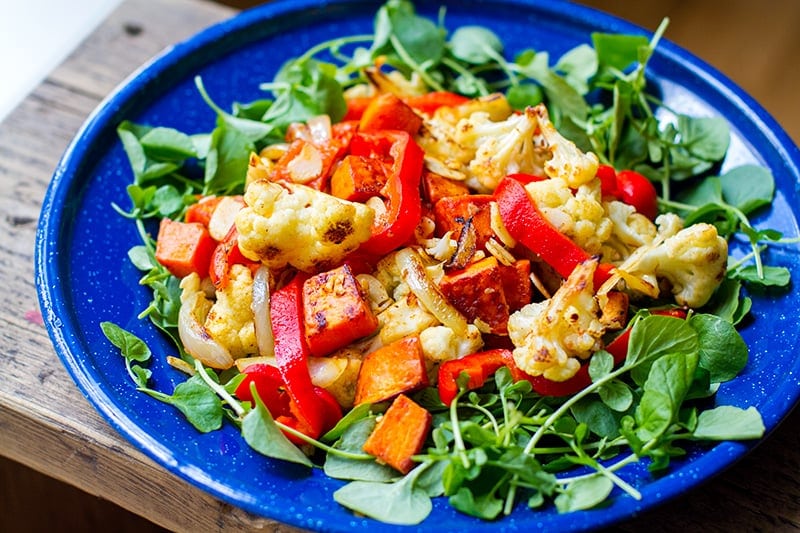 ---
Canned Salmon & Cucumber With Creamy Dressing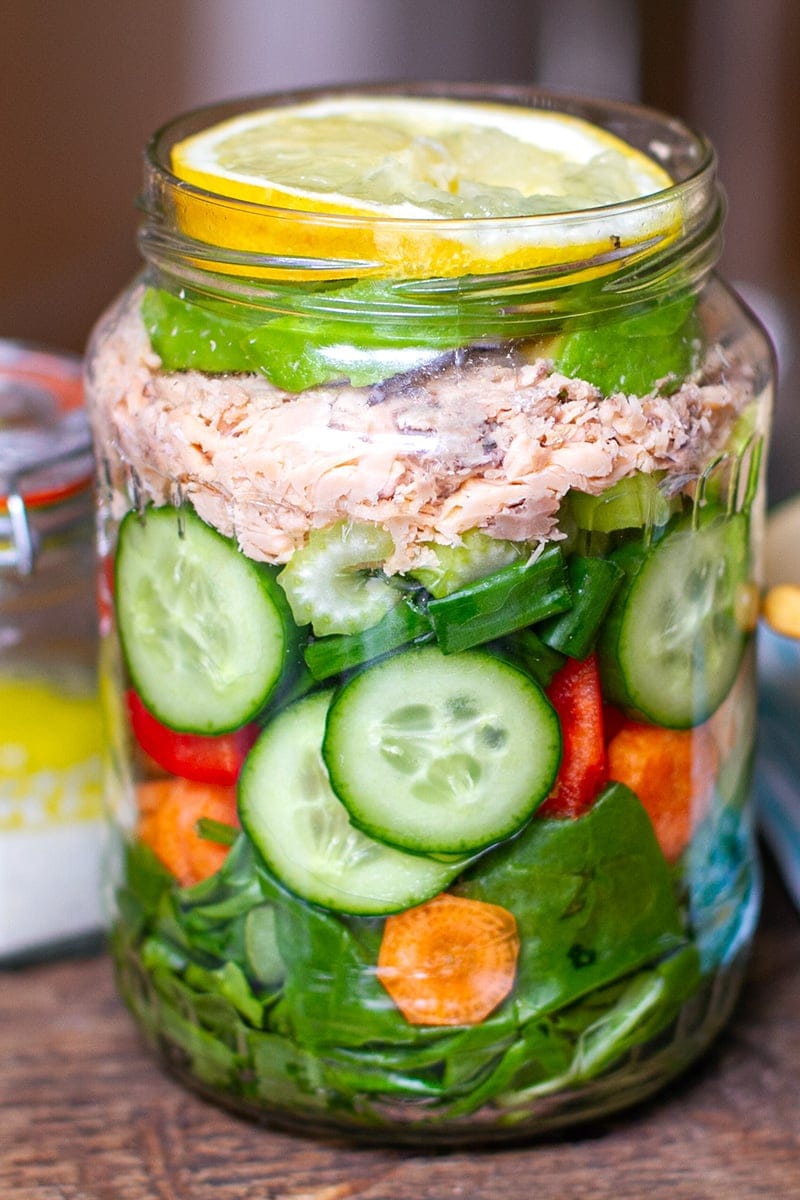 Ingredients
150 g / 4.5 oz. canned wild salmon (or tuna)
1.5 cups green leafy salad
1/2 carrot, diced
1/2 small red pepper, diced
1/2 small cucumber, sliced
1 small celery stick, sliced
2 tbsp chopped green onions
1/2 avocado, sliced
A thick slice of lemon
For the dressing
2 tablespoon mayonnaise
0.25 teaspoon sea salt
1.5 tbsp lemon juice
Instructions
This one is pretty straightforward. Mix the dressing and pack all ingredients in a mason jar. Done!
Notes: You can use canned or freshly cooked salmon or tuna.
Nutrition per serving: 600 kcals, 23 g carbs, 9.9 g fibre, 35 g protein, 42 g fat.
---
Sardines & Celeriac With Chunky Avocado Dressing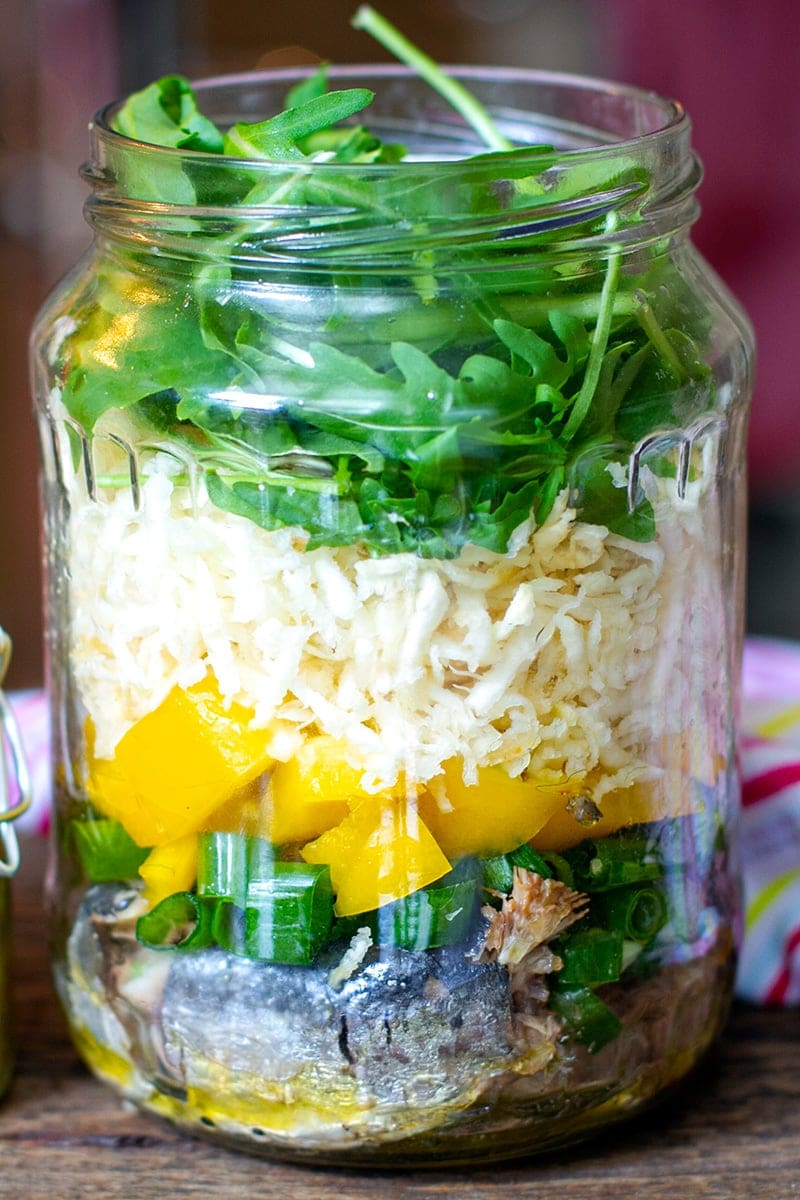 Ingredients
1/3 celeriac root, peeled and grated
2 tablespoons lemon juice
100 g / 3.5 oz tinned sardines
2-3 tablespoons chopped green onions
1/2 medium yellow or red bell pepper, diced
1/2 cup rocket salad leaves (arugula)
For the dressing
1/4 avocado, diced
4 semi-dried tomatoes, chopped
1 tablespoon olive oil
3 tablespoons lemon juice
A good pinch of sea salt
1/4 teaspoon mustard (Dijon, yellow or hot English)
Instructions
Drizzle the grated celeriac with lemon juice to prevent discolouration. Pack salad ingredients in a mason jar.
To make the dressing, place all ingredients in a food processor and puree into a coarse mixture. You can mash it by hand or in a mortar and pestle.
Notes
Look for sardines canned in brine or olive oil; avoid canola or soybean oil.
You can use grated carrot, kohlrabi or shredded cabbage instead of celeriac.
If making the night before, store the dressing in an airtight container in the fridge. You should have enough for a couple of servings.
Nutrition per serving: 523 kcals, 30 g carbs, 8 g fibre, 26 g protein, 33 g fat.
---
A Few More Mason Jar Salad Recipes 
Vegan Peanut Crunch Salad In A Jar from A Virtual Vegan
Cobb Salad In A Jar With Buttermilk Dressing from SkinnyTaste
Greek Chicken Salad In A Jar from Wholesome Yum
Summer Quinoa Salad Jars from Pinch Of Yum
---
Save These Mason Jar Salads To Pinterest