Whether you need a few paleo granola bars or paleo protein bars, buying them in a store can get expensive. But, it's fairly easy and affordable to make your own on-the-go energy snacks. I've got some of the best homemade paleo bars that cover everything from fruit and seed muesli slices to protein-rich, chewy delights.
---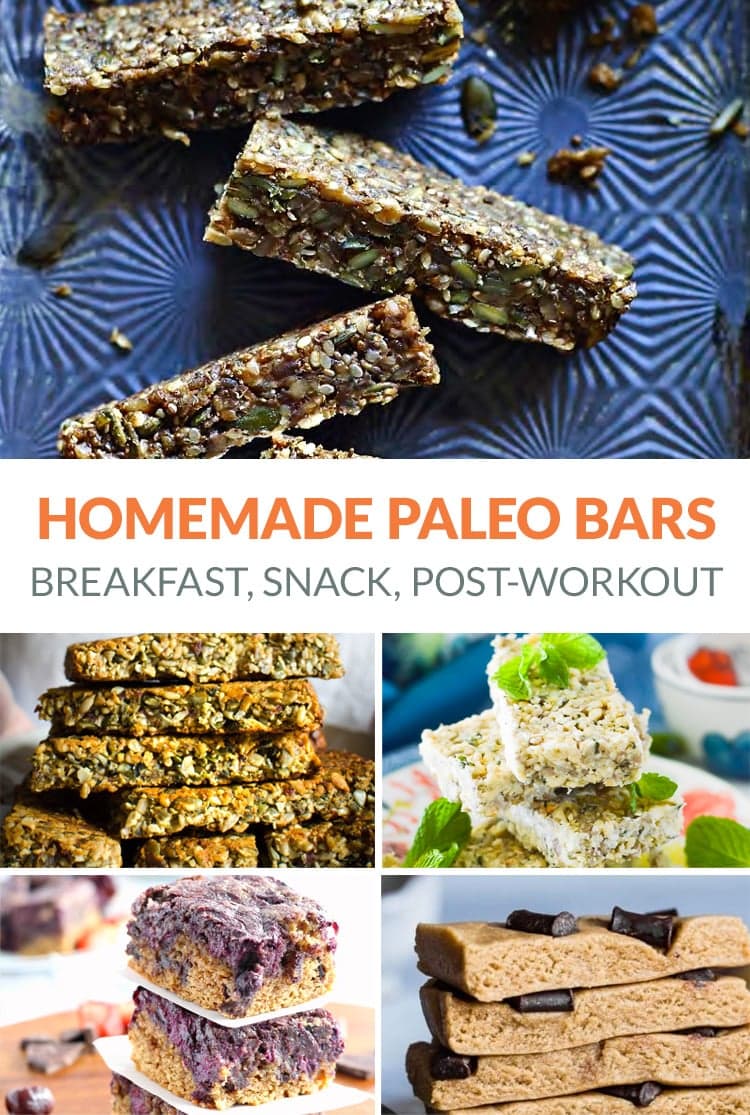 Bars are the quintessential snack food. They're portable, sturdy and they often have a long shelf life making them the perfect thing to buy in bulk. The caveat? Well, most bars aren't exactly full of nourishing ingredients. In fact, most are laden with added sugar (usually many different sources), grains, artificial sweeteners and dairy – especially some protein bars.
Let's change the game a little. Just because we want real food doesn't mean we should sacrifice these convenience foods. For the people on-the-go, the chronic snackers, the super active folks and the backpackers, the bar is a must. That's why I'm sharing with you the best paleo bars to make at home.
PS. Check out this article guide for best paleo protein powder options, which are great to add to the bars.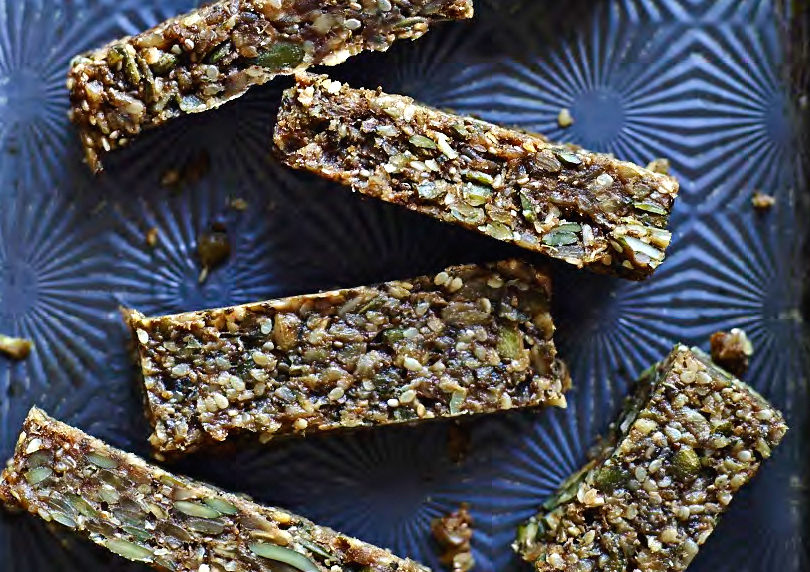 These paleo-friendly seedy bars are somewhere between granola and muesli bars and sesame snaps. These are nut-free and vegan-friendly so all-around a total crowd-pleaser kind of snack.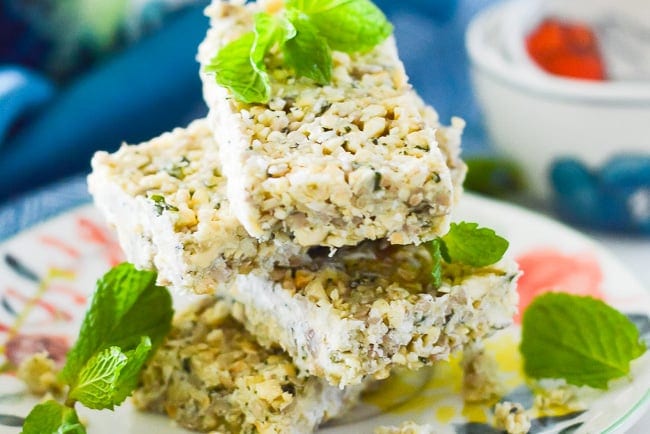 These pseudo rice krispie treats are totally grain-free and packed with fresh min flavour. IF you like a good crunch in your bar, this is a great recipe. It's full of healthy fats from cashews and sunflower seeds, sweetened with honey. There's no shortage of mint here, either, utilising fresh mint leaves for the recipe. Recipe from Pure & Simple Nourishment.
These are like a paleo rendition of your typical muesli bowl with all your favourite porridge ingredients. Almonds, brazil nuts, pumpkin seeds and sesame seeds are featured ingredients, with plenty of options for add-ins. I also use a protein powder for this, so you can choose a brand/flavour that works for you.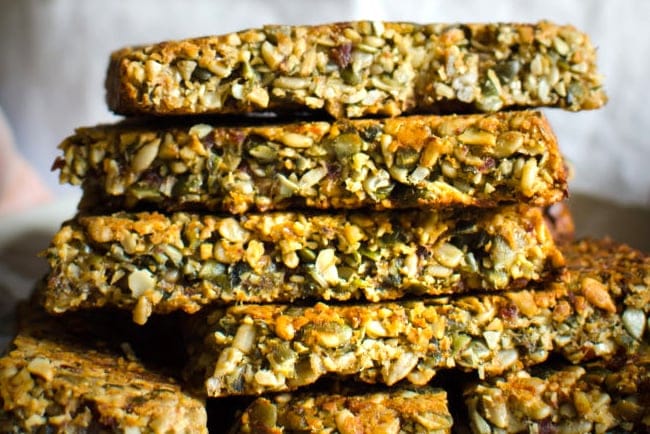 If you're avoiding nuts, this is a good recipe to work with because it uses seeds to achieve its awesome crunch instead. There are also egg whites in this recipe, boosting protein further, and an option without eggs for an AIP or vegan version. Use collagen for even more nutrition. These bars are a blank slate for customisation. Recipe from Eighty 20 Nutrition.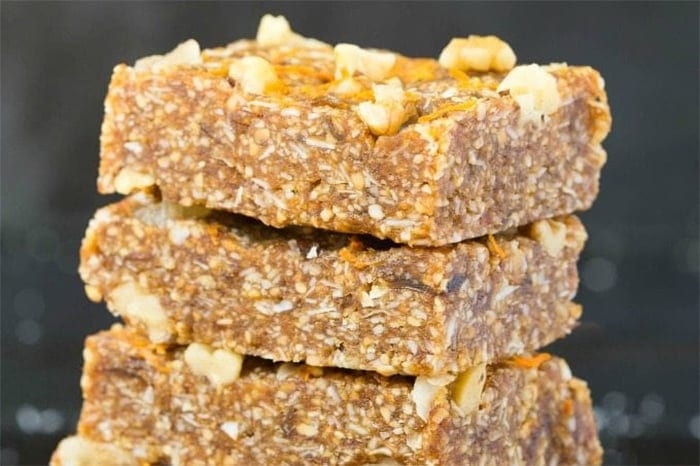 Larabars are one of the few ready-made bars that are completely paleo-friendly. Using dates, nuts and seeds to hold them together, they're an easy food processor recipe to make at home. This recipe boasts fresh carrot for even more nutrition and an awesome taste.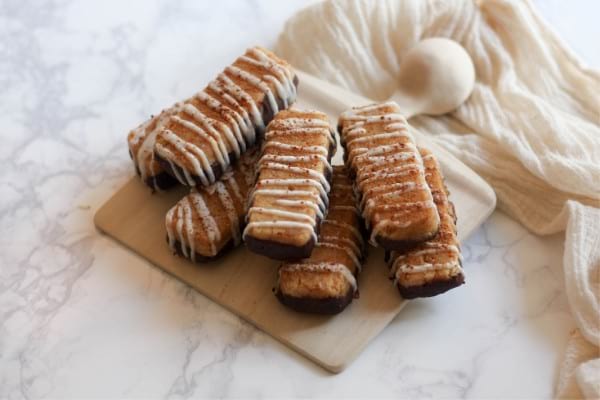 Here's another beautiful option for people who are following the autoimmune protocol. Pumpkin and cinnamon offer their sweetness up and make it a perfect treat for the fall season, plus you get both white AND dark chocolate icing. Swoon. Recipe from Grassfed Salsa.

Collagen is featured in many paleo protein bars – and for good reason. It's great for the skin, it's a complete protein and it promotes good gut health. Add chocolate and strawberries to the mix, and your mid-day snack will feel a lot more indulgent than the ingredients let on to be. Recipe from Unbound Wellness.

Sometimes, you just don't have time to eat breakfast. These bars are a fabulous and tasty solution to that dilemma. With an almond butter-infused base and a beautiful berry and chocolate 'icing,' you can't go wrong with these. Pop 'em in the fridge for the week, because apparently, they're even better the next day. Recipe from Paleo Running Momma.

Most fruit and nut bars use dates to keep it sticky, but this recipe challenges that and uses figs instead for a flavour more reminiscent of a Fig Newton cookie. This bar is also loaded with other ingredients I love like coconut, collagen and omega-3-rich chia seeds. Recipe from Raising Generation Nourished.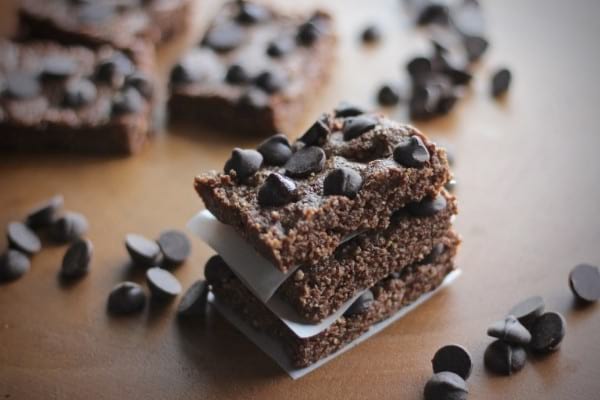 Some people won't have it any other way than the chocolate way. These no-bake bars will give you a boost of protein and hit your need for the good stuff in the right spot. It's a pretty simple list of ingredients including raisins, nuts. nut butter, protein powder and a bit of raw cacao powder – kind of like a chocolate chip Larabar. Recipe from Fed & Fulfilled.
Looking for something a little more savoury? This bar will do the trick with some breakfast favourites, and you can definitely justify having it for a morning meal. Plus, these are egg-free making them AIP-friendly. Recipe from Unbound Wellness.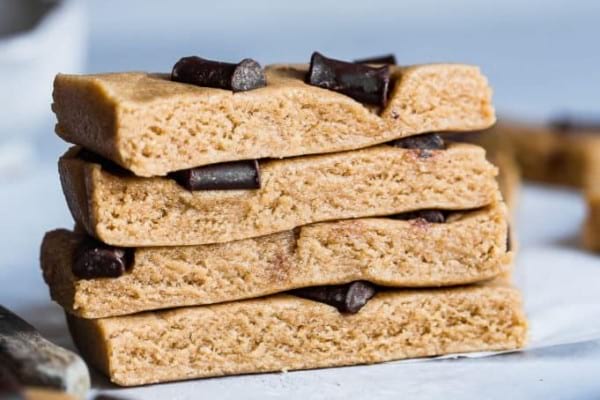 We've had some crunchy bars, but these chewy bars are a little more similar to Quest bars which are almost paleo-friendly, but not quite. Egg whites offer a natural, real food source of protein in these. And they almost look like raw cookie dough, so of course this recipe is wildly tempting! Recipe from Food Faith Fitness.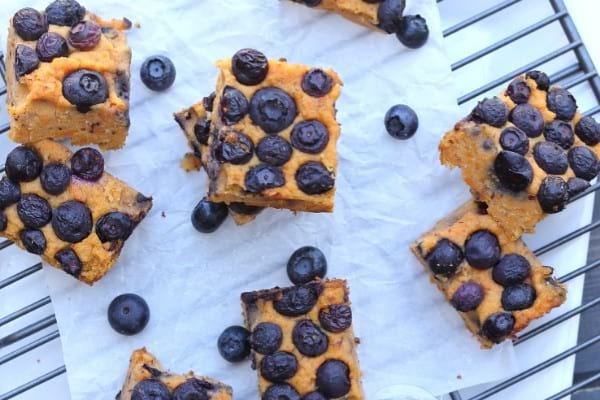 More sweet potato? Yes, please! Since it's naturally sweet and starchy, it's no surprise it makes the perfect baking ingredient for bars. These ones have a sweet potato base and are strewn with fresh, juicy blueberries. You can choose to use a different fruit or a blend of berries if you prefer. Recipe from Physical Kitchness.
Which recipe are you most looking forward to making? Let me know in the comments below and make sure to share this roundup if you found it helpful!