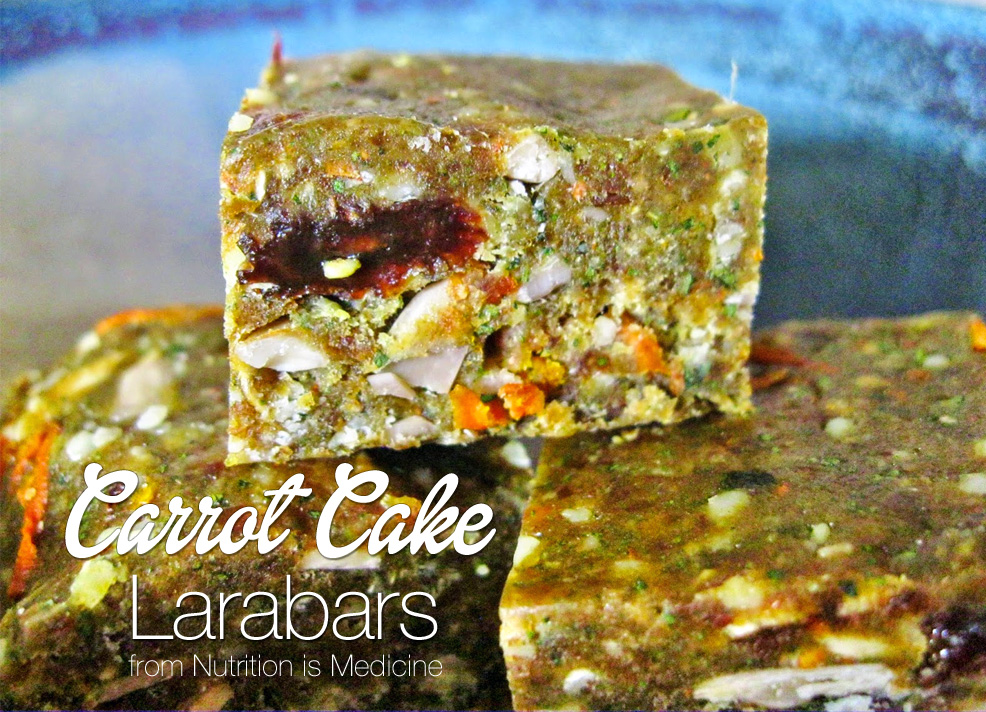 Today's guest recipe is from Tawny at Nutrition is Medicine. Tawny's take on the Carrot Cake Larabar is nut free and packed full of leafy greens and carrots, making it the perfect snack for those avoiding nuts or for kid's lunch boxes (although we think everyone will love them just as much!).
As a variation, you could also form the mix into bliss balls and roll in desiccated coconut. Yummo! We can't wait to try this recipe.
Tawny says: Larabars were my go-to snack when I first started eating paleo, but then I ended up having to eliminate nuts due to allergy. I found out I had an allergy to nuts by following the autoimmune protocol (AIP) for a few months and then reintroducing foods into my diet. After eliminating nuts my skin and digestive health both improved dramatically!
Needless to say, the reintroduction of nuts didn't go so well! I used to eat nuts on a daily basis so I had to come up with some nut-free snack ideas. Larabars were out of the question because they all contain cashews, almonds, and/or peanuts. So, I ended up inventing my own nut-free Larabar recipe for those of us with nut allergies. They still contain seeds, but you can leave those out if you can't tolerate them (or are following strict AIP). I even managed to sneak some greens into these bad boys; take that, Larabar!
I hope you enjoy this recipe as much as I did!
Print
Carrot Cake Lara Bars – Guest Recipe
Author:

Prep Time:

2 hours

Total Time:

2 hours

Yield:

2

0

1

x
---
2 cups

kale or chard

2 cups

grated carrot

4 cups

pitted dates

1/4 cup

coconut butter

1/4 cup

coconut oil

1 tbsp

cinnamon

1 tsp

allspice

1 tsp

ginger

1/2 cup

raisins

1/2 cup

sunflower seeds

1/2 cup

hemp seeds
---
Instructions
Put oven on lowest setting.
Chop kale or chard and lay on a baking sheet lined with parchment paper and put in oven (or use a dehydrator if you own one).
Grate carrot onto a separate lined baking sheet and put this in oven as well.
Let these dehydrate in oven while checking on them every 30 minutes to mix so they dry evenly. Once most of their moisture has evaporated (they will be crisp) remove them from oven and let cool.
Add the kale or chard to a food processor with the dates, coconut butter, coconut oil, cinnamon, allspice, and ginger, and process into a smooth paste. Remove this paste from processor and place in a mixing bowl.
Add the dehydrated carrot, raisins, sunflower seeds, and hemp seeds to the mixing bowl and combine thoroughly (I used my hands).
Line a small cookie sheet or other baking dish with parchment paper and press the paste flat into the dish to desired thickness (mine was approximately 1 inch thick and 12 x 16 inches).
Let it set for a couple hours in the fridge.
Once set cut into your desired bar size (I cut mine into 20 pieces).
---
---
About Tawny
Tawny holds a B.Sc. in chemistry and is now currently working towards becoming a Registered Holistic Nutritionist. Based in British Columbia Canada, she is the founder of the healthy living website Nutrition is Medicine, which focuses on whole foods, traditional diets, and the holistic lifestyle. With her work she aims to share her holistic knowledge and make good health an option available to everyone. Find more recipes and nutrition information from Tawny on her website, Facebook, or Google+.