If you haven't heard of nutritional yeast yet, you're in for a cheesy (and dairy-free) treat today. Keep reading to learn more about this miracle ingredient, the health benefits of nutritional yeast and how to use it in your paleo diet.
---
What Is Nutritional Yeast?
Don't be put off by its appearance (or name). While it may closely resemble fish food, nutritional yeast is actually quite tasty and healthful. If you've heard of it before, you've likely heard of it as a vegan cheese alternative. It's not just for plant-based diets though. Us paleo eaters also avoid dairy most of the time, so nutritional yeast has its place in nearly every diet.
Nutritional yeast – sometimes called savoury yeast flakes if you live in Australia – is indeed yeast, however, it's inactive. This makes it great for raw consumption. It's actually a fairly potent food source of vitamin B12 (in addition to other B-complex vitamins) which is rare to find in plant foods. It definitely could be considered a superfood.
It's a condiment of sorts. You can sprinkle it on salads, veggies, meats, nuts, seeds or whatever else your heart desires. It can also be used blended into creamy sauces, lending its robust and distinct cheesy flavour.
The Benefits Of Nutritional Yeast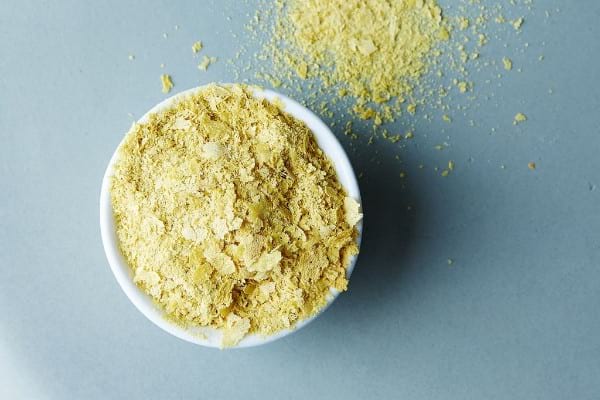 Let's dive into the nutrition facts of nutritional yeast and talk more about some of the benefits.
It's low–carb. With two heaping tablespoons coming in just around 60 calories, there are only five grams of carbs – four of which are fibre. This means that there is only a single gram of net carbs per serving, making it keto-friendly in addition to being paleo-friendly and vegan.
It's a good source of B vitamins. If you're looking to increase vitamin B1 and B2, nutritional yeast can provide anywhere from 35-100% of the daily recommended value of each. B1 – or thiamin – helps the body to properly metabolise glucose (a sugar) and promotes good muscle, nerve and heart health. B2 – or riboflavin – is good for the nerves as well, in addition to aiding in healthy adrenal function. The adrenal glands control stress response, and a good diet including a variety of vitamins and minerals can help to regulate the hormones produced by the adrenals.
It's often fortified with vitamin B12. Vitamin B12 is often lacking in vegan diets. While yeast on its own does not produce this vitamin, it is why many brands fortify their product with it. In fact, most brands you will find are fortified. Any added, synthetic vitamins should be found in the ingredients list. This is not something to worry about!
It's a complete protein. Surprising, right? Along with quinoa and hemp seeds, nutritional yeast is a complete plant protein that can be tough to find outside animal-derived foods. This ultimately means the food contains all essential amino acids, or the ones your body doesn't produce on its own. Plus, per two tablespoons, it contains around 4 grams of protein.
It contains an abundance of trace minerals. For such a tiny, unsuspecting food, you can actually find quite a few important minerals in nutritional yeast. You get from 4-60% of the recommended daily value of zinc, selenium and magnesium from two tablespoons.
It's rich with antioxidants. Antioxidants fight against free radical damage to the cells which can improve health and fight disease in several ways. Nutritional yeast contains two notable antioxidant compounds – glutathione and selenomethionine.
It contains beta-glucan and alpha-mannan. These two types of carbohydrates may fight off infection by getting to the root of certain bacterias, overall boosting immunity and making you more resilient. Beta-glucan is also linked to reducing cholesterol levels.
How To Use Nutritional Yeast
Nutritional yeast is incredibly versatile and pairs with as many foods as the cheese itself does. In fact, it can be used in place of salt as well. Here are some ideas.
Top your salad with it. Like a good sprinkle of Parmesan, nutritional yeast can add awesome flavour to your salad and pairs well with many dressings. It will also help add a salty component.
Mix it into soups. For a zingy addition to any soup from chicken noodle to tomato, nutritional yeast will do the trick.
Use it in the crumb mixture for chicken, fish or prawns before grilling.
Top roasted or steamed veggies with it. Sometimes, keeping it simple is the name of the game. Roasted veggies are delicious on their own cooked in healthy fats with some salt and pepper. To serve, add nutritional yeast for a little something extra. You can also toss fresh kale with some olive oil and nutritional yeast before roasting to crispy dry for an alternative to popcorn.
Make a cheese sauce. Dairy-free cheese sauce can be made with soaked nuts like cashews or even cauliflower. Try a cheese sauce and give it authentic flavour by adding in nutritional yeast. Then, use it to make these paleo nachos.
Sprinkle it on pasta. Or, your favourite pasta alternative. After all, what's pasta without a little cheese (or nooch!).
Use it as a thickener. Due to its texture, it can be used as a grain-free, flavour-deepening thickener in many savoury dishes.
Where To Find Nutritional Yeast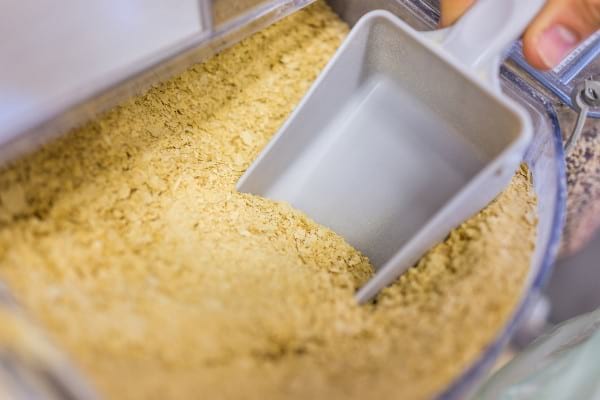 Nutritional yeast can now be found at most stores. It's often mixed in with spices or condiments and found in a clear, plastic bottle or in a bag. You may also find it with baking supplies and flours. At natural food stores, co-ops and select other stores, you will be able to find it in the bulk section which is the most economical buy. You can also find many brands of nutritional yeast online on Amazon.
Nutritional yeast is indeed paleo-friendly and Whole30 and can be used in so many ways. Have you tried it yourself? Let me know your favourite ways to use it in the comments below.