From zesty lemon and mustard vinaigrette to creamy avocado and ranch, these delicious paleo salad dressing recipes are healthy and easy to make at home. Ready to upgrade your salad game? Let's go!
---
Eating real food opens a world of opportunity in the kitchen, but it also slims down our ready-made options. This is especially true of bottled salad dressings, dips, and sauces. While perusing the labels of the condiment aisles, you've likely come to the sad realisation that most bottles contain canola or soy oil, sugar and other additives.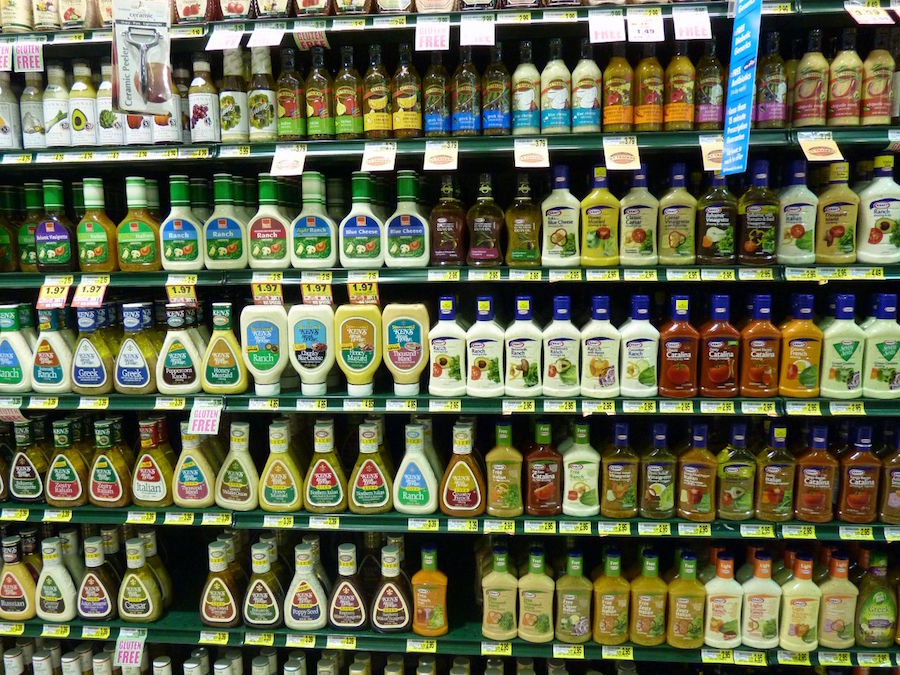 Don't let it get you down; all it takes to break out of a kitchen rut is a tasty drizzle of something that tastes familiar. Whether you're looking for that perfect dairy-free tzatziki or ranch for wing night, I've rounded some simple, delicious, and nutritious paleo salad dressings to take your meals to the next level.
Store-Bought Paleo Dressings
If you want some more convenient store-bought options, here are some paleo dressings brands to check out (these are on Amazon, but you can look for them in your local stores as well): Primal Kitchen salad dressings and Tessemae's salad dressings.
Make sure to check out my Salad A Day digital cookbook.
---
Best Paleo Salad Dressings
Here is a line-up of my favourite paleo salad dressing recipes. You can make most of these ahead of time and store a batch in the fridge to use throughout the week.
1. Everyday Lemon Mustard Dressing (Sugar-free)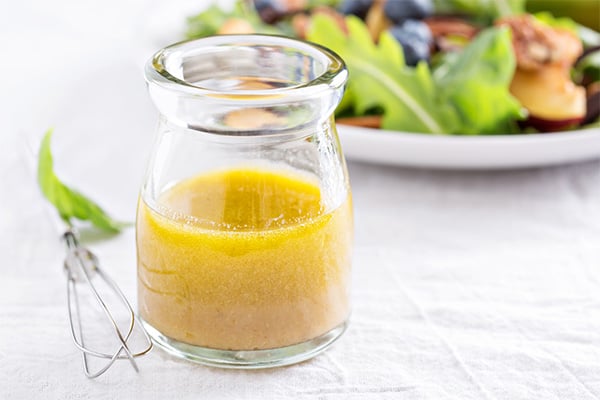 This is sugar-free and paleo compliant for those doing my paleo reset program.
Ingredients
Makes 1-2 cups
2 lemons, juiced (8 tablespoons of juice)
2 teaspoons Dijon mustard (this is my favourite sugar-free brand)
1 cup extra-virgin olive oil
½ teaspoon black pepper
2/3 teaspoon sea salt
Those doing my programs and are in Week 2 – you can add ½-1 teaspoon of honey or maple syrup for sweetness.
Whisk together and store in a clean, air-tight glass jar in the fridge. Use as a base salad dressing and mix it up by adding some crushed garlic, freshly chopped herbs, diced sun-dried tomatoes, mayonnaise or tahini. Avocado oil can also be added. Apple cider vinegar or red/white vinegar can be used instead of lemon juice.
---
2. Tahini Garlic & Lemon Dressing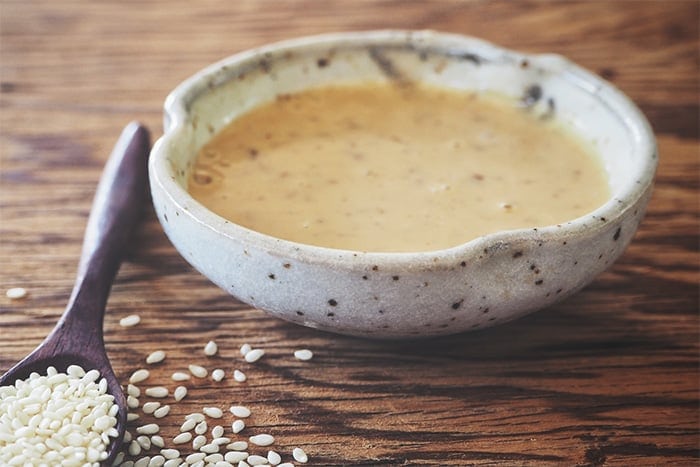 Ingredients
Makes just over a cup
1 garlic clove, grated or finely diced
Juice of 2 lemons
1 teaspoon Dijon mustard
1/2 cup extra-virgin olive oil
2 tablespoons tahini paste
½ teaspoon black pepper
½ teaspoon cumin powder
½ teaspoon of sea salt
2 tablespoons water
1 teaspoon honey or maple syrup (can be omitted)
Whisk together and store in a clean, air-tight glass jar in the fridge for up to one week. Try it with this delicious fall harvest salad.
---
3. Sun-Dried Tomato Salad Dressing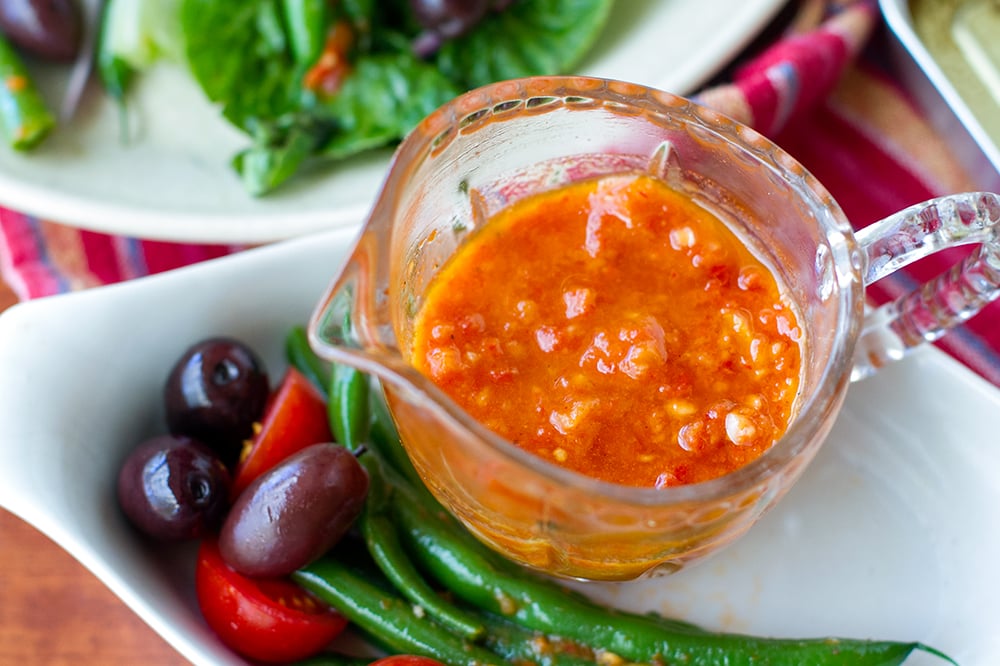 Ingredients
Makes a cup
Juice of 2 lemons
1 garlic clove, roughly diced
½ cup sun-dried tomatoes
2/3 cup extra-virgin olive oil
½ teaspoon of sea salt
½ teaspoon chilli flakes or chopped chilli
1 teaspoon lemon zest
Place all ingredients in a blender or a food processor. Process until pureed and well combined. Alternatively, finely dice garlic and sun-dried tomatoes and whisk the other ingredients in a bowl. Store in a clean, air-tight glass jar in the fridge for up to one week.
---
4. Honey Lime & Wholegrain Mustard Dressing
Ingredients
Makes 1.5 cups
1 garlic clove, grated or finely diced
1/3 cup lime juice (lemon can also be used)
1 teaspoon honey
1 tablespoon wholegrain mustard
½ teaspoon Dijon mustard
1 cup extra-virgin olive oil
½ teaspoon black pepper
½ teaspoon of sea salt
Whisk together and store in a clean, air-tight glass jar in the fridge for up to one week.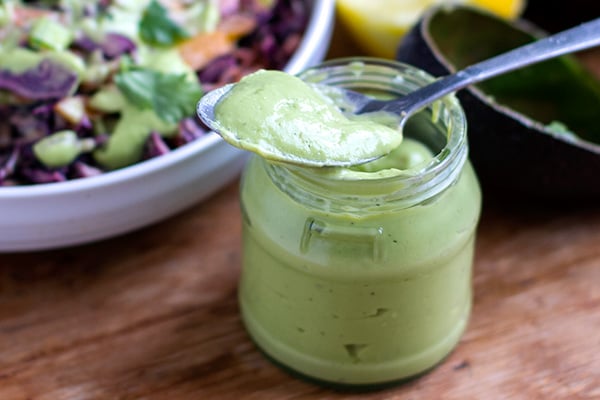 This is one of my very popular dressings and it's a great egg-free alternative to mayonnaise-based salad dressings. I love it in a rainbow coleslaw salad. The recipe for this paleo dressing is on the blog here.
---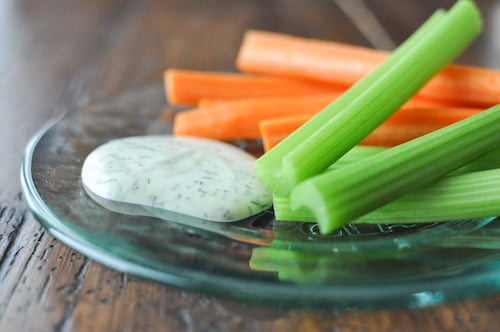 Ranch dressing might be the most beloved of all condiments. It's creamy, tangy, and goes with everything. It's the chosen dip for buffalo wings, celery sticks, and ooey, gooey slices of pizza, so it's reputed as a "junk food" of sorts. A salad tossed in this delicious and simple paleo ranch is a fresh and nourishing lunch option. With just five ingredients, this olive-oil based paleo salad dressing should be a staple in your fridge door. Get the recipe from Fed & Fit here.
---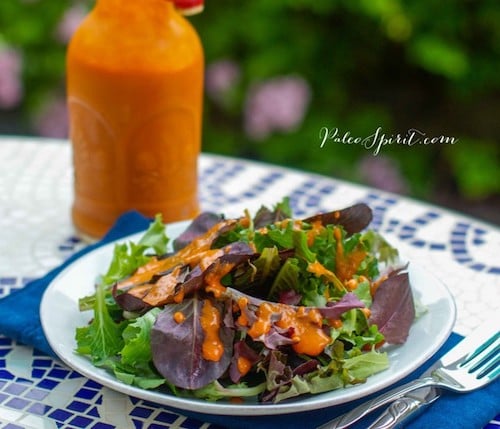 If you order a standard French dressing while eating out, you're likely going to be served something loaded with fake ingredients including sugar. Besides, unrefined, processed oils and added sweetener are some of the main culprits to look out for in condiments. This is a sweet paleo salad dressing option, but this recipe uses honey in favour of the corn syrup found in many major brands. An apple cider vinegar base gives the French dressing its flavour, while tomato paste creates that familiar, vibrant orange drizzle for your greens. Get the recipe from Paleo Spirit here.
---
If you've got plenty of herbs on your hands, consider whipping up a bottle of this classic Italian dressing. Quality olive oil is key if you want to recreate the perfect taste, so choose wisely. Although most brands you find on the shelves will contain sugar, this particular dressing isn't meant to be sweet.
The paleo salad dressing is a simple red wine vinegar and oil infusion, flavoured with both fresh and dried herbs, and garlic (of course), like all good Italian cuisine. Serve with salad starters before the zoodles and meat sauce for an authentic tasting comfort food meal. Get the recipe from Cook Eat Paleo here.
---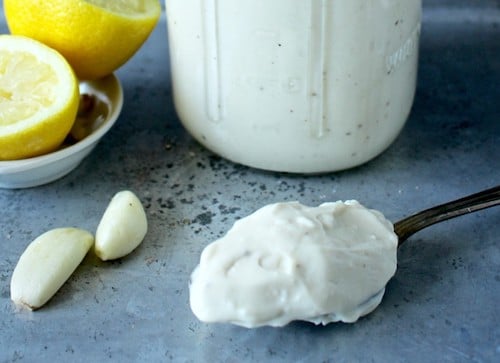 Chicken caesar salad is a perfectly paleo (or primal) option, with or without the cheese. The main problem? The dressing itself. We all know that a caesar salad cannot be true if you don't have that creamy goodness drizzled on top.
Luckily, making an authentic-tasting paleo salad dressing from whole food ingredients couldn't be simpler. Anchovies and lemon juice will bring max flavour to the most basic of salads. Who said salads were boring? Just don't forget a healthy dose of freshly cracked, coarse black pepper on top. Get the recipe from Jay's Baking Me Crazy.
---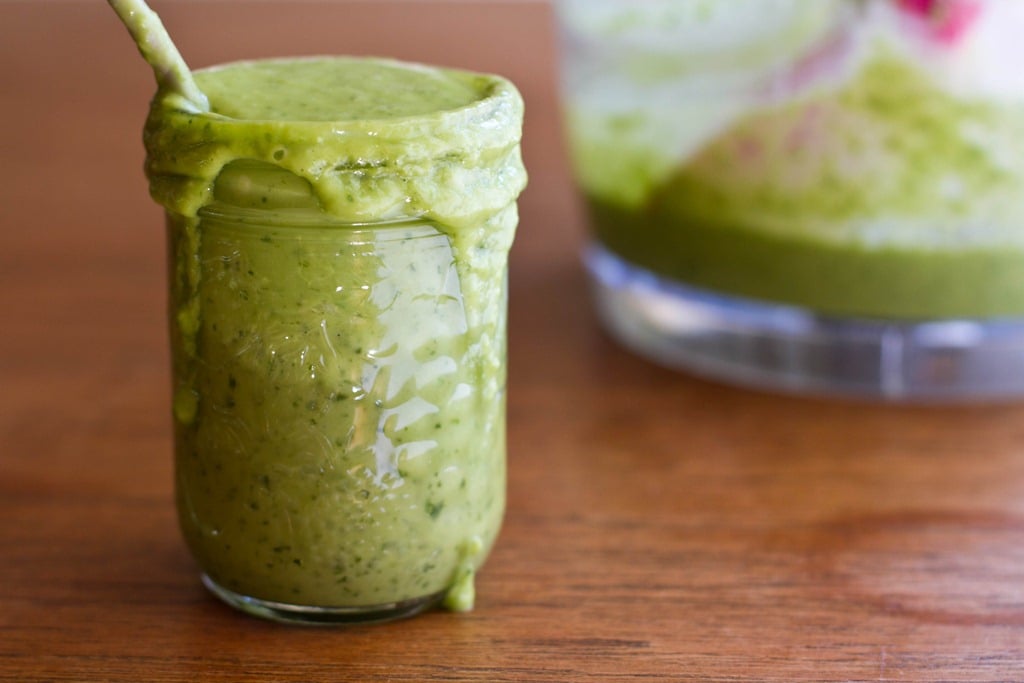 What's more fun than covering your greens in more green? Not much. This dressing is generally comprised of mayo and sour cream lending you a thick and sturdy coating for your salad.
Fortunately, we've got a recipe that skips the dairy without skipping flavour or texture. Avocado and tons of fresh herbs like basil and parsley pack in the healthy fats and fresh taste. Eat like a goddess and feel like a goddess (or a god…) Get the recipe at Oh She Glows here.
---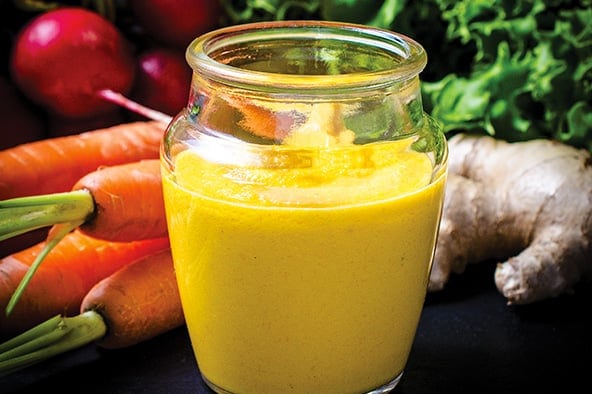 Maybe the only thing that's more fun than dressing your greens in more green is dressing them in orange. You could opt for French dressing, but this zesty ginger flavour serves as a better option for Asian-inspired slaws and salads.
Carrots give it a sweet bite and a bright hue while fresh ginger and coconut aminos bring out the slightly spicy, slightly salty profile that can truly hold a dish down. Don't limit yourself to leafy greens – this would be a fantastic paleo salad dressing to bake poultry with as well. Get the recipe from Mel Joulwan.
---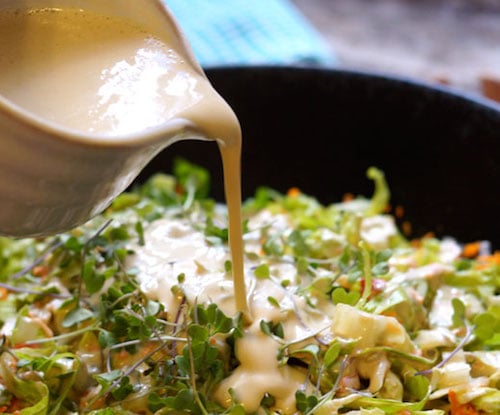 Here we have another contender for an Asian-inspired dish. Unfortunately, the flavour and texture in a peanut sauce comes from, well, peanuts. The good news? Paleo-friendly nut and seed butter lend the same qualities you're going after just as well.
This sauce uses sunflower seed butter to achieve optimal results, but you could use cashew butter, almond butter, or tahini as well. A little honey to sweeten and crushed red pepper flakes to spice will turn this into a staple paleo salad dressing recipe worth dipping anything in. Get the recipe from Detoxinista here.
---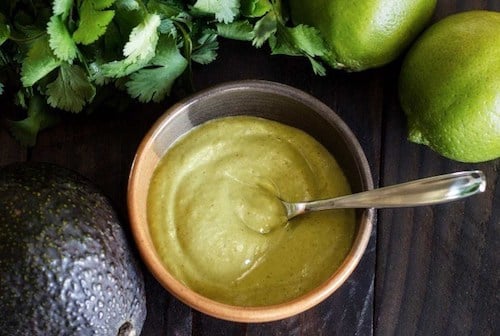 In an effort to cover all the bases in this paleo salad dressing round-up, a sauce for all things Mexican-inspired had to be included. Think homemade burrito bowls with a piquant green sauce just begging to be poured generously on top – this is it.
Avocado, lime juice, fresh coriander, and jalapeno peppers compile all of the standard taco bar condiments into one delicious dip for meats, veggies, and salads.
Serve with cauliflower rice bowls or mixed up with shredded meat on plantain tortillas for a genuine south-of-the-border taste. Every day is Taco Tuesday when you've got a jar of this handy. Get the recipe from Paleo Newbie here.
---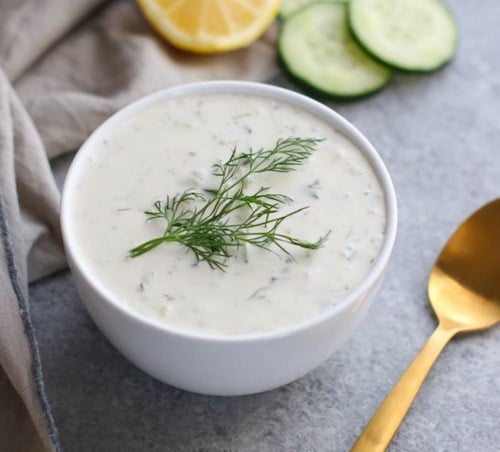 And lastly, we've got your main squeeze for Greek and Mediterranean dishes. Tzatziki is generally made with yoghurt, but this dairy-free option uses coconut milk and paleo mayo in its place.
Cucumber and dill lend this spread its fresh, cool bite. Serve this on a chilled zoodle salad or dip lamb and veggie kabobs in it for a luxurious, "I can't believe it's not takeout" dinner at home. Get the recipe from The Real Food RDs.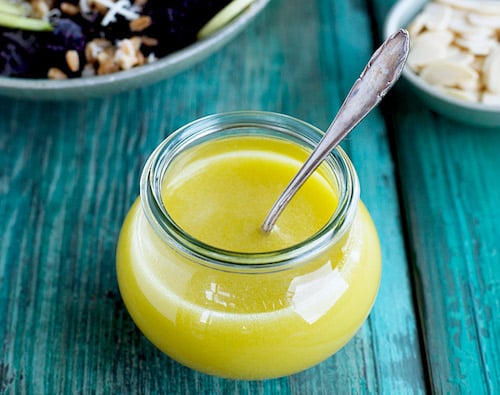 Meyer lemons are like the lovechild of lemons and oranges. This means they're just a tad bit sweeter than your average lemon, which makes them the perfect fruit to whizz up a dressing with. After all, we like a little sweet on our salads! This vinaigrette is refreshing and a little fancy as it uses champagne vinegar for flavour. Get the recipe from Cali Zona here.
---
Save These Paleo Dressings To Pinterest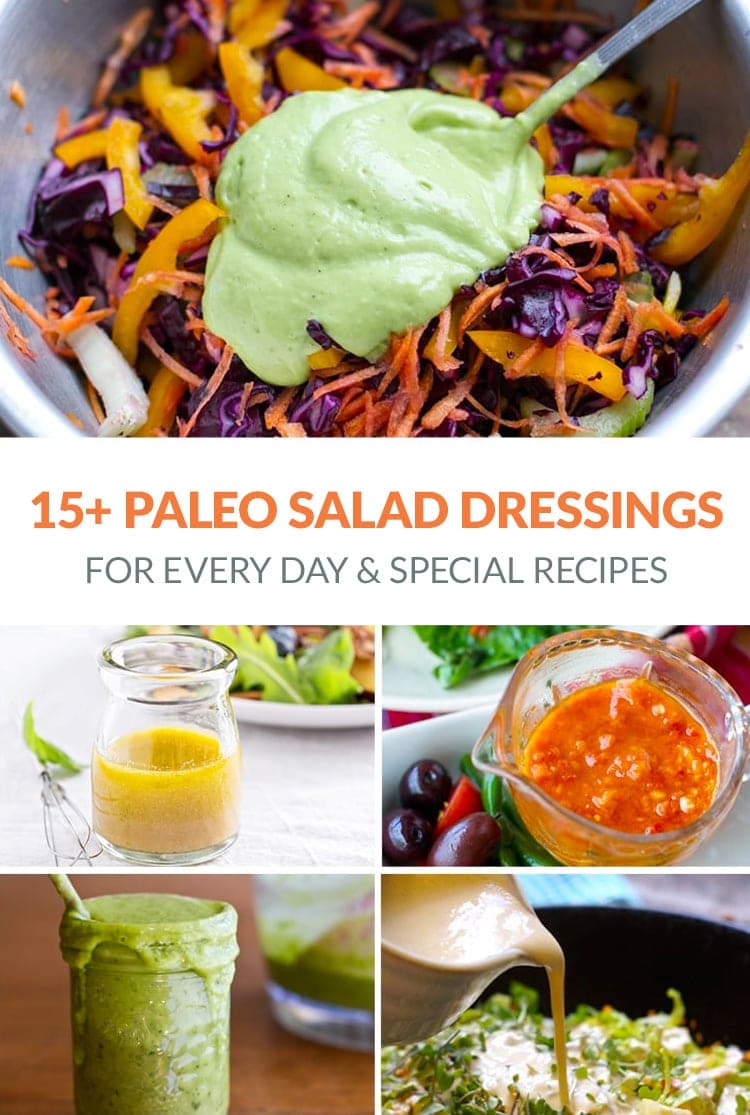 ---