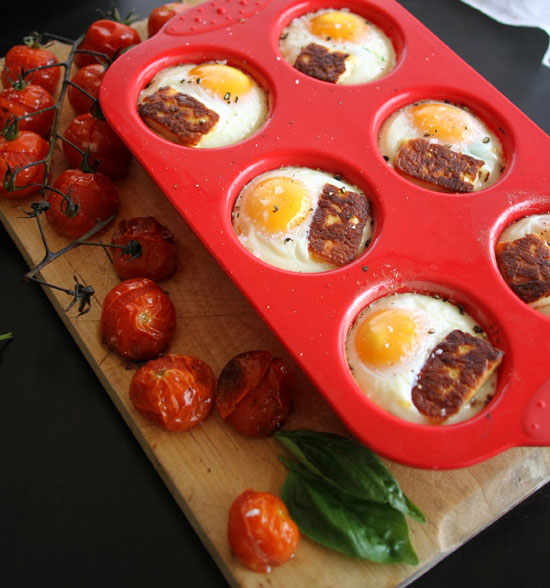 This is a really fun way to make baked eggs. You can make tomato sofrito ahead of time and it will keep in the fridge for a couple of days. I used some halloumi cheese because I just adore it. It's got so much flavour and saltiness that a little bit goes a long way.
Halloumi is usually made with half goat's half sheep's milk (sometimes it might also have some cow's milk) and is super high in protein, around 22 grams per every 100 grams of cheese. If you can't tolerate any kind of dairy, feel free to omit it and it will still feel delicious.
If you don't have a muffin baking tray, feel free to use a standard tray or a casserole dish and make little wells in the sofrito mix before cracking the eggs in. We used a rubber silicone muffin tray, which is easier to remove the eggs from. Use a knife to separate the sides of the casings from the muffins before you remove the eggs.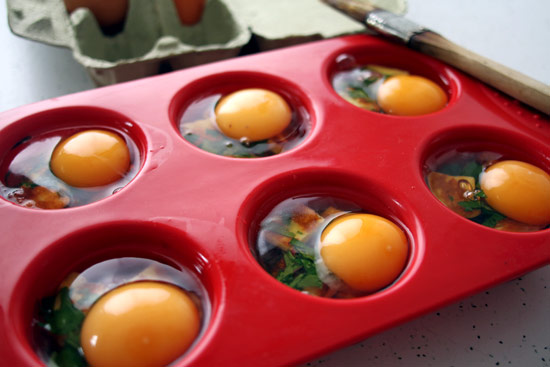 Print
Eggs Baked with Haloumi & Tomato Sofrito
Author:

Prep Time:

10 minutes

Cook Time:

20 minutes

Total Time:

30 minutes

Yield:

3

1

x
---
2–3 tbsp olive oil

1 Spanish onion, peeled and chopped
2 diced tomatoes
1 large garlic clove, finely chopped
1 tbsp red wine vinegar
Sweet paprika, sea salt, pepper

6 eggs
120 g / 4oz.  halloumi cheese
Muffin baking tray or individual casings
Fresh parsley
Fresh basil
Cheery tomatoes on the vine for roasting
---
Instructions
Preheat the oven to 180 C / 355 F.
Heat 2 tablespoons of olive oil in a frying pan but don't let it get too hot. Add the sliced onions and saute until softened. Add the garlic, tomatoes, paprika, red wine vinegar, 1/2 teaspoon of sea salt and a little pepper. I like to add a little sprinkle of chilli flakes for that extra kick. Cook for 5-10 minutes on low heat, stir a few times.
In a clean frying pan, grill sliced halloumi (1/2 centimetre thick) on each side for 1 minute or until golden brown crust forms. Use ghee or coconut oil.
Brush each muffin case with a little olive oil or melted butter. Add equal amounts of tomato sofrito, layer a few dices of cooked halloumi and some chopped fresh parsley to each case. Save a few slices of halloumi for later. Crack an egg into each case.
Carefully, transfer the muffin tray to the middle shelf of the oven. Bake until half cooked, about 5 minutes, then place the remaining halloumi slices on top and bake for a further 5-7 minutes or until eggs are visibly firm and slightly puffed up. The egg yolks should look just cooked, they might look a little overdone on the surface but should still be runny on the inside.
Serve with a side of roasted cherry tomatoes and fresh herbs like basil or oregano.
---
Notes
To make roasted tomatoes, preheat oven to 200 C/ 400 F and bake cherry tomatoes on the vine in a baking tray drizzled with some olive oil and Balsamic vinegar for about 20 minutes. At 10 minute mark, turn the oven down to 170-180C. Sprinkle with a little sea salt and pepper when serving. You can start roasting the tomatoes 10 minutes before you're going to add the egg muffins to the oven so that both come out at the same time.