Learn how to make Ensalada Rusa – the Spanish version of the Russian Salad. It's creamy, satiating and very easy to make.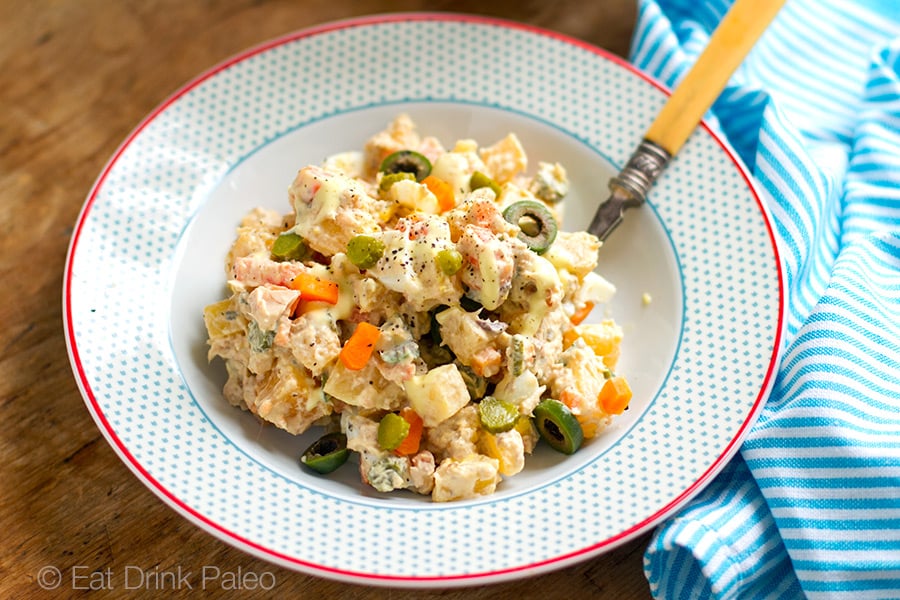 I should be posting a recipe for the original Russian potato salad (also known as Olivier or Debev) – especially since I've eaten it since I was about 2 years old – but I am actually sharing a Spanish adaptation instead. The Spaniards call it simply Ensalada Rusa (Russian Salad), however, they make it slightly differently. They add tuna! Yep. Stay with me.
What Is Ensalada Rusa?
I first came across Ensalada Rusa at a local tapas bar in one of the small towns I visited on one of our climbing trips. I saw it on the bar display and I knew what the name meant, but I couldn't get my head around the tuna part.
I've never heard of tuna in a Russian salad. Yet here it was, in all its potato and tuna and mayonnaise glory, staring right at me. So I tried it. And guess what? I absolutely loved it.
This is a hearty salad made with white potatoes (see possible modifications below), creamy mayo dressing, cooked carrots, egg, olives, and gherkins. I also like to add a little green apple, but that's totally optional. And, of course, it has very good quality canned tuna.
Spanish do canned tuna really well and I think that's one of the reasons their version tastes so good. So don't skimp on the tuna! Make sure to get sustainably caught stuff, or feel free to use wild canned salmon instead.
Ensalada Rusa Without Fish
The Spanish potato salad often features tuna. The traditional Russian version of this salad is actually made with diced-up ham or kielbasa. So, if you're not a vegetarian but simply don't like fish, feel free to use about 200-250 grams/ 0.25 lbs. of cooked meat or chicken instead of tuna/salmon.
For a vegetarian version, I recommend using canned chickpeas instead.
Substitute for white potatoes
Use swedes, parsnips or sweet potato instead of white potato. I like swedes as they are not as sweet. Omit the eggs and dress with olive oil and lemon juice dressing instead.
This salad keeps well in the fridge so you can make an extra-large batch for lunches. Store for up to 3 days. This is a great batch cooking recipe, an excellent lunch box option.
Can't find good quality mayonnaise? Try making your own with this recipe.
Print
Ensalada Rusa – Spanish Take On A Classic Potato Salad
Author:

Prep Time:

20 mins

Cook Time:

15 mins

Total Time:

35 mins

Yield:

4

1

x
---
700 g

/ 1.3 lb. white potatoes (or swedes for AIP), peeled

1

large carrot, cut in half

2

eggs

300 g

/ 0.6 lb canned tuna or salmon

¼ cup

diced gherkins or dill pickles (capers can also be used)

½

Granny Smith or other green apple, diced finely

10

green or Spanish black olives, sliced (meets out)
Generous pinch of salt and pepper

1 tablespoon

lemon juice

1/2 cup

mayonnaise

1/4 cup

diced spring onions, chives or dill (optional)
---
Instructions
Peel the potatoes (or swedes) and cut into quarters. Add to a large saucepan together with the carrot halves and two eggs. Fill up with water until just covered and bring to boil. Cover with a lid and cook 10 minutes. Then remove the eggs and the carrots; continue to cook potatoes for a further 3-5 minutes, until just tender. Allow the vegetables to cool down almost completely. Strain the eggs under cold water to make peeling easier.
In the meantime, prepare the mayonnaise if you're making your own.
Peel and dice the cooked carrots and eggs. Dice the potatoes. Add all of the ingredients to a mixing bowl and stir well together. Chill in the refrigerator before serving.
---