If you're avoiding alcohol or just not a big drinker, yet you want something refreshing and sophisticated, this non-alcoholic gin and tonic tipple with homemade citrus and botanicals infusion is exactly what you need it. It's low in sugar, crisp, thirst-quenching and very grownup.
---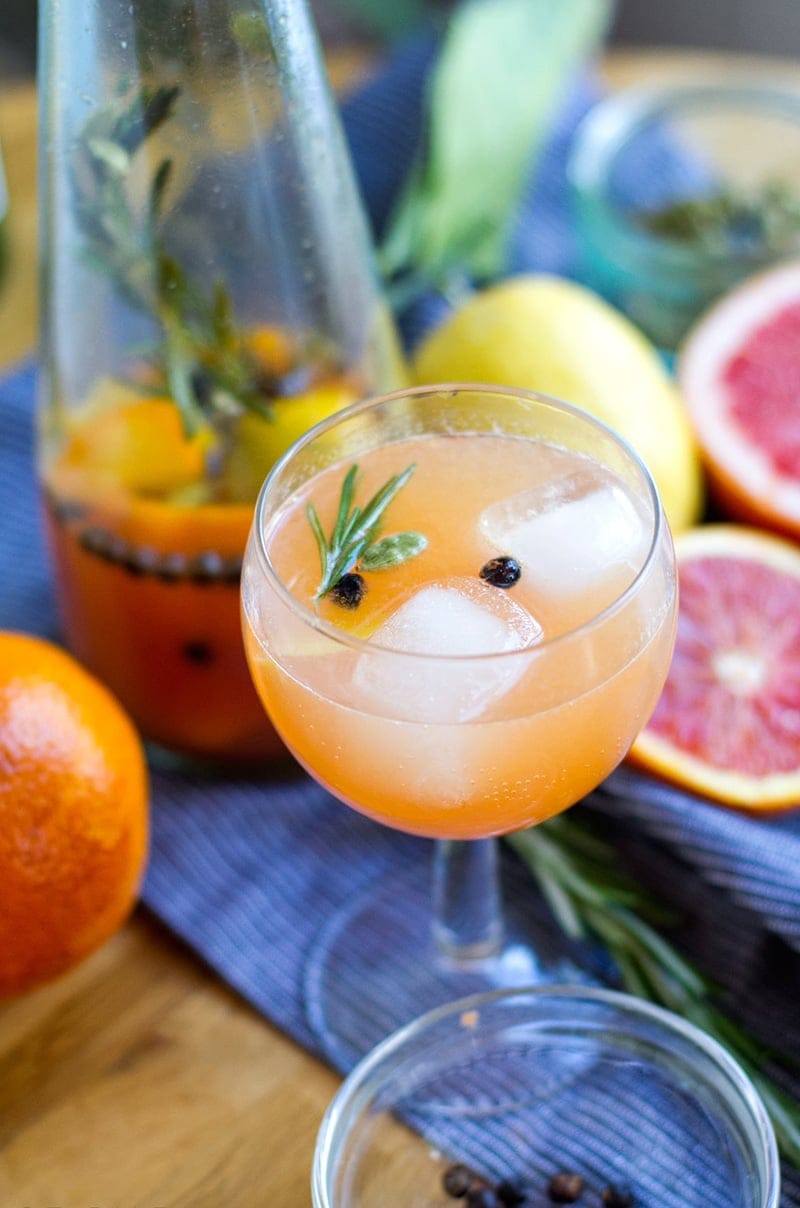 If you're following the latest trend of going sober or you're trying to avoid alcohol for other reasons, I want to introduce you to a fabulous alcohol-free tipple that rivals the best gin and tonic.
Here is how it came to be! I was trying to avoid alcohol during the reset Week 1 of my 4-week paleo program. It always amazes me (but doesn't surprise me) how much people struggle with giving up alcohol. I also find it quite tough because I love a good glass of wine or a gin and tonic on a Friday night or while out socialising.
The thing is that it's not even the alcohol itself that we are addicted to. It's the ritual of drinking it. Many of us have also grown to love the flavours of certain drinks and sparkling water with lime just doesn't cut it.
If you were to opt-in for commonly available mocktails and non-alcoholic beverages, they are often loaded with sugar and additives (colours and flavours), so that's another trap that makes avoiding alcohol difficult.
As a gin and tonic lover, I decided to create a delicious and healthy non-alcoholic drink that would satisfy the craving without tipping me off the wagon.
I wanted to recreate the flavours of the gin and tonic and somehow avoid the use of gin or tonic water. Challenging? Maybe. Here is what I came up with.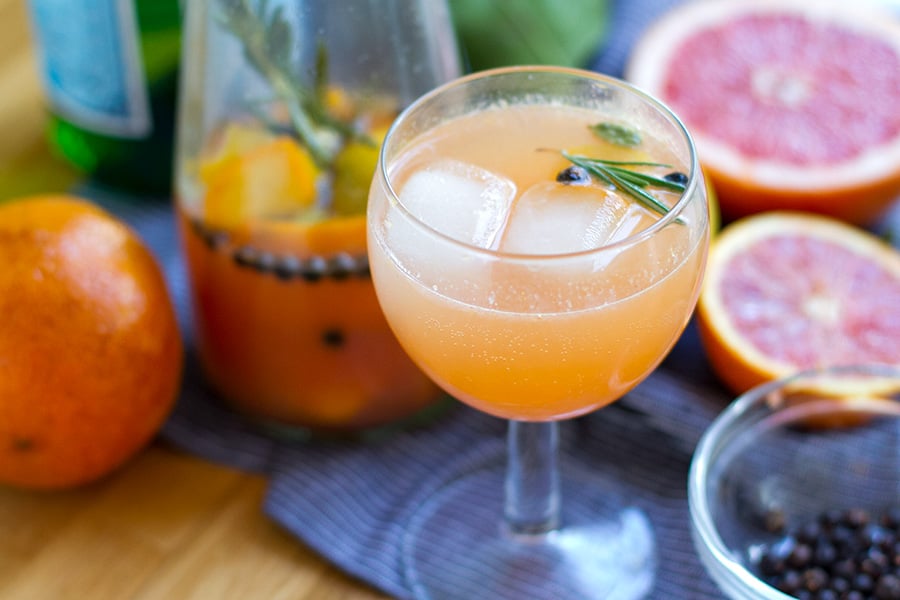 Gin & Tonic Inspiration
Gin is traditionally distilled from grain and malt and the flavour comes from various botanicals such as juniper berries (the key flavour), lemon peel, other herbs and spices and so on. The tonic water is bitter and sweet with a hint of citrus. Together it's a combination made in heaven.
So, I decided to use citrus fruits, especially grapefruit for its sweet and bitter characteristics, citrus peel, and a few botanicals to make an infusion of sorts. Mixed with sparkling water and poured over ice, it's a real treat that really hits that G&T spot.
You can make this juice infusion ahead of time and keep it in the fridge for a few days (it will get more bitter over time while the citrus peel releases its oils and the juniper berries flavour will become more pronounced. Then simply mix with sparkling water, in whatever ratio you prefer, and pour over ice. If you want to add some alcohol, be my guest, that will also work really well.
The cool thing is that you can experiment with your own infusion ideas: add some strawberries and basil, lavender and honey, vanilla and cinnamon, rose petal water and peaches. My recipe is for a smaller batch but you can make up a large bottle to bring to a gathering or a party.
How To Make An Alcohol-Free Gin & Tonic Drink
This lovely alcohol-free drink is sweet and zingy yet low in sugar. Bonus vitamin C is included! Let me know what you think guys. I hope you like it.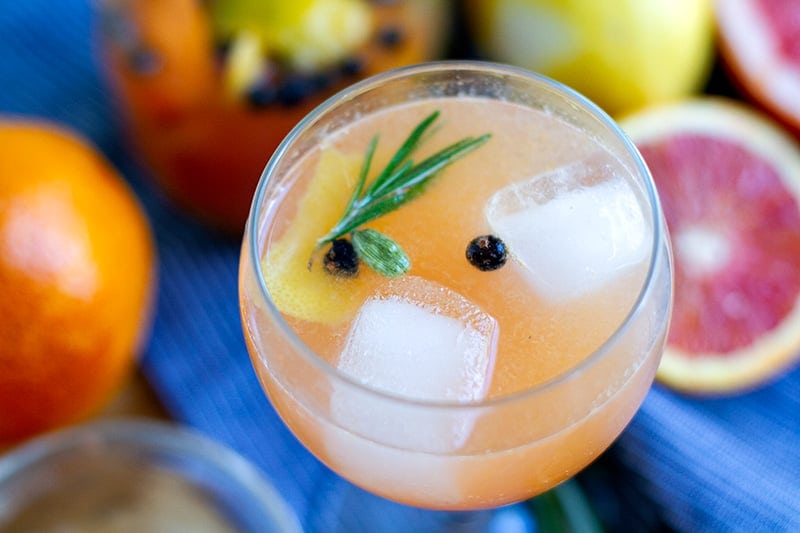 Print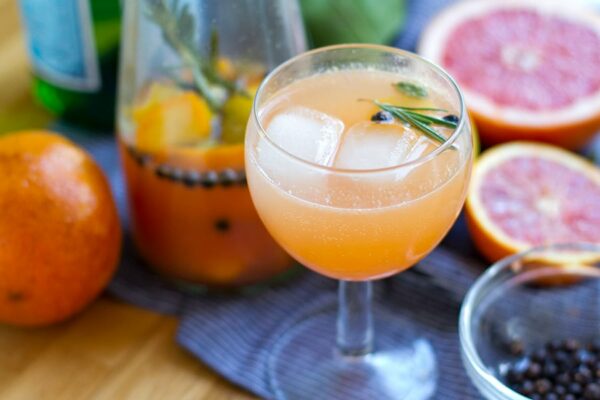 Non Alcoholic Gin & Tonic Inspired Drink
Author:

Prep Time:

15 mins

Total Time:

15 mins

Yield:

4

1

x

Category:

Drink

Method:

Infusion

Cuisine:

British
---
For the infusion
3

large grapefruits (pink or regular or both)

1

lemon

3

oranges (blood orange and regular)

8

juniper berries

6

cardamom pods

1

sprig rosemary
Other
Sparkling water or soda water
Ice cubes
---
Instructions
Peel off some rind off the grapefruit, lemon and orange. You want about 3-5 inches long peels, one or two of each fruit to add to the bottle.
Cut the fruit in half and juice into a bowl, don't worry about the fruit flesh falling in.
Strain the juice through a sieve to catch the meat.
Add the juniper berries, cardamom pods and rosemary sprig to a bottle or other vessel with a lid. Add a peel of each citrus fruit and then pour in the strained juices. Shake well.
Infuse overnight or for a couple of days or use right away.
I like to use half and half of each juice infusion and sparkling water over ice but you can play around with ratios. Feel free to add some lime if you like.
---