Add a boost of nutrients to your diet with these spectacular fresh oysters with Vietnamese dressing. These can be served as an appetizer at a dinner party, as part of your finger food spread or enjoyed for lunch on a warm summer day. Paleo, Whole30, gluten-free, keto/low-carb friendly.
---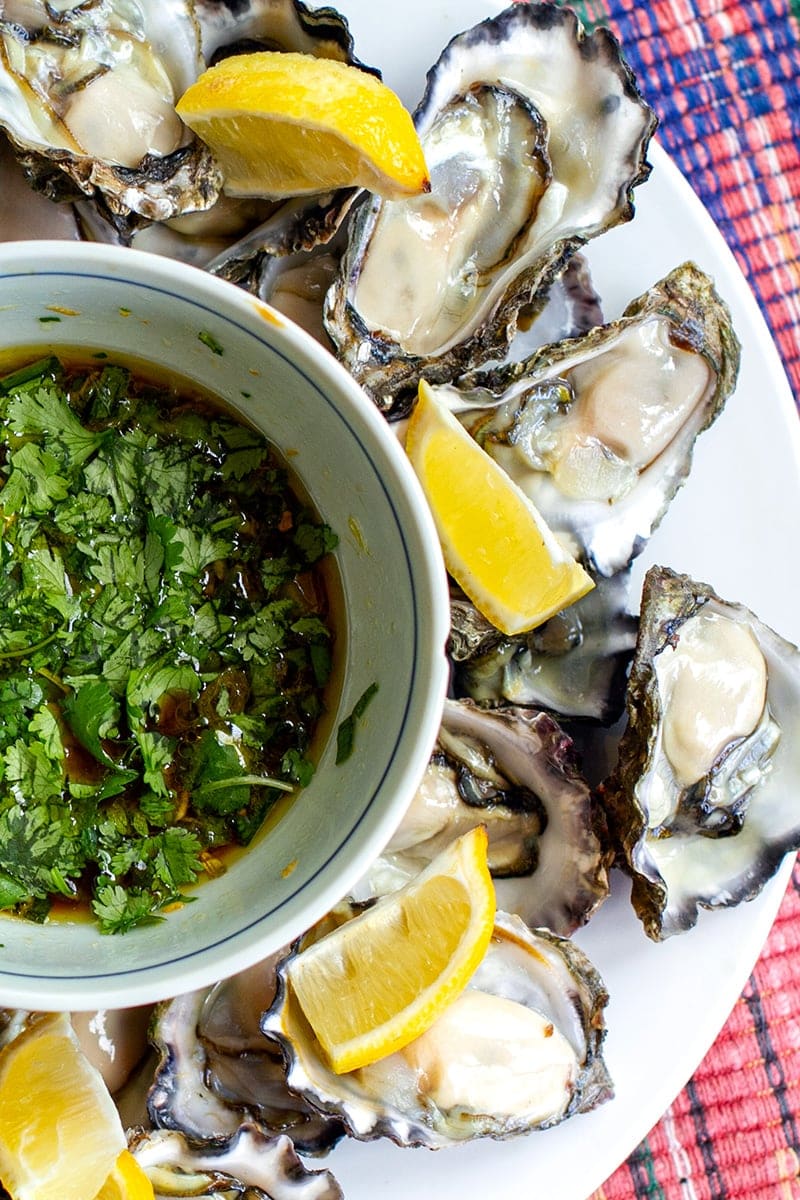 Oysters are nature's superfood! In fact, it's one of the most nutrient-dense foods on the plant. They are rich sources of vitamin B-12, vitamin D, zinc, selenium, manganese, iron, protein AND they contain some omega-3 fatty acids. Seriously, if I was stranded on an island and could choose just one food, I'd probably pick oysters (and maybe eggs and mangos).
Need another reason to eat more oysters? They are super sustainable, together with other bivalves – a group that includes oysters, mussels and clams.
Unfortunately, oysters are not the cheapest of foods. Depending on where you live, you might be lucky to get fresh oysters at a reasonable price and I highly recommend to add them to your diet as often as you can afford it. You only need 2-3 oysters per serving to get all those nutritional benefits! Otherwise, reserve these nutritional gems for special occasions.
DREsSING FOR THE Oysters
While fresh oysters really just need a touch of lemon to cut through their rich, creamy flavour and texture, there are many ways to zhuzh them up for a bit more fun. Some people also find it easier to eat oysters if they come with a bold dressing or topping.
In this recipe, I am sharing on my Vietnamese dressings for fresh oysters. Zesty, sweet and sour flavours go really well with oysters and I often make it for Christmas in Australia or whenever we have them in the summer. You can make a bigger batch as it makes for a nice salad dressing and condiment with chicken or fish. Simple, fresh, delicious!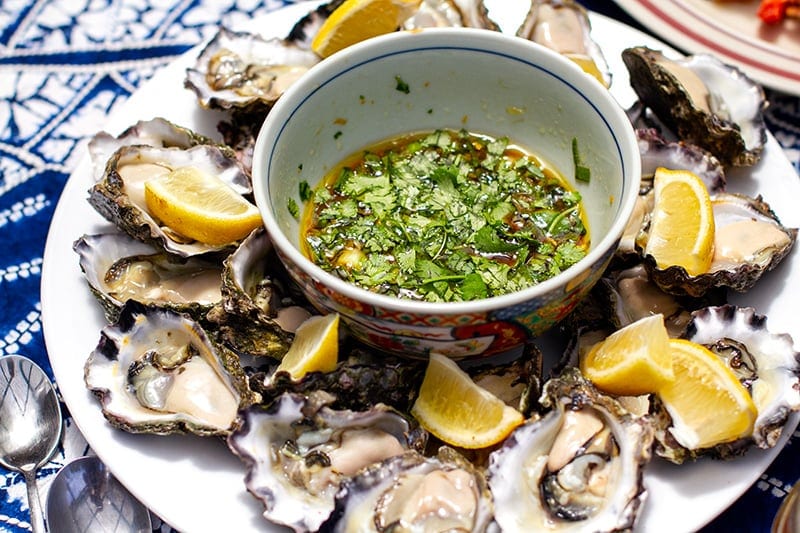 Print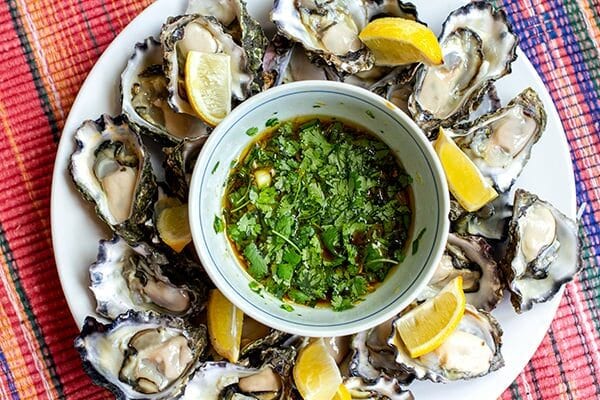 Oysters with Zesty Vietnamese Dressing
Author:

Prep Time:

15 minutes

Total Time:

15 minutes

Yield:

1/2 cup

1

x

Category:

Appetizer

Cuisine:

Vietnamese
---
Description
This recipe makes about half a cup of the oyster dressing, which you might not use up right away. Keep the leftovers in the fridge for up to 1 week and use over salads, grilled meat or fish, or as a condiment with rice.
---
Vietnamese dressing
1 tablespoon grated fresh ginger

1 small garlic clove, finely diced

1/2 long red chilli, finely dice (or some chilli flakes)

1 teaspoon sesame oil

2 tablespoons extra-virgin olive oil

Juice of 1 fresh lime

2 tablespoons fish sauce

1 teaspoon coconut sugar/syrup or raw honey (omit for Whole30)

1 tablespoon Tamari sauce (use coconut aminos for Paleo/Whole30)

1 tablespoon chopped spring onions/scallions

1 tablespoon chopped fresh coriander /cilantro

1–2 dozens of fresh oysters
---
Instructions
Mix all ingredients in a bowl and serve with shucked oysters. Use leftovers as a salad dressing or with grilled chicken, fish or prawns.
---