Back in the day when I was starting out my paleo/gluten-free journey, I stumbled on a fantastic food blog called The Urban Poser, created by the talented Jenni Hulet. I got totally hooked by the beautiful photography and creative, mouthwatering looking recipes of marshmallows and cookies. Although Jenni does more than gluten-free and paleo treats and desserts, it is them that kept me coming back.
Then about a year and a half ago, I started following Jenni's journey to create her first paleo patisserie cookbook. I had no doubt that it would be amazing, based on the blog, and I was very excited to receive a copy in the mail the other day. I don't do many book reviews here (mainly because I always have so many things going on) but when something like My Paleo Pattisserie lands on your lap, you want to tell everyone about it. Today I am sharing a gorgeous paleo maple carrot cake recipe from the book and my review but mark my word that you will see a few more of my own adaptations of Jenni's delectable treats in the future – I have bookmarked way too many pages.
What you need to know about My Paleo Patisserie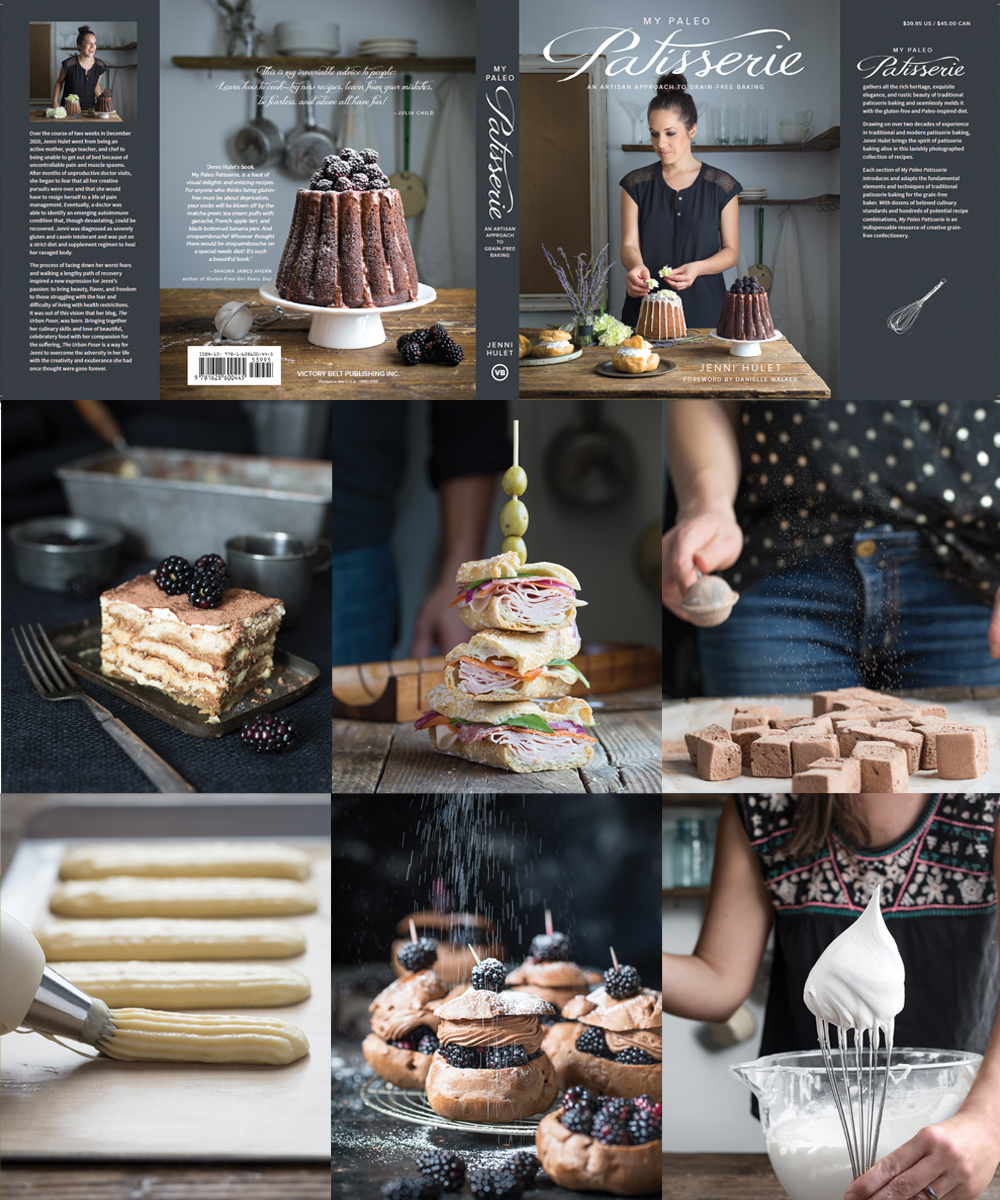 "My Paleo Pattiserie gathers all the rich heritage, exquisite elegance, and rustic beauty of traditional patisserie baking and seamlessly melds it with the gluten-free and Paleo-inspired diet."
1) This book is stunning – as well as being an amazing cook with over two decades of experience in traditional and modern patisserie baking, Jenni is also a very good photographer. Almost every recipe has a photo, which I love, and they capture the mood and the story behind the desserts perfectly. You really do want to lick some of the pages 😉
2) My favourite thing about the book is that it is designed to allow you 'to choose your own adventure' when making pastries. It provides the basics and essentials on how to create a perfect *insert dessert type* as well as variations on fillings, frostings and glazes to go with it. You can make any given dessert in the book as is or you can choose to use a basic tart crust from page 105, then fill it with the banana pastry cream from page 46 and top with vanilla marshmallows from page 222. I absolutely love this kind of structure and design because that's how I like to use recipes – make my own adaptations.
3) As well providing handy guides to gluten-free and paleo friendly baking ingredients and equipment, the book covers the following: fillings, frostings, glazes, choux pastry (yep, you can make profiteroles), tarts (I love the look of the citron tart), cakes (they are all amazing), cookies, ice-cream and frozen desserts (including waffle cones), marshmallows (my inner child is so happy), and savoury pastries (best looking paleo panini bread I have seen). Seriously, there is enough content to keep me baking for a year.
4) Other cool bits: step by step photos at the back of the book (very important if you're a novice cook or you simply need to know what the consistency should look like or what shape something needs to be before it goes in the oven etc); measurements are provided in cups and grams and conversion tables are provided at the back; temperatures are in both Fahrenheit and Celsius; I love the Build Your Own *insert dessert* check lists at the end of each chapter.
5) My Paleo Patisserie comes out on April 7th in the US & Australia. You can pre-oder it on Barnes & Noble or Amazon in the US, Booktopia in OZ, on Amazon.co.uk (released 16 April in the UK) and it should be available in other countries. More info about the book here.
It's a must have patisserie/baking book for anyone following a gluten-free or a paleo diet. I actually think anyone would enjoy it. We all need a treat every now and then and what a better way to enjoy something sweet than when it's made so elegantly and skilfully. It's a culinary gem!
Maple Carrot Cake from My Paleo Patisserie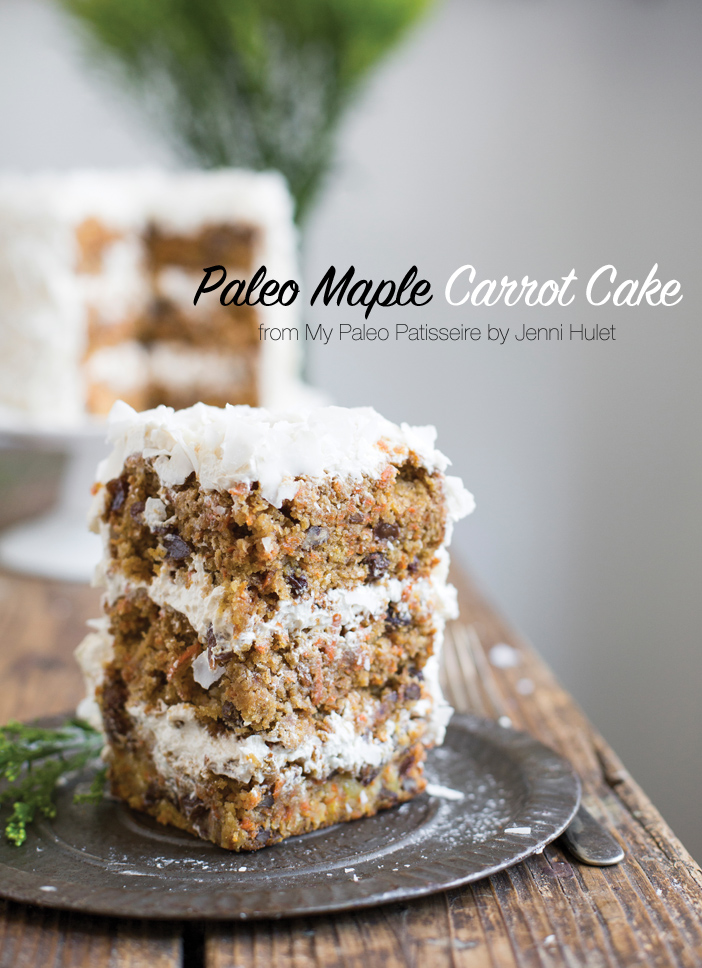 Print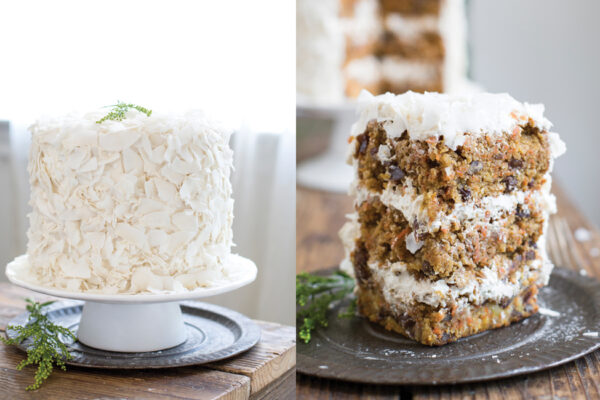 Maple Carrot Cake from My Paleo Patisserie
Author:

Yield:

12

-

1

5

1

x

Cuisine:

Dessert
---
Description
For this recipe you will need three 6-inch (15-cm) round cake pans, as the recipe is written for that amount of batter. However, this amount of batter will also make one 9-inch (24-cm) round cake for a nice single-layer cake if desired.
---
For the cake
¼ cup

(

45 g

) palm shortening or ghee

4

large eggs

1

large egg white

1 cup

(

200 g

) firmly packed maple sugar (I would think that coconut sugar would also work)

1 teaspoon

lemon juice

3½ cups

(

350 g

) almond flour/meal

1 teaspoon

ground cinnamon

¾ teaspoon

ginger powder

½ teaspoon

ground nutmeg

½ teaspoon

baking soda

½ cup

(

40 g

) unsweetened shredded coconut

⅓ cup

(

50 g

) raisins

⅓ cup

(

60 g

) chopped pineapple

⅓ cup

(

40 g

) chopped pecans

3

medium carrots (

260 g

), grated

1

recipe Swiss Meringue Buttercream (page

58

in the book or see below)

3 cups

(

170 g

) coconut flakes, for garnish
---
Instructions
Preheat the oven to 325°F (163°C). Grease and line the cake pans with parchment paper circles cut to fit the pans.
Melt the shortening in a small saucepan over low heat, then set aside to cool. In the bowl of a stand mixer fitted with a whisk attachment, beat the eggs, egg white, sugar, and lemon juice on medium-high speed for 15 minutes. The mixture should become thick and voluminous. Always beat it for the whole 15 minutes, though.
While the egg mixture is beating, whisk together the flour, spices, and baking soda in a large bowl till blended. Add the shredded coconut, raisins, pineapple, pecans, carrots, and melted shortening, then toss to combine.
When the egg mixture is ready, gently fold it into the flour mixture till completely incorporated. Divide the batter evenly among the prepared pans and bake for 30 to 35 minutes or till the tops spring back when gently pressed. (Bake for 35 to 40 minutes if using a 9-inch/24-cm round cake pan.)
Remove from the oven and let cool in the pans for about 10 minutes. Loosen the edge of each cake with a sharp knife, then turn the cakes out onto a wire rack and let cool completely before frosting.
To assemble: Place the first cake layer on a plate or cake stand. Spread about a ¼-inch (6-mm)-thick layer of buttercream evenly over the cake. Place the second cake layer on top of the buttercream, then spread more buttercream on top. Finally, place the last cake layer, then frost the top and sides of the cake with the remaining buttercream. You don't need a super thick layer, but you want enough buttercream to press the coconut flakes into.
Scoop up handfuls of coconut flakes and gently press them into and all over the surface of the cake.
For best results, chill the cake, uncovered, for about 30 minutes to secure the coconut flakes. If needed, fill in gaps by placing a little frosting on the back of a coconut flake and secure it to the area.
This recipe yields one three-layer (6-inch/15-cm) round cake (serving 12 to 15)
---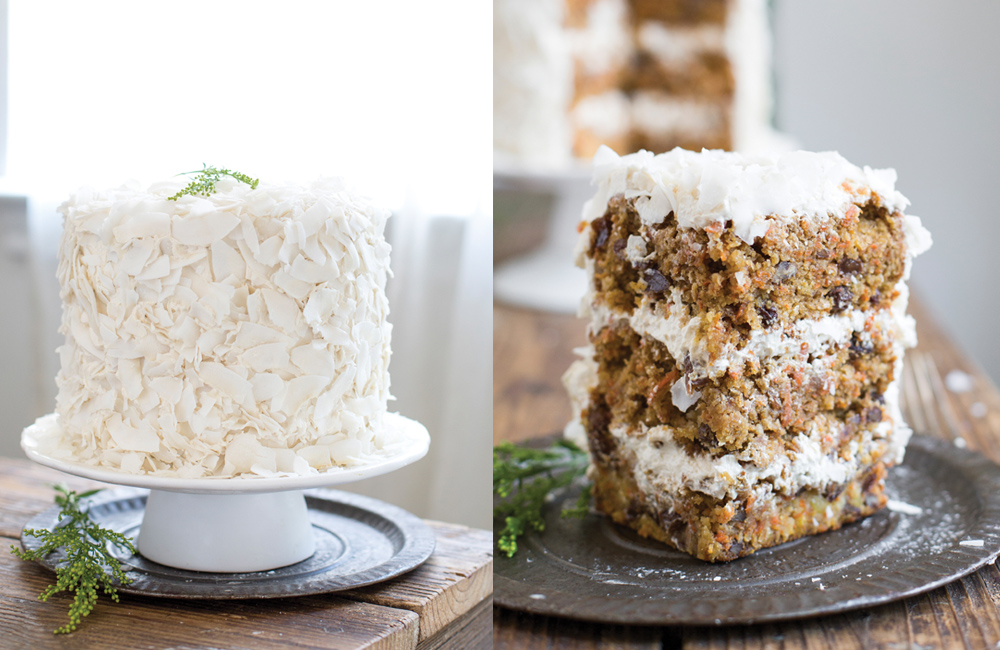 Swiss Meringue Buttercream
This buttercream is light, not too sweet, and fairly easy to make, and it pipes beautifully. Because the eggs in the meringue are heated to 160°F (71°C), this is an ideal frosting for serving to kids and the elderly, as the eggs are not raw.
Ingredients
1 recipe Swiss Meringue (page 57 in the book or below)
1½ cups (270 g) palm shortening*, room temperature
1 teaspoon vanilla extract (omit for flavor variations)
*To substitute ghee, use an equal amount by weight. If measuring by volume (cups), reduce the amount of fat used to 1 cup plus 2 tablespoons.
Yields about 3 cups (710 ml), enough to cover and fill one 6-inch (15-cm) round, two-layer cake. This recipe doubles nicely.
Method
After making the Swiss meringue, switch to the paddle attachment on the stand mixer. (You can also use a hand mixer.) Add the shortening bit by bit, beating on medium-high speed till thick and smooth. Beat in the vanilla, if using.
If the buttercream becomes loose and liquid, your meringue may not have been sufficiently cool when you added the shortening. Chill the mixture slightly in the fridge, then resume beating. It will emulsify eventually. If it curdles, the shortening may have been too cold. No worries! Don't fret or throw it out; just keep beating! Beating the mixture fixes pretty much everything.
Note: This buttercream can be stored in a covered container in the fridge for several days or even frozen for a few months. Bring to room temperature and rewhip before using.
Swiss Meringue
This meringue is easy to make, and its lovely, velvety texture pipes well. The addition of cream of tartar helps to stabilize the whipped egg whites, makes the meringue more voluminous, and reduces the risk of overbeating. It can be omitted or replaced with an equal amount of lemon juice, but cream of tartar is preferable.
Ingredients
3 large egg whites, room temperature
3/4 cup (180 ml) maple syrup
1/4 teaspoon cream of tartar or lemon juice
You will need a candy thermometer. Yields 5 cups (1.2 L).
Method
1. Combine all the ingredients in a large heatproof bowl. Place the bowl over a small or medium-sized saucepan with 2 inches (5 cm) of simmering water in it. It's important that the bottom of the bowl does not touch the water. Heat the mixture till it reaches 160°F (71°C) on a candy thermometer, whisking constantly so the eggs don't curdle or seize.
2. Remove from the heat and transfer the mixture to the bowl of a stand mixed fitted with a whisk attachment, or use a metal bowl and a hand mixer. Start whipping on low speed, gradually increasing to high over the course of 30 seconds. Continue to beat the mixture on high speed until stiff and completely cool. This could take up to 8 to 10 minutes, or longer if using a hand mixer.