---
What Are Pinwheel Sandwiches?
Pinwheel sandwiches or pinwheels are like sandwich roll-ups, and super easy to make! Here's the fun part: grab a tortilla or bread, toss in your favourite sandwich fixings, roll it up (a little creamy sauce helps it stay together), and then cut it into thin slices.
When you look at the cross-section, it's like a colourful, tasty pinwheel with all the ingredients evenly distributed. Cream cheese is a popular glue for these delights, and they often borrow delicious inspiration from classic club sandwiches. 
How To Make Pinwheel Sandwiches
Pinwheel sandwiches are such a great choice for lunches or party prep because they're easy to make ahead of time. You could even commission help from the little ones or squeeze making these into the busiest of days.
First, begin with your preferred base. If you're using bread, you're going to want to cut the crusts and roll it out flat. If you're using tortillas, make sure you use flour tortillas. Corn simply won't roll well, and it won't taste nearly as good. I suggest cutting the rounded edges slightly to make the tortillas more rectangular/square-shaped.
Now, let's choose your sauce. You want to be a bit cautious not to make those pinwheels too soggy, so go easy with a nice thin, even layer. Opt for something less drippy. Why not have some fun with it? You can go wild with various cream cheese flavours, or you can play around with mayo, mustard, and ranch. Mix it up and try a few different ones!
Now, we're on to the fun part. Meats, veggies, and the real flavour comes next. Layers of lunch meat, bacon bits, eggs, lettuce slices, and of course – cheese – are all good choices. If you'd put it between two slices of bread, you can theoretically roll it between two slices of bread too. The trick is to keep the layers thin and avoid excess moisture.
Lastly, roll up your tortilla or bread tight. Use a few toothpicks if you need each slice to stick, or wrap the whole log in a tight layer of plastic wrap, twisting it up tight at each end.
When you're ready to serve, cut the roll into bite-size slices, refrigerate, and serve. Easy, huh?
Get Creative!
For cooked pinwheel recipes, use crescent roll, puff pastry, or pizza dough as the base.
Instead of cream cheese, use hummus or peanut butter for something sweet. A sticky layer will help you make the perfect slices, especially when served cold.
Use flatbread instead of tortilla if you have it handy or you prefer it.
Mix sauces, dressings, and seasonings into your creamy base. This will help evenly disperse the flavour and decrease moisture.
What Type of Bread/Wraps Can You Use?
When it comes to pinwheel sandwiches, choosing something that is thin and flexible while offering some durability is important. For a beginner pinwheel roller, the best bet is probably a flour tortilla. Choose larger tortillas ideally. White flour or whole wheat flour are both good choices.
You can use any typical sliced sandwich bread. Some other fun choices include pita or naan, Hawaiian sweet rolls or other soft dinner rolls, fluffy brioche, or anything you have handy that you can easily roll flat before getting started.
Avoid crusty or porous breads like Italian bread or sourdough loaves. Save those for the real sandwiches!
For baked pinwheels, you can use puff pastry, filo pastry, crescent roll, or thinly rolled-out pizza dough.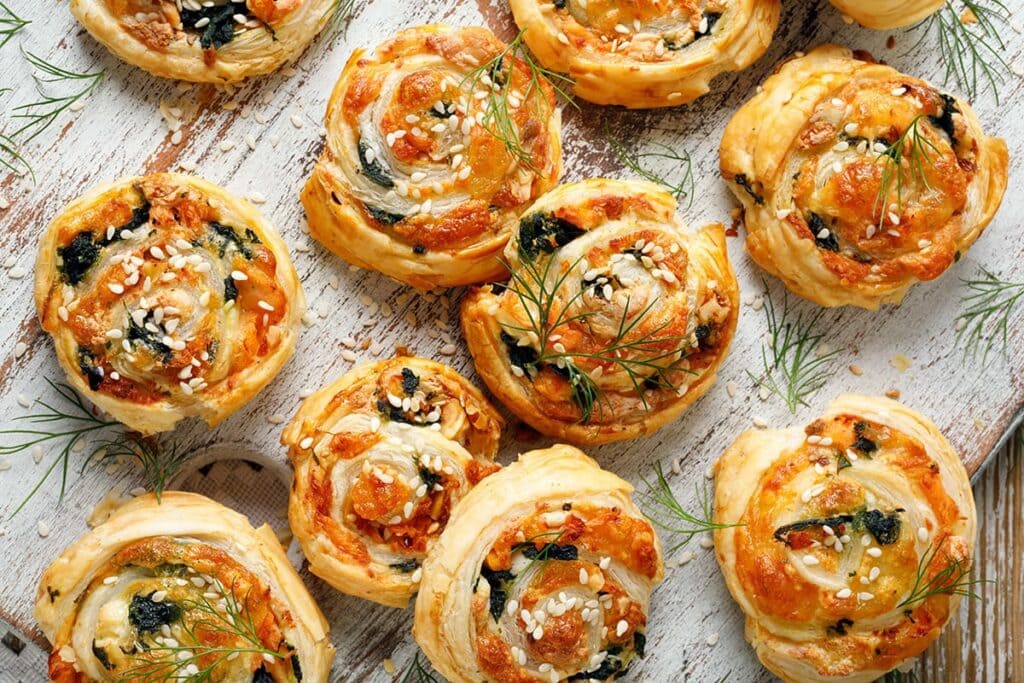 Storage Tips For Pre-Made Pinwheels
Pinwheel sandwiches are excellent to pack in lunch boxes or tote over to a friend's place for game day, but you probably want to get a head start on the prep. To avoid super soggy slices, here are a few storage tips.
Wrap 'em up in plastic. Prepping the pinwheels will often include this step anyway, so keep them wrapped up until you're ready to slice and serve. If you're making lunches, re-wrap the portion that you're not immediately eating to keep things fresh.
Pop your pinwheels in the fridge. Perhaps this goes without saying, but letting the sandwiches sit around at room temperature for too long will cause any firm ingredients to get sad and soggy. You can store them in plastic wrap or already cut in an airtight container.
Serve them cold. When entertaining, try to be mindful of the pinwheels end up sitting out for more than two to three hours. They may start to deteriorate a bit.
Store for up to four days. Use your best judgment when it comes to tossing food gone bad, but four days is probably about the lifespan for these bite-size sammies.
Here is our list of BEST pinwheel sandwich recipes for inspiration!
---
Served Cold
---
Specialty Diets
---
Cooked Pinwheel Sandwiches