Looking for quinoa flour recipes? This quinoa flour banana bread recipe is my first creation and I have to say it turned out delicious, moist and fluffy. This recipe is vegan-friendly (no eggs or dairy), gluten-free and nut-free. Let me know in the comments if you've made any quinoa flour recipes or if you make this tasty, easy loaf of goodness. 
---
I love cooking with quinoa as it's a nutritious plant-based food and one of my go-to ingredients on days I want to skip meat or fish. But have you done any baking with quinoa flour before?
I recently bought a box of this versatile, protein-rich starch ingredient and decided to put it to the test with this quinoa flour banana bread. I have to say that it exceeded my expectations and turned out fluffy, moist and delicious. Mind you that it's a vegan, egg-free recipe as well, so the texture did blow me away.
If you want a recipe with quinoa flour, definitely give this one a go!
TIP: For those of you following a paleo diet or grain-free diet and wondering if quinoa is something, you should include, read this blog post. I personally do and that's why I was excited to discover that you can now buy other quinoa-based products such as quinoa flakes (great alternatives to oats) and flour.
Quinoa Flour Nutrition
If you've never come across quinoa flour and wondering what it's like, here is what you need to know. Quinoa flour is essentially finely ground-up quinoa seeds. Quinoa has a more superior nutritional profile to other cereals (1) although it's more accurately a pseudo-grain or a seed rather than grain. It's rich in carbohydrates, fibre and protein as well as many essential vitamins and minerals.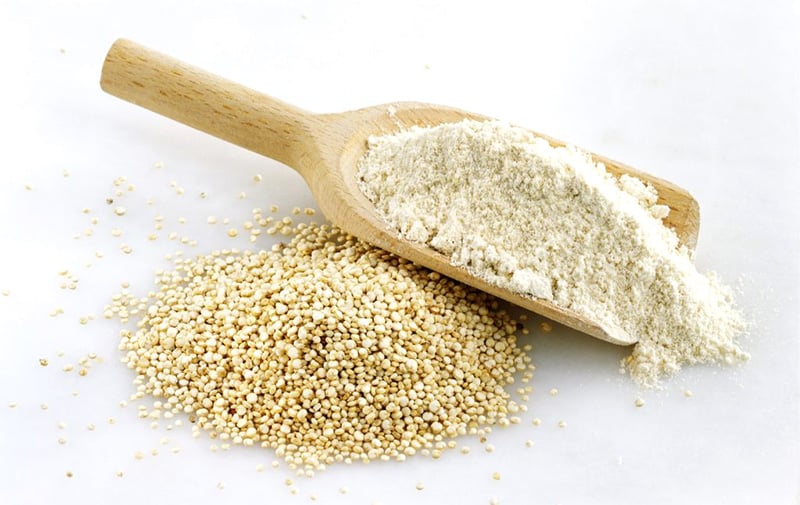 Per 100 grams, quinoa flour has about 365 kcals, 6 grams of fat, 64 grams of carbohydrates (7 grams of which are fibre) and 14 grams of protein. For comparison, regular white flour per 100 grams has 357 kcals, 1.7 g fat, 73.5 g carbs, 3.8 g fibre, 9.9 g protein.
Note that quinoa comes with complete protein meaning that you get all essential amino acids, which is unique for this plant-based food. Quinoa is particularly rich in tryptophan, which is the least represented amino acid in the protein of cereals and is essential in daily nutrition (2).
Quinoa seeds have a relatively low glycemic index (GI) score of 53, however, in its ground form, it is probably a little bit higher but not by much so it's still a great alternative to higher GI white flours.
Quinoa flour looks and feels like regular wheat flour and has a higher protein content than other gluten-free flours and starches. It has a slightly nuttier, sweeter flavour than regular wheat flour and is light beige in colour, similar to wholemeal flour. It is quite versatile and can be used in a range of baking recipes, from cakes and muffins to breads and pancakes. Due to its high fibre and protein content, it behaves more similarly to regular flour than other grain-free, gluten-free starches.
You can learn how to make your own quinoa flour here from Natalie of Super Healthy Kids. Find more quinoa flour recipe ideas here on My Natural Family blog.
Quinoa Flour Banana Bread
Okay, for my first quinoa flour recipe, I decided to try banana bread. Two reasons: I had a few over-ripe bananas to use up AND the recipe on the back of my quinoa flour box was for banana bread. The decision was practically made for me.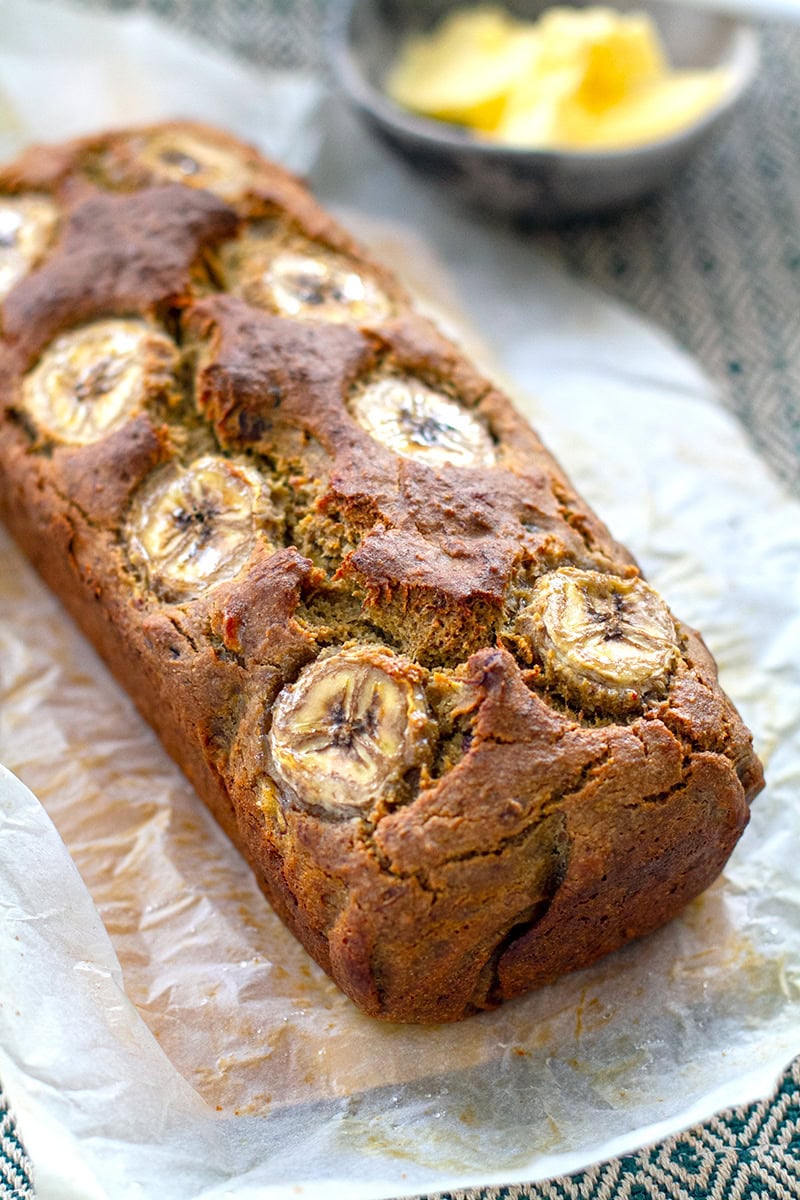 As well as being gluten-free and nut-free, this is banana bread is also vegan-friendly as I wanted to experiment with some egg-free baking. Using mashed banana and ground-up flaxseeds mixed with water (it turns into a gel-like mixture) worked really well as binders and I was amazed just how well the bread turned out. It was fluffy, moist and not crumbly.
Also, I used stevia instead of sugar so this recipe is much lower in carbohydrates and sugar than regular banana bread. You can see the full nutritional breakdown below in the recipe.
You might also like my paleo-friendly banana bread or my blueberry banana muffins. Speaking of muffins, you could bake this batter as muffins for maybe 25-30 minutes.
How To Make Quinoa Banana Bread (Step-By-Step)
Step 1. Mix the ground flaxseed with water to form gel-like consistency, this will be our egg replacement. Mix dry ingredients in a bowl.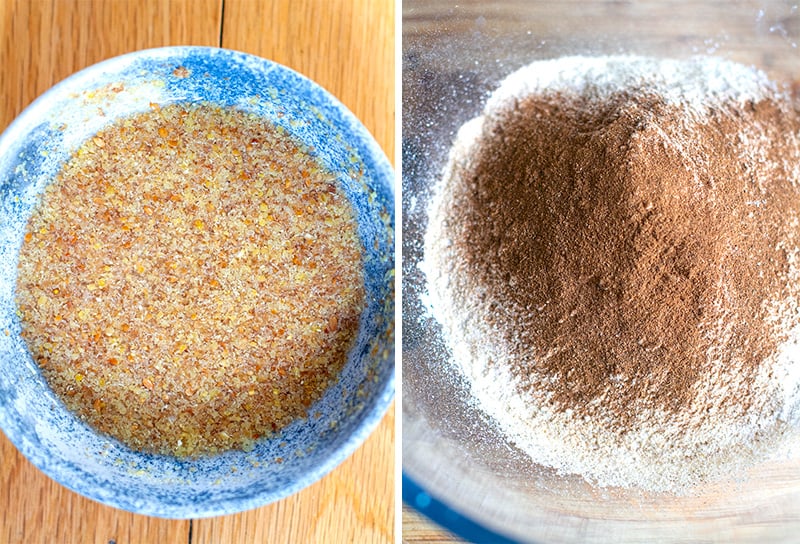 Step 2. Mash ripe bananas and add the liquid ingredients.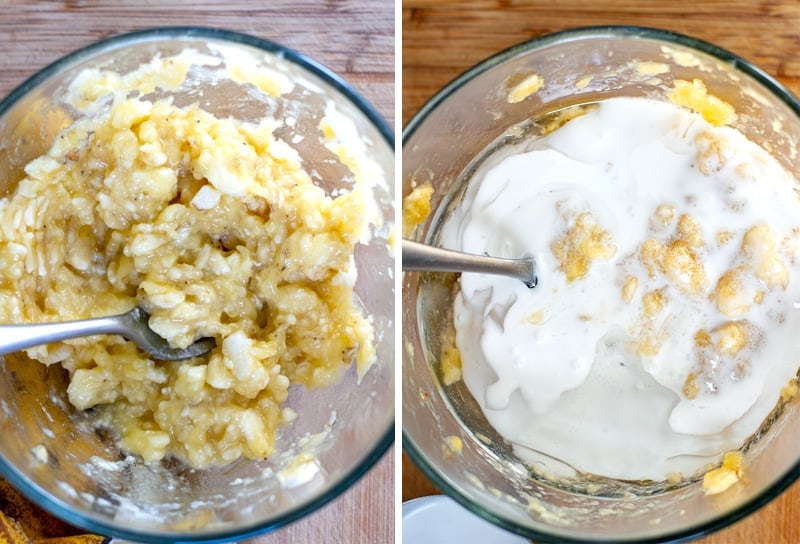 Step 3. Combine dry and wet ingredients and fold in the chopped dried fruit if using. Transfer to a loaf tin (I used 9×5 inch) with lightly greased baking paper. Flatten the top.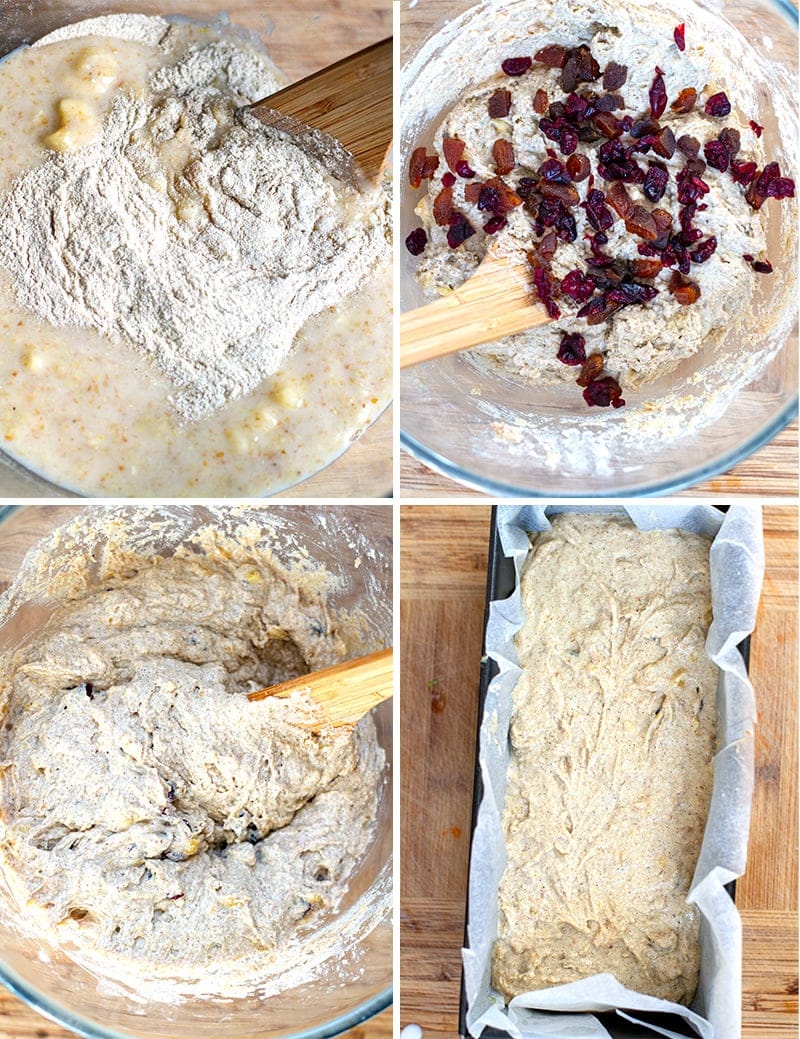 Step 4. Add sliced bananas on top and press down into the batter. Bake for 45-50 minutes at 180 C / 355 F.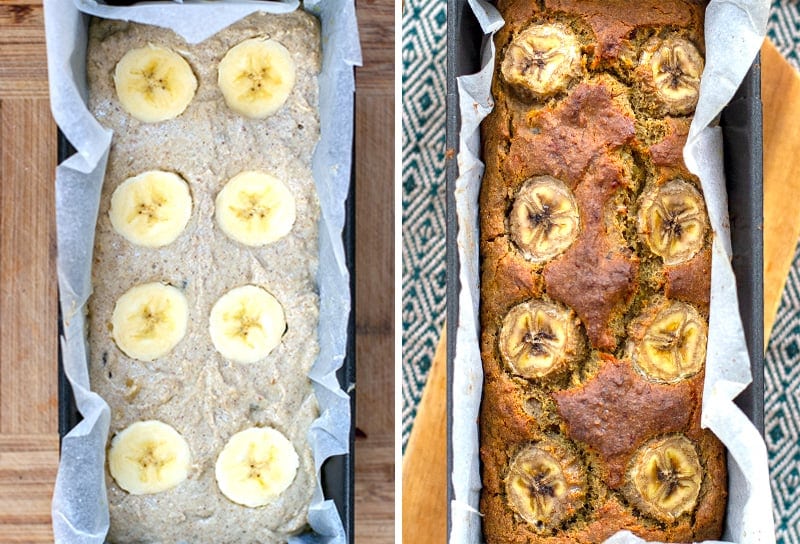 More Healthy Baking Recipes
Print
Quinoa Flour Banana Bread (Vegan, Nut-Free)
Author:

Prep Time:

15 minutes

Cook Time:

50 minutes

Total Time:

1 hour 5 minutes

Yield:

8

–

1

0

1

x

Category:

Bread

Method:

Baking

Cuisine:

American
---
Description
Vegan, gluten-free and nut-free, this quinoa flour banana bread is easy to make and is fluffy, moist and delicios. Made with not added sugar, it's also lower in carbohydrates than regular banana bread. Find step-by-step process photos below the recipe.
---
2 tablespoons flaxseed ground

4 tablespoons water

1 + 3/4 cups quinoa flour (like this)

1 teaspoon baking powder (gluten-free)

1/2 teaspoon bicarb soda (baking soda)

1/4 teaspoon salt

1 + 1/4 teaspoons cinnamon powder

3 mashed bananas (ripe ones)

2 tablespons stevia sweet granules (sugar substitute like this)

1/2 cup coconut milk

1/4 cup + 1 tablespoon coconut oil (melted but not hot)

2 teaspoons vanilla essence

5 dried apricots, diced (optional)

1.5 tablespoon dried cranberries, roughly chopped (optional)

Garnish: 1/2 banana, sliced for the top
---
Instructions
Preheat oven to 180 C / 355 F. 

Oil a piece of parchment paper and line a 9×5 inch loaf tin. Mix the flaxseed and water and set aside to puff up. This will be our egg replacement. I use a slightly longer loaf tin (25 cm instead of 22cm). 

Mix quinoa flour, baking powder, bicarb soda/baking soda, salt and cinnamon in a large bowl.

Mash bananas in a separate bowl. Add stevia sugar granules, coconut milk (or another type of milk), oil and vanilla. Mix through and add the flaxseed mixture. Stir through.

Combine banana mixture with the flour and fold in the apricots and cranberries. You should have a very thick batter, not runny.

Transfer the mixture into the tin and flatten the top. Tap the tin on the counter a couple of times to let the mixture spread and fill in the corners. 

Decorate the top with banana slices, gently pushing them into the batter.

Bake for 45-50 minutes. Remove from the oven and cool in the tin before slicing.
---
Notes
Quinoa Flour (pronounced keen-wa) is stone ground from nutritious whole grain quinoa. Store in a cool, dry place. Keeps best refrigerated or frozen after opening. You can make your own quinoa flour using this recipe.
Egg replacement: if you don't have ground flaxseeds, use chia seeds or 1 vegan egg alternative. 
Sugar: I am using stevia instead of honey or maple syrup but you can use 1/4 -1/3 cup of those if you want. Please note, the carb/sugar content will be higher. Feel free to use brown sugar or regular sugar if that's all you have.
Nutrition
Serving Size:

1 slice

Calories:

301

Sugar:

9 g

Sodium:

222.7 mg

Fat:

15 g

Carbohydrates:

38.3 g

Protein:

6.1 g

Cholesterol:

0 mg
Save This Quinoa Banana Bread To Pinterest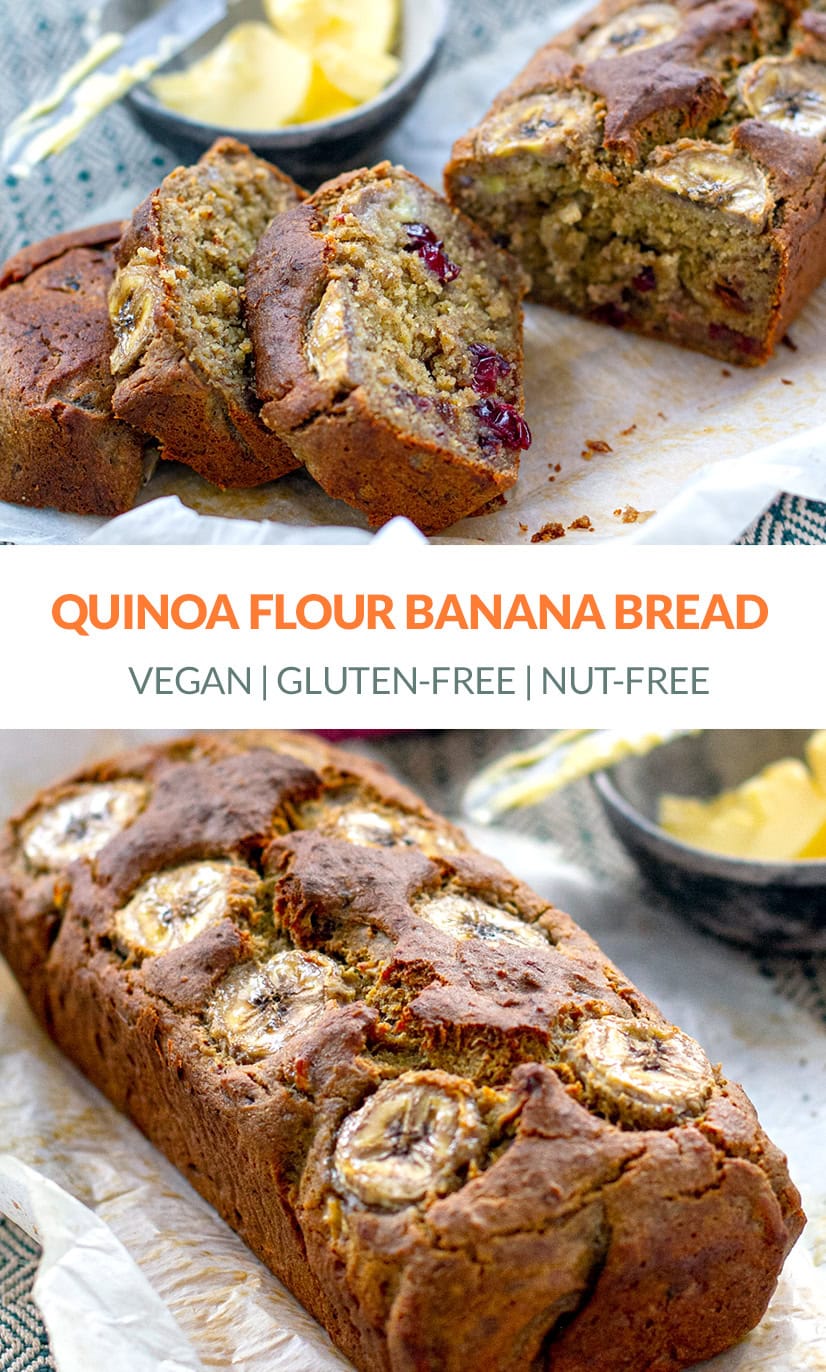 REFERENCES
1.Nutritional & Health Benefits Of Quinoa
2. Amino Acid Profile in Quinoa Analyzed
11 Proven Health Benefits Of Quinoa