Stuffed sweet potatoes are super versatile and you can get creative with fillings and toppings to suit your diet. In this recipe, I am stuffing baked sweet potato boats with delicious, Spanish-inspired tuna empanada filling. It's a nutritious and healthy meal that you can have for dinner or lunch and is gluten-free, paleo, and Whole30-friendly.
---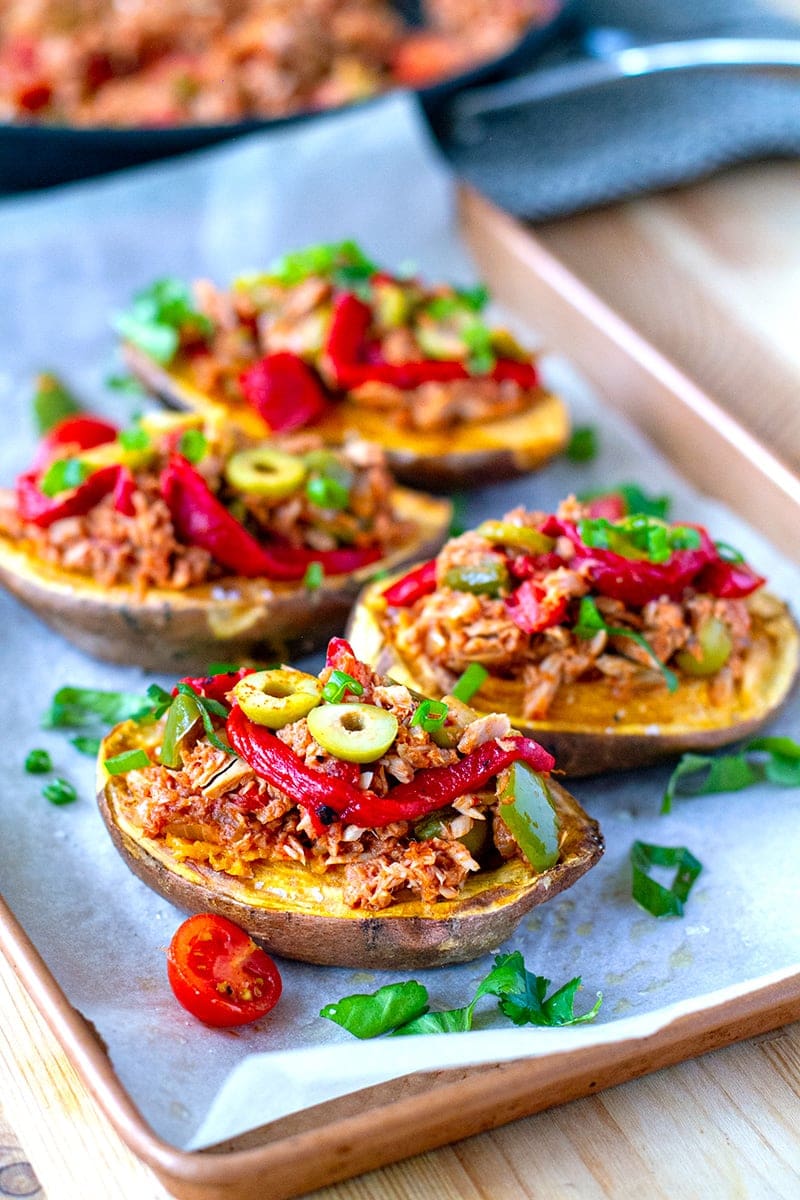 You can use this recipe with sweet potatoes, white potatoes and a very low-carb/keto version with zucchini. The main thing is that you create a vessel or a boat out of the vegetable, ready for stuffing with delicious things. 
What I love about this dish is that the two elements – sweet potatoes and tuna filling – can be made ahead of time and you can do a large batch of both. They will keep for 3-4 days in the fridge and can be used together as in these tuna stuffed sweet potatoes or separately in other dishes.
Serve these as they are, grilled with cheese on top and I like a simple green salad on the side. So, let's get on with the recipe!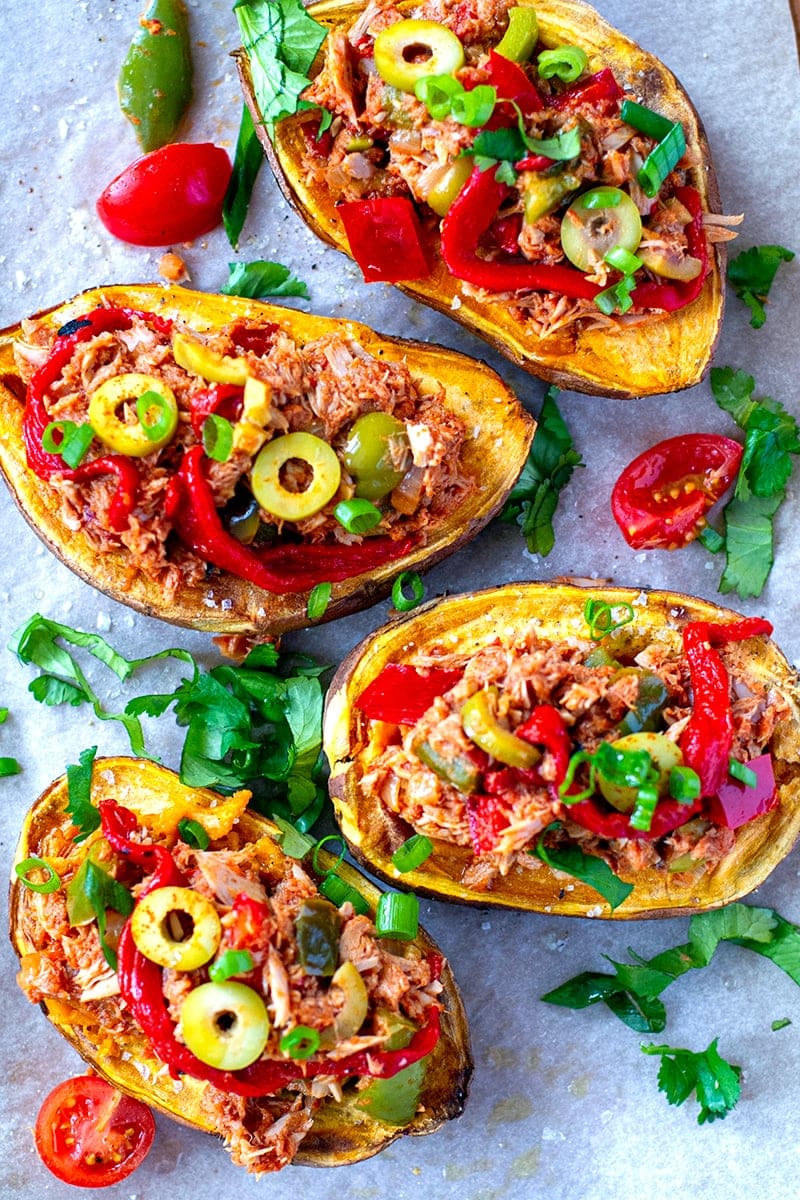 How To Bake Sweet Potato Boats
I like baking sweet potato with the skin on as it contains nutrients and fibre AND I love the texture of baked potato skin. It adds a nice contrast to the sweet flesh inside.
Pick elongated, straight sweet potatoes. They shouldn't be too small or it will be hard to fill them.  I would use small to medium sweet potatoes and serve two halves per person, and if you bake large sweet potatoes, then serve one half per serving. 
Some people like to bake sweet potatoes whole and then make a cut through the middle to open them up into boats for stuffing. It's totally up to you. Whole sweet potatoes will take longer, that's all. 
Halved sweet potatoes will take somewhere between 25-35 minutes in a 200 C/400 F oven depending on size. I brush them very lightly with olive oil before baking and then season with salt and pepper at the end.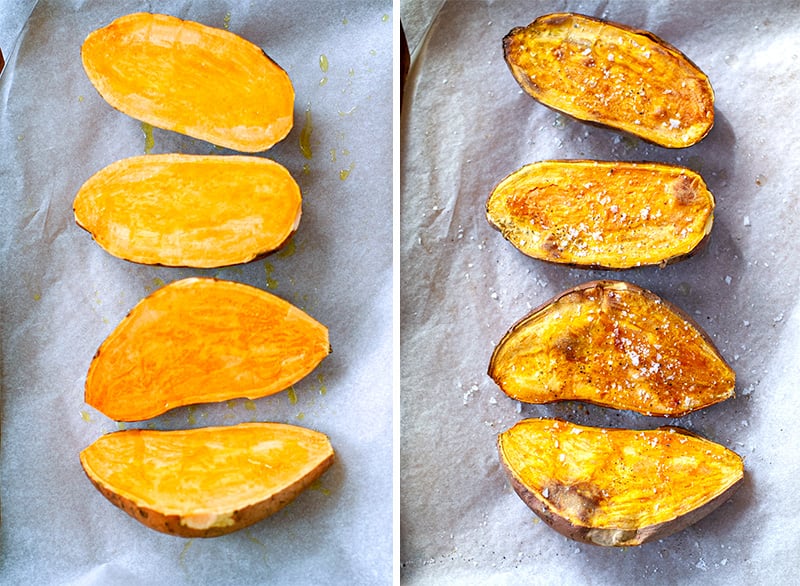 How To Make Spanish Tuna Filling
This nutritious filling is made with canned tuna, so it's a great recipe for using up those pantry ingredients. You can also use canned salmon.
The recipe is inspired by the tuna filling you get in empanadas in Spain, which I've always loved and thought would be a great standalone dish. I have a separate, more detailed post on how to make this tuna filling and all different ways you use it from nachos and tacos to casserole dishes. I also give full instructions in the recipe card below.
In a nutshell, you first have to make a very tasty sauce of sauteed onions, red and green peppers, garlic and tomatoes. I also add some canned or jarred roasted red peppers as they add that lovely acidity and extra sweetness.
To keep it authentic I am also using some green olives. Once the sauce is made, canned tuna (or salmon) is added and braised for a few minutes to absorb all those lovely flavours. 
The recipe will make plenty of tuna mixture for stuffing the potatoes and if you have leftovers, there are many ways to use them. Again, read the post I have on it here.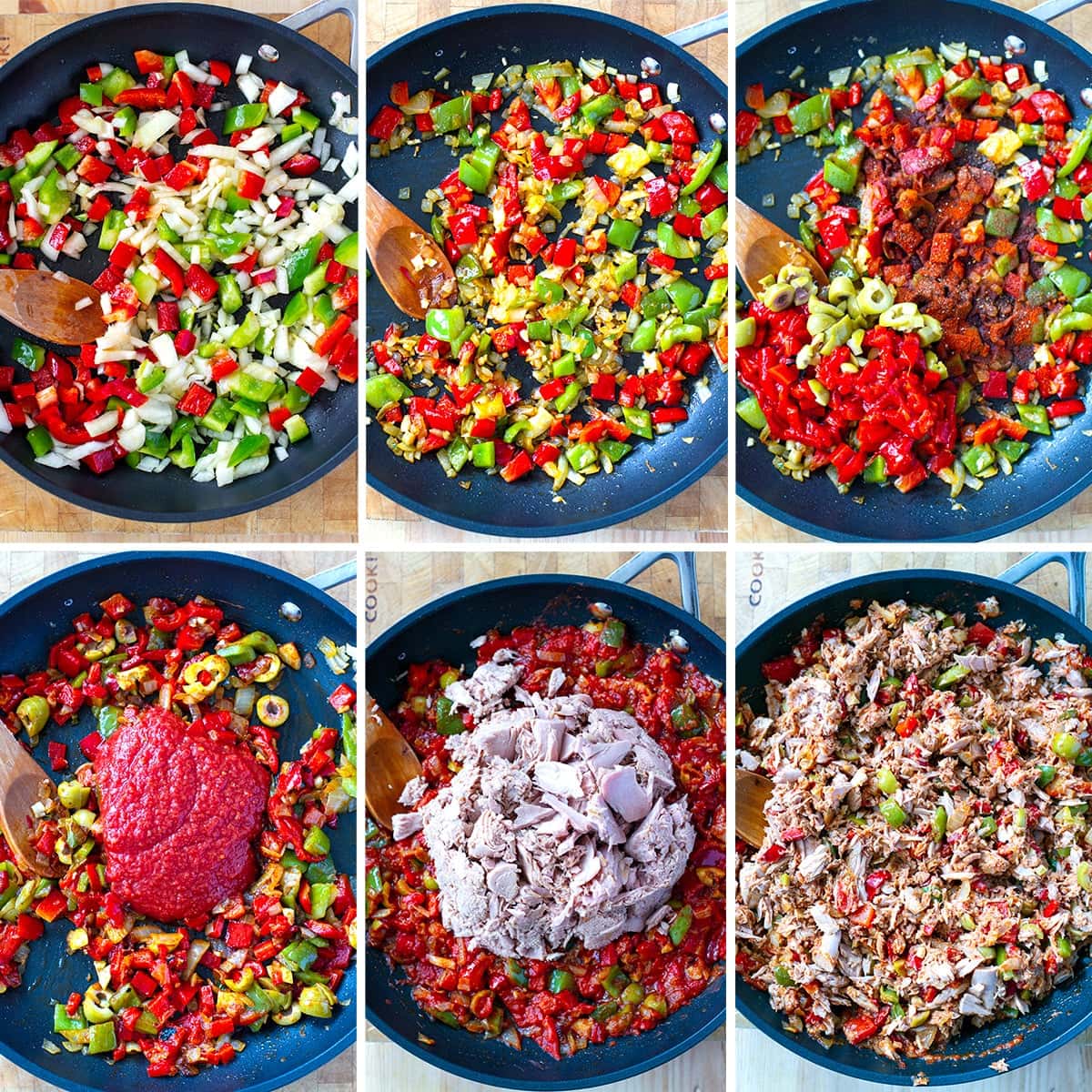 Try These Variations
Sprinkle the stuffed sweet potatoes and tuna with cheese and pop under the grill for 5-7 minutes.
Make smaller sweet potato circles, bake and top with the tuna filling for tasty finger food.
Add cumin, coriander seed and paprika to the sauce to turn the tuna into a Mexican-inspired filling. Top the sweet potatoes and tuna with zesty guacamole or creamy avocado dressing and fresh coriander leaves.
Use the filling in baked jacket potatoes (white potatoes).
Top these tuna boats with cranions – crispy fried onions – for lovely texture and flavour.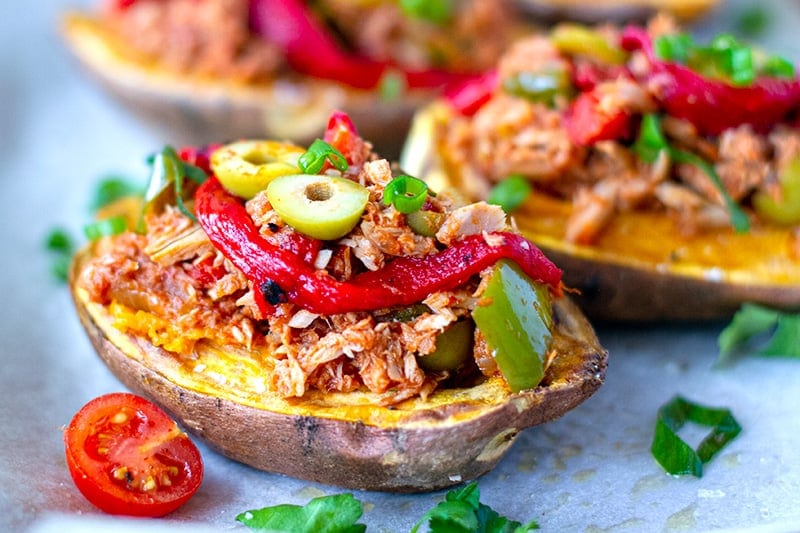 You Might Also Like These Recipes
Print
Spanish Tuna Stuffed Sweet Potatoes
Author:

Prep Time:

20 minutes

Cook Time:

35 minutes

Total Time:

40 minutes

Yield:

4

1

x

Category:

Main

Method:

Oven-baked

Cuisine:

Spanish

Diet:

Gluten Free
---
Description
In this recipe, I am stuffing baked sweet potato boats with delicious, Spanish-inspired tuna empanada filling. It's a nutritious and healthy meal that you can have for dinner or lunch and is gluten-free, paleo, and Whole30-friendly. You will love this stuffed sweet potatoes recipe!
---
For baked potato boats
4 medium to large sweet potatoes (with skin on)

2 tablespoons olive oil

1/2 teaspoon sea salt

A generous pinch of pepper

For Spanish tuna (empanada) filling
3 tablespoons olive oil

1 medium onion, finely chopped

1 cup chopped red bell pepper/capsicum, chopped (1/2 to 2/3 of pepper)

1/2 cup chopped green bell pepper/capsicum (1/2 pepper)

1/2 teaspoon salt

5 cloves of garlic, diced

1/3 serrano or jalapeno chilli (red or green), diced

1 canned roasted red pepper, diced

10 green olives, diced

1.5 teaspoons paprika powder

1 cup tomato passata (chopped tinned tomatoes)

400 g canned tuna (drained weight)

Garnish: sliced roasted red peppers, olives and green onions
---
Instructions
Bake the sweet potato boats
Preheat the oven to 220 C / 425 F. Place a piece of parchment paper on a flat baking tray and grease with a little olive oil.
Wash the sweet potatoes well and cut away any bad bits. Cut in halves (lengthways), into boat shapes. Place on the tray skin side down and brush the fleshy part lightly with olive oil.
Bake in the oven, middle shelf for 10 minutes, then reduce the heat to 200 C / 400 F. and bake for 20-25 minutes until golden brown and soft on the inside.
Make the tuna empanada filling
Heat a large frying pan over medium heat and add the olive oil, onions, peppers and salt. Stir and cook for 12 minutes, stirring through a few times. Add the garlic and chilli have way through. While these are cooking, prepare other ingredients.
The onion and peppers mix should be soft, golden and caramelised. Add the paprika powder, diced roasted pepper and olives and stir through. Add the tomato passata and cook for 2 more minutes.
Finally, drain the tuna through a sieve making sure to squeeze out excess liquid. Add the fish to the pan and stir through the sauce. Taste for seasoning and add a little sea salt if needed. Cook for 2 minutes, stir again and it's done.
Assemble the stuffed potato boats
Remove the sweet potato boats out of the oven. Use a tablespoon to make a dent in the middle of each half and sprinkle with sea salt and pepper. Scoop 2-3 tablespoons of tuna filling on top and garnish with extra olives, roasted peppers, spring onions and cilantro.

Optional:

 top the potato tuna boats with grated cheese and pop under the grill for 5-8 minutes until melted.  
---
Nutrition
Serving Size:

2 sweet potato halves + 2/3 cup tuna filling

Calories:

433

Sugar:

11.9 g

Sodium:

1181.6 mg

Fat:

18.9 g

Saturated Fat:

3.1 g

Carbohydrates:

39.6 g

Fiber:

8.1 g

Protein:

27.8 g

Cholesterol:

42 mg
SAVE THIS SWEET POTATO RECIPE TO PINTEREST