Craving noodles or pasta but trying to avoid grains and gluten? Don't worry! There are many paleo noodles recipes and pasta alternatives that are tasty and nutritious. Here, I cover some of the best substitutes and how to use them.
---
Like many of you, I love luscious pasta dishes smothered in scrumptious sauces, a hearty Bolognese and noodle-based soups and salads. I also like breakfast noodles, topping them off with an egg. But just because you're following a paleo-style diet, doesn't mean you have to give up your favourite noodle and pasta dishes.
Today, I want to focus on some tasty paleo noodles and pasta alternatives and how to re-create your favourite comfort dishes using grain-free and gluten-free ingredients and foods.
PALEO NOODLE GADGET YOU NEED!
The key to making (most) paleo pasta and noodles: a spiralizer. It's a kitchen gadget staple in my house and it does what it says it does and spiralizes anything you squeeze in between the blades, turning them into noodles. Many spiralizers also have different settings to create thin spaghetti-like noodles or thick ribbons.
With a good spiralizer, you can turn most veggies – from softer zucchini to sturdier sweet potato – into big, colourful, piles of noodles. You can check out some of my favourite spiralizer recipes here.
As well as vegetable noodles, there are other paleo-friendly options like zero-carb shirataki noodles, kelp noodles and spaghetti squash. Today, I am covering the grain-free pasta options from A to Z with plenty of recipes to inspire you. Happy twirling!
Zucchini Noodles (zoodles, zucchitini)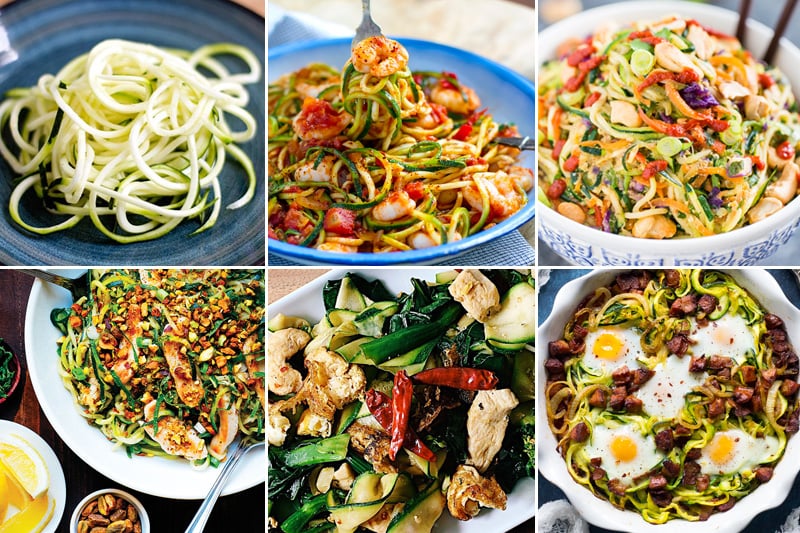 Zucchini, or courgette, is one of the easiest vegetables to spiralize. It's healthy and those big zucchinis will yield a ton of "pasta." This is the perfect option for anyone who is trying to cut grains or carbs, and its mild taste makes it very versatile. It's a healthy veggie packing in fibre, antioxidants, vitamin C, and potassium.
I love zoodles, especially in the summer. Farmer's markets are selling massive courgette and it's in bloom in everyone's gardens. Whether or not you grow it yourself, friends are passing on their bounty to their loved ones because there's just too much of it!
Not only is it low in carbs, but it's also low in calories. Having a light base means you can really focus on the fun stuff – the sauce and the toppings. Zucchini takes on all types of flavours, from tomato-based recipes to creamy sauces.
TRY zucchini noodle and pasta recipes:
Paleo Pad See Ew
Zucchini prawn arrabbiata
Zucchini pasta with pistachios & chicken from Happy Body Formula
Zucchini noodle egg bake from Paleo Running Momma
Chicken Minestrone with zucchini noodles from Paleo Grubs
Sesame chicken zucchini noodles from Get Inspired Everyday
10-Minute zucchini noodles with garlic, lemon & Parmesan (primal) from Instant Pot Eats
Rainbow veggie dragon noodles from Get Inspired Everyday
Sweet Potato Noodles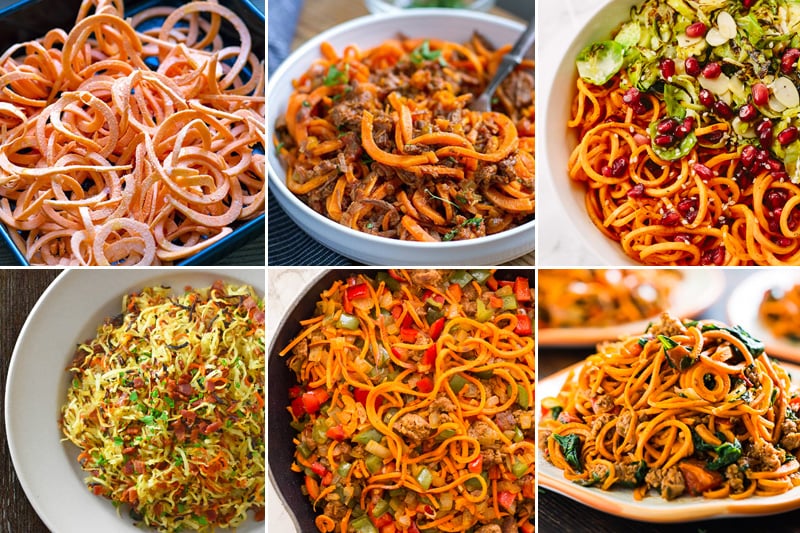 For something a little heartier, I love sweet potato noodles. Truth be told, I love all the ways you can work sweet potatoes into something fun and exciting (like chocolate brownies). It's definitely one of the most versatile starches I've worked with, so making pasta out of these sweet spuds was a no-brainer for me!
Unlike zucchini, sweet potato does add some carbs to the dish. I love my healthy slow carbs, and sweet potato is one of the best choices for long-lasting energy while also packing in the vitamins A and C.
It's also great at taking on thicker sauces. Sweet potato noodles are heartier and less delicate than most other veggie options, so they can really get the job done when you need it. Plus, I love that they bring a little sweetness to a meal without any added sugar.
Try these sweet potato noodle dishes:
Beef ragu with sweet potato noodles
Spiralized sweet potato & chorizo breakfast bowls from Inspiralized
Crispy swoodles with bacon from Nom Nom Paleo
Brussels sprouts & sweet potato noodle bowl with pomegranate & maple vinaigrette from Inspiralized
Sweet potato noodles with chorizo, roasted red pepper & spinach from Get Inspired Everyday
Spiralized Parsnip Noodles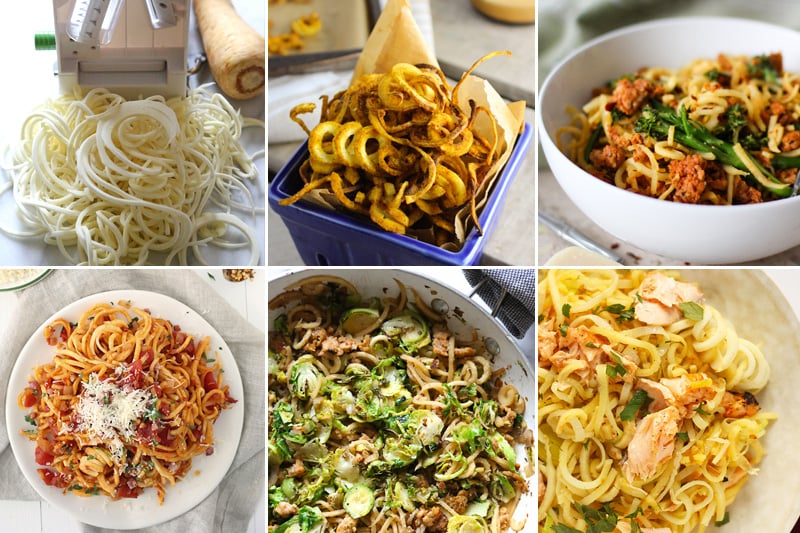 Either you love or hate parsnips, this root vegetable makes a fun and unique base for a pasta dish and is great for making curly fries. They are slightly sweet and come into season in the fall and winter, offering up a seasonal alternative to zucchini when you need it.
Parsnips are relatively low-carb despite being a starch. They're full of nutrients, namely potassium, fibre, vitamin C and vitamin E. They're most commonly used in soups, but this underrated veggie deserves a little more attention than that!
Check out these parsnip noodle recipes:
Parsnip spaghetti all'amatriciana from Inspiralized
Brussels sprouts & sausage spiralized parsnip pasta from Skinny Taste
Indian spiced curly parsnip fries from The Fitchen
Lemon oregano salmon & leek parsnip pasta from Inspiralized
Spiralized parsnip with broccolini and sausage from Lake Shore Lady
Spaghetti Squash Noodles/Pasta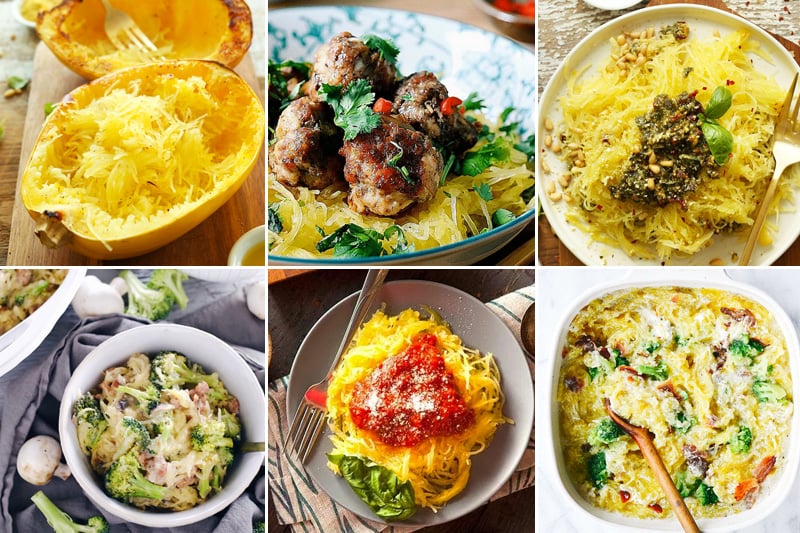 You don't need any tools to make spaghetti squash noodles. In fact, they basically make themselves. This winter squash is oblong and yellow, making it stand out against the rest. When cooked, its flesh becomes spaghetti-like. It looks like it and twirls up just like spaghetti on your fork.
Another thing that sets it apart from other winter squash is that it's actually a watery vegetable – not a starchy one. This means it's very low-carb and low-calorie. Plus, it's high in vitamin B6, potassium, and manganese.
One of my favourite ways to eat it is straight from the skin. You don't even need a bowl! You can pick apart the flesh with a fork, turning it into noodles, and pour the sauce right into the squash. It's an incredibly filling and satisfying meal every time.
To make basic spaghetti squash noodles, follow this simple method using an oven or if you have an Instant Pot, check out these instructions.
Here are some spaghetti squash recipes:
Creamy garlic spaghetti squash casserole from Real Simple Good
Spaghetti squash pasta with basil pesto from Minimalist Baker
Bacon & garlic spaghetti squash from Paleo Gluten Free Eats
Vietnamese meatballs from vermicelli noodles from I Heart Umami
Chicken pesto spaghetti squash pasta from Paleo Running Momma
Celeriac Noodles or Pasta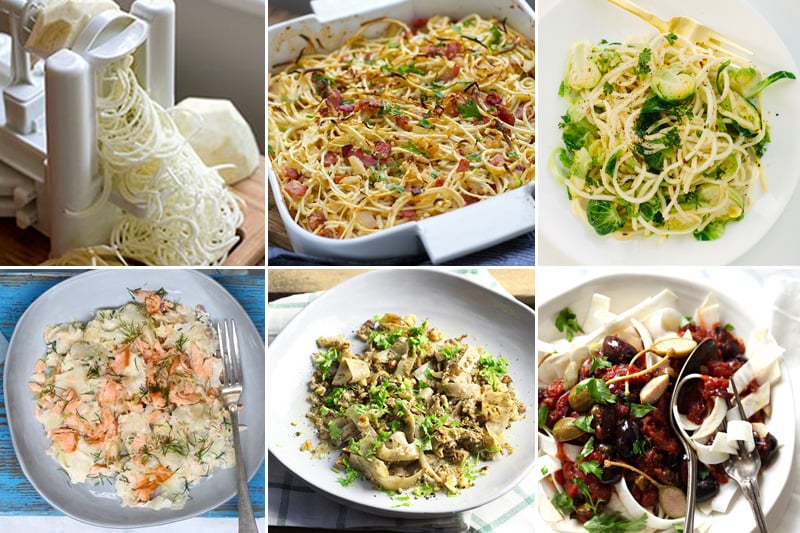 Celeriac is the root of celery and is most common in autumn/winter. If you've never had it, you're not alone. You've probably walked right past it a few times. Its hard and lumpy outer skin is hardly inviting, but once you get past that, you're in for a treat.
This is another sturdy choice for soaking up flavours and sauces. It contains potassium and high amounts of vitamin K and phosphorous. It will also boost your vitamin C. It's relatively low in carbs. Unsurprisingly, it tastes a little bit like celery, although it's much milder. Simply peel off the hard skin and spiralize into thin noodles or ribbons. It can be eaten raw or cooked slightly in boiling water, roasted or pan-fried.
CHECK OUT SPIRALIZED CELERIAC RECIPES:
My Celeriac carbonara casserole
Celeriac pasta with Puttanesca sauce from My New Roots
Celeriac pasta with brussels sprouts from Inspiralized
Celeriac noodles with salmon & dill from Abel & Cole (primal)
Celeriac noodles with walnut-mushroom pesto from Abel & Cole
Butternut squash noodles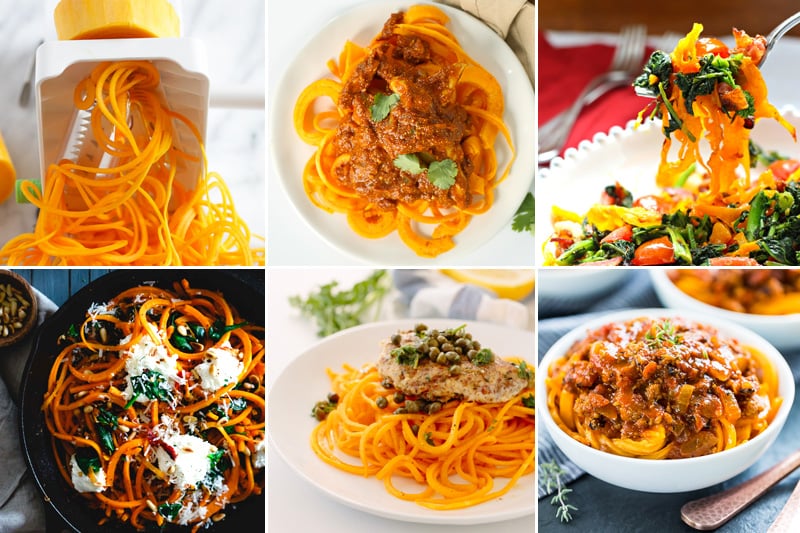 Butternut squash or pumpkin is practically begging to be spiralized. It's the perfect shape for it, a bit oblong so you'll get beautiful, long noodles every time. It tastes a lot like pumpkin because it is a type of pumpkin, so you can add it to your festive fall menu in all types of gorgeous pasta dishes.
It's an AMAZING source of vitamin A with a serving topping you off at 297% of the RDA. Plus, it's packed with immune-boosting vitamin C, potassium, and even a little magnesium. It's slightly sweet and cooks up nice and creamy. You're in for a treat!
Butternut squash noodles recipes:
Chicken tikka masala with butternut squash fettuccine from Inspiralized
Chicken piccata with butternut squash noodles from Inspiralized
Butternut squash pasta with bacon & broccoli rabe from Paleo Running Momma
Butternut noodles with chorizo spaghetti sauce from Get Inspired Everyday
Garlicky butternut squash noodles with spinach and ricotta (primal) from Running To The Kitchen
Paleo shirataki noodles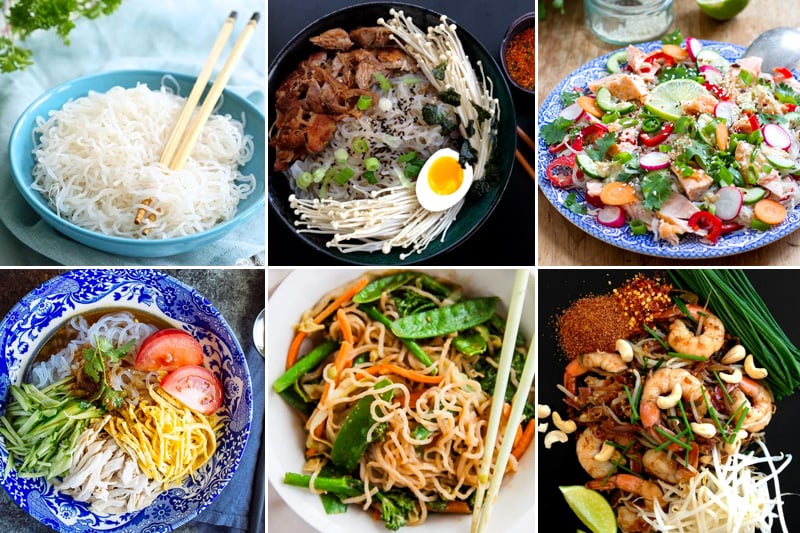 If you haven't tried shirataki noodles yet, I highly encourage you to do so! These "miracle noodles" are zero calories and zero carbs, so you're probably wondering what the heck they're made of then. Good question!
They're made from konjac yam, mostly comprised of water and fibre. They are thin, almost transparent, and gelatinous. They actually have a rather fishy scent upon first opening the package, but don't let that turn you off. A quick rinse will wash it away, and you'll be ready to cook.
Because these noodles are a bit gelatinous, they don't absorb sauces as well as many veggies do. This makes them great for Asian-inspired noodle dishes like soups and salads though, adding texture and feeling a lot like rice noodles.
Shirataki Noodles Recipes To Try:
Paleo ramen from Fresh Planet Flavor
Shirataki noodle salad with salmon & sesame lime dressing from Happy Body Formula
Shirataki noodles with almond butter sauce from Wallflower Kitchen
Honey sesame shirataki noodles from Just One Cookbook
Paleo Pad Thai from Fresh Planet Flavor
Kelp noodles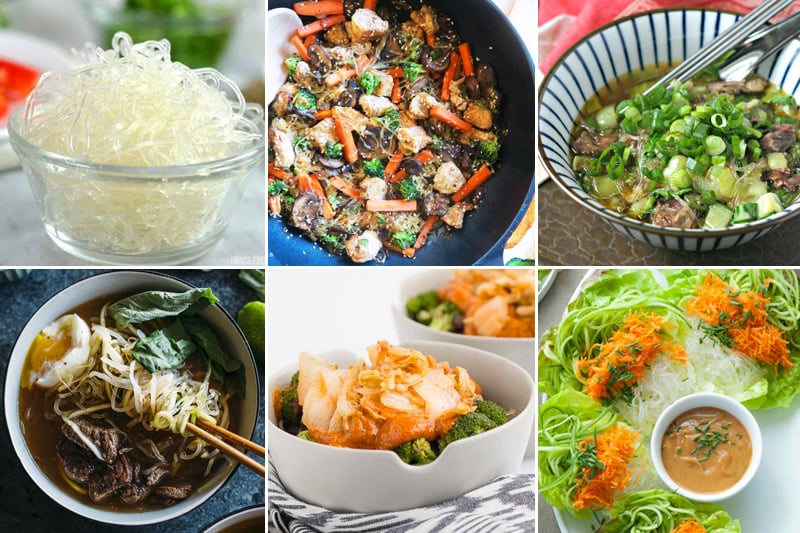 Kelp is a Japanese staple, and we all know the Japanese live a long time! These noodles are made from the extract after steaming kelp, retaining some of its incredible nutrient profile. These are rather bland on their own, but they are similar to shirataki noodles in that they will take on absolutely any flavour profile nicely.
Kelp noodles are a really wonderful source of iodine – something you don't find in very many foods! This is an important nutrient for thyroid health. Adding seaweed to the diet is great for overall health. Make it fun with noodles.
Tasty Kelp Noodle Recipes:
Sesame chicken kelp noodles from Wholesome Yum
Quick kelp noodle soup from Everyday Maven
Paleo beef Pho from The Almond Eater
Thai curry kelp noodles from Dr. Axe
Cucumber kelp noodle lettuce cups with sesame sunflower sauce from Gourmande In The Kitchen
Carrot noodles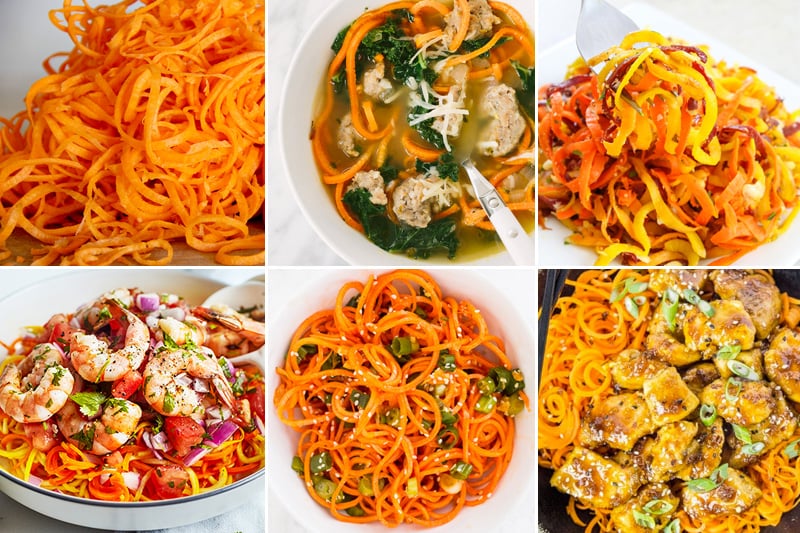 Last but not least, let's give carrots some time to shine in the spotlight. You'll likely have to find some big carrots to use most spiralizers, but the effort is worth it for some pasta rich with beta-carotene and slight sweetness.
You can also use a hand peeler to make these noodles if you can't find carrots large enough to fit. Simply peel off thin slices to use in these recipes.
Healthy Spiralized Carrot Recipes:
Honey ginger chicken & carrot noodle bowls from No Spoon Necessary
Spicy sausage & kale soup with carrot noodles from Inspiralized
Roasted Garlic & Parmesan carrot noodles from Kirbie Cravings
Asian sesame spiralized carrots from Inspiralized
Fresh tomato salsa shrimp with carrot & pumpkin noodles from Beach Body On Demand
No gluten? No grains? Not a problem. There are so many delicious and nutritious ways to enjoy paleo noodles. I hope you found some recipes you like here. Enjoy your spiralizer and everything else your pasta-loving heart desires.