We're four days into the challenge and you should start to feel better. In fact, some of you might even feel amazing. You might wake up feeling more energetic than usual or find that you're not as bloated as usual. These are all good signs, my friend. Channel these positive changes to fuel your fire and enthusiasm.
If you're still struggling, don't worry! Rome wasn't built in a day and your time to shine is coming. Everyone comes from a different starting place, plus our genes have a lot to say about how we process certain foods and how we adjust to changes. Be kind to yourself, listen to your body and keep going.
You might feel like something comforting today, so why not treat yourself to a cup of hot cacao with coconut milk and a touch of cinnamon and vanilla. Or perhaps, this is a perfect day for a massage or a nice, hot bath.
Back to 7-Day Challenge Home.
Check out your notes and links for Day 5 here.
Here Is Your 10-point Checklist For Thursday:
Stick to paleo guidelines – 4 (this one is compulsory)
8 glasses of water – 1
No alcohol – 1
Include fish or seafood in one of your meals – 1
Include red vegetable in one of your meals – 1
Include seaweed – 1
30-minute workout of choice – 1
Meditate for 10 minutes – 1
Check in on Facebook or Instagram – 1
Cup of bone broth – 1
Perfect Dinner Meals For Today:
Cajun honey & lime salmon with tomato cauliflower rice
Paleo sushi rolls with salmon, avocado & red peppers
Oven-baked fish with cherry tomatoes & olives
Rainbow superfood salad with pomegranate & basil dressing
---
Fish & Seafood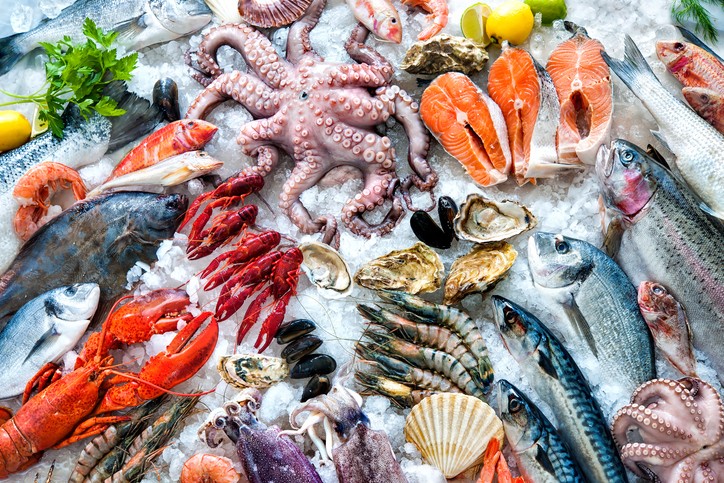 We have discussed the benefits of fish and seafood already, so today I want you to focus on variety. Why not try something new? At least, mix it up: if you had fish earlier in the week, go for shrimp/prawns or mussels today, and vice versa.
Once again, if you don't or can't eat fish or seafood, you can replace this protein with something else but I do encourage you to try. I can also suggest taking an omega-3 fatty acid supplement in that case.
Choose any of the following: salmon (smoked, tinned or fresh), tuna (as salmon), mackerel, sardines, anchovies, cod, any other white fish, prawns/shrimp (frozen or fresh), anchovies, mussels, oysters, clams, squid/calamari, octopus, crab meat and so on.
---
Red Vegetables & Fruit
Many red fruits and veggies are loaded with powerful, healthy antioxidants such as lycopene and anthocyanins. These nutrients help to fight heart disease and prostate cancer, decrease the risk for stroke and macular degeneration (the leading cause of blindness in people aged 60 and older), and the antioxidants soak up damaging free radicals.
Choose one or more of the following: tomatoes (raw and cooked), red peppers, red beets, radishes, pomegranate, red berries, cherries.
Try one of these green vegetable dishes:
Simple tomato & basil salad
Tomato based stew or pasta sauce with zucchini noodles
Roasted red peppers
Adding berries or pomegranate to a salad or breakfast yoghurt
Tomato & red pepper soup
---
Seaweed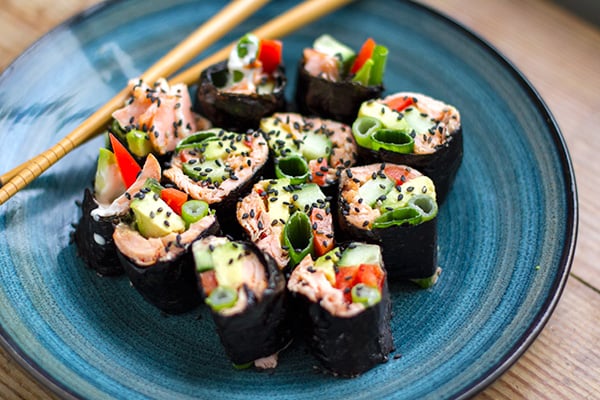 Seaweed is a bit of a super food and I like to think of it as a supplement. It's rich in iodine, minerals and protein, and can easily be added to your meals in small amounts. Proper levels of iodine are associated with a healthy thyroid which is why seaweed may be associated with weight loss. Seaweed is also rich in alginate – a type of fibre -which helps to protect the digestive tract while increasing good bacteria in the gut.
You can purchase seaweed as nori sheets (used for sushi rolls) in most supermarkets, or you can get some dulse flakes or another seaweed sprinkle to top salads or roasted veggies. Wakame, kelp (think kelp noodles), and kombu are other types of edible seaweed.
Try my paleo sushi rolls with red peppers and salmon or this seaweed pasta recipe.
---
Bone Broth
Bone broth is a great source of minerals and amino acids that help to heal your gut, boost nutrition, and keep your skin, hair and nails in top-notch condition. Ditch expensive anti-ageing creams and have a cup of bone broth instead.
You can make your own bone broth using this recipe or purchase pre-made bone broth from your butcher, a health food store and even online here. Here are some delicious ways to consume bone broth.
In the U.S, try Kettle & Fire – they use organic ingredients and grass-fed beef, and their bone broth has a fantastic flavour. They're also non-frozen and shelf stable, so you can store a few cartons in your pantry. You can buy their bone broth online AND if you use the promo code EATDRINKPALEO15, you'll get 15% off your first order.
---
30-Minute Workouts
Depending on your fitness level, you can choose any kind of activity for this challenge: walking, running, cycling, swimming, yoga, hiking, boxing, pilates, rock climbing, dancing, gardening and so on.
The key is to keep moving a little bit every day, especially if you have a desk-bound job. When you think about evolution and our ancestors, the most striking difference is how little we move in comparison. Adding this challenge was important for me because I believe that movement is essential to well being and longevity.
---
Meditation
Another difference between our current society and our ancestors is the amount of stress we get subjected to on daily basis. While some acute stress is healthy and necessary in our life, it is the chronic stress (both mental and physical) that can cause some serious damage to our health.
There are many ways to manage stress from simple breathing techniques and avoiding the triggers in the first place, down to art therapy and daily mediation. You have to do what works for you but introducing a small meditation session into your daily routine can make a big difference in how you cope with stress. Give it a go, if you haven't tried it before. I recommend an app called Headspace that provides a few free guided meditation sessions.
---
Share your progress with us in our Facebook group or on Instagram, if you like.