This collection of the best paleo omelette recipes will give you plenty of inspiration to whip up a protein-rich and nutritious breakfast or dinner for you or for the whole family.
---
I love a good omelette! Here I've gathered some of my favourite paleo omelette recipes including keto, Whole30 and cheesy options. There are even a few sweet omelettes!
Why omelettes are so good
The main ingredient is eggs, which are high in protein, healthy fats, and contain all the essential amino acids your body needs for growth and repair. Eggs also pair pretty much with anything making them a great carrier for other healthy ingredients such as vegetables, oily fish, and even berries.
There are several different types of omelettes: they can be fluffy like a souffle, baked like a frittata, rolled or folded over, or cooked as thin as a crepe. Omelettes are super tasty and versatile and can be served for breakfast, lunch, or dinner.
Cooking the perfect omelette
Cooking a classic style omelette may seem daunting at first, but once you get the hang of it it's super easy. Check out this video for tips on how to make the perfect omelette.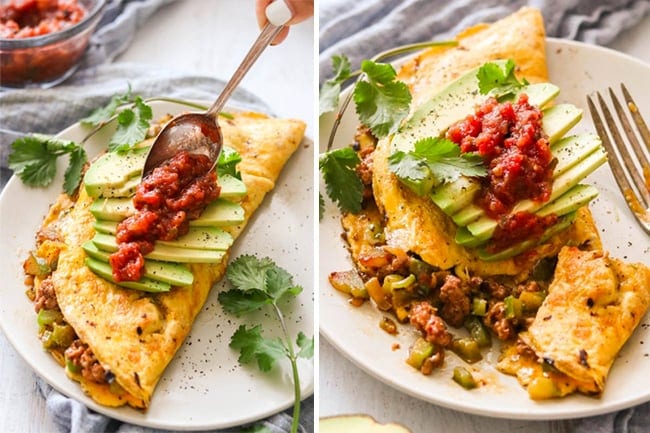 This quick and easy Whole30 and keto chorizo omelette is going to be your new favourite breakfast or brunch item! It's packed with veggies, tasty chorizo and is super delicious. Recipe from What Great Grandma Ate
If you're a fan of tuna melt sandwiches, you will love this omelette idea. Rich in protein and healthy fats, this is a delicious and savoury breakfast that can also be dinner or lunch. A little mayo and onion compliment the tuna perfectly. Keto, gluten-free but has dairy. Recipe from The Iron In You.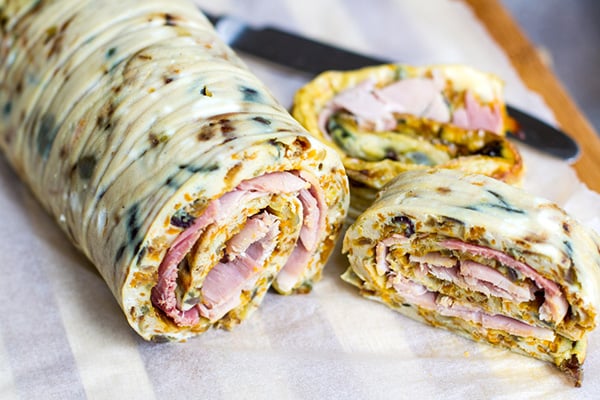 This baked omelette roll is a great budget meal and makes a quick dinner, lunch or weekend breakfast. It's also a great little dish to take to picnics. Whole30 friendly.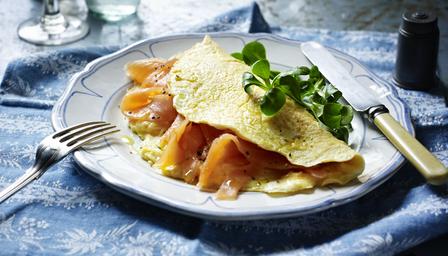 The combination of salmon and eggs is one of my all time favourites. This recipe is super simple and delicious. Recipe from BBC & Raymond Blanc.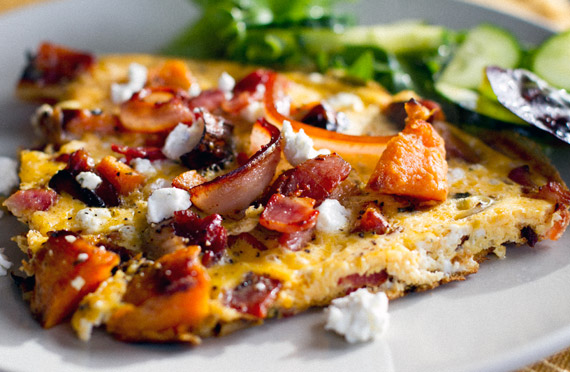 This omelette does take a little longer to prepare as the sweet potato in this needs to be roasted. If I'm planning to have this one for breakfast I'll usually roast the sweet potato the day before (a large batch so we can have some for another meal) and keep enough for this recipe.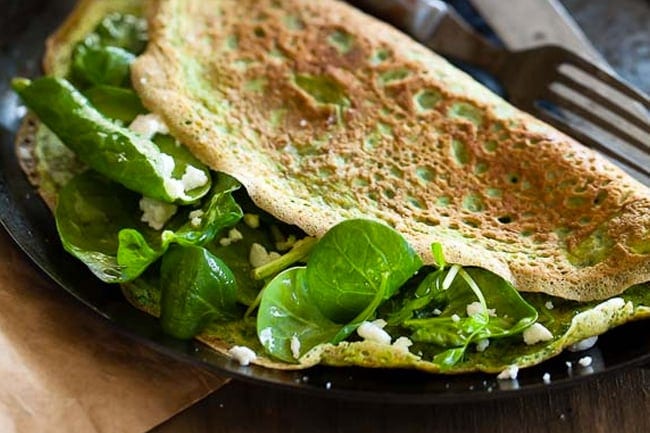 These gluten-free and grain-free flourless egg crepes are paper-thin and flavoursome, filled with hidden herbs. Fold them over some spinach and goat's feta, cherry tomatoes, mushrooms or even a little cheeky bacon. Recipe from Gourmand In The Kitchen

Frittata is an Italian-style omelette filled with various ingredients. I love the flavour combination of capsicum, tomatoes, basil and spicy chorizo. Yum!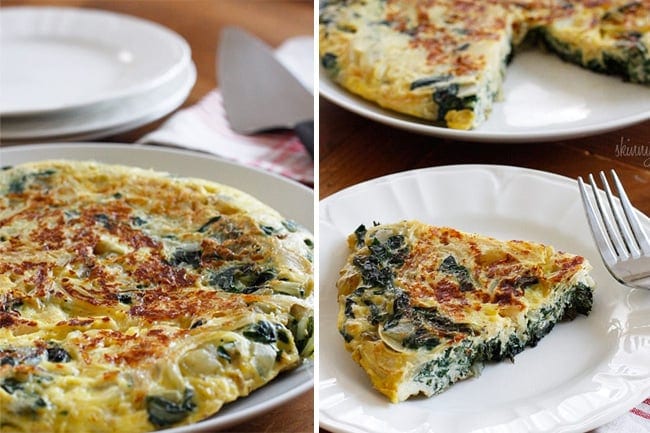 This is a greener take on the Spanish tortilla with nutritious chard and onions as a filling. This frittata is made with some cheese but you can easily omit it if avoiding dairy. You can alternatively throw in some sheep's or goat's milk cheese. Recipe from Skinny Taste.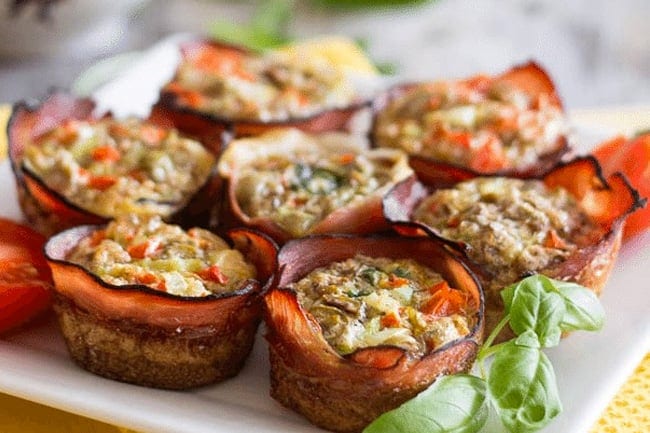 I love food you can hold in your hands and these little omelette cups are just perfect. Ham or prosciutto as a casing filled with vitamin-rich spinach and protein-rich eggs – what's not to love? Recipe from The Healthy Foodie.

This Chinese omelette is just as good for dinner as it is for breakfast. I like to spice up my breakfast omelettes with new flavours and textures and, having a little obsession with Asian flavours, I have to say that this is a total winner.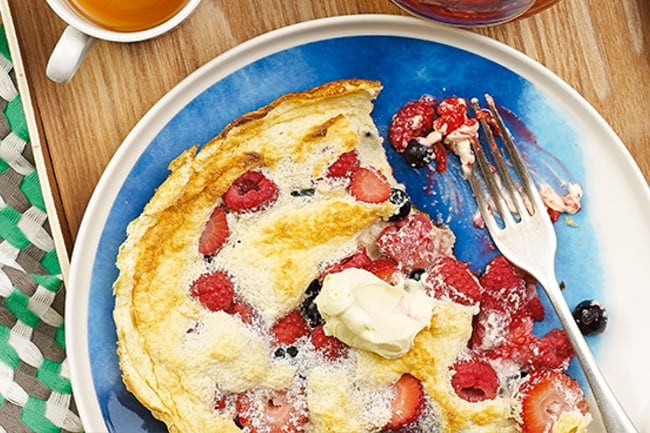 Who said omelettes have to be savoury? This omelette is more like a sweet eggy pancake, and while it may feel like a treat it's actually full of goodness! Note, that the recipe is for 4 servings, so adjust your ingredients accordingly – particularly the sweetener you choose to use. Recipe from I Quit Sugar.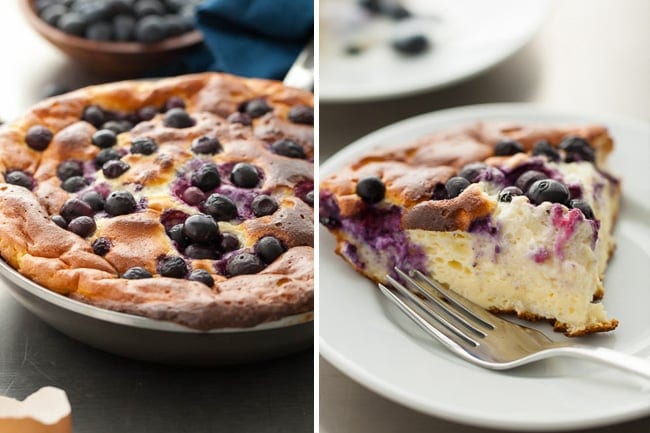 Here is another sweet take on the traditional savoury omelette. It's puffy and soufflé-like, sweetened with raw honey and topped with juicy blueberries. I like it as an alternative to pancakes. Recipe from Gourmand In The Kitchen

I love the idea for this omelette and it can easily be done without the cheese. Ham, sun-dried tomatoes, artichokes, rocket, zucchini, mushrooms and caramelised onions are just some delicious toppings you can use. Recipe from Food24.

Here is another Thai inspired omelette. You can use minced chicken and veggies or prawns and bean sprouts like in this recipe. A little coconut aminos or fish sauce, lime juice, honey and chilli and you have a perfect sauce. Use this recipe for inspiration and amend ingredients to suit your paleo protocol. Recipe from Closet Cooking.

Italian flavours are bursting in this simple omelette recipe. Zingy, yet earthy pesto and sweet roasted tomatoes will make you think you're tucking into a delicious margarita pizza or a Caprese salad. Recipe from Edible Perspective.

From Italy to Spain, this filling sweet potato frittata-like dish is a great weekend recipe. Tortilla keeps really well so you can save leftovers for lunch. Serve it with a fresh green salad. Recipe from Craving Something Healthy.
Here you go, my friends! That's just a few delicious, healthy and paleo omelette recipes to get you started. Do you have a favourite? Share with me in the comments.