Mixed in with a little sweet fresh pear and earthy sage, these Chicken Sausage Patties (or chicken breakfast sausage if you will) are an excellent make-ahead dish you can enjoy as a quick and easy morning meal, lunchbox addition or protein main for dinner. These patties are gluten-free, paleo and Whole30-friendly; also suitable for those doing AIP. 
---
Chicken Sausage Patties
When we refer to chicken sausage in Australia, we usually mean the pre-made sausage links you throw on the grill or fry up in a pan. In American, chicken sausage is more of a patty that is often also called breakfast sausage.
Ground chicken, pork or turkey meat – which we call mince Downunder – is often referred to and sold as 'sausage' meat. Hence, the patties made from ground chicken or pork are known as sausage or sausage patties. They are particularly common as a breakfast item, especially when cooked with the addition of something sweet like chopped fruit.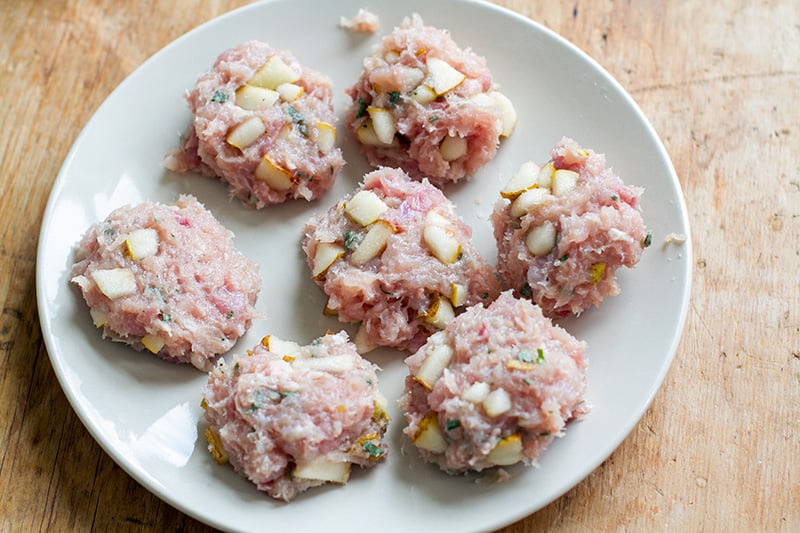 Chicken apple sausage is pretty common and I have a delicious apricot chicken sausage in my Paleo Breakfast Cookbook. In this version, I decided to make the patties with fresh pear and sage. It's a delicious combination of sweet and aromatic fruit and earthy herb that go exceptionally well with poultry meat.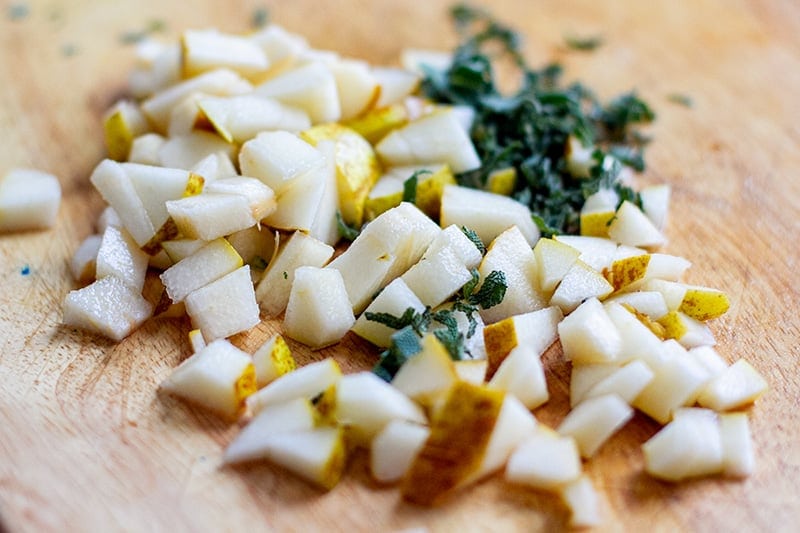 How To Serve Chicken Sausage Patties
This recipe is included in my free paleo meal plans and I suggest serving chicken patties for dinner with a side of greens or a salad and then use leftovers for lunch with a side of soup. They would be great with some roasted vegetables, rice or gluten-free pasta if you feel like more carbs and starch. They are super versatile and go well as a potluck dish on a festive table too.
Chicken sausage patties are also excellent for breakfast (hot or cold) and you can have them as a protein side with a smoothie or a juice, with a couple of eggs or some sweet potato rosti or sliced avocado. This really depends on your dietary needs as you can also use these in wraps, sandwiches, salads, or as a quick post-workout snack.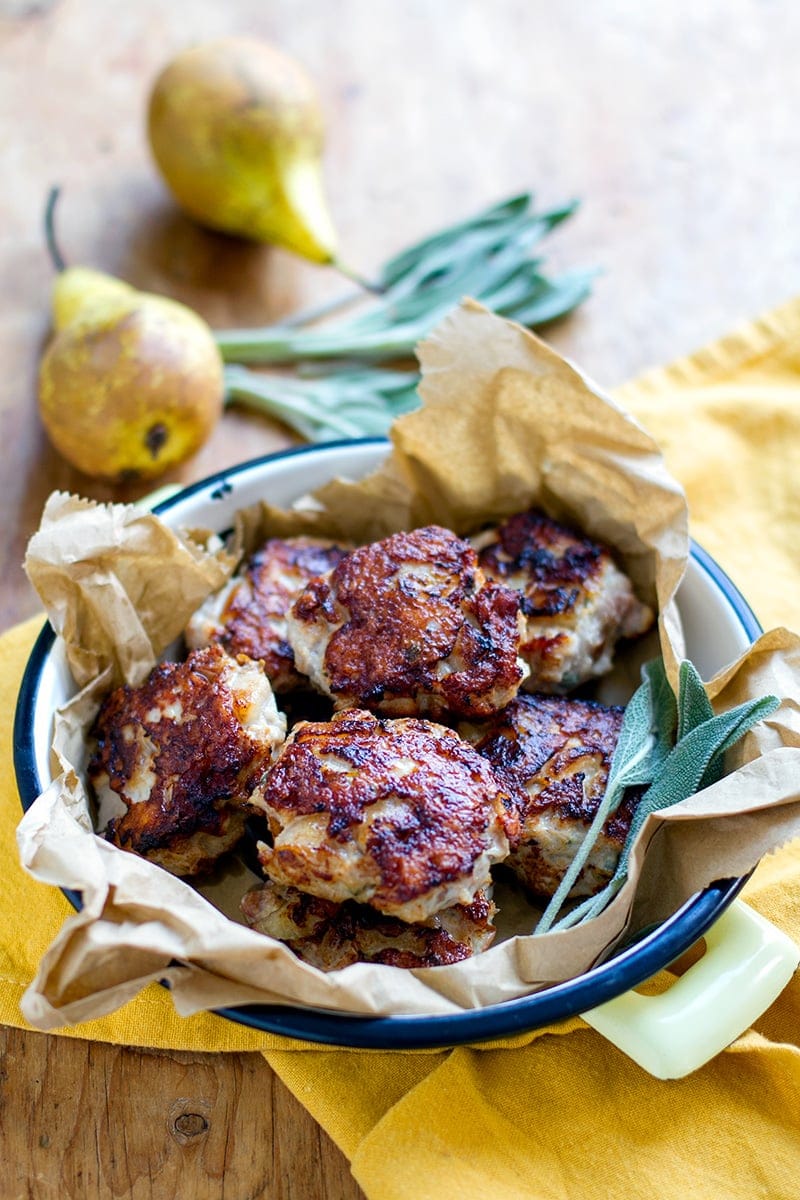 ---
More Chicken Recipes You Might Like
---
Print
Chicken Sausage Patties With Pear & Sage
Author:

Prep Time:

15 minutes

Cook Time:

20 minutes

Total Time:

35 minutes

Yield:

4

1

x

Category:

Main

Method:

Pan-Fried

Cuisine:

American

Diet:

Gluten Free
---
Description
Learn how to make easy and delicious chicken sausage patties with sweet pear and earthy sage. Enjoy as a breakfast sausage or as a protein main for dinner or lunch. These chicken rissoles are gluten-free, paleo and Whole30-friendly. They are also suitable for AIP diet, omit the pepper.
---
750–800 g / 1.7 lb. chicken mince/ground chicken sausage meat

1 1/2 medium ripe pears, skin on but remove the core and chopped

10–12 sage leaves, finely chopped (or 1 teaspoon dried sage or herbs)

1 teaspoon salt

1/2 teaspoon ground black pepper

1 teaspoon garlic powder (optional)

2–3 tablespoons coconut oil, macadamia oil or olive oil for frying
---
Instructions
Combine the ground chicken meat with the rest of the ingredients and mix well using your hands. Roll into small flat patties and set aside on a plate. Don't worry if they're not perfect or if a piece of pear is sticking out.
Preheat a large skillet/frying pan over medium-high heat and melt a tablespoon of oil. Add the patties, in batches if needed, and without overcrowding the pan, and cook for 5-7 minutes on each side, until well-browned.  In the end, turn the patties on their sides for about 20 seconds; you can prop them up against
the edges of the pan. This will brown off the edges slightly. Total cooking time is somewhere between 15-20 minutes depending on how thick the sausage patties are.
---
Notes
Chicken sausages or patties are great as an alternative to eggs for breakfast. Serve them as a side of protein with a quick smoothie, or with a side of pan-fried vegetables. These are also great in lunch boxes.
Can you freeze chicken sausage patties? Yes, in fact, this is a great recipe for making ahead. You can free chicken sausage raw or cooked. Place pre-made raw patties on a parchment paper-lined plate or a cutting board and stick in the freezer for 30 minutes to an hour. Once frozen, transfer to a Ziplock bag and freeze for up to 3 months. Defrost in the fridge overnight or in a microwave and cook as per instructions. If cooked, cool the patties and then freeze as described above. Defrost and reheat.
Can't find ground chicken sausage / minced meat? Feel free to use turkey or pork instead. I often buy a combination of chicken thighs and some breast meat, take the skin and bones off and slice into smaller pieces, then grind in a food processor in batches to a similar to mince consistency. This way you also know exactly what meat is inside.
Nutrition
Serving Size:

2-3 sausage patties

Calories:

373

Sugar:

5.1 g

Sodium:

696.5 mg

Fat:

22.7 g

Saturated Fat:

5.5 g

Carbohydrates:

9.8 g

Fiber:

2.5 g

Protein:

33.6 g

Cholesterol:

163.2 mg
Keywords: Chicken sausage, ground chicken, chicken mince, gluten-free, paleo, whole30, breakfast, dinner, lunch