Have you ever received or given a gift that was neither here nor there? The kind of gift that spent the next 12 months at the back of a dark cupboard? I have! Whether it's Christmas, birthday or Father's Day, wouldn't it be nice if people always received presents that are functional, relevant and practical? That's why I've decided to compile the ultimate list of healthy gifts to get your friends and loved ones, or for yourself.
I wanted to focus on the gift ideas that can help anyone achieve a healthier lifestyle, eat good food, get fit, learn something new and enjoy life's simple (healthy) pleasures. Have a great healthy gift idea? Perhaps there is something you can't live without or it has changed your life for the better. Share in the comments!
Disclaimer: all $ are based on USD prices and some links are affiliate links, which means I get a teeny-tiny percentage of the sale, which in turn supports this website.
---
GIFT IDEAS FOR OVER $100
If you're buying a gift for a special occasion or you're pitching in with friends and family and thus have a bigger budget to spend, these are some of my favourite items to give as presents. These are great for anyone trying to eat better and live a healthier lifestyle.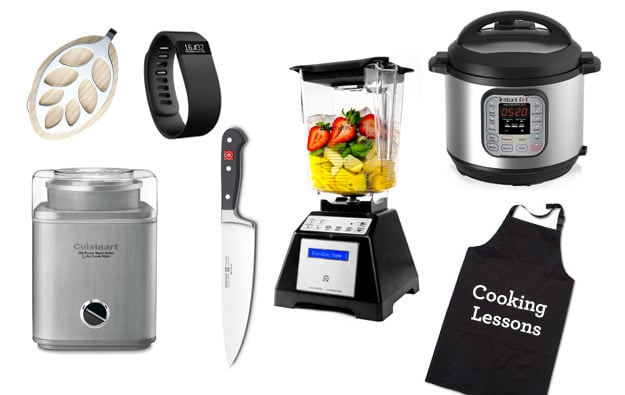 Fitness and health trackers, such as FitBit or UP3 by Jawbone, are stylish, watch-like bracelets that will track your daily steps, heart rate, workouts and sleep, and more. If you're after something more feminine looking that doesn't look like a gadget, check out Bellabeat health trackers, which are designed specifically for women and look absolutely gorgeous clipped onto your sports bra or worn as a bracelet or a necklace. You can track your activity, sleep, meditation, stress, and that time of the month.
Quality chef's knife, because every kitchen needs at least one really good one. It's versatile, precise and beautiful to hold. There are so many brands on the market, so make sure to shop around to get a reputable brand that will last a long time. I like the Wusthof Classic Chef's Knife (you can get it on Amazon in the US and UK), or this Swiss Diamond knife, if in Australia.
Slow cooker/pressure cooker. Slow cookers are like magic – throw a bunch of raw ingredients, herbs and spices in the morning and have a fantastic dinner waiting for you in the evening with minimal effort. Slow cooking and braising are healthier ways to prepare meats and you can make everything from stews and soups to breakfast casseroles in these wonderful appliances. If you can splurge, go for the pressure cooker such as Instant Pot – it's like a slow cooker on steroids, allowing you to make slow-cooked dishes much faster. Plus, you can use it to make yoghurt and to reheat or keep meals warm. I have one and I swear by it! For a good slow cooker, check out this KitchenAid one in Australia, or a traditional Crock-Pot Slow Cooker on Amazon in the US and UK (this one would be under $100).
High-speed blender. A good quality high-speed, multi-purpose blender (i.e. crusher/grinder/juicer/mixer) such as Vitamix or Blendtec blender would be an unforgettable gift because let's face it – it's amazing. It's expensive but it's a gift for life, so if you can do a big group gift for someone, they will be forever grateful and it is totally worth the investment. You can buy it online and from department stores. You can get it slightly cheaper as a refurbished Vitamix or refurbished Blendtec.
For a cheaper and more compact version, go for something like a NutriBullet blender, which is also quite versatile and would be great for someone with a smaller kitchen or a busy lifestyle. You can get it on Amazon in the UK and the US, or here in Australia.
Ice cream, yoghurt and sorbet maker in one. This is a great gift for anyone who likes to make things from scratch. It's not easy to find good ice cream with no refined sugar, dairy and only natural ingredients, so making your own ensures that you get the healthiest, the tastiest treat for your family. I like this Cuisinart brand.
A food processor is an absolute must for anyone cooking paleo and it's a cheaper alternative to a Vitamix. It saves a lot of prep time. I do a lot of my chopping, mixing, blending, pureeing and processing of ingredients in a food processor and I guarantee that it would be a very valuable gift. And don't listen to anyone telling you it's offensive to give a food processor to a woman – it will become her best friend. You don't have to spend a fortune either, you can pick something like a Cuisinart Classic Processor for around $100 on Amazon or at your local department store.
Cooking course or lessons. Individual classes and courses range from $70 to $250 depending on the duration and the school/restaurant that runs it. You can find many specialised classes such as butchery 101, bacon curing, BBQ, seafood or sauce making classes. Just search online for courses and classes in your area. If you're in Sydney (my old stomping ground), check out classes run by The Urban Food Market and Sydney Seafood School at Fish Markets. In London, quite a few butchers run knife skills courses. If anyone has recommendations for cooking courses in their area (wherever in the world you are), please share in the comments.
For fitness enthusiasts, check out the TRX Suspension Training kit for an on-trend gift.
---
GIFTS IDEAS FOR $30 -$100
These are great for almost any occasion and will impress your friend or relative while keeping you from going broke. Use these are a starting point to come with more ideas.
Healthy foods and hampers. One of my favourite ideas is putting together healthy food hamper. Get a basket and fill it with any of the following: packets of Himalayan or Celtic sea salt, dried olives, tapenade, sun-dried tomatoes, sardines, olive oil, aged balsamic vinegar, paleo-friendly dark chocolate, red wine, coconut butter, almond meal, macadamia nuts, raw honey, paleo granola, coconut aminos, coconut flour, raw cacao powder, mustard, anchovies, capers, dried seaweed and coconut water. You can also purchase ready-made hampers online and in health food stores.
Check out The Gathered Goods Coin the UK, Aussie Health Products or Source Bulk Foods in Australia, and Thrive Market in the US for paleo-friendly and healthy foods and ingredients, and hamper ideas.
Coffee gadgets. For coffee lovers, an addition of Chemex Coffeemaker or an Aeropress and a grinder might be exciting. We own an Aeropress at home and we take it everywhere we go. It's compact and makes the smoothest, tastiest black coffee in a matter of minutes. While you're at it, pick up a bag of coffee beans (ask for beans for filter coffee or for Aeropress, as it's a lighter roast).
Eco-friendly bento lunch box. When it comes to paleo and healthy eating, we do lunch slightly differently. Sandwich bag just doesn't cut it anymore. A bento-style, the stainless-steel lunch box is perfect for creating the perfect lunch meal with delicious bits and pieces. It's great for both kids and grown-ups. Lunchbots brand is a popular choice with eco-friendly lunch boxes. and I would look at investing in their larger, multi-compartment style container.
Kombucha brewing kits or a kimchi starter kit are the gifts that keep on giving. Check out these starter kits for under $60.
Blue light blocking glasses. Have a friend or relative who is struggling with sleep or tends to use their laptop late at night? I am looking at myself here! They might need a pair of these orange lens glasses that block more blue light more than any other computer reading glasses. and are anti-reflective and anti-glare, helping to prevent insomnia and macular degeneration.
Vouchers are always a good idea and you could get a gift card for Lululemon or SweatyBetty for fitness and yoga-loving friends, for Red Balloon for an adrenalin or experience junkies, or for a local spa or massage therapist (everyone needs a little me time). One of the things we love to do in our family is to donate money to causes and charities of our choice or buying a goat for a small African village. You can then send it as a gift card to your loved one.
---
GIFTS UNDER $30
These items are crowd-pleasers on the budget. They're perfect for last-minute gifts or when you don't want to invest too much money because you're just not 100% sure of what to get. Trust me – these will not disappoint.
Veggie and herb growing kits. A lot of folks are into growing their own food these days so why not get them something for their little veggie patch or their kitchen bench. You can easily pick up a simple veggie or herb growing kit for under $30.
Yoga mat. A new yoga mat or accessories are a good gift for fitness-loving friends and relatives, as are gift vouchers to visit a yoga class or a meditation course. A yoga mat is not only useful for yoga but for any home, gym or park workout. Look for an eco-friendly, lightweight yoga mat.
Himalayan salt lamp. Not only do they look gorgeous in any room, but these magical salt lamps also help to cleanse and deodorise the air, reduce allergy and asthma symptoms, improve sleep, and reduce static electricity. It's a bit of a 'hot item to have' at the moment and would make for a great gift. You can get it online.
Vegetable spiralizer is a great addition to a health and wellbeing focused kitchen. You can make zucchini noodles, thin ribbons of carrots and beetroot, curly sweet potatoes and so on. It's a great gadget to order form overseas as it doesn't require power, so there are no issues with power plugs. I use mine on a regular basis.
Single-serve blender/smoothie maker is a perfect gift for those always on the run or with small kitchen space, as students. Throw in some berries, coconut milk, nuts and some protein and breakfast is ready. You can pick one up on Amazon for under $30 or from your local department store.
Other cool kitchen and fitness additions ideas: beautiful, rustic looking mortar and pestle, silicone baking cups and loaf tins, or a set of stainless steel measuring cups.
Colouring in book & pencils. These are not for the kids but for grown-ups, especially those that are stressed and overwhelmed. The process of colouring in has an incredible relaxation effect and is used as a tool to cope with stress and to unwind before bed. I love this colouring-in book and you can get a bunch of fun pencils to go with.
Books & cookbooks. There are SO many wonderful books on the market.
I am of course biased but I have to recommend my books: Eat Drink Paleo Cookbook and Happy Go Paleo, which are suitable for paleo and non-paleo cooks. I also love Nom Nom Paleo's cookbook, Melissa Joulwan's Well Fed Weeknights, Sara Wilson's I Quit Sugar Simplicious, Darryl Edwards' Paleo From A to Z, Heal Your Gut by Lee Holmes, and Holistic Nutrition by Kate Callaghan.
And more books:
How about some homemade, edible Christmas gifts? Check out this list for DIY edible present ideas.
These are just some ideas to get you started. You might not find the exact items I mention in your location but they should give you some inspiration for what to look for. And perhaps, this guide will become your own wish list like it has for me.