Are you avoiding dairy and looking for the tastiest alternative to cow's milk? Well, there are many types of dairy-free milk on the market but I love making my own. I've tried a few different variations and this is by far the best vegan milk or mylk. It's plant-based, creamy, tasty and contains three key ingredients: oats (gluten-free can be used), shredded coconut and cashew nuts. I also provide an alternative to oats for those doing a grain-free or paleo diet. 
---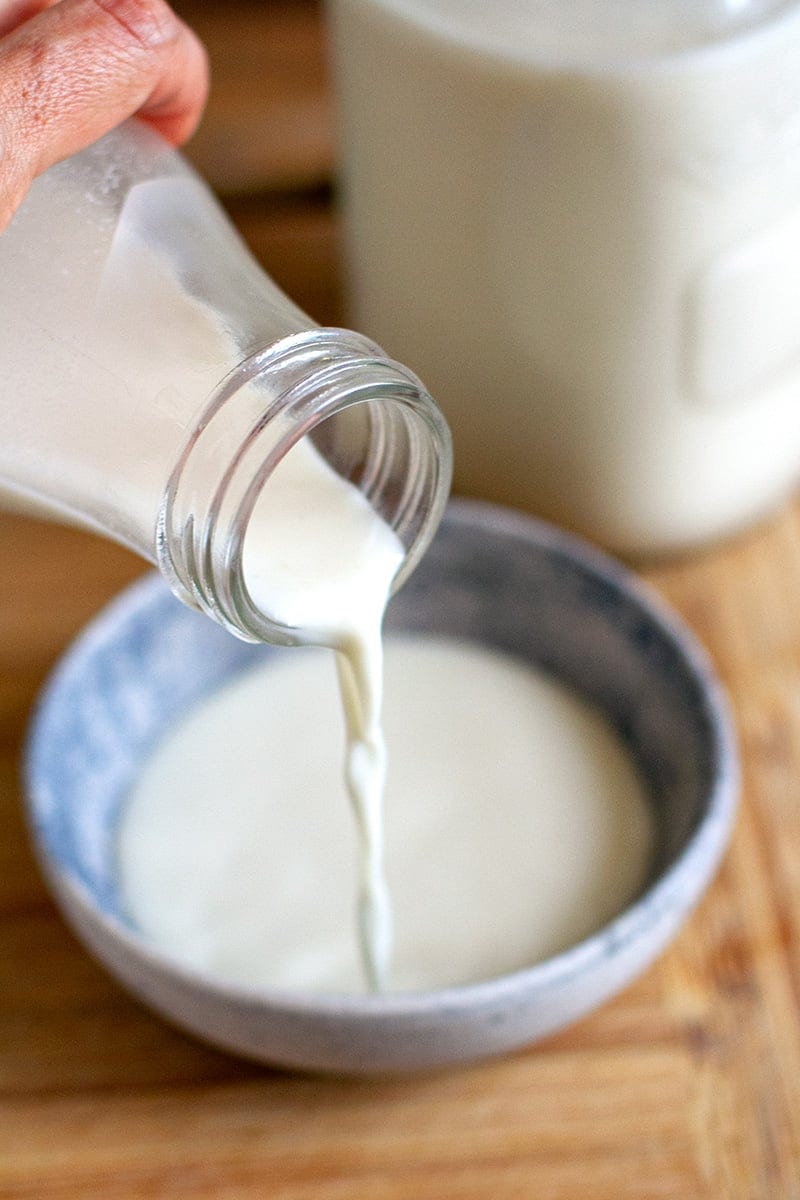 Looking For The Best Dairy-Free or Vegan Milk?
Many people avoid dairy due to intolerances and digestive distress or for environmental and ethical reasons.
For some, a little dairy in the form of cheese or butter doesn't cause any issues; but, when it comes to plain milk, it's a different story.
We avoid regular cow's milk mostly as my partner can't tolerate it at all. And while we often buy dairy-free alternatives from a supermarket, I recently started experimenting with making my own. 
There are many types of dairy-free milk (I have an in-depth guide to pros and cons of each in this article) and it's pretty easy to make them at home.
Besides the ingredients, you need three items: a high-speed blender, a muslin or gauze bag or nut milk bag and a big jar or bottle. Let me show you how I make my favourite dairy-free milk at home.
How To Make Creamy Dairy-Free Milk
This dairy-free, vegan milk alternative is super creamy and tasty and can be used in place of regular milk in pretty much all recipes.
After trialling a few different ingredients, I've narrowed down on a combination of these three: oats, cashew nuts and shredded coconut. 
You can use gluten-free or regular oats depending on your sensitivities. Those following a paleo or grain-free diet can replace oats with hemp seeds (more expensive but yields good results). In this case, use more of cashew nuts and coconut and less of hemp seeds. Cashew nuts could also be replaced with macadamia nuts and almonds (although these are not as sustainable or creamy).
You will find the full list of ingredients and instructions in the recipe card below but here are some step-by-step photos to guide you along.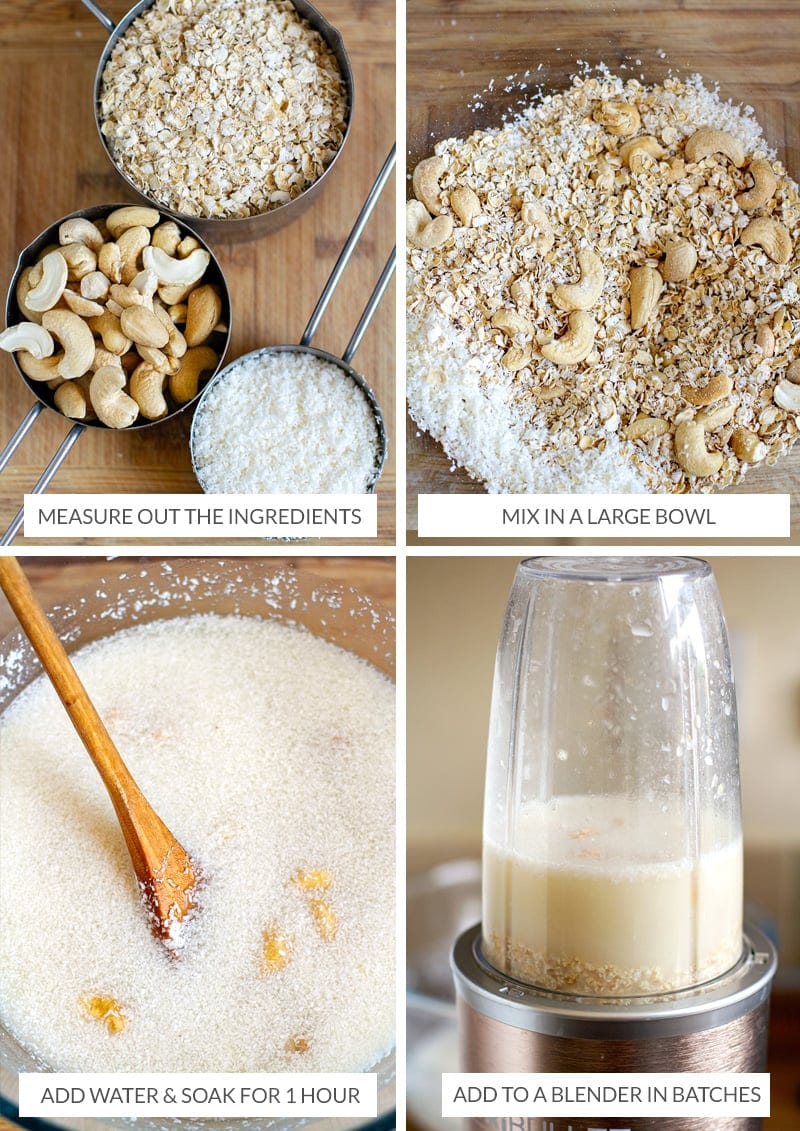 What Kind Of Nut Milk Bag To Use?
Having a nut milk bag makes these a lot easier but you don't have to get anything expensive or fancy. I actually used a muslin produce bag I usually use for veggies. The mesh is very fine so it's great at catching all the pulp. You can make your own bag out of muslin or gauze, which you can double layer for extra fine straining. 
You can also buy a nut milk bag online, such as this cheapy on Amazon.
Full Recipe
Find the full list of ingredients, instructions, and a nutritional breakdown below. If you have questions or cook this recipe, please let me know in the comments, and make sure to rate this recipe so it's easy for others to find.
Print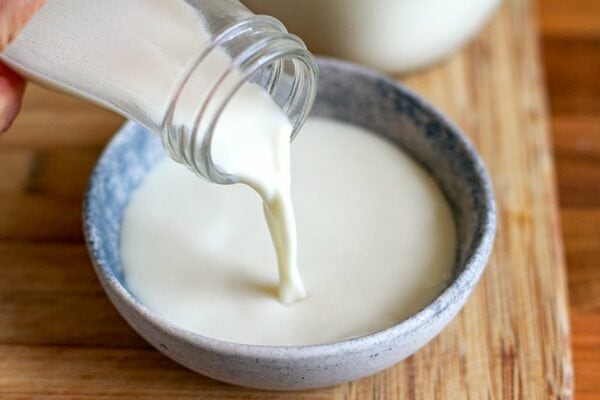 The BEST Dairy-Free Vegan Milk Recipe
Author:

Prep Time:

20 minutes

Cook Time:

0 minutes

Total Time:

20 minutes

Yield:

1.2

–

1.5

litres

1

x

Category:

Drinks

Method:

Blended

Cuisine:

Healthy

Diet:

Vegan
---
Description
Learn how to make super creamy, full-body dairy-free, vegan milk with a high-speed blender, muslin nut milk bag and three simple, affordable ingredients.
---
1/2

cashew nuts (

80 g

)

1 cup

oats (

75 g

, gluten-free is fine)

1/3 cup

desiccated unsweetened coconut (

20 g

)

6 cups

of water 1.5 L

1/4 teaspoon

salt
You will need a mesh nut milk bag, gauze cloth/cheesecloth or a fine sieve and a blender
---
Instructions
Combine the oats, cashew nuts and coconut in a large bowl. Add the water (about 6 cups in this case) and mix. Leave to soak for 30 minutes to 1 hour.
Using a high-speed blender or a food processor, puree and blend the liquid and ingredients in batches until very smooth. Pour the processed mix into a nut milk bag (or a bag made out of cheesecloth or muslin cloth/gauze) and squeeze the liquid out into a separate bowl. Use your hands wipe the milk away from the outside of the bag and squeeze pretty tight to get as much creaminess as possible. Discard the pulp (some people repurpose it for dips and pesto). Repeat with the remaining mixture until all milk is squeezed from the pulp.
Transfer the milk to jars or bottles and store airtight in the fridge for up to 5 days or so. Shake or stir well before each use.
---
Notes
For half the batch: 1/4 cup cashew nuts (40 g), 1/2 cup oats (30-35 g), 1/4 cup shredded coconut (12-15 g), 3 cups (750 ml) of water, a pinch of salt.
Paleo/Grain-free/Keto small batch: 1/2 cup cashew nuts, 1/4 cup hemp seeds, 1/4 cup shredded coconut, 750 m/3 cups water, a pinch of salt. Or double the ingredients for a larger batch.
Nutrition
Serving Size:

200 ml

Calories:

120

Sugar:

0.6 g

Sodium:

115.4 mg

Fat:

9.6 g

Saturated Fat:

5.6 g

Carbohydrates:

7.2 g

Fiber:

0.9 g

Protein:

2.8 g

Cholesterol:

0 mg
How To Store Homemade Nut Milk
Because this homemade vegan milk contains no additives or preservatives, it needs to be stored in an airtight jar or bottle in the refrigerator. Make sure to wash well in hot, soapy water and rinse before use.
Dairy-free milk made with nuts or oats is very creamy but the watery liquid willseparatey slightly from the solids, which will sink down to the bottom of the jar. Simply shake or stir the milk well before each use.
It should last for up to 5 days for best freshness, so I like to make no more than 1 litre at a time. My partner loves his milky granola, so he gets through most of it but I also use it for smoothies, to make simple dairy-free chocolate milk, cheesy sauces or in tea and coffee. One thing I am yet to try is making yoghurt with this milk, but I'll keep you posted.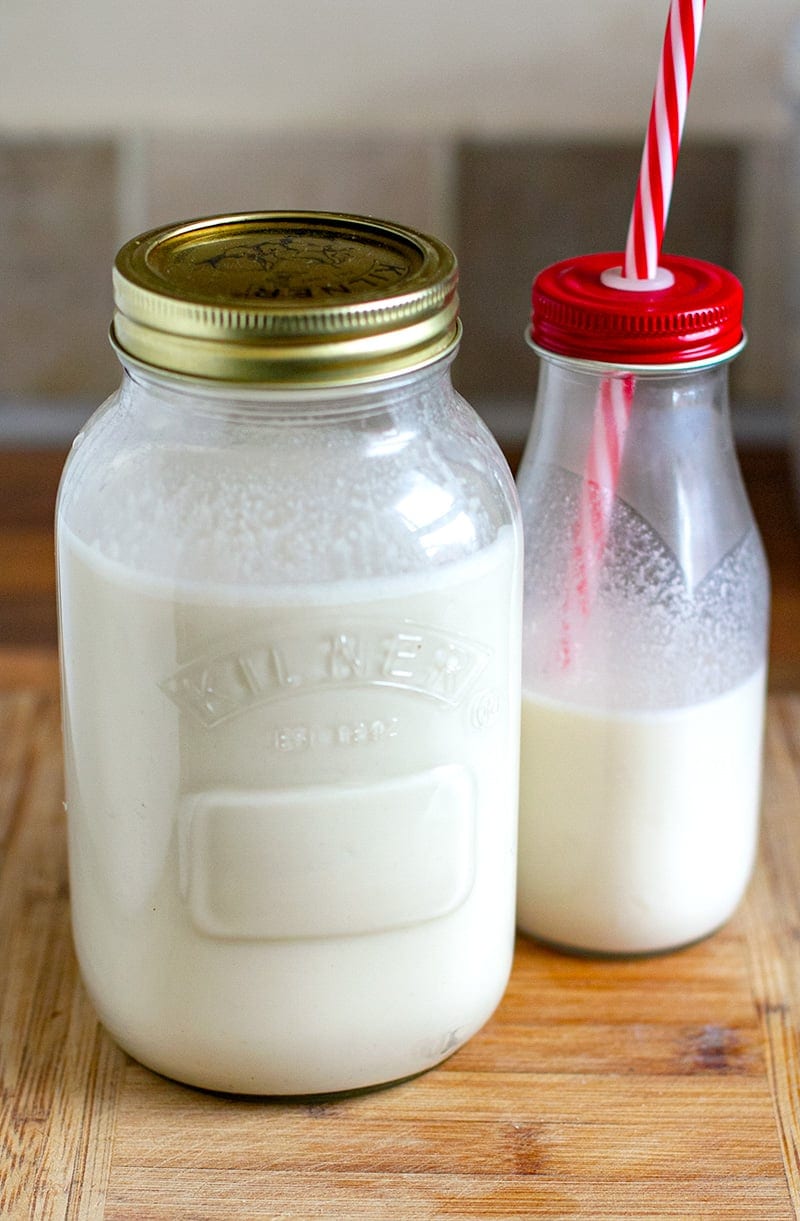 Save This Dairy-Free 'Mylk' Recipe To Pinterest