It's a carrot cake but not as you know it! Made with ground turkey meat, this is a savoury and paleo friendly version that will impress your friends and family even more than the regular cake.
---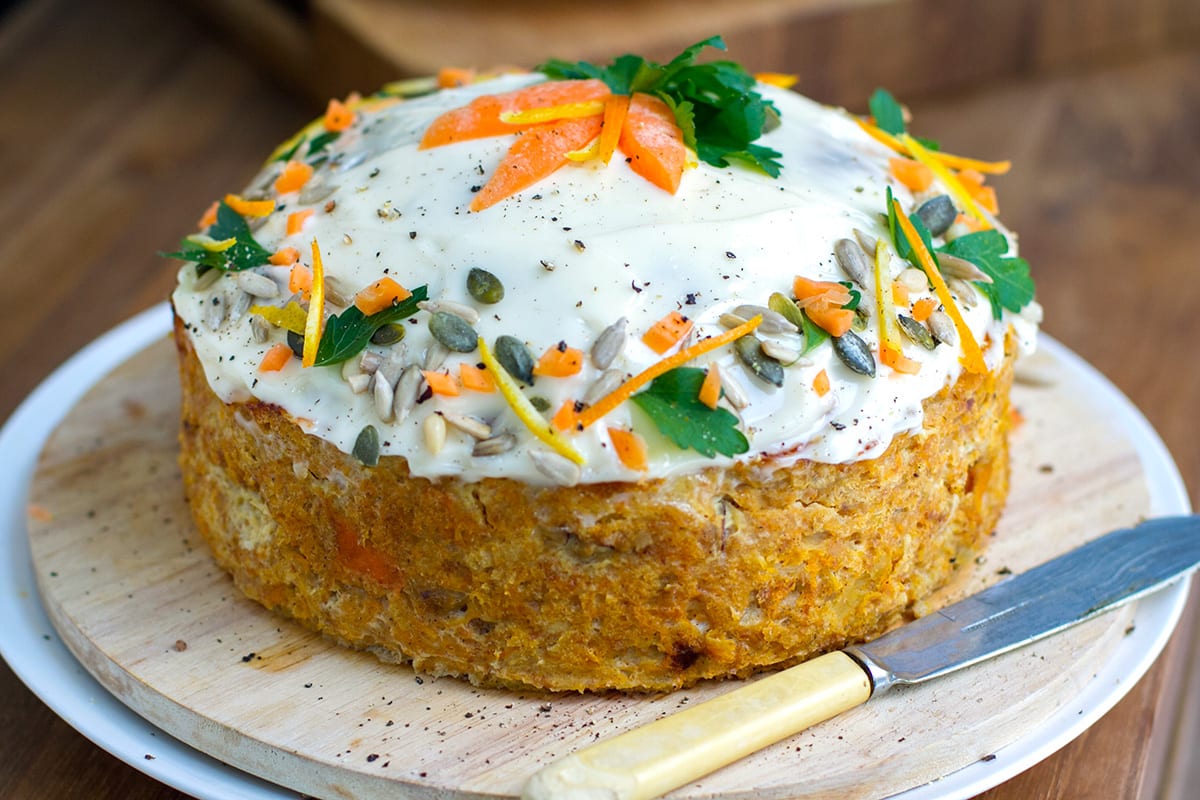 Yes, you read that right: turkey and carrot cake in the same recipe! It might sound crazy and you might be wondering if I've had too many sweets while coming up with this recipe, but it's actually a total winner and absolutely delicious.
The idea came to me when I was working on a few recipes for Easter. I was developing a pressure cooker carrot cake recipe for another website but the thing is that we don't really eat regular carrot cake. Then I thought, why is it that most Easter recipes are centred around sweets and desserts? As a result, the Easter weekend is always viewed as an overindulgent affair with way too many chocolate eggs and hot cross buns. Why not just focus on serving creative and festive savoury food, with maybe just a sprinkling of dark chocolate and berries on top?
So, I started thinking of how to turn a traditional Easter recipe like carrot cake into something that is as fun and pretty but not sweet. That's when I came up with the idea of making the cake out of ground up meat.
I thought about what would go with carrots, cinnamon and raisins and decided on poultry. I originally wanted to use ground up chicken mince but could only get turkey mince at the time, so that's what I went with and it turned out DELICIOUS!
This turkey carrot cake is quite simple to make and it works well both as a warm and a cold dish. It's firm yet moist and is easy to cut into cake-like slices and serve with a side of green salad, roasted veggies or steamed greens.
It's also great for leftovers and we enjoyed it for a few days afterwards. You can easily pack it into lunchboxes, dice it up and serve over a salad, and use in paleo wraps.
And of course, this is a great paleo potluck dish that will impress your friends and family. Plus, you get to feed them real food that is nutritious and tasty minus the excess sugar.

Cook's notes
Just a few notes before you begin. I used a 7.5-inch spring form cake tin but you could use a larger pan and the cake won't be as tall. You could also do a loaf tin or a square tin, that's really up to you.
Ground turkey or chicken mince is great for this recipe, and you could also add a little bit of pork mince, if you like.
I used mayonnaise as my 'frosting' but you could also use some paleo friendly ketchup instead. I think the white looks very pretty though, and the mayonnaise goes really well with the 'cake' flavours.
I used a medium shred grater for the carrots and sweet potato, but you could go with more course/larger grater. Here are some step-by-step pictures for you to follow.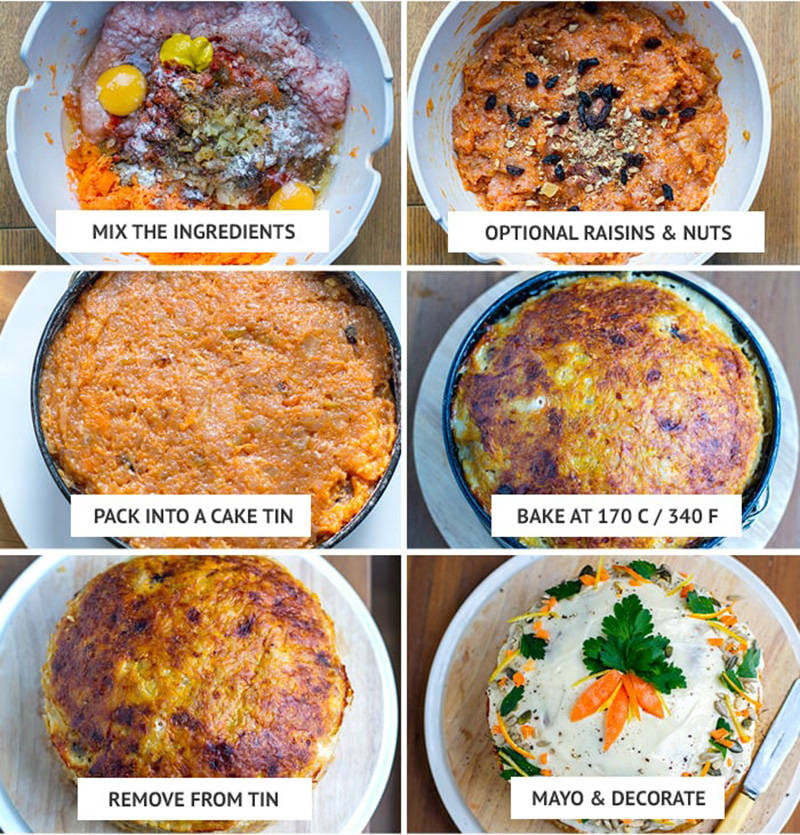 Store in the fridge for 3-4 days. If you don't have a cake storage container, you could do what I did and store the cake inside the spring form tin, with cling wrap over the top.
Like this recipe? Try my Baked Salmon Loaf or my Paleo Meatloaf With Bacon & Caramelised Onions.
Print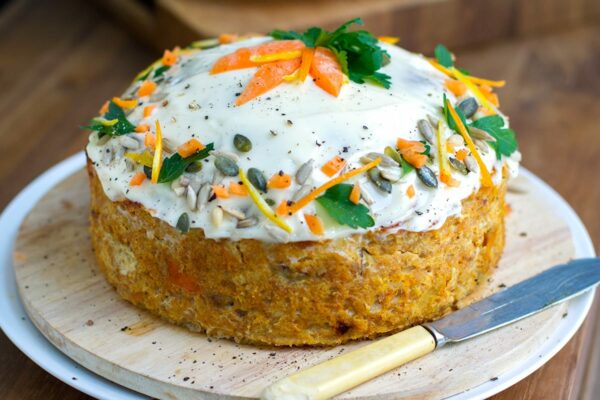 Paleo Savoury Turkey Carrot Cake
Author:

Prep Time:

20 mins

Cook Time:

1 hour

Total Time:

1 hour 20 mins

Yield:

8

1

x

Category:

Main
---
For the 'cake'
1

medium onion, finely diced

1/4 teaspoon

salt

3 tablespoons

olive oil
About

1

kg / 2 lb ground turkey meat mince

200 g

/ 7 oz carrots, grated (about

2

medium carrots)

100 g

/ 3.5 oz sweet potato, grated (about

½

of medium potato)

3

garlic cloves, grated or finely diced

1 teaspoon

lemon zest (

half a

lemon)

1 teaspoon

orange zest (half of orange)

1 teaspoon

cinnamon powder

1 teaspoon

ground coriander seed powder

1 teaspoon

paprika powder

2 teaspoons

salt

1 teaspoon

hot mustard, such as English mustard (Dijon or yellow is also okay)

1 teaspoon

ground black pepper

1/2 teaspoon

bicarb soda

2 tablespoons

lemon juice

2

eggs

1/4 cup

chopped nuts of choice (optional)

1/4 cup

chopped raisins or sultanas (optional, remove for Whole30)

1 teaspoon

coconut oil, for greasing

1

–

2

tablespoons cassava or tapioca flour for dusting
For the 'icing' & garnishes
About

½ cup

of mayonnaise (maybe a little less, I measured with my eye)
Slices of carrots and parsley
Seeds or chopped nuts
Thinly sliced lemon and/or orange rind
Ground black pepper
---
Instructions
Preheat the oven to 170 C / 340 F (conventional).
In a small pan, sauté the onion in olive oil with ¼ teaspoon of salt for about 5-6 minutes, until soft and golden.
In the meantime, prepare the rest of the ingredients. When you grate the carrots and sweet potatoes, I suggest to press them firmly against the side of the bowl to squeeze some of the juice out. Discard half of the juice. You don't have to squeeze all of the juice out as some of it will go to moisten the cake, but you don't want too much excess liquid.
In a large mixing bow, combine the grated carrots and sweet potatoes with the rest of the cake ingredients and the pre-cooked onions. Use clean hands to mix and work through the mixture until everything is well incorporated.
Grease a round spring form cake tin with coconut oil and dust evenly with tapioca or cassava flour. This will give our cake a little crust and stop it from sticking to the tin
Transfer the meat and carrot mixture to the cake tin and spread evenly on the top.
Place in the oven, middle shelf and cook for 1 hour.
Remove from the oven and allow to cool down slightly, while still inside the tin.
Then release the spring and remove the cake from the tin onto a plate. You can turn it upside down onto another plate to the remove the tin's bottom.
Allow the cake to cool to just warm or room temperature.
Time to decorate! Spread the mayonnaise over the top and decorate with carrots, parsley, seeds, lemon and orange zest and some black pepper.
---
---
Follow me on Instagram and show what Eat Drink Paleo recipes you're making in your kitchen. Tag @eatdrinkpaleo or use hashtag #eatdrinkpaleo.
---