This pumpkin tahini and cashew dip is inspired by a traditional hummus recipe but is made without chickpeas. It has a lovely sweetness from the roasted pumpkin but is balanced out by earthy tahini, zesty lemon and a touch of garlic. Cashew nuts give this dip that lovely hummus-like creaminess. This dip is gluten-free, vegan, paleo and Whole30-friendly.
---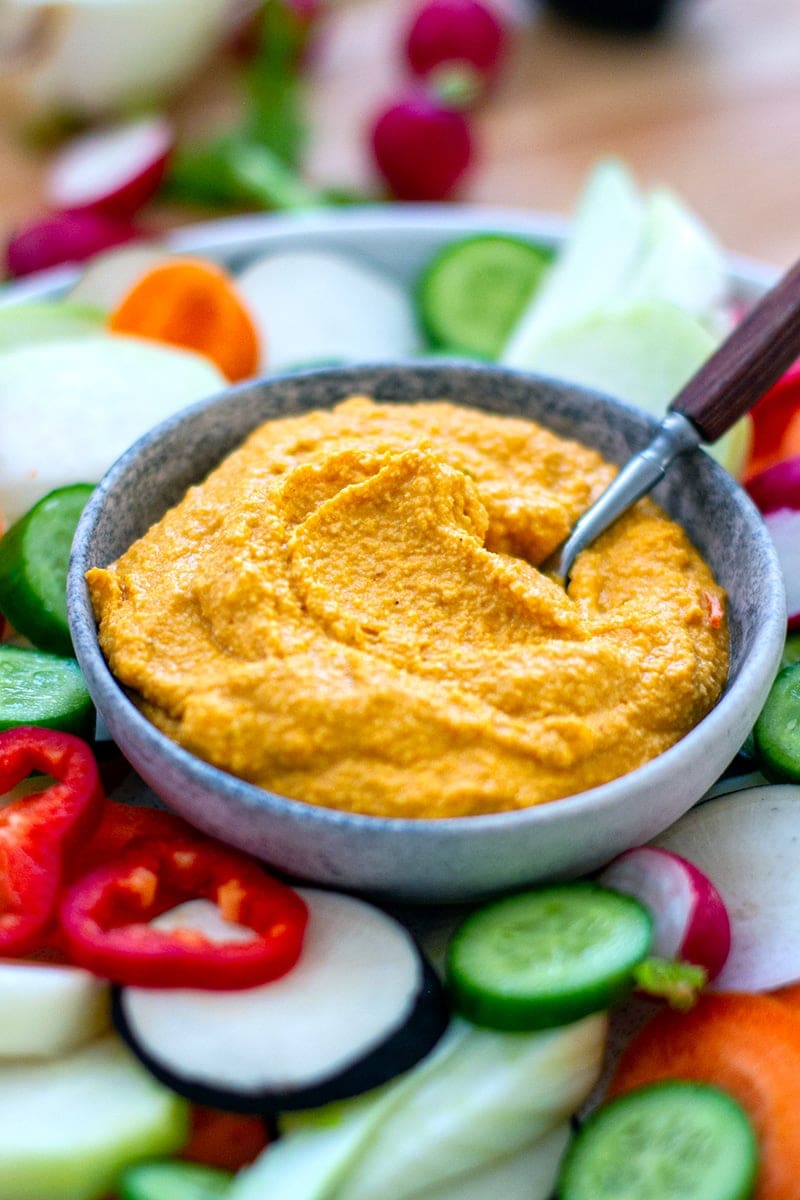 If you love hummus as much as I do, you will really enjoy today's pumpkin dip recipe. It's really delicious and you can use it in many ways: as a healthy dip with your favourite vegetables or crackers, as a spread in wraps and rolls, as nutritious, as a topping in a salad, or simply as a protein-rich and fibre-boosting side on any meal, really.
What's hummus about THIS DIP?
You might have noticed that I called this a 'hummus' dip yet it's not really because it doesn't have any chickpeas. The name hummus comes from the word chickpea, so it's kind of an essential ingredient. I love regular hummus BUT my partner doesn't tolerate legumes (I don't do well with them either), so I wanted to create a dip inspired by hummus but with legume-free ingredients.
To maintain that hummus-like texture and flavour, I used soaked cashew nuts instead of chickpeas (they are rather creamy when pureed) and tahini (sesame paste), which is the second most important ingredient in hummus. A touch of garlic, olive oil and lemon juice complete the list of essential hummus ingredients but then comes my special twist!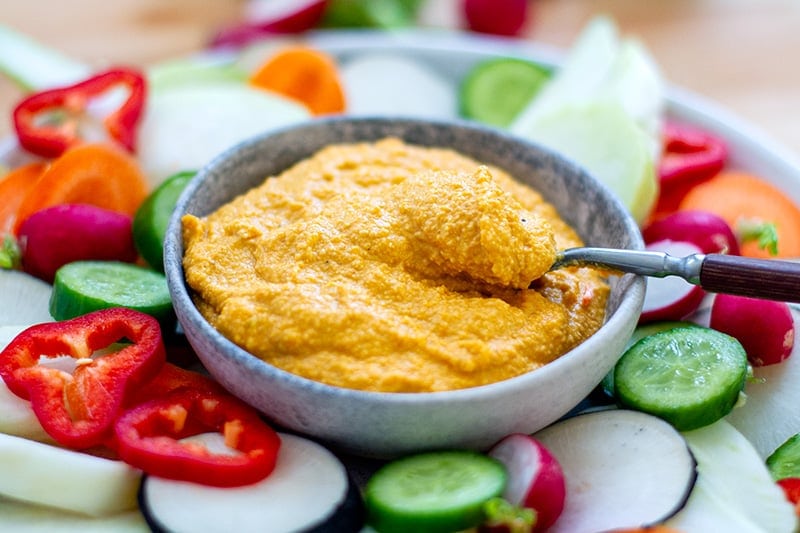 The thing that makes this tahini cashew dip so special is the roasted pumpkin. Not only does it add to the creamy, soft texture of the dip, but the flavour of the roasted pumpkin (or winter squash) is incredible paired with earthy tahini. You can also use roasted carrots or sweet potato.
Honestly, it's really delicious and has all the qualities of your favourite hummus but without the chickpeas. So, if you're going legume-free for whatever reason, this is a great recipe to try. And even if you're not, it's just a delicious dip that I know you will love. You can also check out my paleo hummus with almonds here.
How to make this pumpkin tahini dip
You will find the full list of ingredients, instructions, notes and nutritional breakdown in the recipe card below, but here is a quick step-by-step video to guide you along.

Substitute for tahini
Tahini is a thick, creamy paste made from sesame seeds. It has an earthy, slightly bitter but not unpleasant flavour that is quite nutty or seedy. I find that tahini is best mixed with other things like in a salad dressing or with a little yoghurt. It goes well with garlic, honey, lemon, olive oil, herbs and so on. You can buy tahini in most supermarkets these days and if you happen to stumble upon a Turkish or Middle Eastern grocer, they will have the best stuff. For this recipe, we are using light, hulled tahini (like this one).
If you can't find tahini, the best alternative for this dip or hummus, in general, would be something like a tablespoon of sesame oil for flavour and some kind of nut butter or seed butter.
If you can't eat sesame seeds, I would opt for a tablespoon of nut butter, a tablespoon of thick yoghurt and a teaspoon of spices like cumin, coriander seed and cinnamon. This will be a different flavour profile but will retain those earthy tones.
PS. Tahini is really high in minerals such as calcium, iron, magnesium and is a surprising source of protein. More on tahini here.
THINGS TO DIP IN HUMMUS
As I mentioned above, there are many ways to use up this pumpkin tahini dip. If you're serving it as a dip rather than a spread or a topping on something, here are some nice things to have on the side:
Crunchy vegetables: sliced radishes or kohlrabi, carrots, celery and sweet pepper slices or sticks, cucumber, fennel, endives.
Crackers, paleo bread, toasted sourdough, corn chips, plantain chips, potato chips.
Lightly grilled or steamed asparagus, green beans.
Dehydrated or toasted sweet potato chips, beetroot chips, carrot chips and so on.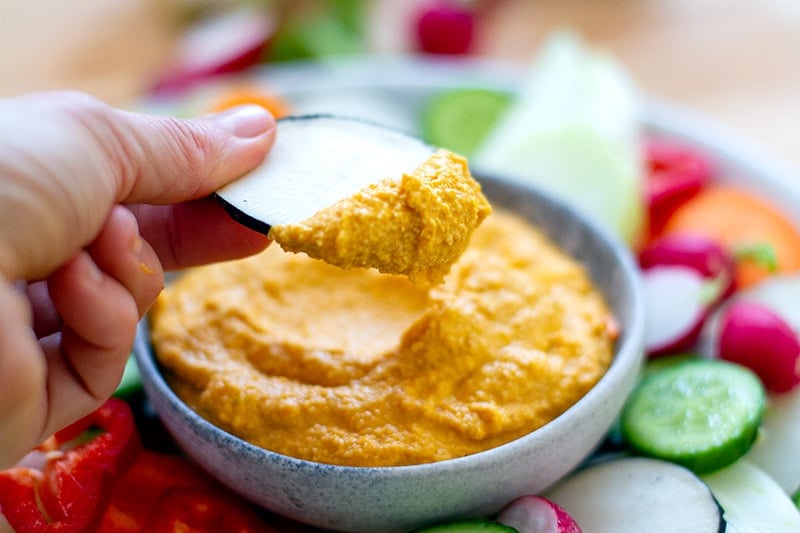 Print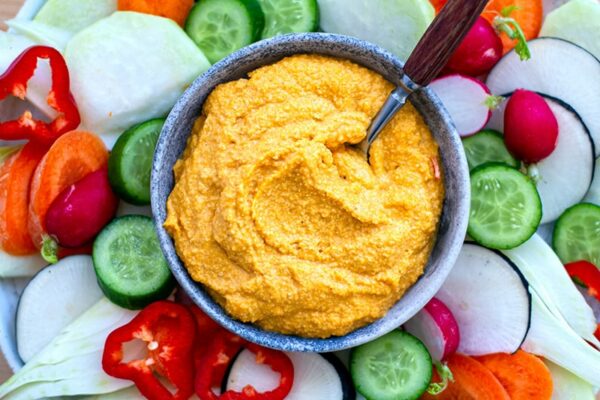 Pumpkin Tahini & Cashew 'Hummus' Dip
Author:

Prep Time:

15 minutes

Cook Time:

25 minutes

Total Time:

40 minutes

Yield:

1.5-2 cups

Category:

Dips

Method:

Roasted/Blended

Cuisine:

Middle Eastern
---
Description
This pumpkin tahini and cashew dip is inspired by a traditional hummus recipe but is made without chickpeas. It has a lovely sweetness from the roasted pumpkin but is balanced out by earthy tahini, zesty lemon and a touch of garlic. Cashew nuts give this dip that lovely hummu-like creaminess.
---
1 cup cashew nuts
1 lb / 450-500 g sweet pumpkin/winter squash (about 3-4 cups diced pumpkin, see notes on best varieties)
2 tablespoons olive oil
1 teaspoon cumin powder
1/2 teaspoon sea salt
2 garlic cloves, diced
3 tablespoons lemon juice
Extra 1/2 teaspoon salt
---
Instructions
Place cashews in a bowl and cover with warm water for 1 hour, then strain.
Preheat the oven to 220 C / 425 F.
Peel the pumpkin and cut it into large cubes. Combine with olive oil, cumin and salt and toss through using your hands. Spread on a flat oven tray, making sure to leave some space between each cube for even browning. Cook in the oven for 20 minutes until lightly brown and soft. Remove and cool slightly.
You will need a food processor, a high speed blender or an emersion blender to puree the dip. Add the cashew nuts, roasted pumpkin, tahini, garlic, lemon juice and extra salt to a food processor. Puree for 1-2 minutes, scraping the sides half way, until very smooth. The final dip should be quite thick but if you find that it's not processing well enough, add a tablespoon or two of water to thin it out.
Serve with your favourite sliced vegetables. I cut up some radishes, kohlrabi, fennel, carrots, cucumbers and peppers. You can also serve this dip with crackers, in a salad or buddha bowl, in wraps and more.
---
Notes
The best types of pumpkin or winter squash to use in this recipe are starchy, sweeter varieties such as Japanese/Kent/Blue Hokkaido Squash, Kabocha squash, honey pumpkin. Butternut squash is not sweet enough for this recipe so if you plan to use it, the flavour will be a little more savoury and you're welcome to use a little added honey or stevia or leave it as is. Check out my simple guide to pumkin and winter squash here.
Nutrition
Serving Size:

1.5 cups

Calories:

134

Sugar:

2.4 g

Sodium:

239.4 mg

Fat:

10.2 g

Saturated Fat:

1.6 g

Carbohydrates:

9.1 g

Fiber:

2.3 g

Protein:

4.2 g

Cholesterol:

0 mg