I recently started a new series of simple weekly paleo menus featuring some of my favourite dinners, breakfasts, snacks and/or desserts.
These menus are not as comprehensive as those in my free program and they don't come with complete shopping lists and all that jazz, but they will provide you with dishes you can use to build up a nutritious and balanced meal plan with.
In each weekly menu, I suggest 5 dinners, 1-2 breakfasts and a snack, condiment or dessert for the week ahead. I also provide some tips for meal prep, side dishes and substitutions.
---
Download this week's meal plan as a printable PDF with all of the recipes included. Subscribe to my newsletter and get more freebies here.
I hope you enjoy this week's paleo menu plan. Leave your feedback, comments and suggestions below and don't forget to tag #irenamacri on social media, if you cook any of the dishes. Find me on Instagram at @irenamacri
---

If you've been following my weekly menu plans so far, you won't be surprised to find this particular dinner on a Monday. I try to include at least one meal with fish or seafood, and as I often do my shopping on the weekend, it makes sense to use up the fish as quickly as possible. Having said that, you could easily do this dinner on another night with defrosted fish fillets of choice, or freshly purchased produce.
You can use salmon, cod or any other fish fillets you prefer. I talk more about the best tuna options in the recipe post itself.
Side dish: No sides required but you could serve some green salad on the side.
Meal prep tip: The red peppers could be made ahead of time. Everything else should ideally be made fresh.
Main grocery items: tuna steaks or other fish, red peppers/bell peppers, onions, avocado, coriander, lime, coriander seeds/powder, cumin and paprika.
---

This paleo-friendly sheet pan dinner of roasted asparagus, chicken and chorizo is fuss-free, healthy and easy to make. The recipe includes alternatives and substitutions.
Side dish: A simple salad or you could roast some pumpkin at the same time (we're using pumpkin in a soup in Dinner 3, so buy enough for both meals).
Make-ahead prep: Dice and combine the onion, chorizo and peppers in an airtight container to store in the fridge for 2-3 days. Marinate the chicken with spices and store in the fridge for up to 2 days before cooking. You can also marinate and freeze the chicken in advance.
Main grocery items: chicken tenderloins or breasts/thighs, chorizo, asparagus, onion, red peppers, garlic, spices such as paprika and cumin.
---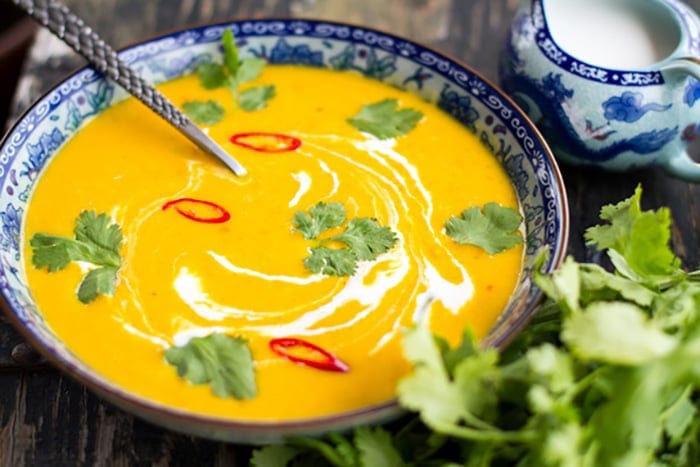 This lovely pumpkin soup is a favourite of mine and is featured in my Eat Drink Paleo Cookbook. It's perfect on a cold night but can also be enjoyed cold in summer. If you prefer to make a soup that doesn't require the use of the stove, try my Spanish Gazpacho recipe instead.
Side: For an extra protein with this dish, add some diced cooked chicken (from the night before) or cooked prawns on top.
Meal prep tip: This will keep in the fridge for 3-4 days and longer in the freezer.
Main grocery items: sweet pumpkin/winter squash, onion, lemongrass, red chilli, coriander, garlic, turmeric, coconut milk or cream, vegetable stock, lime. Kaffir lime leaf and galangal are optional.
---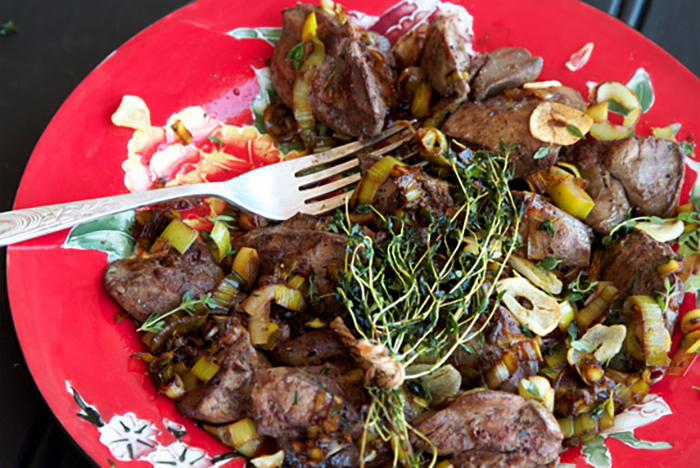 This dinner might not be to everyone's liking (don't worry, I have provided an alternative) but I really encourage you to try and include some liver in your meal plan. I've got a post on why liver is so good for you here and trust me that this is a very delicious way to prepare it and might actually enjoy it.
If you really can't bring yourself to eating liver on its own, try making this dish with beef or lamb meat and add a few small pieces of liver to it. Alternatively, why not have some chicken liver pate as a snack on some days.
Side dish: Mashed cauliflower or sweet potato puree would be nice or you can serve some grilled or steamed asparagus, broccoli and carrots.
Alternatives: Grill some beef or lamb steak and slice it up, then top with fried thyme and garlic. If you can, throw in just a couple of slices of liver.
Main grocery items: chicken livers, leek, thyme, garlic, Balsamic vinegar, vegetables for a side.
---
Chorizo is back and this time we're using it to flavour our slow-cooked beef chilli. I like to repurpose the purchased ingredients, hence we're using more chorizo, but you can also make it without. This recipe is best suited to the weekend and I provide instructions for the slow cooker, the stovetop and the oven. PS. This can be served cold as well.
Side dish: Cauliflower rice or cooked diced sweet potato; chopped avocado is also lovely on top. You can serve these with lettuce cups to make mini tacos (especially in the summer).
Meal prep tip: This can be made ahead of time and stored in the fridge for up 3 days and longer in the freezer. Defrost overnight in the fridge.
Main grocery items: ground beef mince, chorizo sausage, chipotle chilli (tinned or dried), tinned tomato puree, cumin, paprika, onion, garlic, fresh coriander, cauliflower for cauliflower rice
---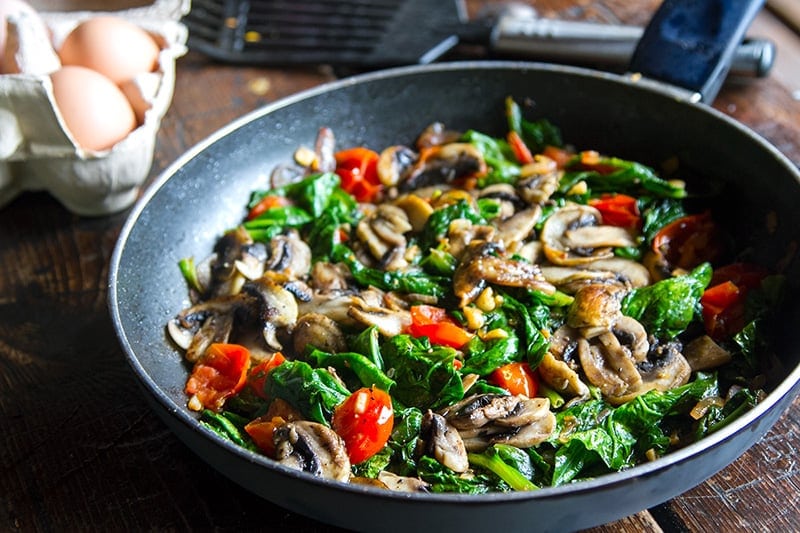 You can use the regular white button, Swiss brown, cremini or Portobello mushrooms. If you can't do butter or ghee, simply use a little extra olive oil or coconut oil instead. For spinach, you can use baby leaves or torn English spinach or Swiss chard, as long as it's green and leafy.
Side: A couple of eggs cooked in any way you like; baked sliced sweet potato topped with this fry up is a great egg-free alternative.
Meal prep: This dish is best cooked fresh but you could easily make it the night before and reheat in the morning with some eggs.
Main grocery items: mushrooms, spinach, cherry tomatoes, onion, garlic, lemon.
---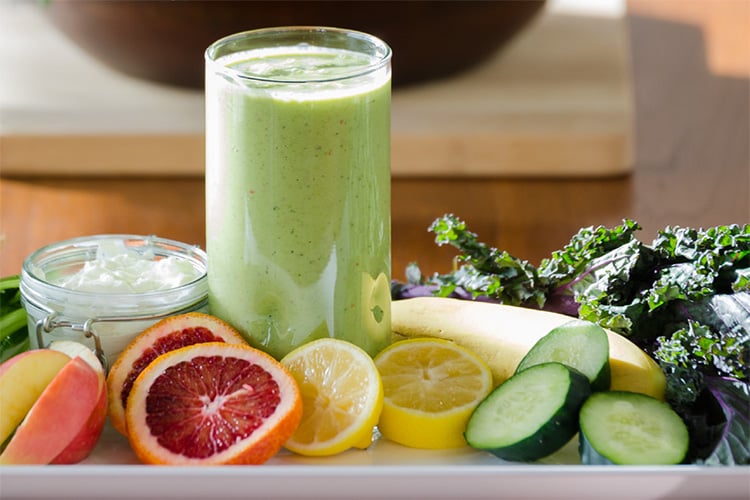 This smoothie is great for those busy mornings when you don't have the time to make a cooked breakfast or when you feel like something light and cleansing after a big dinner the night before. To make this smoothie extra satiating, add a scoop of your favourite protein powder or some collagen powder.
Prep ahead: You can prepare most of the ingredients the night before and store them in a Ziploc bag or a container. Use fresh or frozen banana, though.
Main grocery items: kale, spinach, banana, cucumber, lemon, orange, apple, regular or coconut yoghurt (you will use some in the chilli con carne too).
---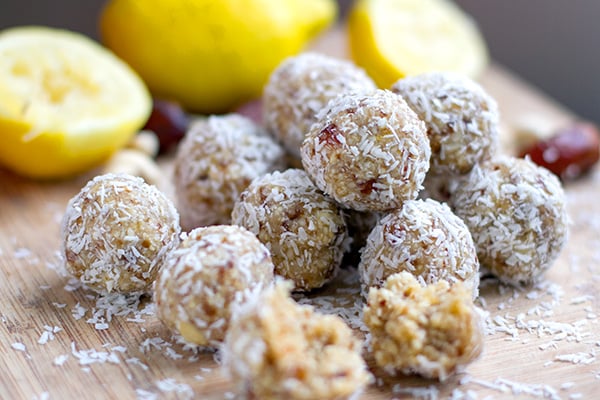 These paleo-friendly bliss balls are perfect as a quick snack for an energy boost, especially pre or post-workout. They are also delicious as a little treat.
Meal prep: You can definitely make these ahead of time on the weekend and store in an airtight container in the fridge for up to 7 days.
Main grocery items: dates, cashews, almonds (with or without skin), desiccated coconut, lemon, lemon essential oil (food grade).
---
Get the PDF download of this meal plan here.
Want to get notified about the next weekly menu plan? Sign up to my newsletter here, and receive the link in your inbox on Fridays.

Want a more structured, custom-designed paleo program with shopping lists, full recipes and weekly know-how reading material? Check out my paleo plans here.
---
SAVE THIS MENU PLAN TO PINTEREST FROM HERE