In today's roundup, I am sharing delicious, sugar-free salad dressing recipes that are paleo, Whole30, vegetarian and keto-friendly. These condiments burst with flavours minus any added sugar.
---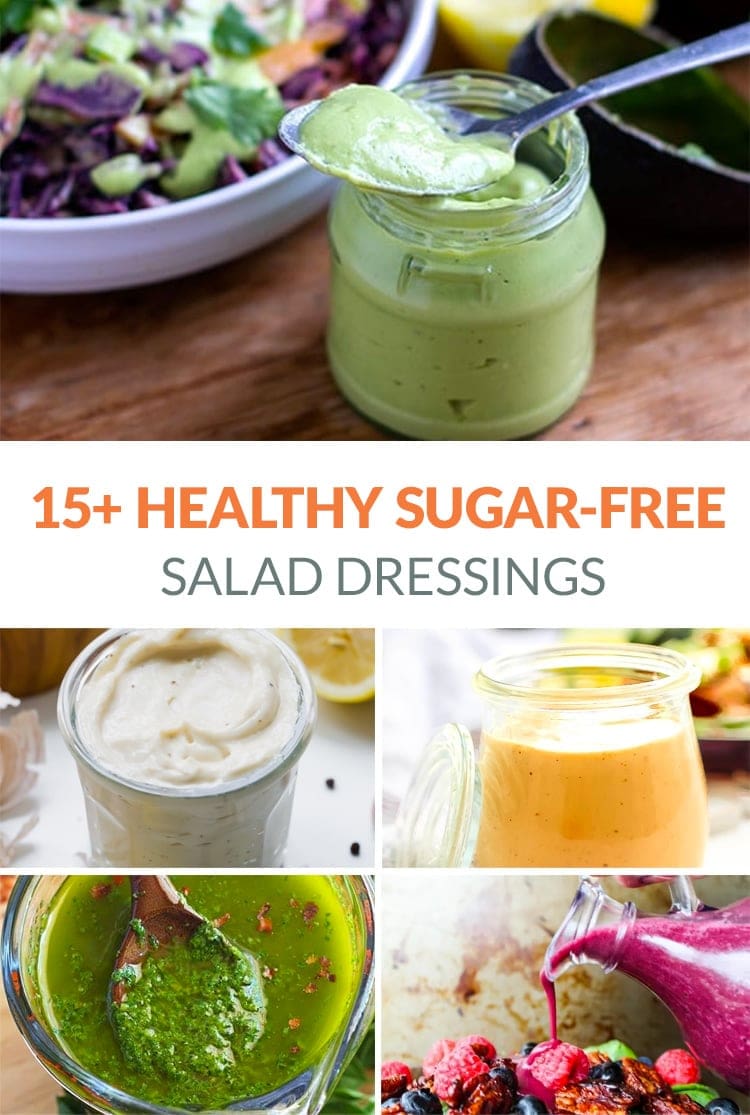 Walking down the aisle of salad dressings, you'll find no shortage of options. You'll see creamy dressings, vinaigrettes, Italian and French variations, and even low-fat options with yoghurt or who else knows what. You won't, however, find many sugar-free salad dressing options.
If you're doing my free paleo reset, keto or Whole30 and trying to avoid all that added sugar, this can be a problem.
While you can find some specialised sugar-free dressing brands online and in health-oriented supermarkets, it is much easier to simply make your own dressing at home. It's a fantastic habit to get into (I often do it as part of meal prep on the weekend) and you'll never need to buy a pre-made salad dressing with added sugar or other additives ever again.
Now, there are many paleo salad dressings that contain added sweeteners like honey or maple syrup. For me, it's not an issue and they do add that lovely balance of sweet and sour to the dressing, but if you want to avoid all sugar while resetting or detoxing (and those sweeteners are still sugar!), then try one of these 15+ sugar-free salad dressings that will make your salads and veggies pop with flavour.
Healthy Store-Bought Salad Dressings
If you do need to find a quick and easy store-bought sugar-free salad dressing, check out these options on Amazon (in the US): Primal Kitchen- Balsamic Vinaigrette or Tessemae's range of salad dressings (and other great sauces).
In Australia, the most paleo-friendly ready-made salad dressings are by Bragg. Their dressings contain a little honey but are made with olive oil instead of canola or vegetable oils. I couldn't find any sugar-free dressings you can buy in a store but let me know if you know of any.
Here are my favourite sugar-free salad dressings to make at home. Check out my healthy salad recipes here and find more sauces and condiments here.
Best Sugar-Free Salad Dressings
---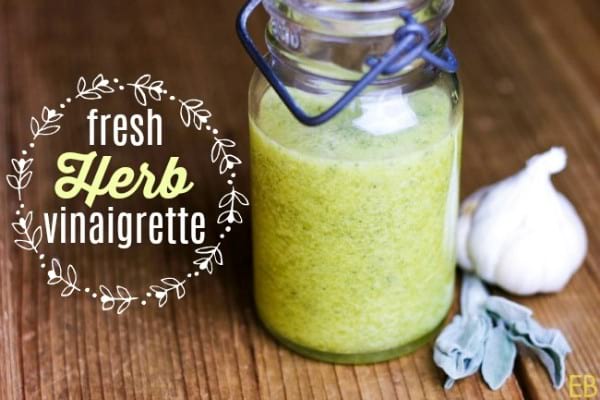 Let's kick things off with this summery little number featuring fresh-from-the-garden herbs in a sugar-free vinaigrette-style dressing. Dijon, apple cider vinegar and raw garlic really kick up the flavour, adding a ton of tang to every bite. This is light enough for delicate leafy greens and oil-based, so you can easily transfer it to fall bites and massage your kale with it. Recipe from Eat Beautiful.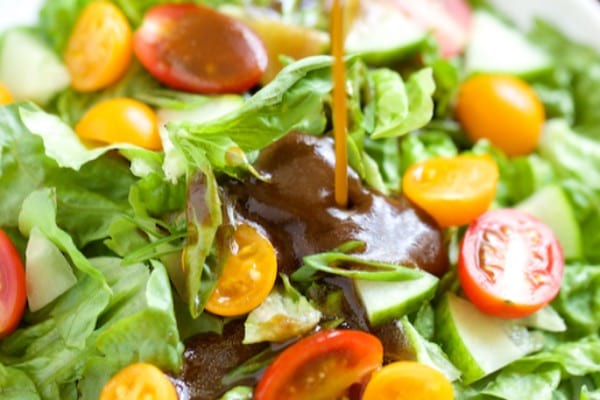 Who can argue with a two-ingredient recipe? While some of these may be daunting to make at home, we can all agree that having a go-to dressing is necessary when trying to up your green veggie intake. Balsamic vinegar, olive oil and a little salt go a long way in this recipe you'll be inspired to make week after week. Recipe from Get Inspired Every Day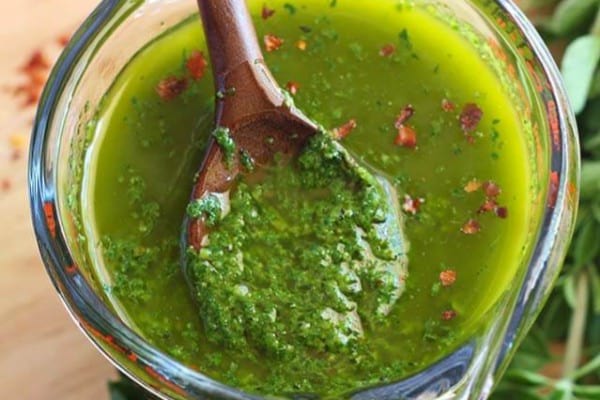 Chimichurri is definitely one of my favourite sauces, and it's not only good as a sugar-free dressing. It's a fantastic marinade, and sauce for slathering over some meat or braising a dish in. With an oil base, you can customise flavour with your favourite oil or whatever is on your shelf, boosting healthy fats. From there, it's a simple and flavourful blend of herbs like parsley and oregano (use fresh), garlic, vinegar, crushed red pepper, oil, salt and pepper. Recipe from The Rising Spoon.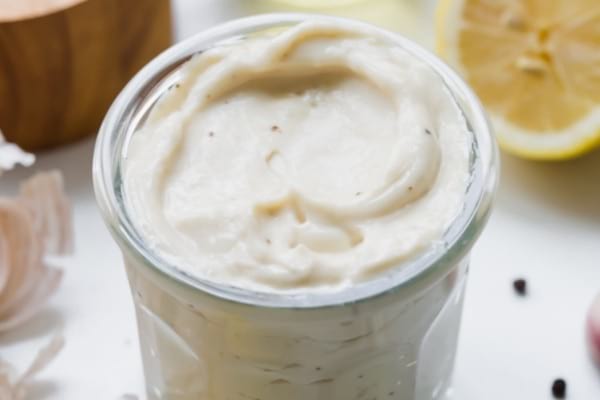 Caesar dressing is a classic in rotation at restaurants, but it's often laden with dairy because Parmesan is truly the star in this one. All you need is a jar and an immersion blender to make magic happen here, though. It's a little like paleo mayo – just dump and blend! Olive oil and egg make it perfectly creamy – and don't forget the other signature ingredient: anchovies for that umami flavour punch! Recipe from 40 Aprons.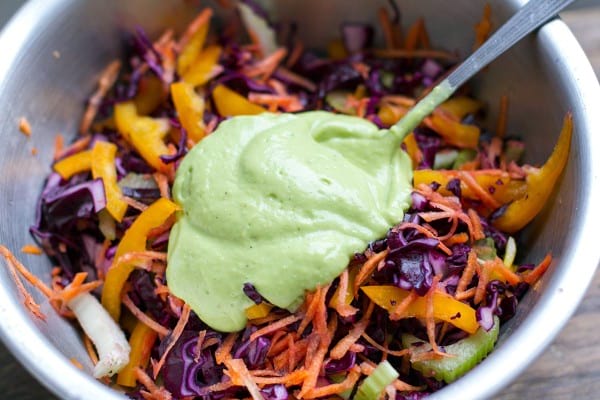 This dressing is an awesome addition to a colourful coleslaw, as pictured above. I make it by blending up an avocado with olive oil and adding some lemon juice and other spices to give it more depth. The avocado lends it colour and rich, buttery texture to the final product beautifully, and it pairs well with nearly every veggie and meat dish I can think of. Simply omit the honey in this one for a sugar-free dressing.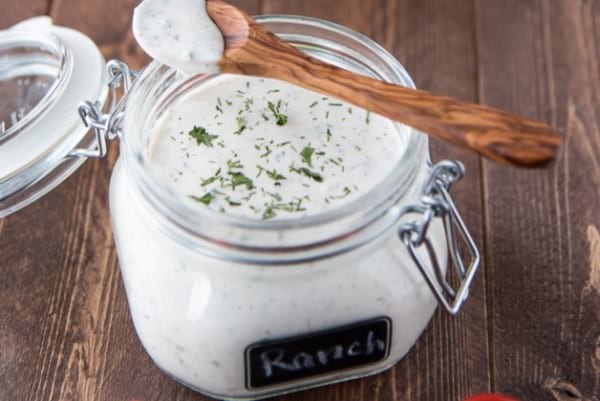 The ranch is loved amongst many, and for good reason. It's creamy, flavourful and is somehow just as good with a slice of pizza as it is on a salad. Oh, and it makes an awesome dip for veggies at home for adults, kids and party appetisers. If you're looking for the quintessential ranch recipe, look no further than this one. You can use dairy yoghurt or non-dairy yoghurt. Either way, it's still sugar-free! Recipe from Allergy Free Alaska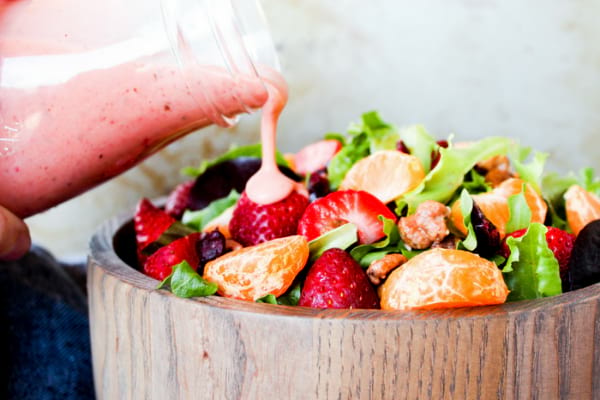 With fruity dressings, sugar-free gets really tricky. You'd think the fruit would be enough sweetness – and in this case, it is – but the marketing officials of salad dressings worldwide would beg to differ. This recipe combines fresh strawberries with orange juice to curb the sourness and healthy fats from olive oil plus white wine vinegar to create a gorgeous vinaigrette. Recipe from The Whole Cook

This is one of those dressings that has the versatility for every meal, and you'll definitely want a batch on the table. It jam packs flavour into salads, roasted veggies, rice and grain dishes (or cauli rice) and any protein under the sun. It's a simple blend of olive oil, apple cider vinegar and lemon juice mixed with spices that give it the Moroccan flair it's known for. Recipe from Whole New .Mom

If you enjoy a bit of southwestern flair in your ranch, this recipe is for you. It combines the flavours of ranch like dill and garlic with taco spices like cumin, chili and lime for a delectable mixture of flavour, perfect for smothering over taco salads or burrito bowls. It's just as dippable as the original version, too. Recipe from Whole Kitchen Sink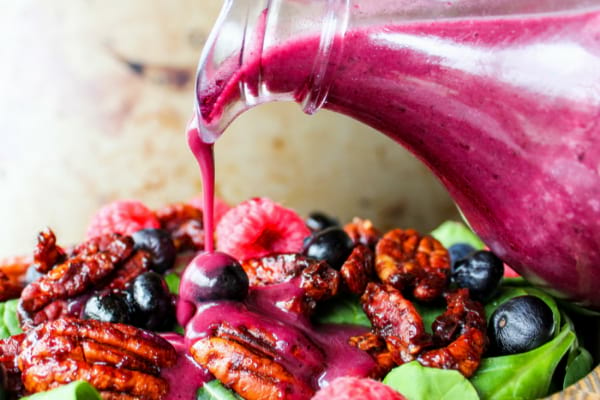 Another berry dressing for the win! The perfect complement to buttery walnuts or pecans, baby spinach and tender chicken, this blueberry vinaigrette is naturally sweet and beautifully hued for fun and delicious eating. The citrus really brings out the flavour here with both orange juice and lemon juice coming in hot on the short list of ingredients. Recipe from The Whole Cook.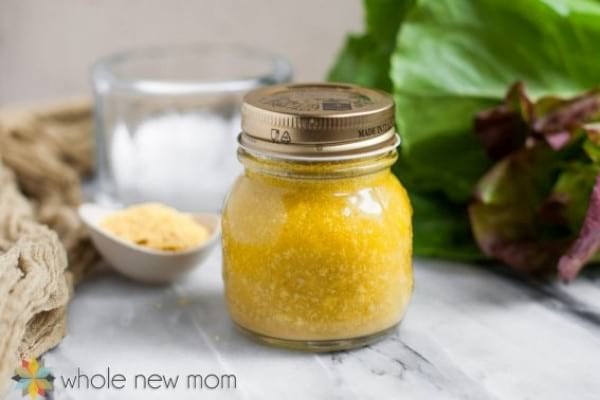 If you're abstaining from dairy, nutritional yeast is the perfect substitute for dairy to create a cheesy-like dressing like this one. Plus, it's packed with nutrition – especially B vitamins. With just five ingredients (that you probably already have), you'll have no trouble whipping up a jar of this for all your salad needs. Recipe from Whole New Mom.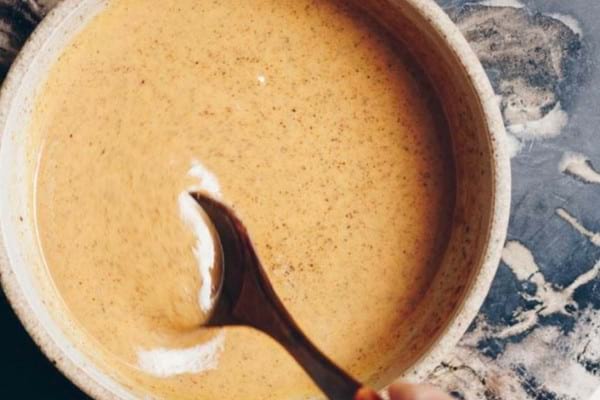 Thai peanut sauce is a signature sauce that's absolutely finger-lickin' good. It's great for making hot noodles (or zoodle), but it's perfect for both cold and warm salads too. Like tahini, it pairs beautifully with hardy greens like kale, and it's delicious over roasted veggies too. Don't worry – this version is paleo-friendly, so no actual peanuts were involved in the making. Oh, and you won't find any sugar in this either. Recipe from I Heart Umami.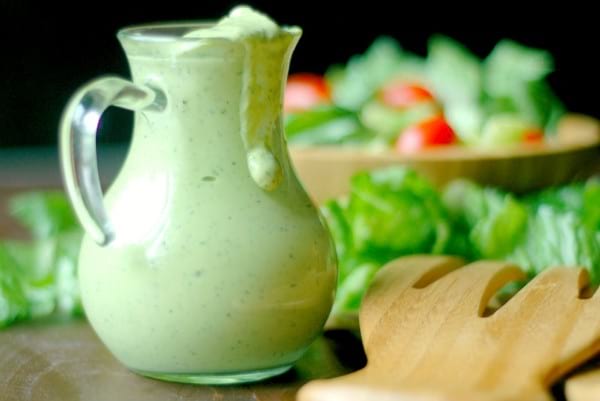 This ranch is packed with rich and creamy ingredients like coconut milk, a whole avocado (lending its beautiful green colour), green onion, chives and plenty of other fresh, leafy herbs. This will add a ton of flavour to the ranch you know and love! Get ready to reinvent the wheel with this one. Recipe from Raising Generation Nourished.

Sesame oil is a dreamy choice when it comes to making an oil-based dressing, especially if you love Asian slaw recipes as I do. Coconut aminos and Medjool dates add sweetness to this without using any refined sugars, so it's perfectly smoky, sweet and packed with umami. You can omit the dates and use some orange juice instead. Recipe from Tasty Thin.

Roasting red peppers brings out an entirely new flavour in them. It removes all the bitterness and makes them especially sweet, meaning you won't need any additional sugar sources to give this dressing its full potential. Shallot, basil, garlic, white balsamic vinegar and some good oil are the other standout stars in this recipe. Recipe from Kit's Coastal.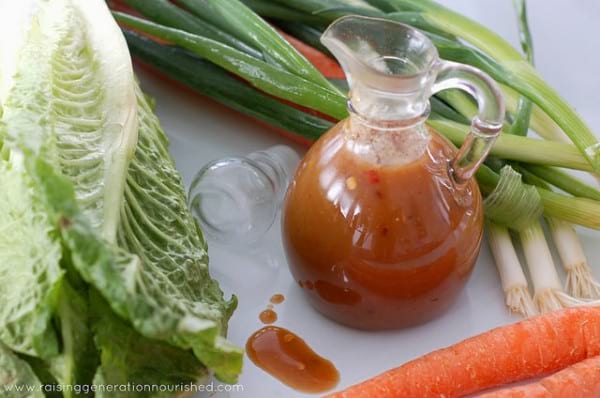 We have another Asian dressing recipe for all your tastebuds' needs! With dashes of flaked red pepper, ginger and garlic, this will taste fantastic on fresh, crisp veggies or work as a light marinade for poultry or fish equally as well. It's thinner than the previous one, though it utilises many of the same ingredients so it works for a different texture preference exceptionally well. Recipe from Raising Generation Nourished.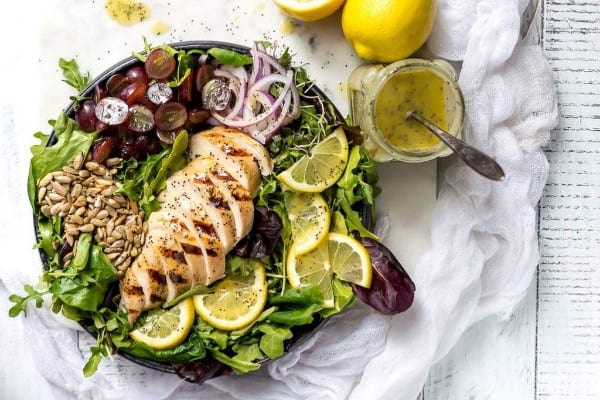 With just a few simple ingredients, this dressing is bound to add a layer of freshness to any salad. Lemon and poppy seeds pair up for a gorgeous and creamy final result, perfect for topping off a healthy and nourishing grilled chicken salad. It would also go great with a salmon salad, and it will certainly work with any fruit additions you add. Recipe from Wonky Wonderful.
---
There you have it! Making your own dressing at home is easy, and affordable, and eliminates sneaky ingredients like vegetable and processed oils, sugar, dairy, and soy making it possible to have delicious and nutritious paleo and sugar-free options in your fridge at all times.