If cooking or serving a whole turkey seems like an overwhelming task this Thanksgiving or Christmas, or if you are simply too busy to organise the bird ahead of time, then these delicious and healthy turkey alternatives for the holiday season might just be the better options. I cover everything from beef, chicken and fish to vegetarian-friendly options.
---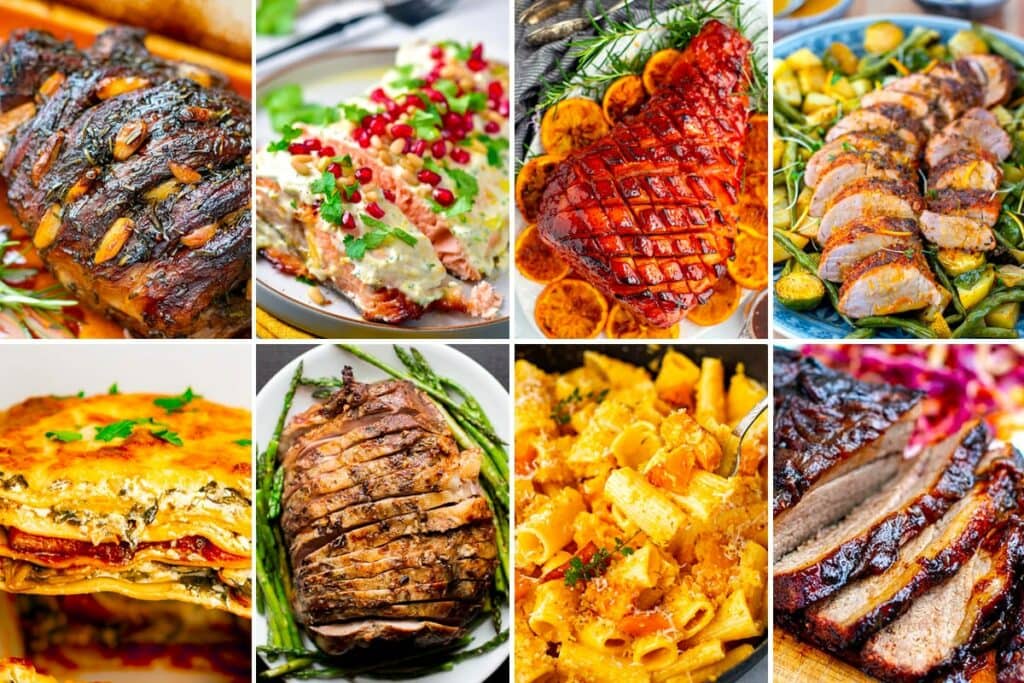 The holiday season is just around the corner, so I've decided to dedicate this post to some amazing, non-turkey-based edible centrepieces for your festive table. Don't get me wrong, I'm all in for juicy roast turkey but it's oh-so-predictable and let's face it…a slightly time-consuming main. Why not try something different this year?
Below is a list of healthy Christmas and Thanksgiving turkey alternatives, including a few vegetarian options, that will be the focus of attention at your dinner party. These are equally perfect for a family dinner or lunch.
---
Poultry Mains
Other types of poultry like chicken is an obvious choice after turkey, and although roasted chicken is always a crowd-pleaser, I wanted to include other types of poultry in this category.
This is one of my favourite festive ways to serve whole chicken and my stuffing is all sorts of awesome. If you're hosting a small gathering or cooking for two, try my Greek-style lemon and garlic roast chicken.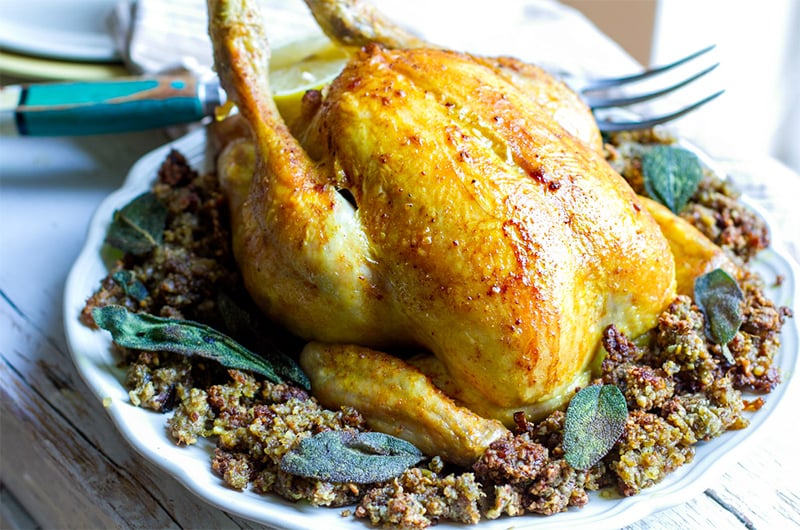 This impressive dish from Eat In My Kitchen makes my mouth water. You can use any other port or fruits to replicate this recipe.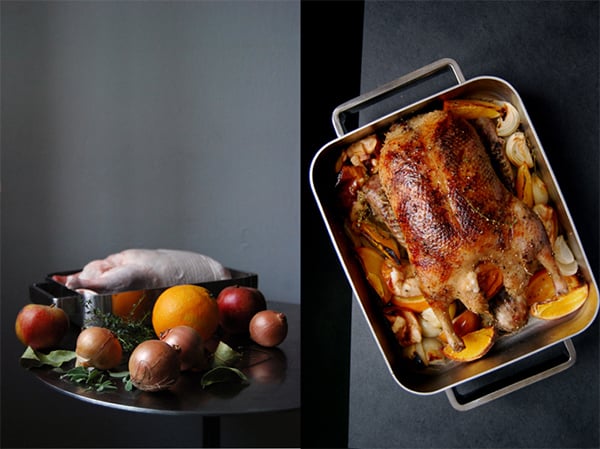 East meets West in this main roast dinner dish from Isle of Flora. You can use any root vegetables in place of potatoes and I think pumpkin or any type of winter squash would work really well with the curry sauce.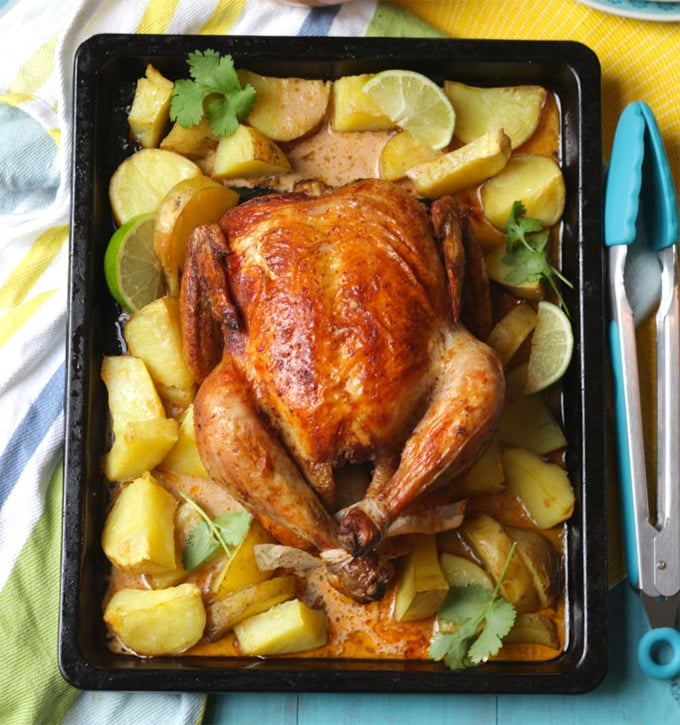 I love the sound of this dish from The Saffron Girl as well. Aromatic herbs and spices go really well with duck meat.
This juicy fried chicken with dairy-free creamy garlic sauce is inspired by the famous Georgian chkmeruli recipe. This dish is dairy-free, paleo and Whole30 friendly and would be amazing on a festive table.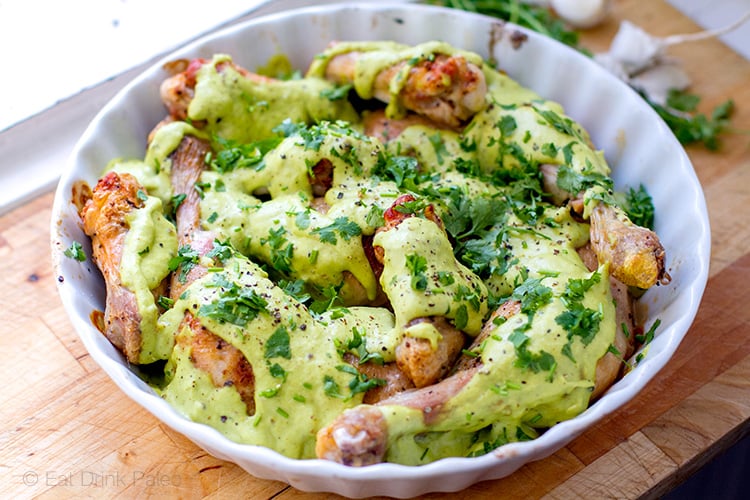 Amanda from The Curious Coconut shows us how to make her family's Thanksgiving tradition – chicken pasteles. This dish is paleo and AIP-friendly.

---
Fish & Seafood Mains
This festive whole-baked salmon fillet is slathered with lemony, herby, garlicky sour cream sauce and topped with pine nuts and pomegranate seeds. It can be a beautiful centrepiece on your Thanksgiving or Christmas table or you can serve it up for a special dinner. Gluten-free, low-carb.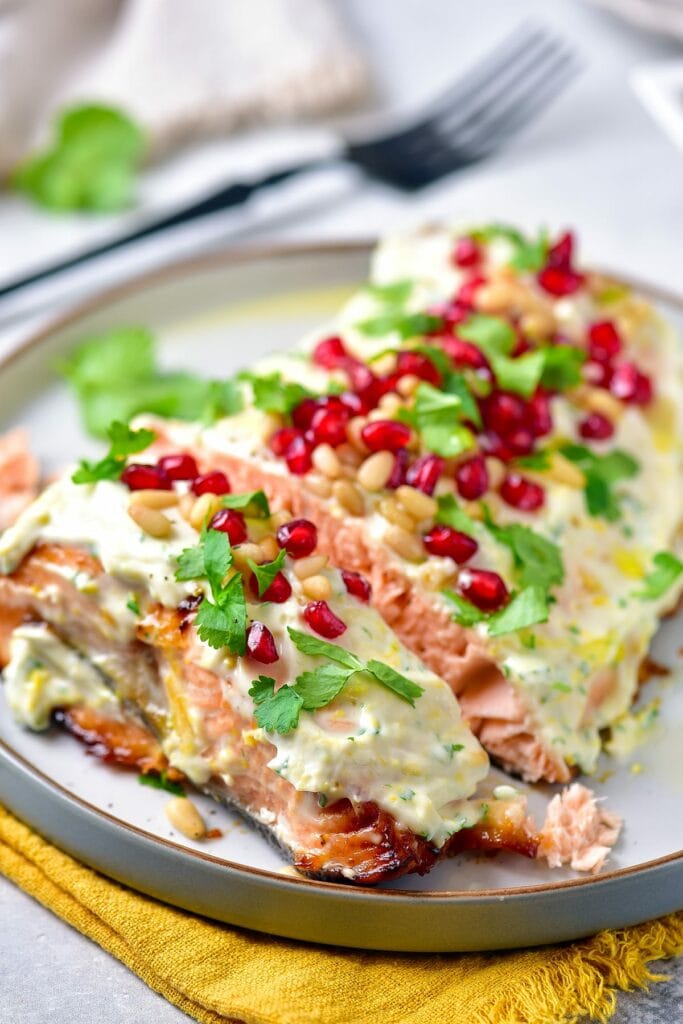 This dish would make a great main dish for a Thanksgiving or Christmas dinner. You can use any whole fish in this recipe or multiple fillets.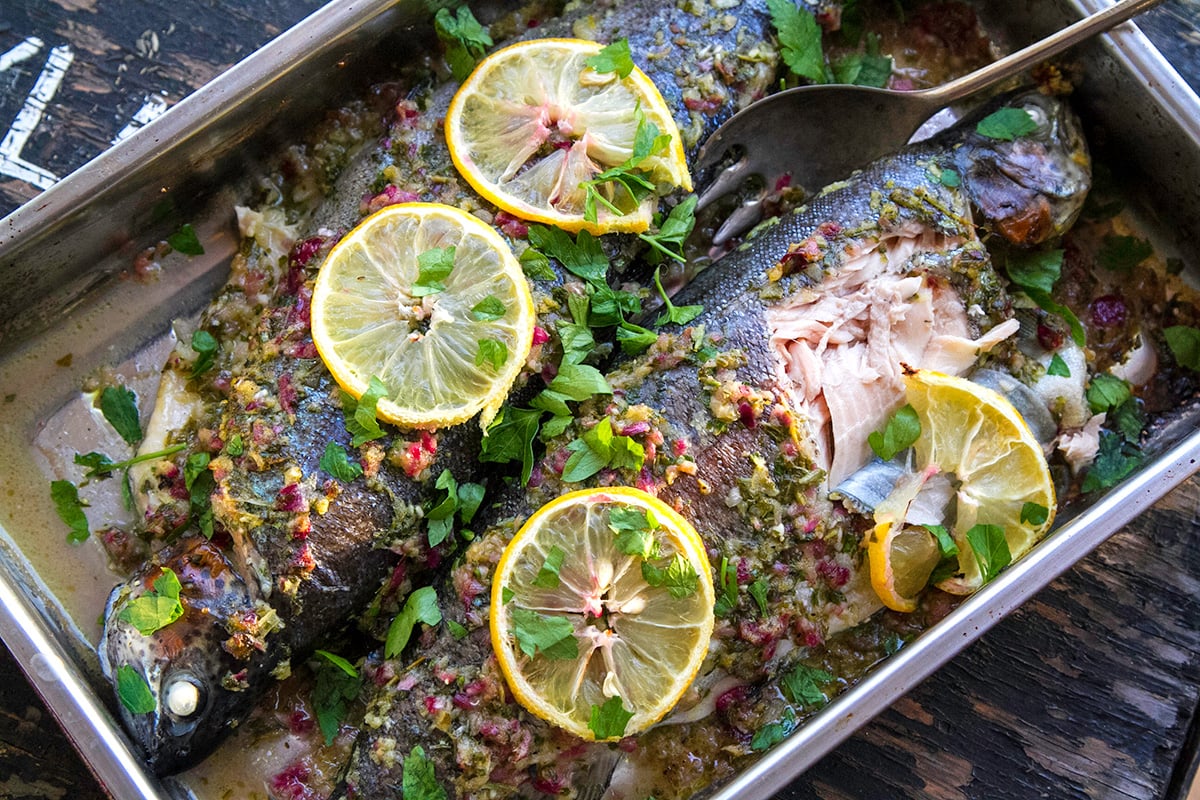 A tasty, family-friendly sweet potato fish pie is made with delicious salmon, prawns and parsley sauce. Sweet potato is a healthier, more nutritious alternative to regular potato. Great for Thanksgiving, Christmas or Easter.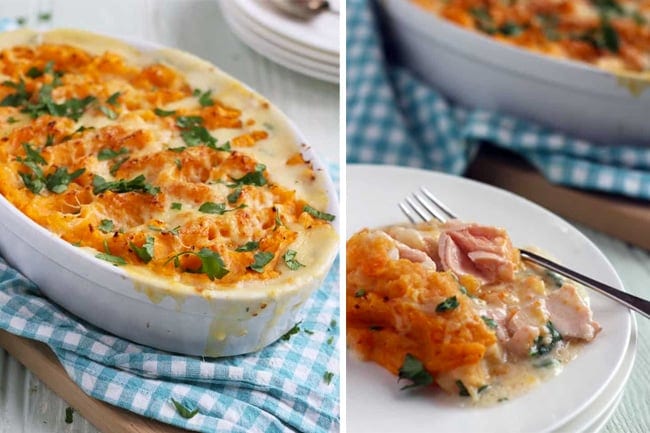 These scallops from Well Nourished are not only delicious (cooked with garlic, parsley and slivered almonds) but they also look sensational, and even though they are on the lighter side, they would be a great platter to have on your dinner table.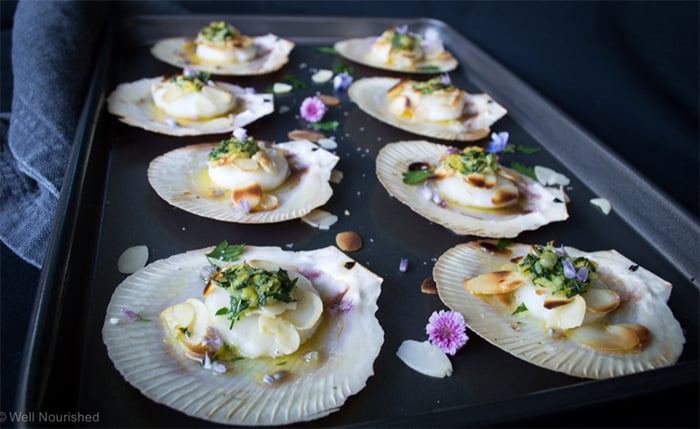 For something more adventurous you could learn How To Boil A Dungeness Crab from Paleo Flourish and serve it with some garlic butter sauce.
---
Lamb Thanksgiving Dishes
This rosemary garlic and honey slow-cooked lamb shoulder is the most incredible lamb roast I've ever made! Succulent, fall-apart meat on the inside, crispy browned on the outside and with the most delicious, caramelised sauce.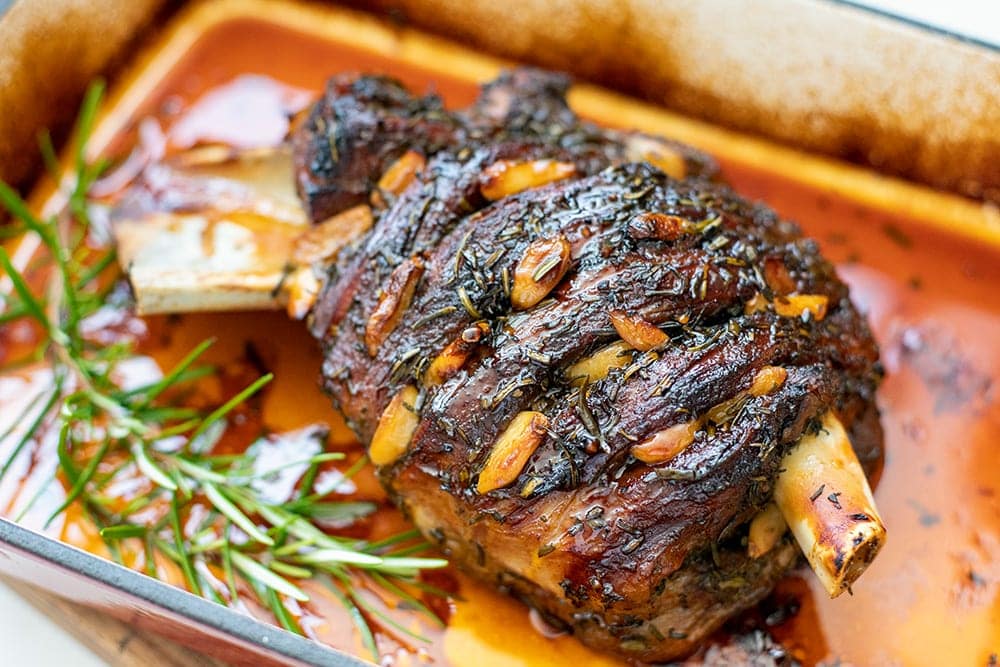 Spiced pan-fried lamb chops (also known as lamb cutlets) with zesty, tangy mint vinaigrette. This lamb recipe is gluten-free, paleo, Whole30, low-carb and keto-friendly and can be served with a variety of side dishes.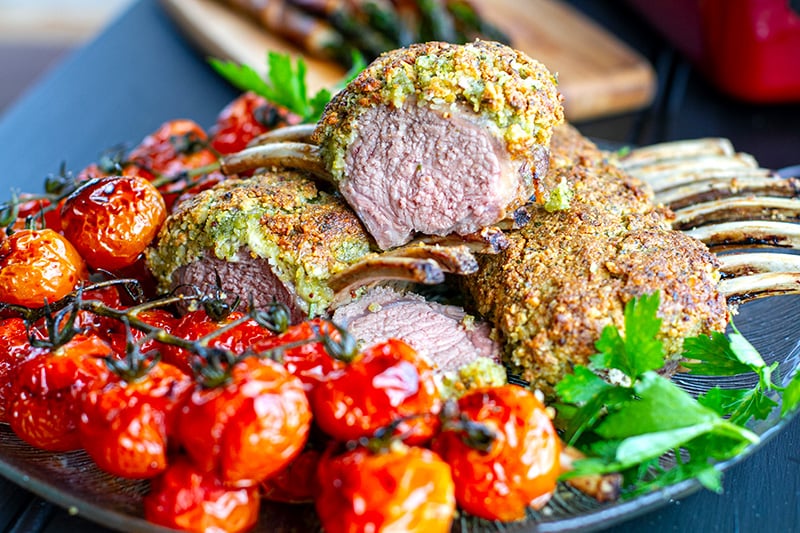 This recipe from The Domestic Man is absolutely sensational and would be great as a centrepiece dish.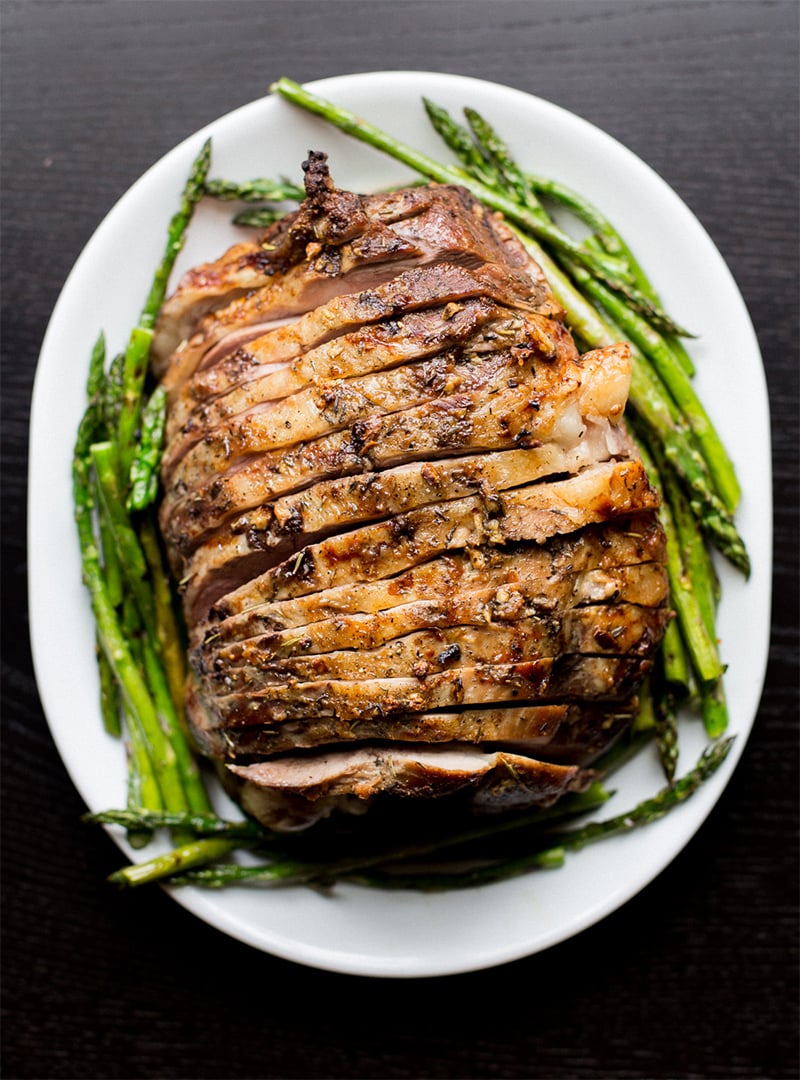 ---
Thanksgiving Beef Mains
Slow-roast a whole beef brisket in the oven with a delicious, caramelised balsamic and Worcestershire reduction, onions and garlic. This oven-cooked brisket is braised in the broth that is then caramelised and the meat is browned during the roasting process, resulting in the most succulent meat full of flavour.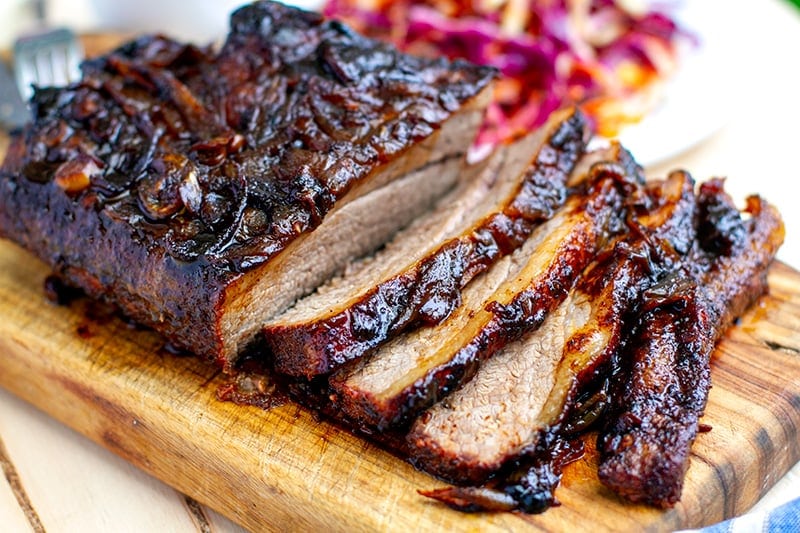 Thanksgiving is all about comfort food and you certainly can't go past a good Shepherd's pie. It's a great opportunity to combine two festive dishes – sweet potato casserole and a meat pie – in one family-friendly dish. You can make individual pies or bake a couple of larger casserole dishes to serve on the table.
Beef brisket cooked as a pot roast couldn't be easier. Just sear and then cook it in the oven with onions and garlic all afternoon until it becomes fall-apart tender. The leftovers freeze beautifully, too! Recipe from Simply Recipes.
This recipe from Steph Gaudreau looks like a real family affair and the best part – it's super easy. Paleo and Whole30.
These adorable little ground beef stuffed acorn squash pumpkins are so delicious! They make the perfect fall main and are healthy and affordable. You can use any type of pumpkin to stuff with the meat filling.
---
Festive Pork Mains
This festive, oven-baked, orange bourbon glazed ham is a table masterpiece you'll want to make for every holiday, whether it's Thanksgiving, Christmas or Easter. Salty ham is paired with the most incredible sticky glaze with the subtle flavours of citrus, maple, holiday spices and bourbon.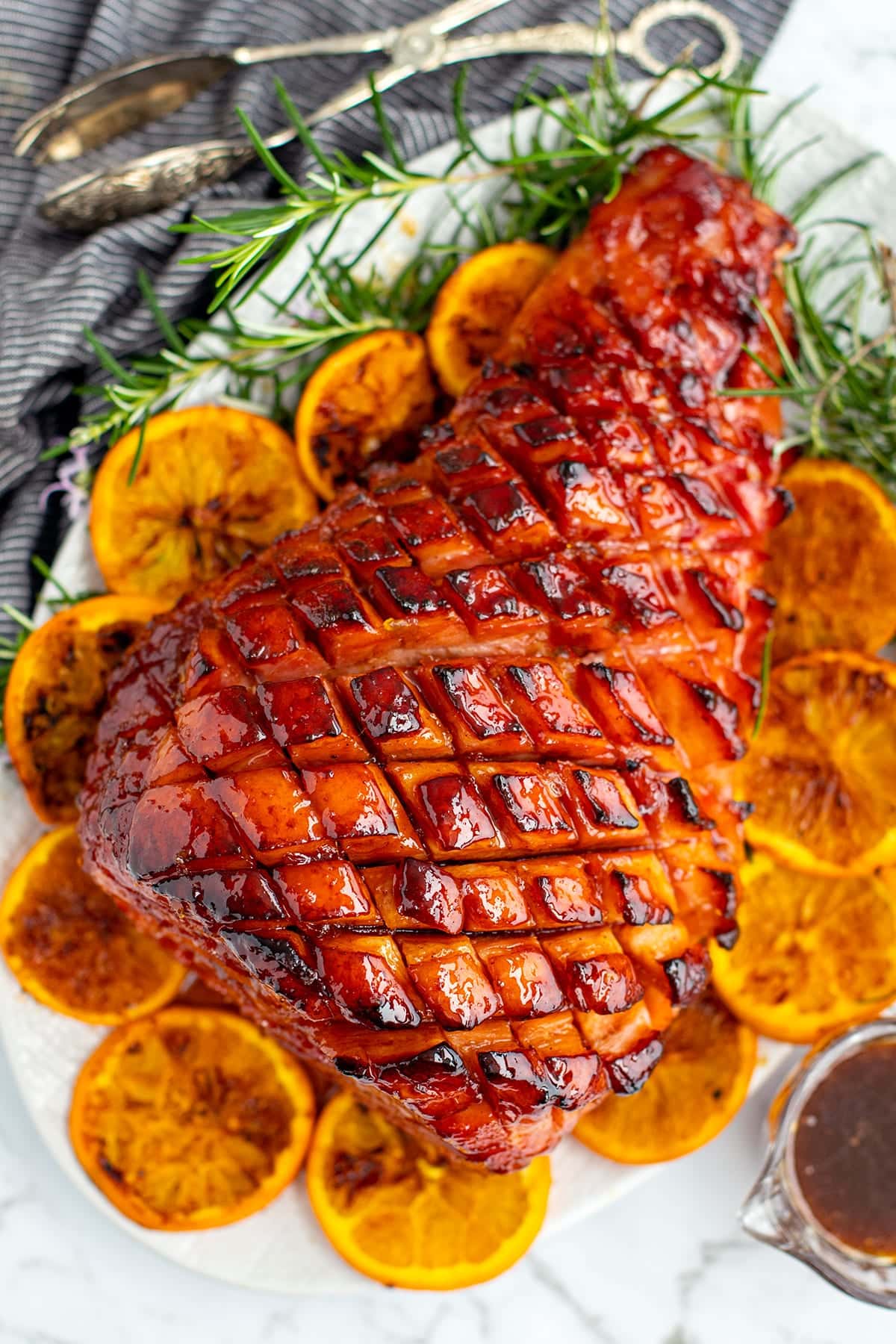 Whether you're looking for a festive centrepiece dish or a gourmet family meal, this roasted pork tenderloin with orange, mustard and maple glaze sauce is a total winner. This recipe is paleo-friendly and gluten-free.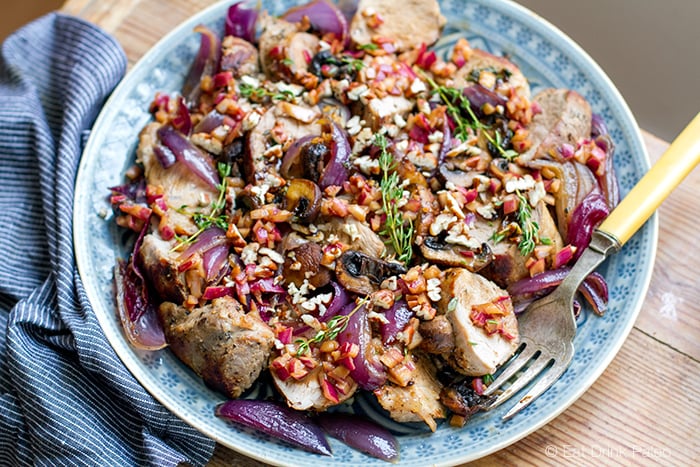 ---
Vegetarian Thanksgiving Mains
Inspired by Middle Eastern and Mediterranean flavours, these quinoa stuffed peppers are filled with delicious vegetables, spices, nuts and dried cranberries. It's a nutritious meal that is vegetarian-friendly and gluten-free.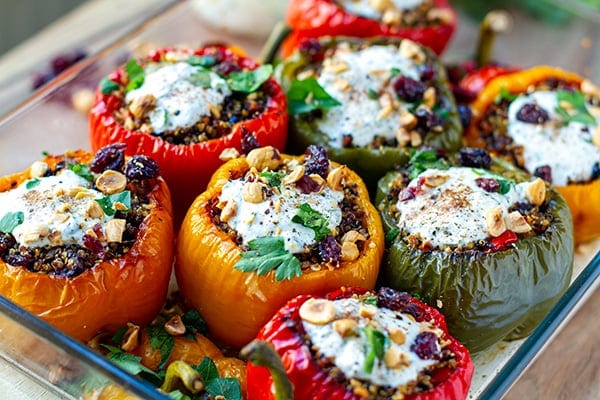 Creamy roasted butternut squash pasta with garlic crumbs. This dish is fit for a restaurant menu, yet you can easily make it at home. It's an absolute crowd-pleaser, and your family and dinner guests will be impressed and satisfied! 
This is a high-protein, healthy vegetable lasagna recipe with cottage cheese, ricotta, spinach, butternut squash, zucchini and mushrooms. It would be a fabulous meat-free main dish for Thanksgiving or Christmas.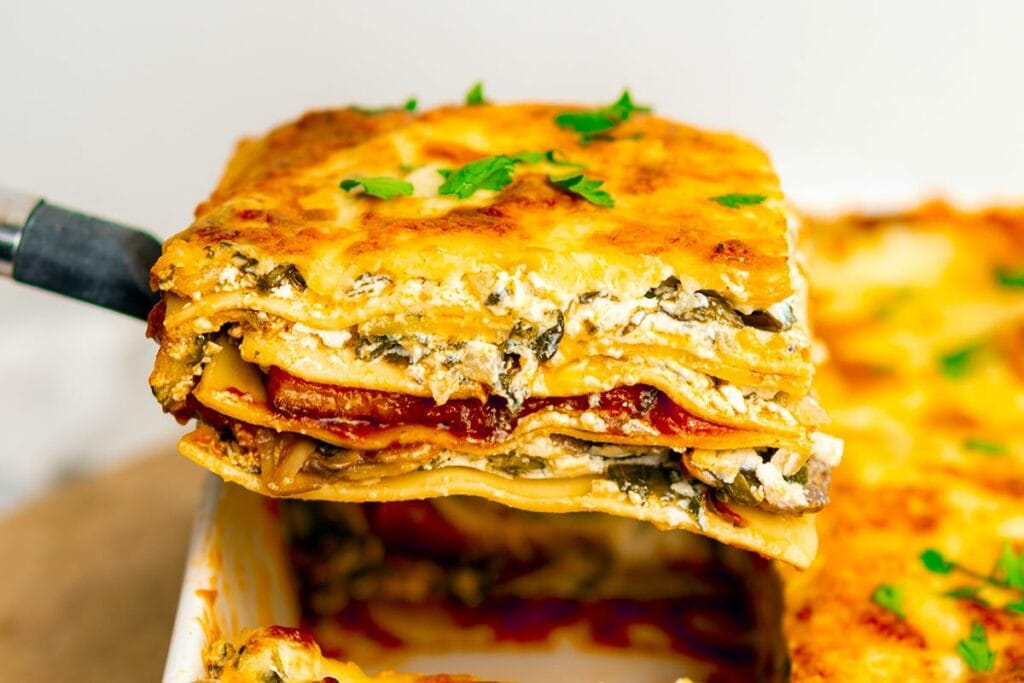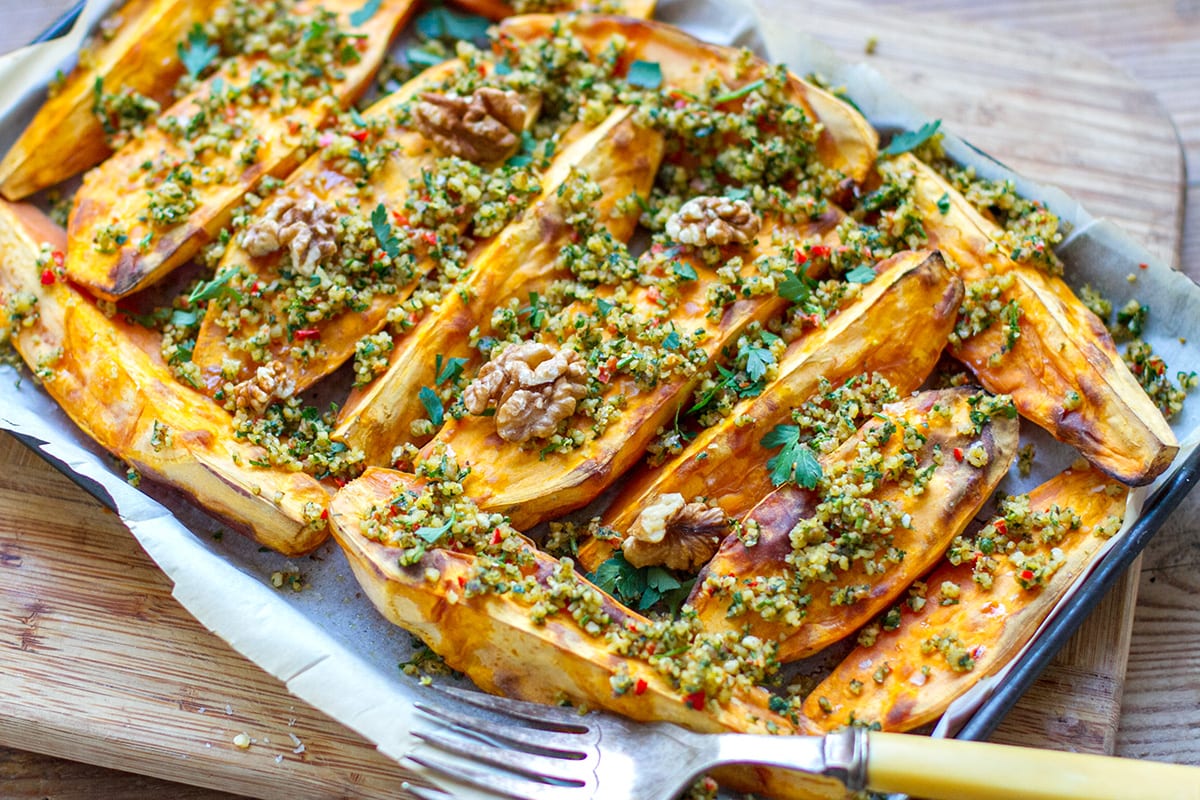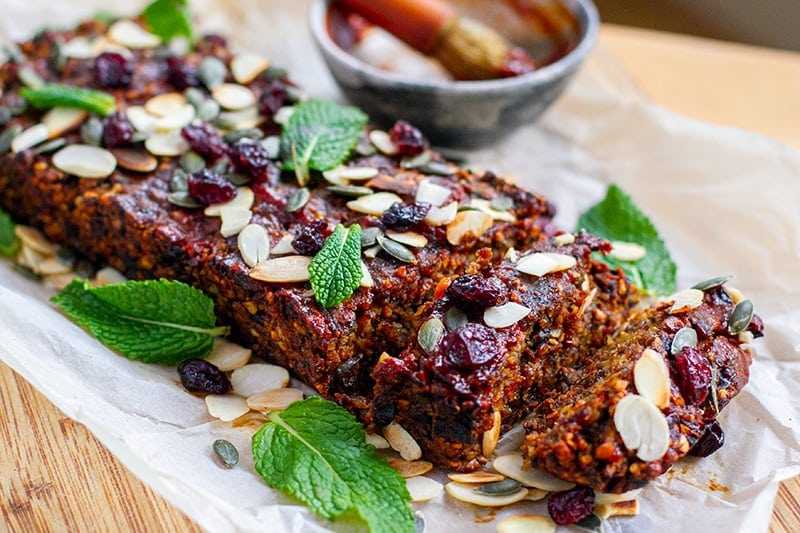 Living in the UK, I got obsessed with nut roasts. I wanted to make a homemade recipe that is both vegan and paleo-friendly. This recipe is made with lots of mushrooms, veggies and mixed nuts, plus a few secret seasonings that make it irresistible. It's egg-free, dairy-free, legume-free and grain-free.
This vegetarian meatloaf from A Couple of Cooks is made entirely of nuts, rice, mushrooms, onions, herbs, and cheese. Somehow, it all melds into an appearance and texture just like a meatloaf. And it tastes AMAZING. Perfect for Thanksgiving, Christmas, Sunday roast and more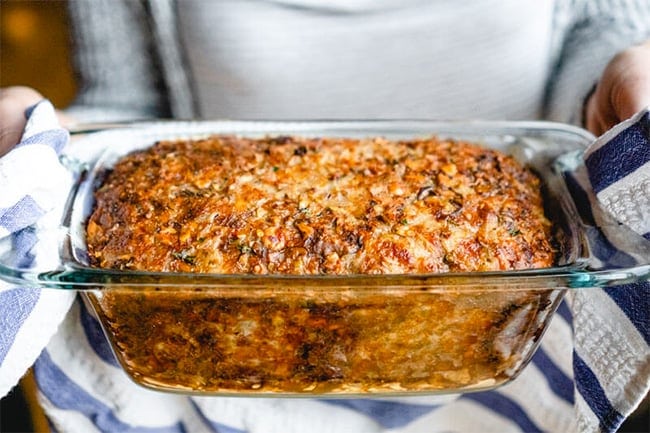 You can use this fabulous Thanksgiving cauliflower recipe from My New Roots as a template really. She uses homemade Tandoori spice using pretty accessible pantry staples but you could inspiration from other cuisines.
---
Turkey Recipes With A Twist
Want to stick with the tradition of serving up turkey but with an added a twist? Try one of these variations.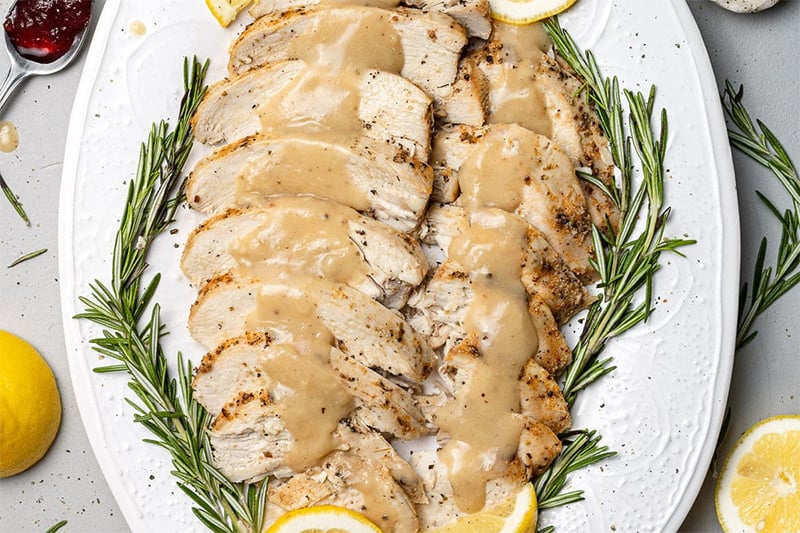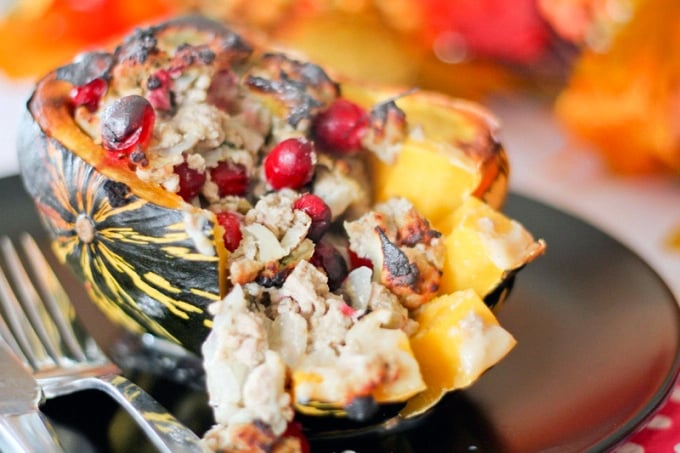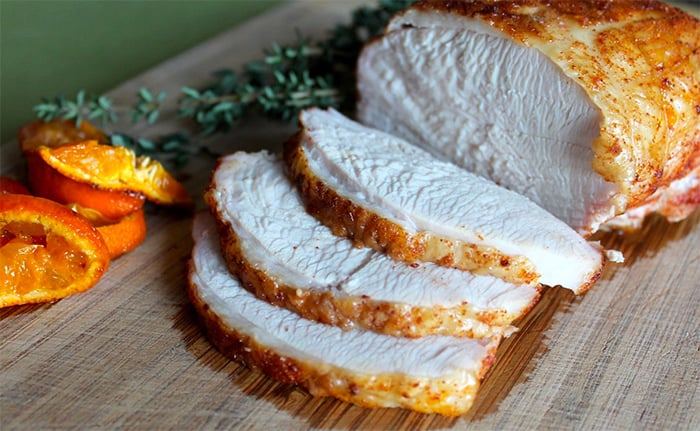 Cranberry Glazed Turkey Meatballs from Plaid & Paleo
Stuffed Turkey Breast from The Saffron Girl
Do you have a favourite alternative to roast turkey or a traditional family dish you serve up for Thanksgiving? Have a question? Leave a comment below.
---
Save Thanksgiving Turkey Alternatives To Pinterest