This healthy dinner of homemade beef burger patties with garlic kale and carrots and roasted sweet potatoes is nutritious, tasty and easy to make. Similarly to my Rainbow Chicken Dinner, this kale and ground beef recipe consists of a few elements that together create a nutrient-dense, energy-boosting meal. It's gluten-free, paleo, Whole30-friendly and I provide a few ideas for swaps and substitutions.
---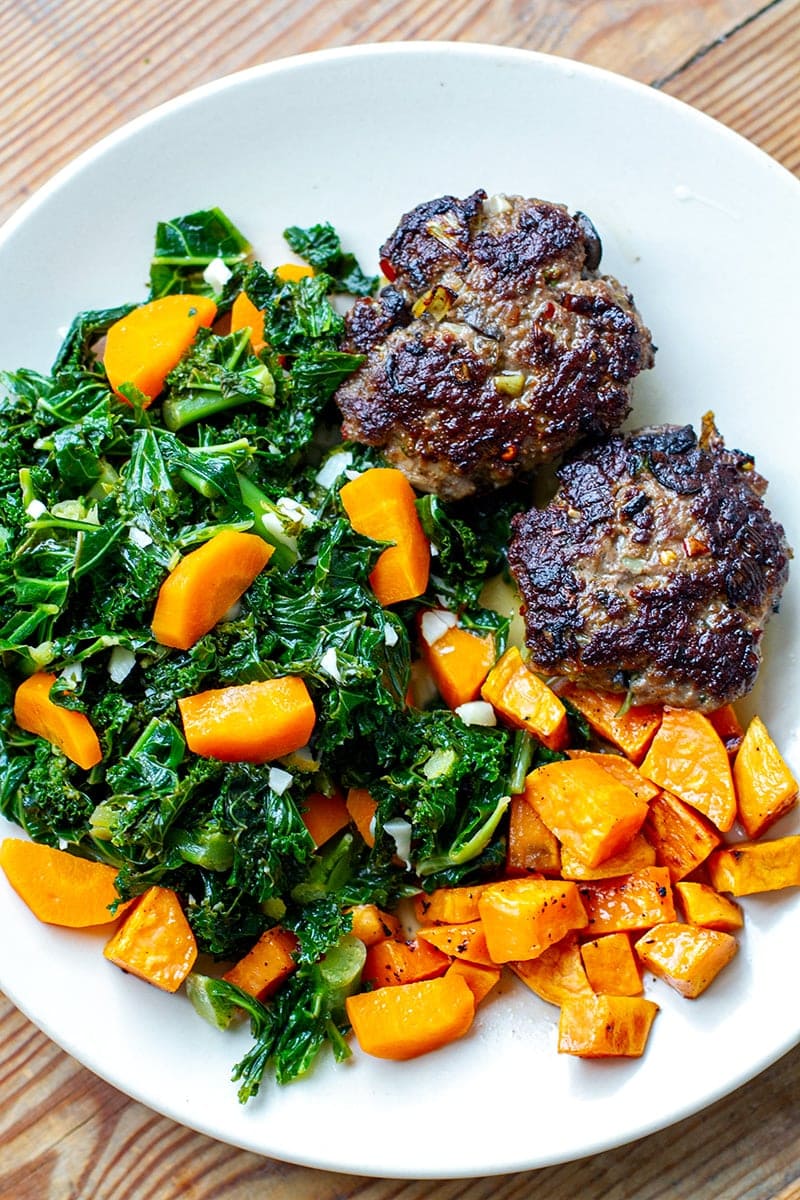 Ground Beef Burgers With Kale & Sweet Potatoes
If you feel like you need a nutrient boost, this sweet potato, ground beef burgers and kale meal will top you up with all the goods.
Made with grass-fed beef and simple seasonings, the homemade beef burger patties are rich in protein, B-vitamins, iron and minerals, while a combination of leafy green kale and sweet potatoes and carrots provide an array of antioxidants and healthy carbohydrates. Add to that immune-boosting garlic and heart-healthy olive oil, and you've got yourself a winner of a meal.
Let's look at each element of this dish in more detail.
Homemade Beef Burgers
These delicious patties are made with ground beef mince (ideally grass-fed) as well as sauteed onions, garlic, spices and sea salt. You can mix and roll these ahead of time and store raw in the refrigerator for 2-3 days before cooking OR freeze them for up to 3 months. Thaw out overnight in the fridge and cook as soon as possible after that.
You can also pan-fry these ahead of time and store cooked in the refrigerator for 2-3 days. Either way, beef patties are great for meal prep if you want to speed up the dinner-making time.
Garlic Kale
For this part, I used regular green kale but you could swap it for cavolo nero, Swiss chard, collard greens or spinach. As long as it's dark green and leafy, you'll be getting similar benefits. Kale is simply sauteed together with carrots and garlic in olive oil and seasoned with sea salt and a little lemon drizzle.
Roasted Sweet Potatoes
I like adding some starchy carbs to my meals and here I roasted some sweet potatoes. You can do squash or pumpkin instead, or some white potato or parsnips. These are simply seasoned but you can add paprika powder or cumin for a little twist. You can also steam sweet potatoes, bake or make a mash.

---
More Healthy Dinners You Might Like
---
Full Recipe
Find the full list of ingredients, instructions, and a nutritional breakdown below. If you have questions or cook this recipe, please let me know in the comments, and make sure to rate this recipe so it's easy for others to find.
Print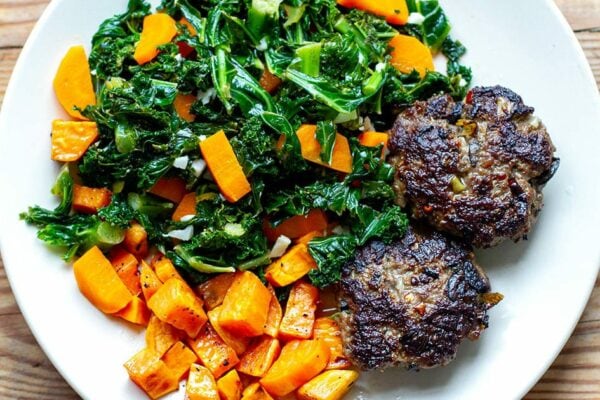 Homemade Beef Burgers With Garlic Kale & Sweet Potatoes
Author:

Prep Time:

20 minutes

Cook Time:

30 minutes

Total Time:

50 minutes

Yield:

4

1

x

Category:

Main

Method:

Roasted & Fried

Cuisine:

European
---
Description
Healthy and delicious, this dinner of homemade beef burger patties with garlic kale and sweet potatoes is an great family-friendly meal. It's paleo, gluten-free, whole30-friendly. See other dietary swaps in the Notes below.
---
Roasted Sweet Potatoes
2 medium sweet potatoes, peeled and cut into cubes

1.5 tablespoons olive oil

1/2 teaspoon sea salt

1/2 teaspoon paprika (optional)

1/2 teaspoon cumin powder (optional)

Beef Burgers
1 tablespoon olive oil

1 onion, finely diced

1.7–1.8 lb / 800 g ground beef mince (93% lean meat is what I used here)

2 garlic cloves, grated

1/2 teaspoon chilli flakes or powder (or pepper)

1 teaspoon of sea salt

2 tablespoons chopped parsley

Garlic Kale
1 bunch of kale (5–6 leaves), leaves removed from stems and roughly cut

1 large carrot, halved and sliced

2 cloves garlic

2 tablespoons olive oil (ghee or butter is lovely if tolerated)

1/2 teaspoon sea salt

2 tablespoons lemon juice (half a lemon)
---
Instructions
Sweet potatoes
Preheat the oven to 200 C / 400 F. Combine sweet potatoes with the olive oil and seasonings and toss through to coat. Spread on a flat baking tray and pop in the oven for 25-30 minutes.
Beef burgers
Heat olive oil in a frying pan over medium heat and add the onions. Sautee for 3-4 minutes to soften.
Combine the onions with the ground beef and the rest of the ingredients in a bowl and mix well using clean hands. Roll into burger patties and set aside.
Heat the frying pan again and add a little more oil (olive oil is fine). Cook the patties over medium heat for 4 minutes each side. You might have to do this in batches or on two pans.
Once cooked set aside under a lid or another plate to keep warm. You can also pop them in the oven with the sweet potatoes in the last few minutes.
Garlic kale
While the beef patties are cooking, prepare the kale. Boil a kettle of water. Pull the leaves off the stem and cut up roughly.
Add the kale leaves to a medium pot and cover with boiling water. Place on medium heat and cook for 2 minutes. Add the carrots and cook for 2 more minutes.
Strain both vegetables through a sieve and set aside. Return the pot over medium heat, add the garlic and olive oil and cook until it gets fragrant and starts to turn just golden. Remove from heat, stir in the kale and carrots, salt and lemon juice.
By this stage, the sweet potatoes should be ready. Serve 2-3 burgers per person with half a sweet potato each and plenty of garlicky kale.
---
Notes
LOW FODMAP: Use the green parts of the spring onion or leeks in the beef patties if you want that onion flavour but otherwise omit the onion and garlic from the burgers. You can also season the meat with asafoetida spice, which has a pungent garlic/onion aroma. Also, omit garlic from the kale.
AIP: Omit chilli from the beef burgers, feel free to add cinnamon spice or some dried herbs instead.
Keto:  Swap sweet potatoes for Broccoli, zucchini or asparagus. You could also add some sliced avocado on the side.
Condiments
For this meal, I recommend a side of Dijon or whole grain mustard (hot English will give it a great kick) or some low-sugar or sugar-free tomato ketchup. 
Nutrition
Serving Size:

2 burgers, 1/2 sweet potato and lots of kale

Calories:

518

Sugar:

5.5 g

Sodium:

1354.8 mg

Fat:

28.4 g

Saturated Fat:

7.8 g

Carbohydrates:

21.2 g

Fiber:

4 g

Protein:

44.5 g

Cholesterol:

126 mg