This spinach omelette with Jarlsberg cheese has become one of my favourite breakfasts and I probably make it at least once a week. It's nutritious, balanced, easy to make and is gluten-free, low-carb and keto-friendly. There is just something about melted Jarlsberg!
---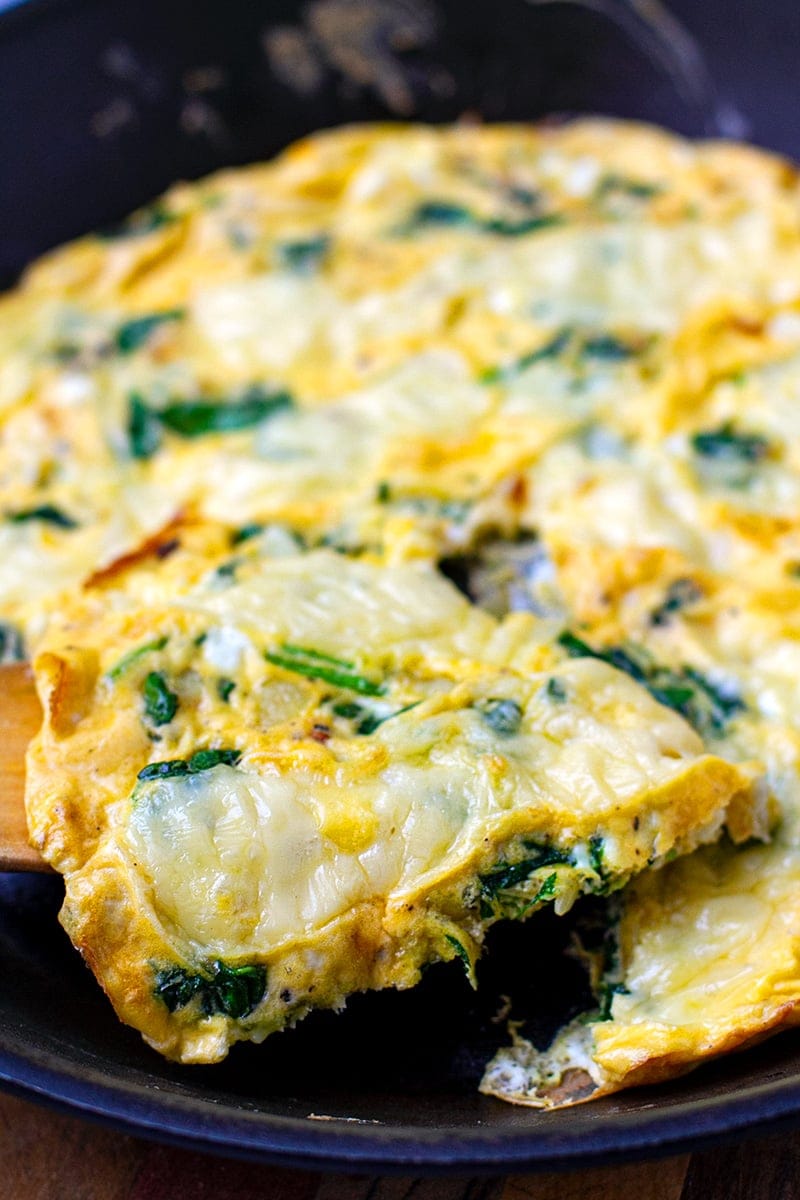 I often make a spinach omelette for my daughter, and for a little extra flavour, I sometimes add grated cheese. One day I used leftover Jarlsberg cheese. It tasted a little different to regular Tasty or Cheddar cheese, it had a very unique, nutty flavour and it was so delicious that I made it for us the following morning.
There is something special about melted Jarlsberg! It is famous for making extra tasty grilled cheese toasties and it works just as well when melted into eggs, or anything else for that matter.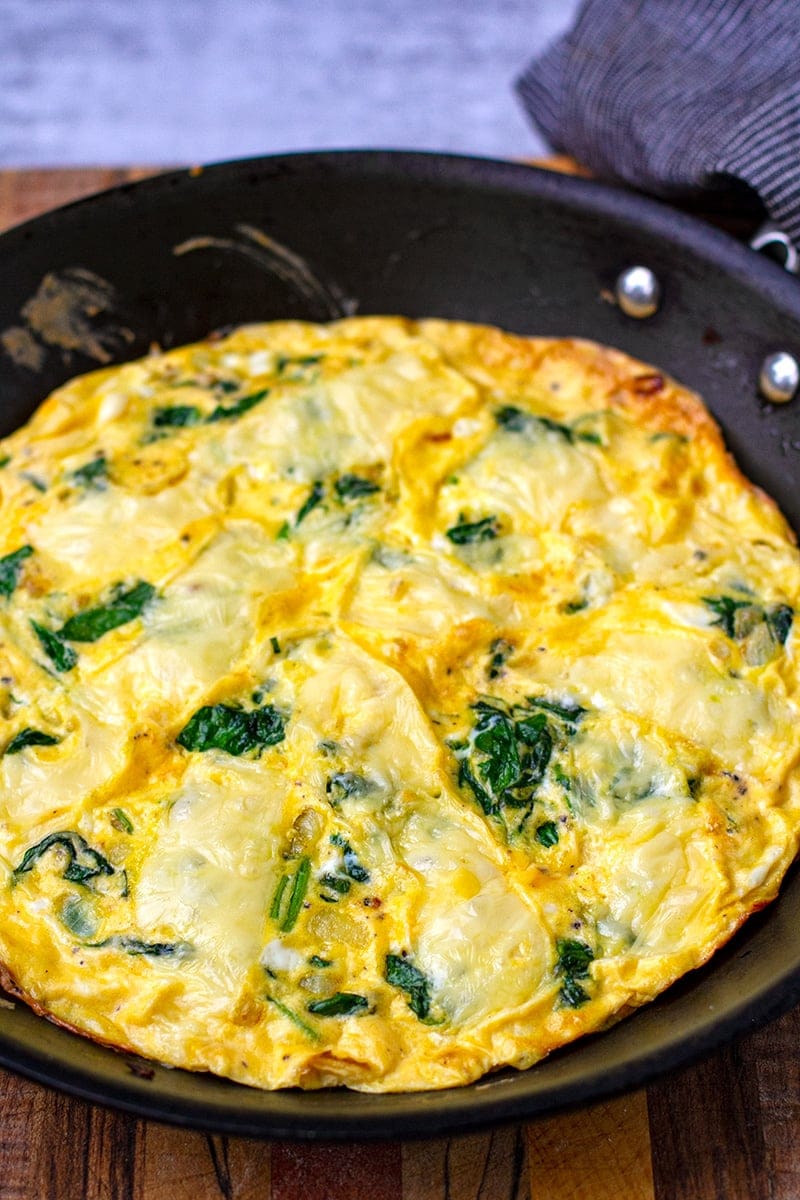 So, What Is Jarlsberg Cheese?
Jarlsberg is a Norwegian cheese that is often mistaken for Swisse cheese as it has a similar texture and those round holes but it's more of a mix between Gouda and Emmental cheese with a distinctive sweet and nutty flavor.
Jarlsberg is made from pasteurized semi-skimmed milk, cheese cultures, salt and microbial enzymes and contains less than 0.01 g lactose per 100 g cheese. When cheese is made, the whey is separated from the milk, so we are left with what is called curd. Since most of the lactose ends up in the whey, little is left in the curd.
During the ripening process, the small amount of lactose that remains is consumed by lactic acid bacteria. All Jarlsberg cheese is produced using a vegetable/microbial rennet, making the cheese suitable for vegetarians. 
It tastes delicious on its own with sourdough bread, on crackers, with fresh fruit or vegetables or in a salad, but it really shines when melted or grilled. It will enhance your grilled cheese sandwiches, pizzas, soups, burgers and mac and cheese. And it is fabulous in omelettes! Learn more about Jarlsberg cheese here.
Can I Use Different Cheese? 
Yes, you can use any cheese you like! I just love the taste of melted Jarlsberg here but Cheddar, Gouda, Gruyere, Swiss will all work.
How To Make Cheese & Spinach Omelette
Full recipe ingredients, instructions and nutritional breakdown are in the recipe card below. Here are some step-by-step photos to guide you along.
Ingredients: I used 5 eggs for 2 people but you can do more or fewer, depending on appetite and the size of the eggs. Baby spinach or chopped English spinach can be used. You can use white onion or green onions here.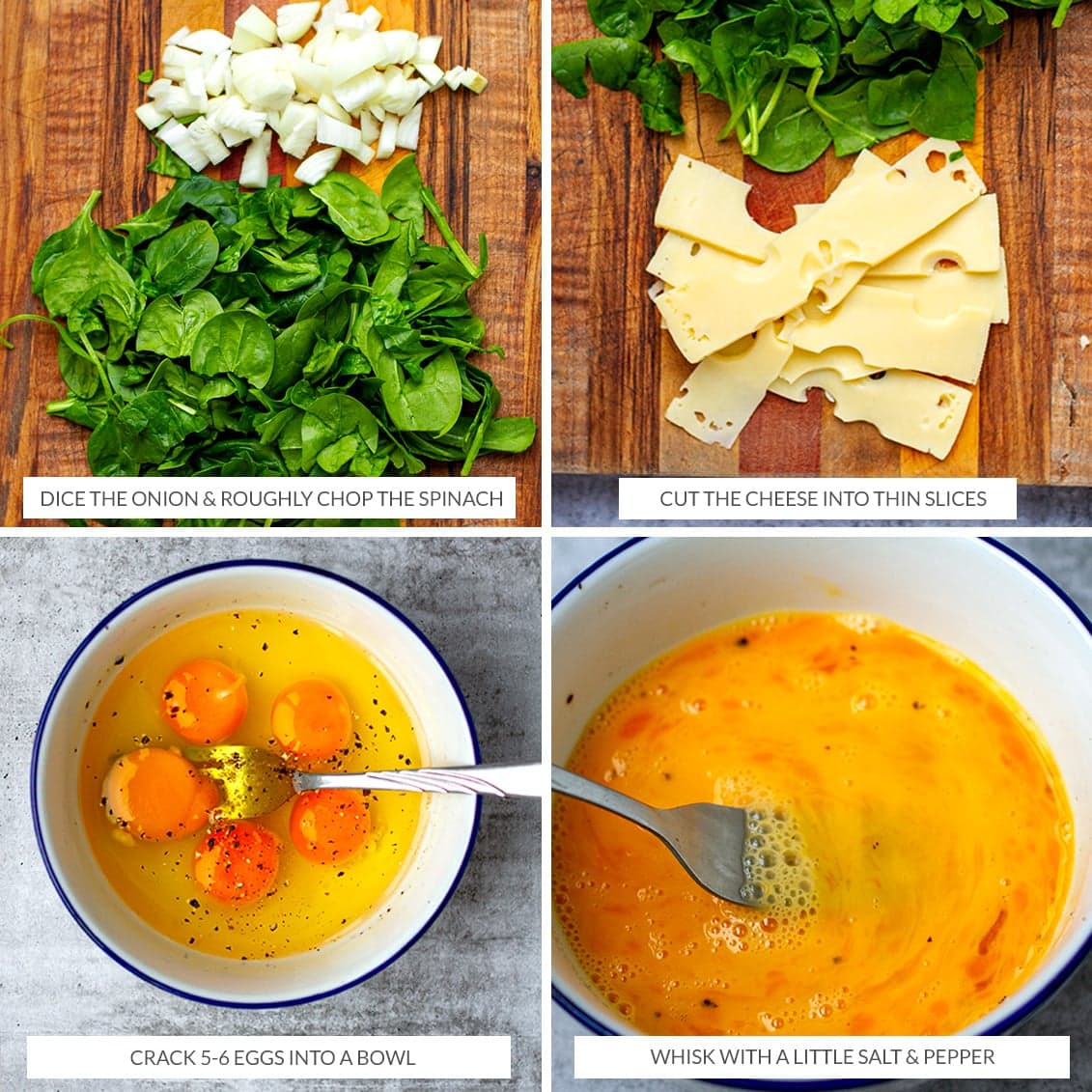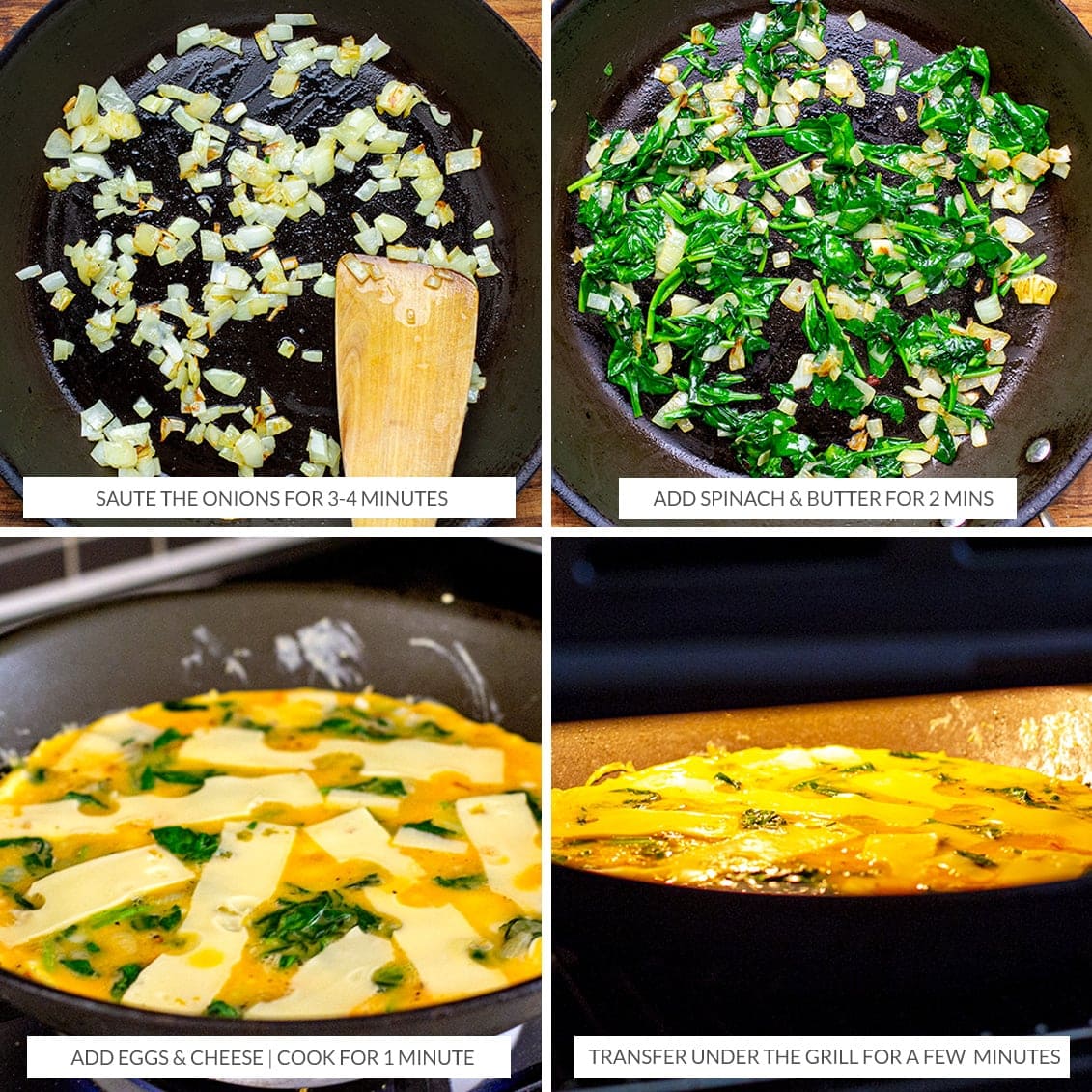 What To Serve With This Omelette?
This omelette can be served as a standalone meal and is balanced enough from a nutritional standpoint. It is especially great as a keto or low-carb meal as it is high in fats and in protein, making it very satiating. If you would like extra carbs, you can serve it with sourdough toast, cooked sweet potatoes or a side of fruit. I like a little hot sauce on top and some sauerkraut on the side.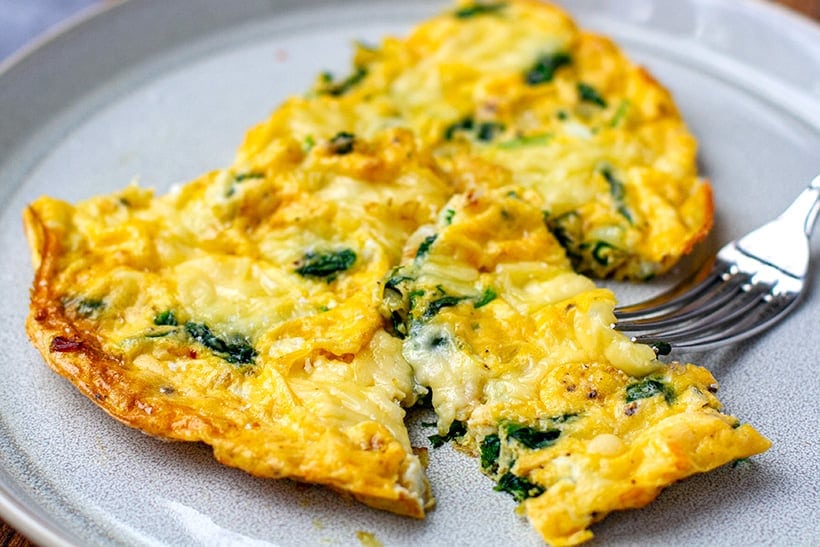 Print
Spinach Omelette With Jarlsberg Cheese
Author:

Prep Time:

5 minutes

Cook Time:

12 Minutes

Total Time:

17 minutes

Yield:

2

1

x

Category:

Breakfast

Method:

Pan-fried & Oven

Cuisine:

European

Diet:

Gluten Free
---
Description
This Jarlsberg cheese and spinach omelette is a nutritious, balanced and satiating breakfast recipe. It's low-carb, gluten-free, and keto-friendly. You can serve it with a side of avocado or cherry tomatoes, toast or not toast, or some sweet potatoes or fruit for extra carbs.
---
1 tablespoon olive oil

1 teaspoon butter

1/2 medium onion, finely diced

1/2 teaspoon salt

2 cups baby spinach (or two large handfuls)

5 eggs (whisked)

40 g / 1.5 oz Jarlsberg cheese, thinly sliced or grated
---
Instructions
Heat the oven grill element to 200 C/400 F.
Heat olive oil and butter in a medium frying pan over medium heat. Once hot, add the onion and salt and saute for 3-4 minutes until soft and golden.
Add the spinach and saute for another minute or so until it's wilted. In the meantime, whisk the eggs in a bowl.
Pour the eggs into the pan and stir through gently. Top with cheese slices or sprinkle grated cheese on top. Cook for 1 minute on the stove, then transfer to the oven close to the grill element (on the upper shelf) and cook for a couple more minutes until the cheese melts. Keep an eye on the it as it can cook very quickly, depending on the oven.
If not using the oven, cook the omelette in the pan with a lid on low-medium heat until the top layer of the egg cooks through the cheese melts. You can also fold and flip the omelette so it doesn't overcook too much on the bottom. The main thing is that the egg is cooked through and the Jarlsberg melts to get its full flavour.
---
Nutrition
Serving Size:

Half of the omelette

Calories:

356

Sugar:

1.8 g

Sodium:

926.7 mg

Fat:

27.4 g

Saturated Fat:

9.9 g

Carbohydrates:

4.6 g

Protein:

22.8 g

Cholesterol:

492.1 mg
Keywords: Eggs, Omelette, Breakfast, Jarlsberg, Cheese, Low-Carb, Keto, Gluten-Free
More Healthy Egg Recipes
---
Check Out My Paleo Breakfast Cookbook
For more low-carb, paleo and gluten-free breakfast recipes, make sure to check out my Paleo Breakfast Cookbook with over 85 delicious, healthy recipes.