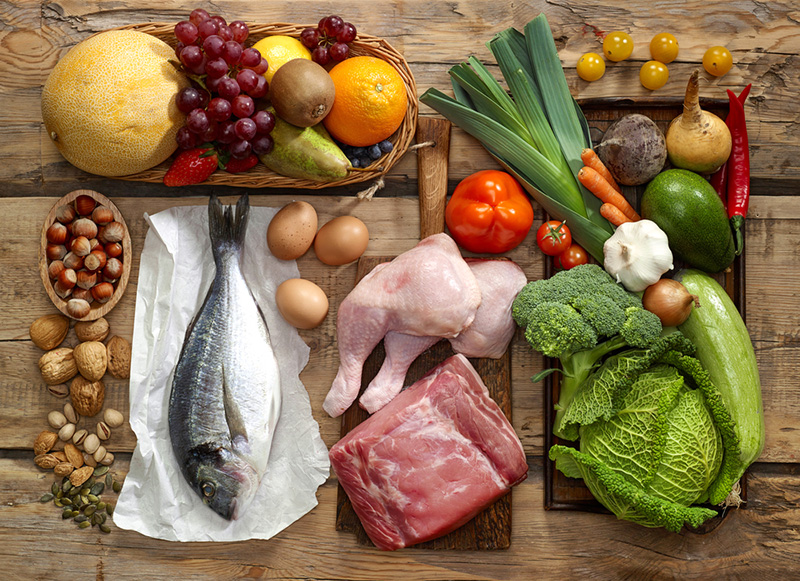 As I mentioned in your 7-Day Challenge Guide, I want to keep the meal planning more flexible and instead of giving you a ready-made shopping list and a meal plan, I want YOU to choose what you want to eat every day based on some suggestions and the overall guidelines.
I believe that by DOING this part yourself, you will be better equipped to plan and prepare paleo meals going forward. Don't worry, I am here to answer any questions and to provide you with ideas if you get stuck.
You can browse over 400 recipes on my own blog, check out my free menu plans (links at the bottom of this page), my cookbooks and all other available resources out there.
Back to 7-Day Paleo Challenge home.
---
Tip #1
Use the daily worksheets to help you plan and organise your shopping list and meals for the week. Review your 10-point checklists to see which foods you might want to include in your meals and then add them to your shopping list (I provided a list of suggested essentials in the guide).
Then, use my suggested meals or look up recipes online and in cookbooks to plan what you want to make during the week. Alternatively, some of the meals might be consumed at a café or a restaurant – just stick to the guidelines!
---
Tip #2
Good nutrition is all about variety and balance so you plan your weekly menu, here are some nutrient-dense foods to include on a regular basis:
A rainbow of fruit and vegetables – the more colours, the better
Mushrooms – fresh or dried
Berries – fresh or frozen
Red meat – beef, lamb, goat, duck
Offal – liver, liver pate, kidneys etc.
Oily fish – sardines, salmon, trout, mackerel, anchovies
Eggs – free-range!
Shellfish/seafood – prawns/shrimp, mussels, oysters, squid, clams, octopus
White meat – chicken, turkey, pork
Safe starches – sweet potato, pumpkin/squash, carrots, beets, parsnips
Healthy fats – coconut oil, olive oil, macadamia oil, ghee (clarified butter), nuts, seeds, avocado, coconut milk or coconut cream, almond milk, cashew milk.
Seaweed – dried seaweed such as nori sheets or dulse seaweed sprinkle
Fermented foods – kimchi, sauerkraut, other fermented vegetables, kombucha, water kefir, coconut yoghurt, olives.
Herbs & spices
Some pleasure foods (dark chocolate, red wine, aged cheese) – not during this challenge
When you look at your shopping basket, ask yourself some of the following questions:
Do I see a rainbow?
Do I see a cut of meat I haven't tried before?
Do I have some green leafy vegetables as well as starchy root vegetables?
Do I have some fish or seafood?
Do I have fresh herbs?
---
Tip #3
Do as much meal prep as you can on Sunday to save time and decision-making during the week. Having a fridge stocked up with healthy foods and ready meals or pre-cooked ingredients will make your life a lot easier and will help to keep you on track.
Some things you can make ahead of time.
Here are some pics from our community:
These are just some suggestions but I am sure you can think of a few other ways to utilize meal prepping time over the weekend.
Are you ready to plan your meals and go shopping? Let's get started!
If you have any questions, come and share in our private Facebook group or email me directly and I will try to get back to you as soon as we can. Bonus points if you share some pictures of your shopping and meal prep with the community.
More resources for you: